On June 30, 2021, two designated smoking cabins were launched at public housing estates in Clementi.
This came after an uptick in feedback about second-hand smoke from residents of the Clementi Ridges and Trivelis estates located in Clementi Avenue 4.
The increase is believed to be attributed to more people working from home during the Covid-19 pandemic and Circuit Breaker period.
The smoking cabins will remain on-site for at least a year to allow enough time to evaluate their effectiveness.
A press release by the Bukit Timah Constituency Office said that for the smoking cabins to be utilised regularly, they should be conveniently located and at least as comfortable as smokers' homes.
Further, the smoking cabins should overcome daytime heat.
The Bukit Timah Constituency Office hopes that with the smoking cabins installed, the amount of second-hand smoke entering non-smokers' homes will be reduced, thus mitigating neighbourhood conflicts.
Smoking cabin at Blk 311A Clementi Ave 4
The enclosed smoking cabin at Blk 311A Clementi Ave 4 is fitted with an air-conditioner and air filtration system for cigarette smoke.
It also features:
Energy saving by sensor activation and LED lighting

Expels only clean air

No smoke leaks (negative pressure)

High air change rate (one change per minute)

Fireproof ashbin

Large ashbin
Here's a visual rendering of the smoking cabin: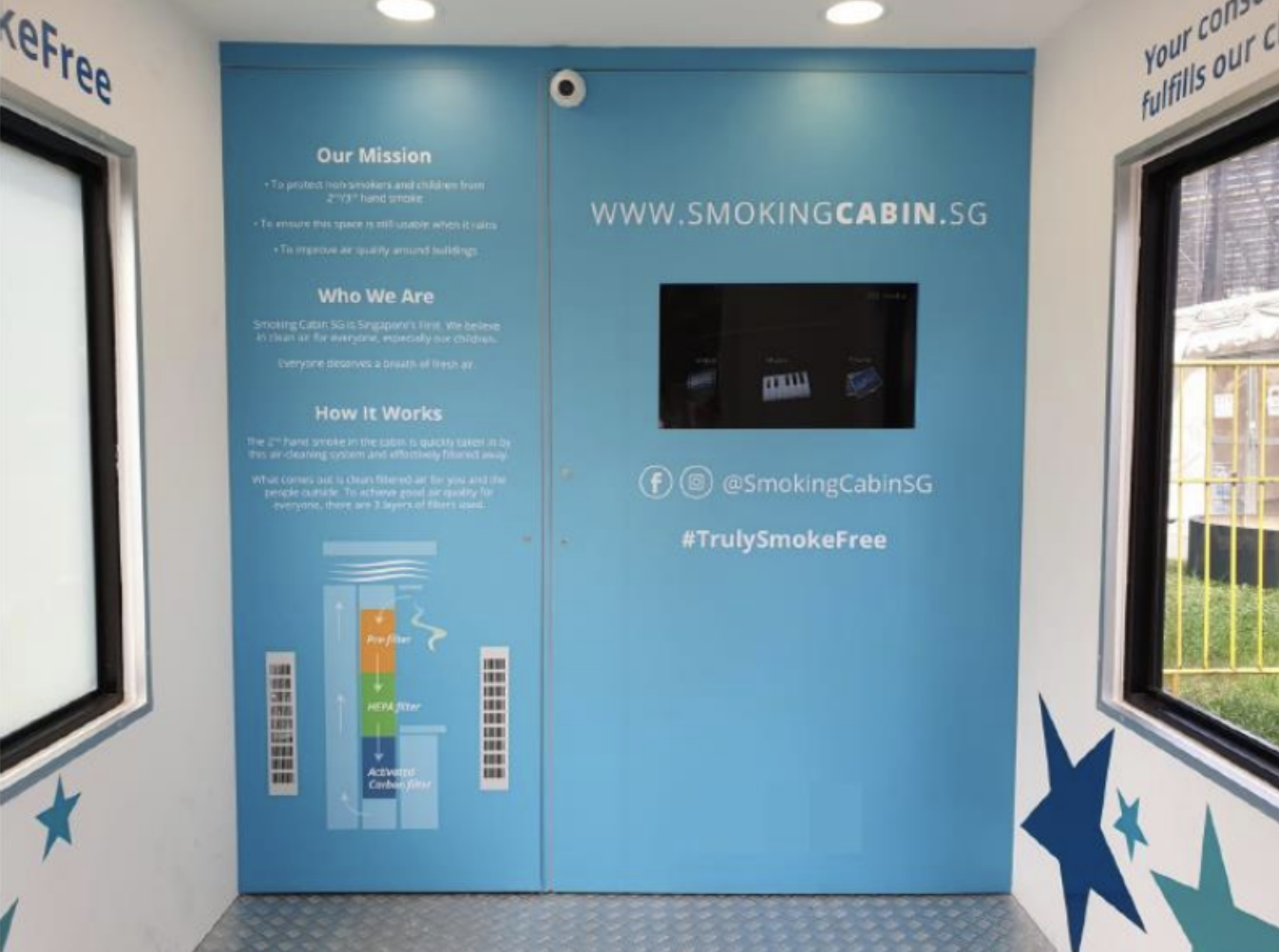 Smoking cabin at Blk 312D Clementi Ave 4
The open-air smoking cabin at Blk 312D Clementi Ave 4 features:
Aluminium composite panel roofing

Aluminium louvres as rain screen

Polycarbonate wall

Airbitat City Cooler powered by Airbitat sustainable cooling

technology

On-demand cooling

Mild steel benches

Standing fireproof ashbin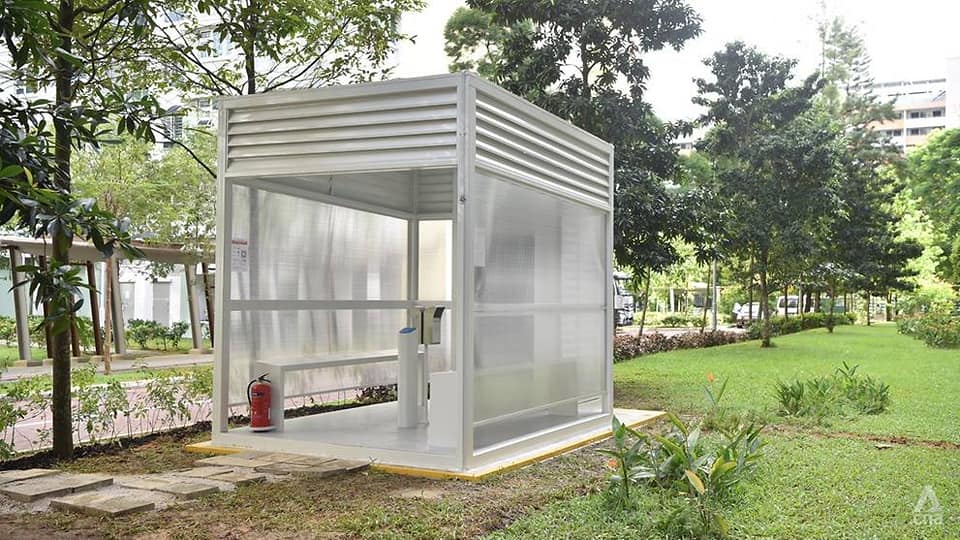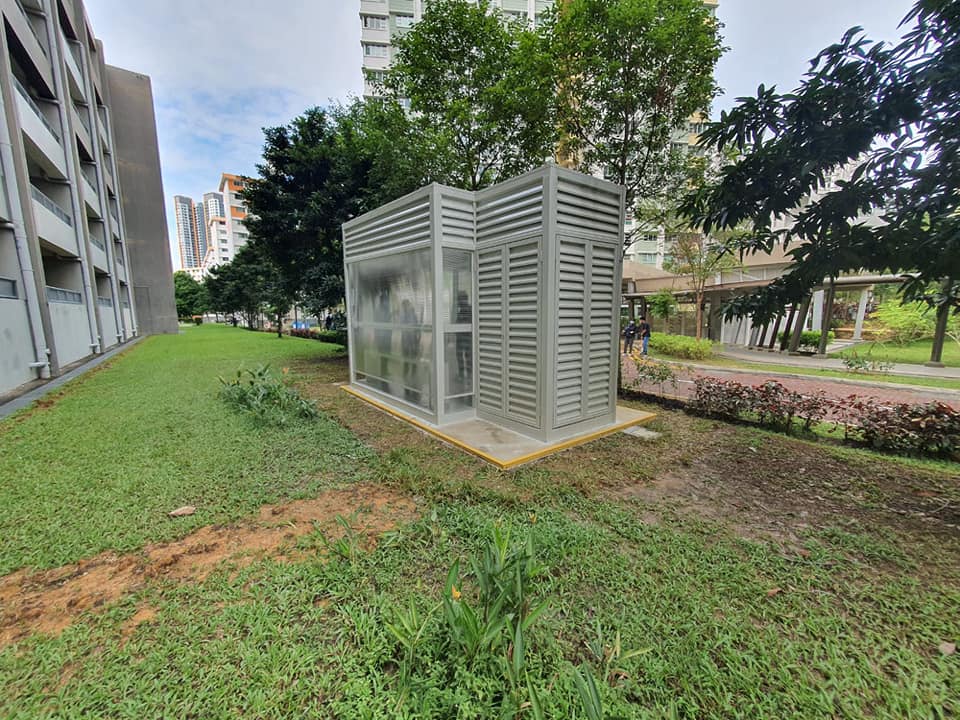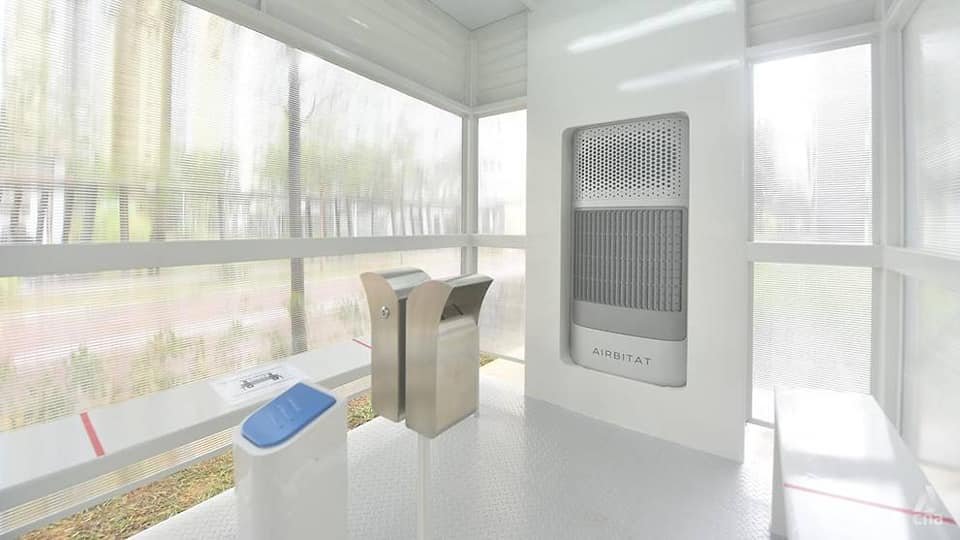 The fabrication, installation and utilities required for the smoking cabins were sponsored by donors.
Senior Minister of State at the Ministry of Foreign Affairs and the Ministry of National Development, Sim Ann, who is the Grassroots Adviser for Bukit Timah Division said:
"We don't know for sure what the outcome of the designated smoking points (DSP) experiment will be, but as long as smoking in one's home remains legal, we have to find a practical solution to mitigate the effects of second-hand smoke in residential settings. For the sake of cleaner air and a more peaceful neighbourhood, our residents support us trying out the deployment of these enhanced DSPs."
The Ministry of Sustainability and the Environment and Temasek Polytechnic will also collaborate to launch a study to review the effectiveness of smoking cabins.
Top photos via Bukit Timah Constituency Office and Espirit Building and Engineering Pte Ltd/Facebook
If you like what you read, follow us on Facebook, Instagram, Twitter and Telegram to get the latest updates.