"I just can't stand it when people treat others badly."
So Nur Fatehah took matters into her own hands.
Discrimination against healthcare workers
It was early May 2021, after the Tan Tock Seng Hospital cluster was first announced.
Fatehah noticed more instances of discrimination and prejudice against healthcare workers.
Speaking to Mothership, the 27-year-old Singaporean said:
"I see people going against healthcare workers and blaming them for 'restarting' the pandemic. It's a vast contrast to last year when people were really in support of them."
Started her own initiative
Thus, along with 14 friends, she created SG Healthcare Heroes, an initiative to honour and appreciate healthcare workers in Singapore.
"We wanted to create an inclusive movement to honour people in the entire healthcare sector, including those who have been contributing silently in this pandemic," said Fatehah.
These include the cleaners with more robust cleaning schedules, the lab staff who process the Covid-19 tests, and the admin staff with more paperwork to complete in light of the measures in place.
Fatehah told Mothership that her team wishes to shed light on the challenges and discrimination faced by the healthcare workers.
She shared that a healthcare worker, who is not Singaporean, had chosen not to go back to her country as she believes it is her duty to continue with her work and save people's lives here.
Unfortunately, these healthcare workers had to face discrimination in public places, such as in the MRT and the bus.
Fatehah also shared lesser known struggles that these healthcare workers had to cope with.
For example, another healthcare worker has chosen to isolate herself from her family whenever she is at home.
Although she has a partner and children, she sleeps in a room on her own and rarely interacts with her family members.
"One of the pillars that we're trying to push is [sharing] stories from the ground to hopefully get people to be more aware, as well as understand what the healthcare workers are going through."
Fatehah added:
"If I am in a position to clear up misconceptions or to bridge the understanding between this particular community and the public, then I think I would want to take that position."
What the initiative does
SG Healthcare Heroes adopts a three-pronged approach to support companies and citizens in showing their support for healthcare workers.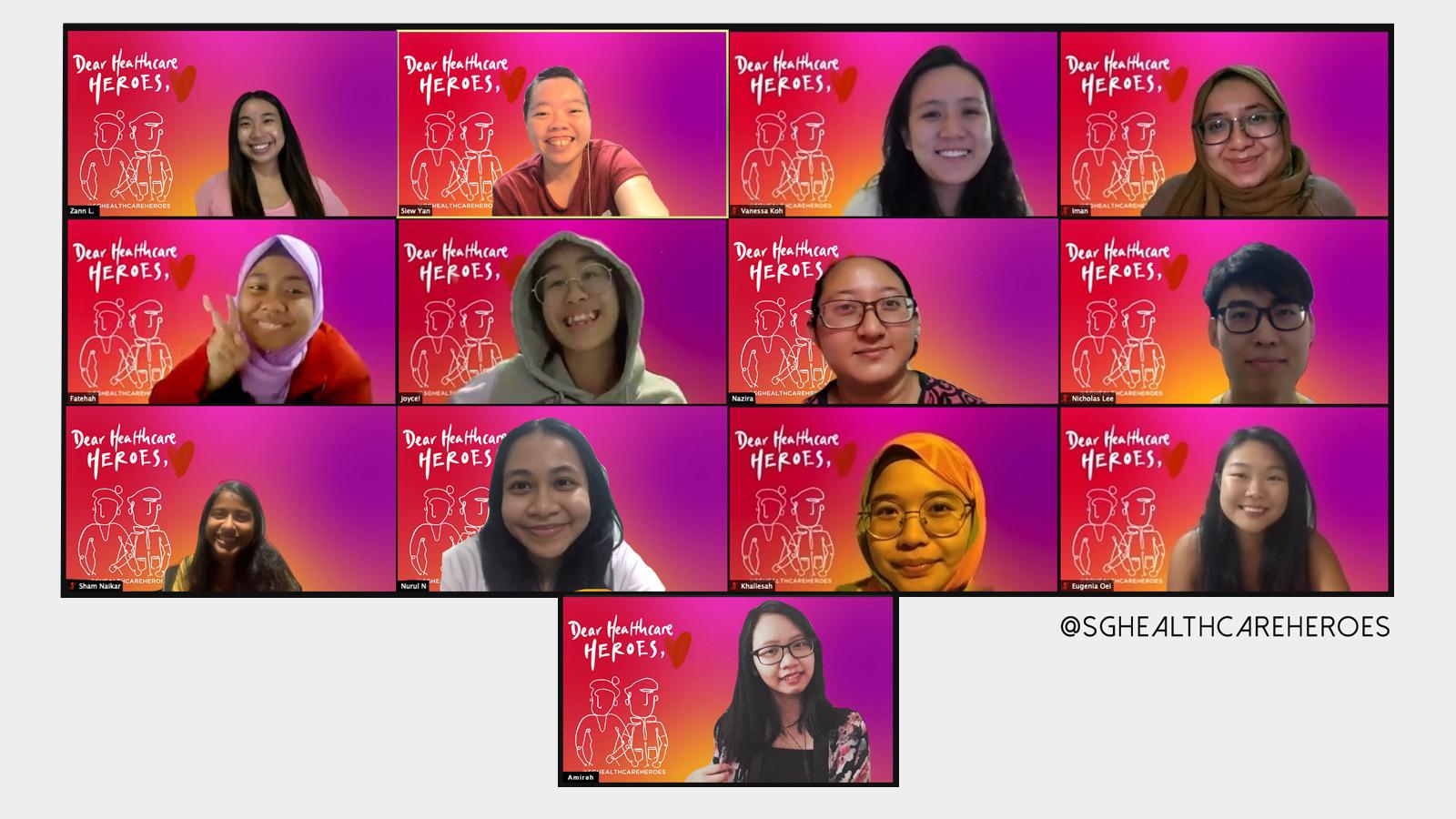 They are working with businesses to give out care packages, snacks, lunches, and have reached over 5,000 healthcare workers to date.
https://www.instagram.com/p/CPr3zr_FUmm/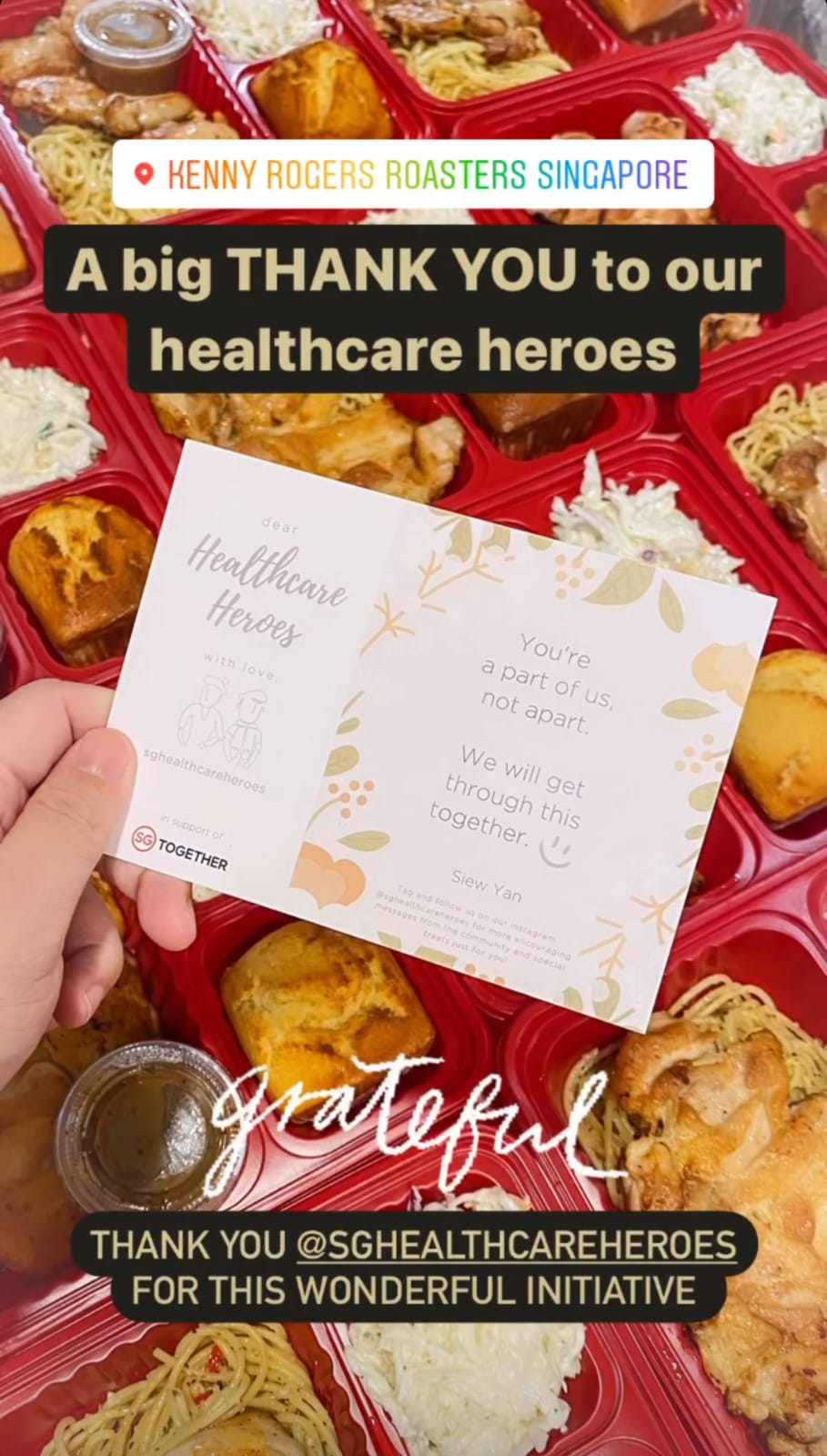 Besides that, they are also working with retail, wellness and dining establishments to provide special offers and discounts for workers.
https://www.instagram.com/p/CQDqSzDhVVZ/
https://www.instagram.com/p/CP28sOeBT_f/
SG Healthcare Heroes also encourages members of the public to submit a personal note and/or artwork for the healthcare workers.
When asked about her hopes and aspirations for SG Healthcare Heroes, Fatehah told Mothership:
"I want the public to see these workers as humans. They're putting their lives at risk and it's not an easy feat, you know?

I really hope the public can understand that as much as we are going through hardships of our own due to Covid-19, the healthcare workers are going through even more."
Fatehah hopes that this initiative is just the start of a larger movement to show more empathy and care to the people around us.
Has always been helping communities in need
Fatehah's passion and determination to help others stemmed from her volunteering experiences in Youth Corps Singapore (Youth Corps).
Fatehah was conferred a Youth Corps Leader in 2017.
As part of the Youth Corps Leaders Programme, her team was tasked to engage with families living in public rental flats.
Some of the things they did include planning an iftar gathering for the families, as well as surprising a boy for his birthday.
It may not seem like much, but Fatehah explained that the boy had never celebrated his birthday before. Thus, this was a first, and an occasion he genuinely appreciated.
Fatehah told Mothership that she had learnt many skill sets through Youth Corps.
Learning to be more understanding and empathetic
Fatehah first joined Youth Corps as an intern in May 2016.
Ironically, when asked why she chose to intern there, she honestly replied: "I just needed an internship and they had a spot available."
Little did she know, she would soon discover a new lifelong passion.
Fatehah admitted that she used to have misconceptions about disadvantaged communities.
She used to think that they could easily resolve most of their problems if they tried.
However, after plenty of on-ground experience, Fatehah knew there was more to the situation than effort.
She now shows a greater understanding and empathy for others, and she hopes Singaporeans could do the same, particularly towards healthcare workers amid this ongoing pandemic.
"You never really know what someone is going through."
This article is in support of #SGTogether and is brought to you by the Ministry of Culture, Community and Youth (MCCY).
Top images, which were taken before the Covid-19 pandemic, courtesy of Youth Corps.
If you like what you read, follow us on Facebook, Instagram, Twitter and Telegram to get the latest updates.