Follow us on Telegram for the latest updates: https://t.me/mothershipsg
A woman in Singapore applying for a job with a prestigious Canadian preschool here was allegedly asked if she would be agreeable to removing her hijab for work, as there was a "uniform code" to follow.
The international preschool brand, Maple Bear, has since come out to clarify that their uniform code does not restrict the donning of the hijab. A police report has been lodged about the incident.
Asked if she would be okay with removing hijab for work
In a Reddit post on Friday (Jun. 11), the applicant shared her experience applying to be an English Teacher at one of Maple Bear's preschools.
According to its website, Maple Bear runs close to 40 preschools across Singapore, and more than 447 worldwide.
She claimed that about 20 minutes into her Zoom interview, the centre director asked her if she was okay with removing her hijab for work.
When the applicant asked why, the centre director allegedly told her that it was because the school has a uniform code to follow.
In her post, the applicant said that while she knew that the issue of wearing the hijab has been discussed in Singapore for a long time, it has normally been with regard to nurses and uniform groups, and had not been an issue for the preschool teacher industry.
She stated that she thought that all preschools allow their teachers to wear hijabs with their uniforms.
She voiced her anger at the school's purported policy, saying:
"My hijab has never been in my way to educate the young ones, and I am sure it is the same for any other hijabi teacher.

I am angry that an organisation that has so much to do with children's outlook of life themselves hold such backward policies."
Centre director clarified that hijab is not main factor
In an update to her initial post, the applicant added that the centre director reached out to her via email and phone call, to let her know that the hijab was not the main factor she was considering.
When the applicant asked the director why the issue was brought up in the first place, the centre director allegedly said that she was just asking because she wanted to know what an applicant would come to work wearing.
The centre director allegedly asked the applicant if she had thought she was being rejected because of the hijab, to which she said that it had "sure felt that way".
The applicant claimed that the centre director then said, "Oh no, I have Malay friends and colleagues."
The applicant said that she was not sure if it was really a misunderstanding, or if there was a reason that the centre director changed her tone.
"In any case," she wrote, "how else should a hijabi feel when her interviewer ask if she's OK to remove her hijab for work?
Preschools welcome teachers of all races & religions: MapleBear
In a Facebook post on Jun. 11, Maple Bear published a response to the applicant's claims about the incident.
"We would like to clarify that MapleBear Preschools welcome teachers of all races and religions and our uniform code does not restrict the donning of the hijab/tudung," the statement read.
The statement noted that Maple Bear has "quite a number of Muslim teachers and support staff" who wear the hijab while working in their preschools:
"We are proud of each and every one of our staff and they can vouch for that too."
The preschool brand said that it was "sorry to hear" about the applicant's experience and will look into the matter. It encouraged the teacher to reach out to their headquarters so that they can provide assistance.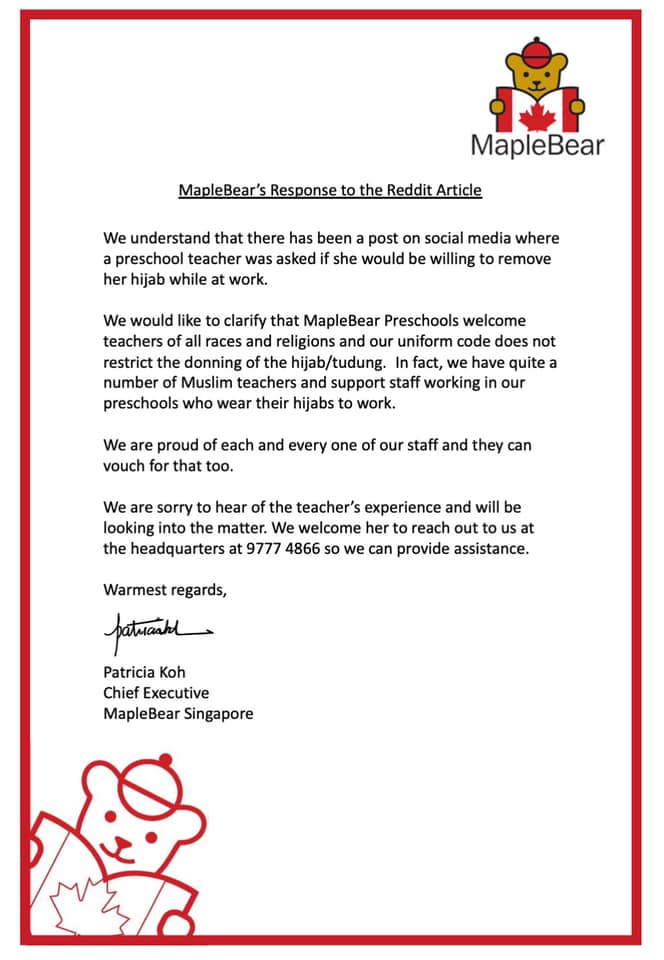 Speaking to Mothership, the applicant said that Maple Bear has not reached out to her since her conversation with the centre director.
In the Facebook post, Maple Bear said that because the case is currently under police investigation, it is unable to provide further comment.
Responding to Mothership's queries, the police confirmed that a report has been lodged.
The applicant told Mothership that she is not the person who filed the police report.
Top photos adapted from Maple Bear website, Maple Bear's Facebook, and Reddit. 
If you like what you read, follow us on Facebook, Instagram, Twitter and Telegram to get the latest updates.