Bukit Batok Driving Centre (BBDC) customers who live in the vicinity of Bukit Merah View will be temporarily banned from the driving school's premises.
This is in light of the recent Covid-19 cluster in that area, BBDC announced on its website on Friday (Jun. 25).
BBDC said that in order to "ensure the safety of customers and staff", customers residing in the area affected by the Bukit Merah View cluster will be temporarily denied entry into BBDC premises, from Monday (Jun. 28) onwards.
These affected customers will receive an SMS from the school. Customers with existing bookings of lessons are instructed to cancel their lessons immediately.
However, the website emphasised that customers who are having their theory or practical tests should not cancel their tests. Instead, they will be contacted by the school.
BBDC said that they are expecting a high volume of calls, so asked that customers monitor their website for updates on when they will be allowed to attend lessons.
The driving school also stated that no refunds for lessons will be offered if a customer is denied entry into BBDC.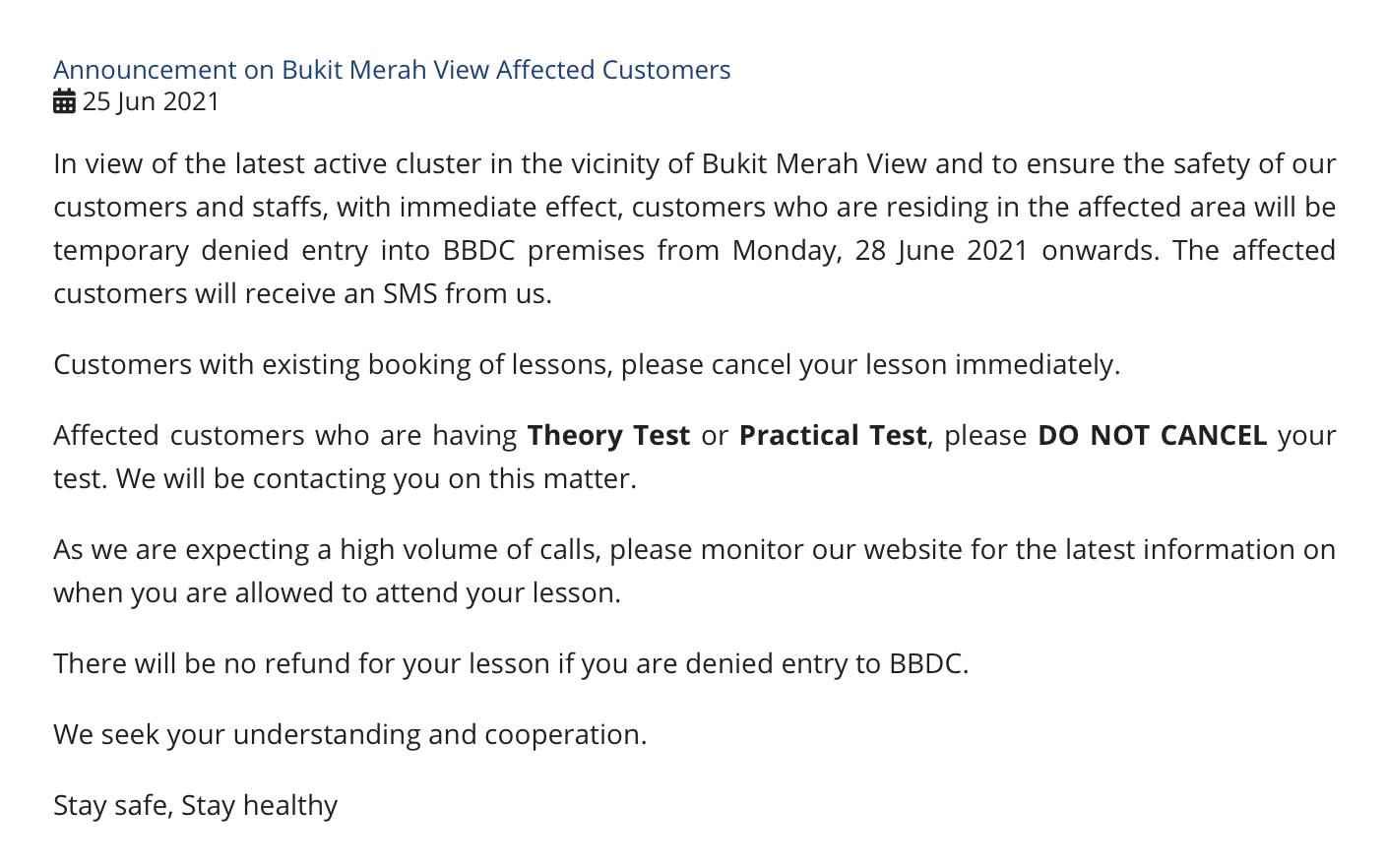 Bukit Merah View cluster
As of Jun. 27, there are 91 confirmed cases linked to the cluster at 115 Bukit Merah View Market and Food Centre.
The first case in the cluster — a 74-year-old Singaporean man who who works at a sundry store at the market and food centre — was confirmed to have Covid-19 on Jun. 9.
A number of other clusters are in the vicinity, such as the 105 Henderson Crescent cluster, the 119 Bukit Merah View cluster, the the 90 Redhill Close cluster, and the 121 Bukit Merah View cluster.
In a press conference on Jun. 24, Director of Medical Services Kenneth Mak said that the Ministry of Health is waiting for phylogenetic testing to confirm if the nearby clusters are linked to the main Bukit Merah View cluster.
"Wastewater testing that allows us to understand where there might be cryptic chains of transmission occurring within the area," he said.
Top photos via Google Maps / MOHAMMAD ARMAN.
If you like what you read, follow us on Facebook, Instagram, Twitter and Telegram to get the latest updates.