American fast food restaurant Wendy's put up a recruitment ad on May 20, 2021 looking to hire a new "Franchise Operations Manger" in Singapore.
The job opening naturally led to some buzz online as it appeared that the fast food chain could be making its foray back into the Singapore market again exactly five years after it quietly closed its last outlet here.
omg you know what this means?? pic.twitter.com/3WqSa5TF9j

— rirasu (@stolenrhymes) May 20, 2021
Healthy number of applications for job
The recruitment ad was put up on LinkedIn, as well as Wendy's official website.
Within five days of the ad going up on LinkedIn, Wendy's received 45 applications for the position via that platform alone, suggesting it is an attractive prospect, or that the labour market is still softening as the pandemic rages on.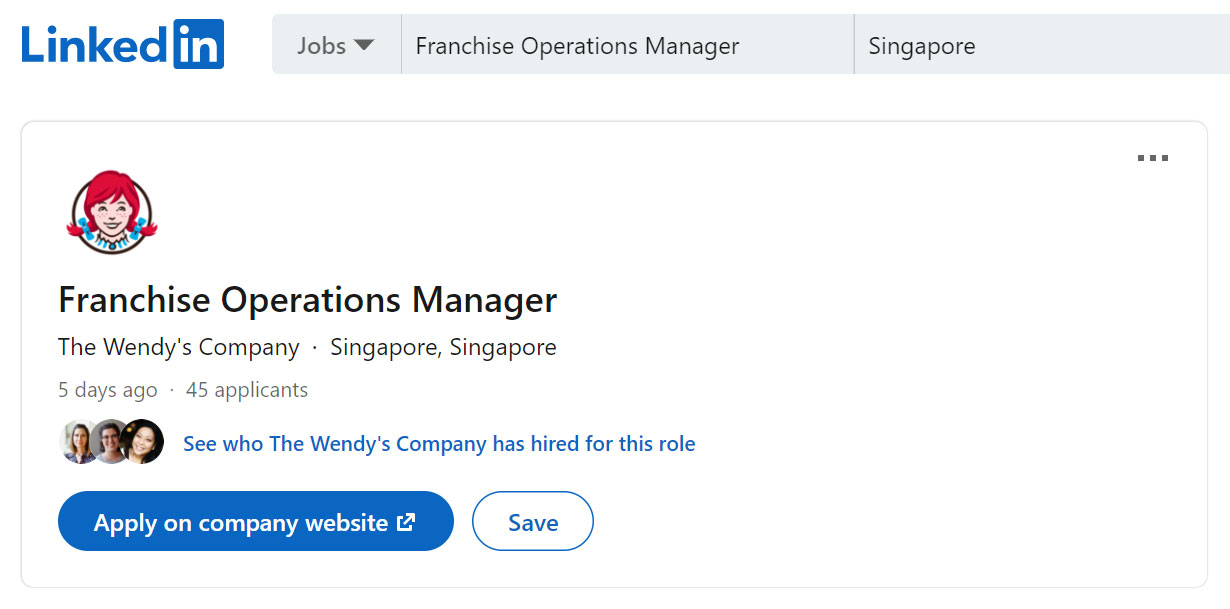 What job description said
According to the recruitment ad, the role of a "Franchise Operations Manager" in Singapore is a full-time, mid-senior level position.
A cursory reading of the job description, which is stuffed with business management jargon, suggests that Wendy's wants to hire a personnel who can acquire customers and expand the number of restaurants.
These outcomes involve planning and charting the growth of the fast food chain via track record-proven marketing, working with staff to execute campaigns, and using quantitative methods to ascertain the rate of success.
Given the rigour required in that role and the management nature of the job, Wendy's says it is looking for candidates with a degree in operations, finance, supply chain or other related fields, with a minimum of five years' experience in operations management.
The final line of the job description also highlighted that Wendy's is an "equal employment opportunity employer", who may provide reasonable accommodation to enable individuals with disabilities to perform the essential functions of the job.
Wendy's confirm not coming back to Singapore
And here's the bad news: In response to media queries, Wendy's confirmed with Mothership.sg that it is not coming back to Singapore.
A spokesperson said: "We have some company employees based in Singapore to support the Wendy's restaurants in the APMEA region, however, there are no plans to open restaurants in Singapore at this time."
APMEA refers to the Asia Pacific/ Middle East/ Africa geographical region.
The role that Wendy's is seeking a potential candidate for is likely working on a regional basis out of Singapore.
Wendy's opened and closed in Singapore
Previously, Wendy's closed its last outlet at the National University of Singapore (NUS) UTown's Town Plaza on May Day 2015.
Its eventual demise was quiet following the closure of several of its other outlets earlier.
In August 2014, it was announced that its Century Square outlet of four years had to close due to a lease expiry.
The Holland Village store of five years was closed in January 2015 and their Liat Towers branch of five years shut down a few weeks later in February 2015.
These were said to have been due to lease expiry as well.
Other branches were closed too in 2015 without any further explanation, such as their Lavender V Hotel outlet of four years, which was shut down on March 15, as well as their Jurong Point branch a day later on March 16.
Wendy's was first brought into Singapore in the 1980s but exited Singapore's market despite having outlets at Far East Plaza and Parkway Parade.
Its second foray into Singapore began in 2008, when Lim Bee Huat, Chairman of Kopitiam Group of Companies, managed to bring Wendy's back to Singapore.
The company then declared its ambitious expansion plans to open a total of 35 Wendy's outlets all over the island in the next decade.
It started out by opening its first outlet in Lau Pa Sat Festival Market in December 2009, and managed to increase to a total of 11 outlets in 2012.
If you like what you read, follow us on Facebook, Instagram, Twitter and Telegram to get the latest updates.