Follow us on Telegram for the latest updates: https://t.me/mothershipsg
Youthful passion and exuberance can lead to many good things.
A teenager in Vietnam made the news for reportedly getting his girlfriend's name tattooed on his chest only to regret the decision within a few weeks.
According to 2Sao, after what must have been a rather brutal breakup, the boy returned to his tattoo artist to get the name covered up by a coffin.
According to the reports, the lovelorn teen said that he and his ex-girlfriend had loved each other very much and he believed they would never separate.
Thus he did the only logical thing — get the words "My Princess", the girl's name, and her birthdate permanently written on his chest.
Burying the mistake
However, other media reported that that tattoo had barely healed when the relationship came to an end; tattoos typically take two weeks to heal.
"I was very sad after breaking up with her, and so far, I have not been able to escape this pain," he said.
After he'd calmed down, the heartbroken boy went back to the tattoo parlour to bury the mistake.
"A coffin pattern was tattooed in the place of her name," he told Xa Luan.
Closer inspection of the photos bring up questions as to the tattoo's veracity.
The skin tone around the edges of the tattoo, especially on its right looks unnatural, while the centre of the teenager's chest in doesn't appear to have the natural dip found between pectoral muscles.
In fact the "tattooing" could be seen as a trend, with other photos popping up online showing other young people in Vietnam who have purportedly tattooed their love's name on their skin.
As per Vietnam media: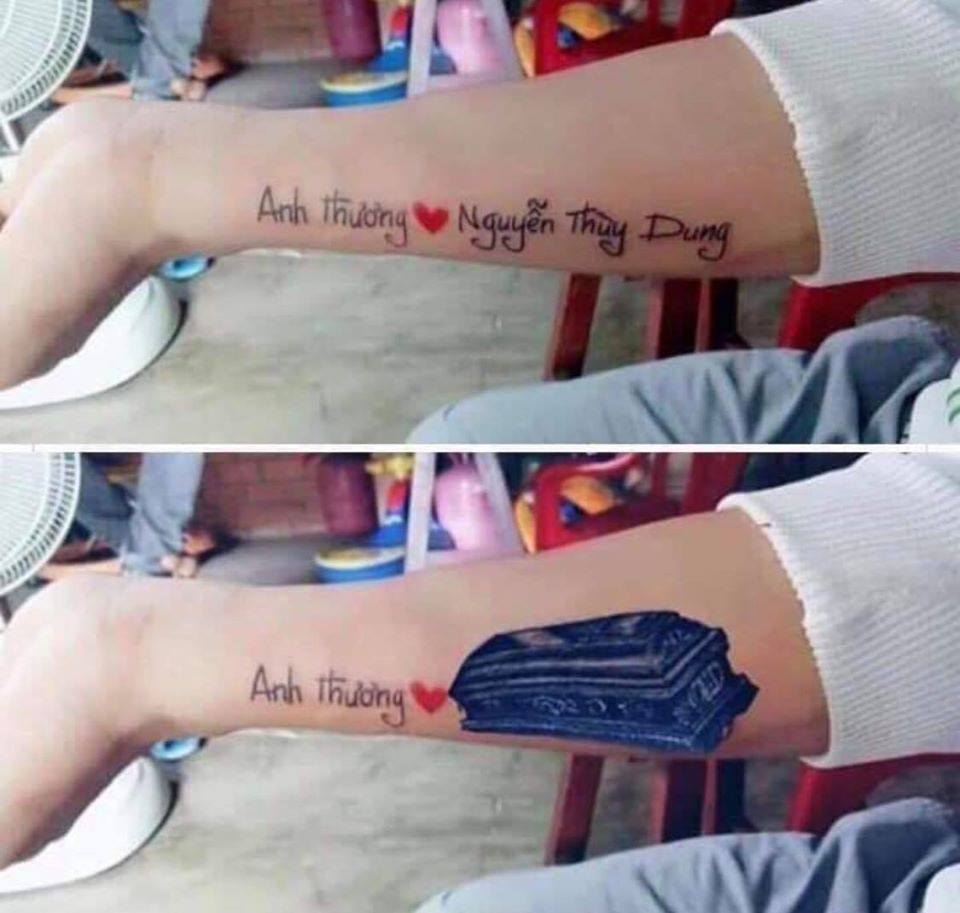 Top image from Xa Luan
If you like what you read, follow us on Facebook, Instagram, Twitter and Telegram to get the latest updates.