Follow us on Telegram for the latest updates: https://t.me/mothershipsg
A few weeks ago, I found myself spending my Saturday evening scarfing down a generous portion of biryani, along with five migrant workers.
Not a typical day for me, but for 65-year-old Wong Kae Chee, this was a pretty familiar experience.
Around every month or so, Wong hosts a dinner in her house, where she shares a simple meal with a group of cleaners in her neighbourhood.
Her motivation? To make these workers feel at home in Singapore, and to let them know that their work here is appreciated.
And in April, I was invited to one of these dinners, along with two of my colleagues.
Important to interact with workers who may feel alone
In the past, Wong's neighbours in her Holland Drive estate used to organise buffets regularly, inviting the 20-odd cleaners in their precinct to join them for a free meal in their void deck.
She said that the food was often the biggest draw for the workers: after all, they don't often get to eat things like mutton and fish, if at all.
But these gatherings were not just about food: Wong also fondly described the dancing and singing at these void deck parties, and how she particularly enjoyed chatting with the workers and getting to know them better.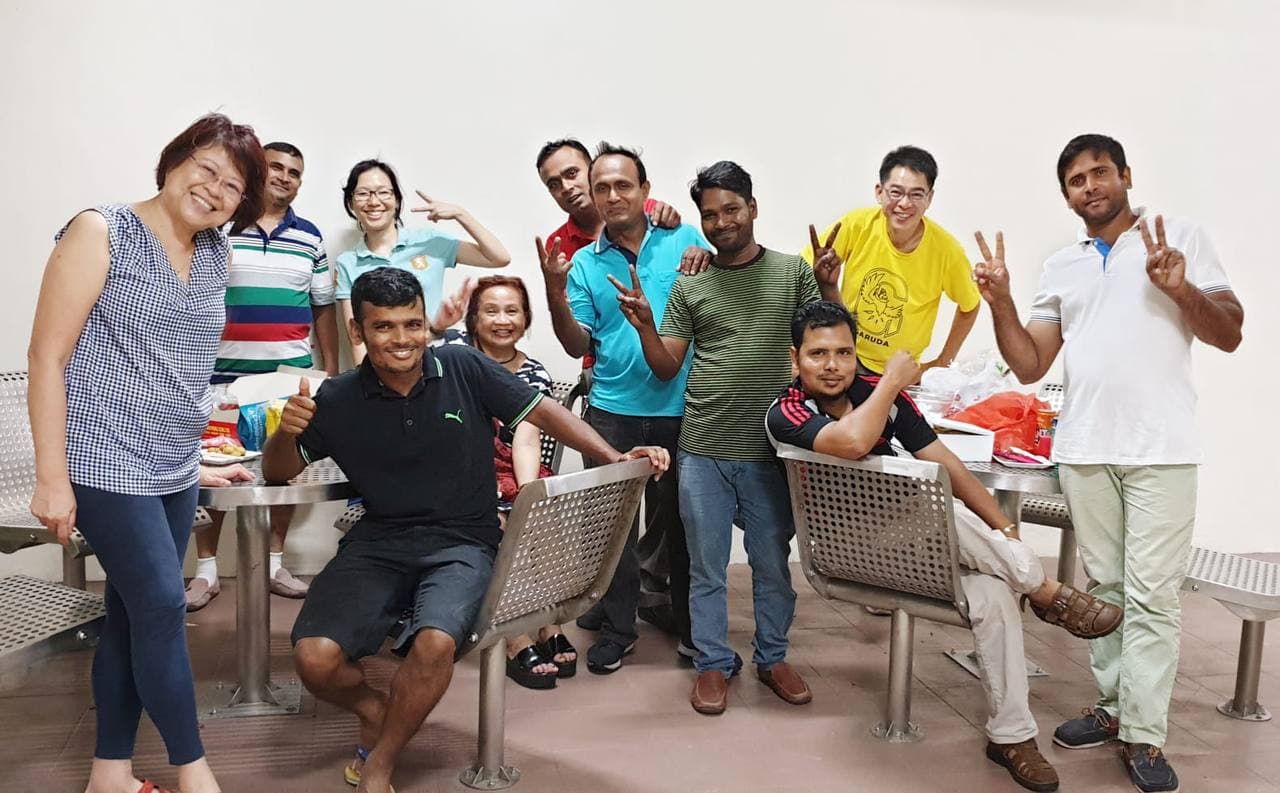 However, such large-scale gatherings are no longer possible amid Covid-19.
This did not deter Wong, who felt that being in the middle of the pandemic made it all the more important to interact and connect with these workers.
Wong explained that many of these workers — who can't head home to see their families, due to border restrictions — feel particularly alone during the pandemic.
They also have more to fear: not only are there health implications for them, but they are worried that getting the virus would mean losing their jobs, and being sent home while they're still in debt.
Hence, on Labour Day 2020, Wong decided to do her part for the cleaners working in her estate, by giving away free packets of biryani and snack-filled goodie bags to the workers, as a way to cheer them up.
She would prepare the food, and leave them in the coffee shop near her house, where they would collect the food themselves.
However, the strict Covid-19 regulations meant that she wasn't able to interact with the workers, something she wanted very much to do.
Wong revived the regular dinners in her own flat
It wasn't until the start of 2021, when Wong decided to do something that was perhaps highly unusual to many: she invited the workers into her humble three-room flat for dinner.
The relaxed regulations then meant that she could allow eight individuals into her house, so she decided to host a mix of workers and friends to the dinner, so that the cleaners could mingle with other locals as well.
Inviting workers wasn't easy at first, given that some were naturally a little cautious. However, Wong was on good terms with Manick, a block cleaner she met in previous gatherings, so he was able to help her organise her first dinner, with the young workers arriving at her flat promptly at the appointed time of 7pm.
They chatted about their lives during the simple meal together, and Wong encouraged them to use her WiFi to call their family members.
"I think it's important if you're working overseas that your family know that you're safe, especially during this Covid-19 pandemic. That you're eating well, that you're in a nice place. And that the locals are treating you with dignity and friendship," she said.
Other workers who were unable to join the dinner (due to Covid-19 regulations) were not neglected either; Wong prepared generous servings of food and snacks for them, allowing them to have a filling meal as well.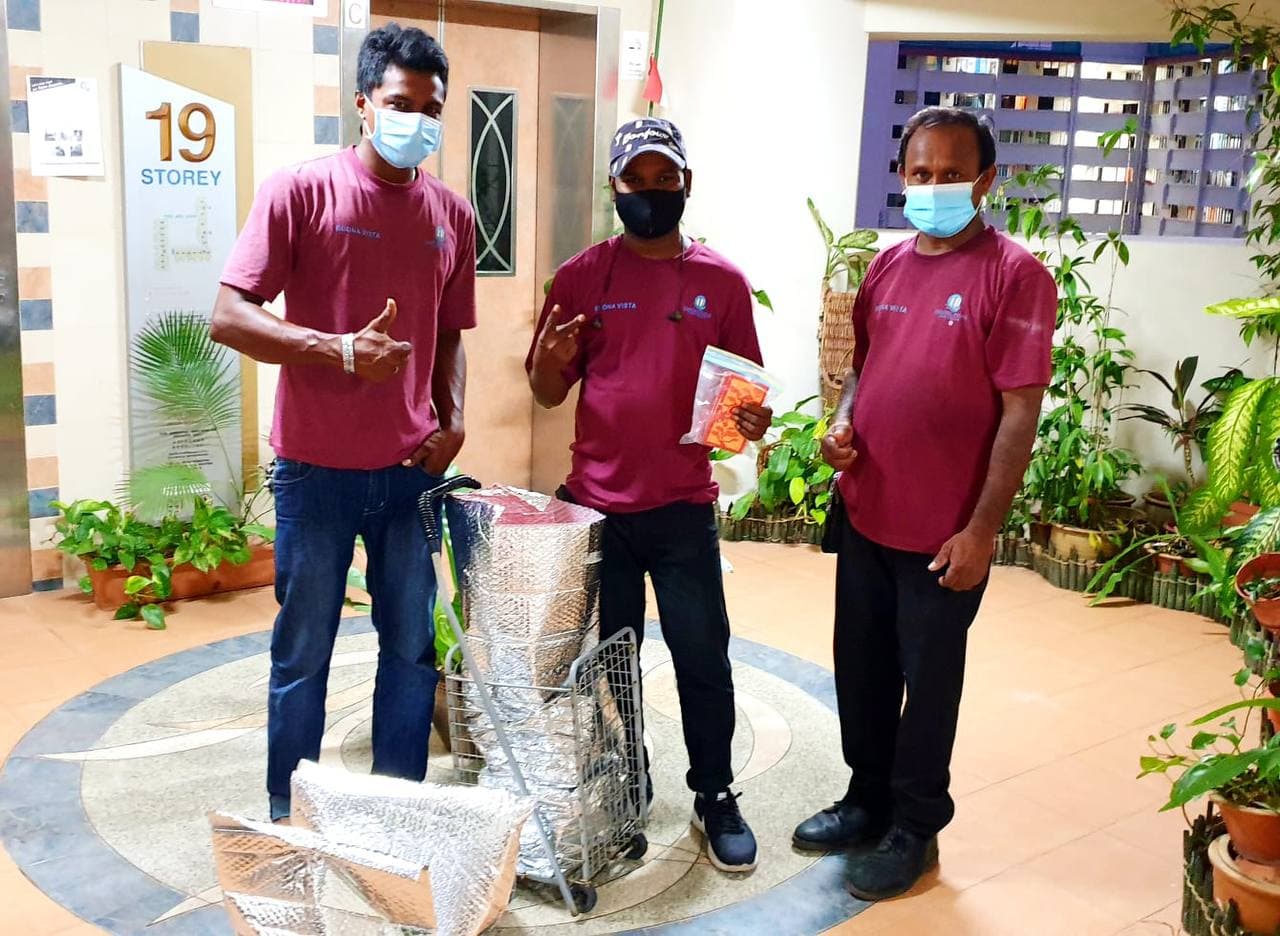 After her first successful dinner, this became the modus operandi for Wong: she would host Manick and a new group of four other workers, along with a rotating group of friends for dinner around once a month, in order to get to know them better.
Wong grew up with the mindset of always helping others
While I was initially afraid that a language barrier would make conversation with the workers difficult, and possibly awkward, Wong assured me that there would be no problems, give that most of them speak at least basic English, with many picking it up during their years of work in Singapore.
While preparing for that night's dinner, Wong shared that growing up, her parents were extremely generous people, despite relatively poor.
They were immigrants as well and being in a strange land, they benefited a lot from the kindness of others, and the desire to pay it forward came naturally to them.
Wong recalled that her parents would often let people who needed a place to stay into their small home, even though they had to squeeze six people in one room.
These weren't limited to friends or neighbours, as her parents' hospitality would often be extended even to strangers who needed help.
"That is part of our upbringing: that when there's somebody in need, you just extend your help without asking questions," she said.
Wong has a history of giving some of her time and energy to others, even before she started hosting migrant workers in her home.
Wong's personal target is to spend at least a tenth of each year doing voluntary work. She achieves this by spending five weeks a year teaching music in remote regions of India — and she has been doing so since 2003.
Wong said that these trips were enriching experiences, where she received plenty of kindness and hospitality from the locals she encountered.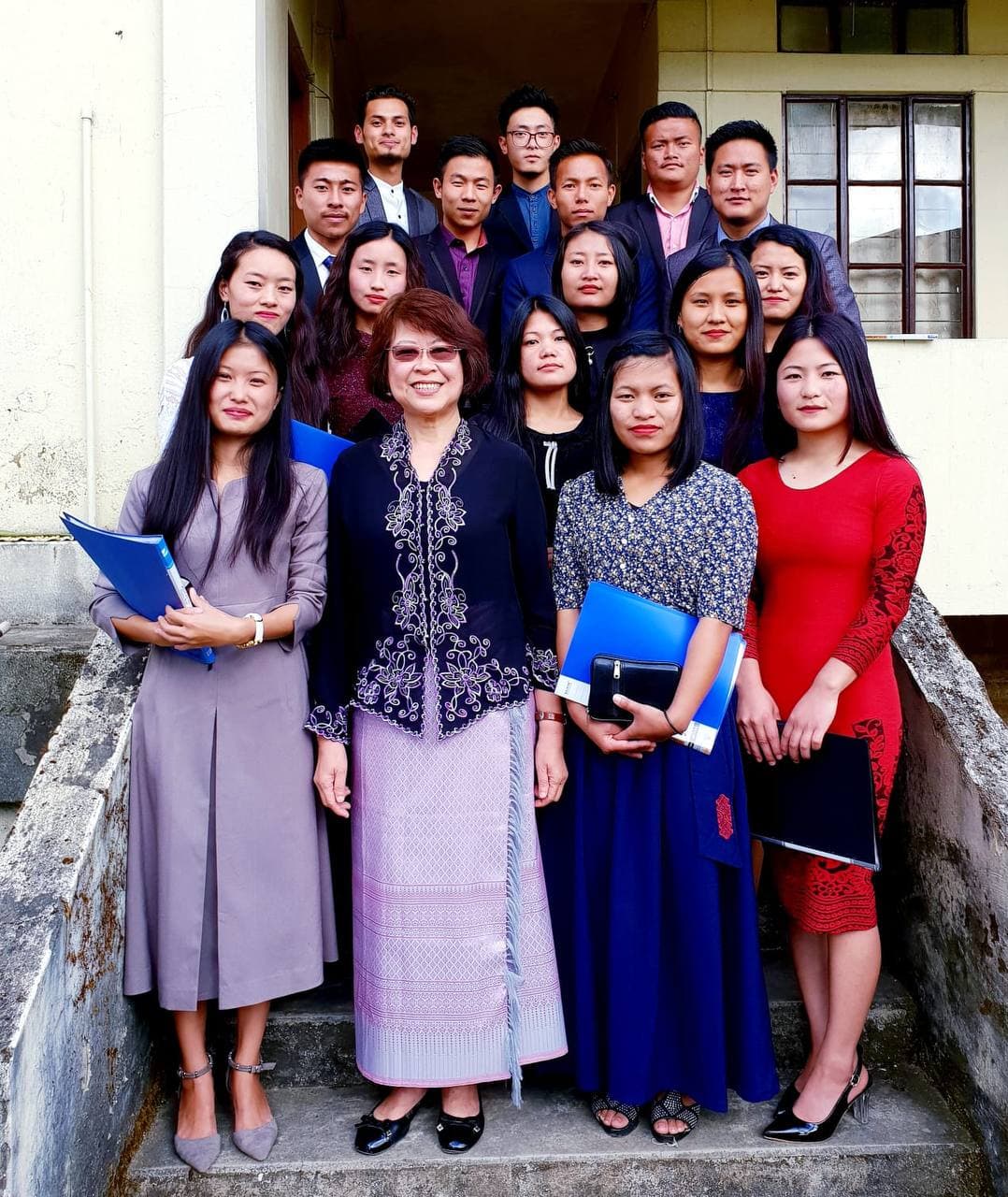 And in a way, she sees herself now paying forward the hospitality she received in the past, by welcoming the migrant workers near her estate into her home.
Wong tries to involve as many locals as possible in these dinners
Wong assured me that she was not alone in wanting to show appreciation for our migrant workers. Many of her friends help to cover the cost of the dinners, or chip in by helping to purchase the snacks that are distributed.
Thankfully, Wong has a number of well-to-do friends, and so it is not difficult to procure such donations.
In fact, she proudly compares herself to Robin Hood, the fabled character who steals from the rich, to give to the poor.
"But I'm not stealing, la. I'm just convincing those with lots of cash, and don't know what to do with it," she said.
Wong also has a small chat group of about 10 people, comprising friends, neighbours, and even some mutual friends who she has never met, but contributes in their own way.
For example, for this particular dinner that I was attending, one individual helped by contributing S$100, while others bought biscuits and coffee for the workers.
There are also children in her estate who would write cards to the migrant workers, thanking them for keeping the neighbourhood clean, and giving words of encouragement to them.
Another friend chipped in by delivering the 20-odd packets of biryani to Wong's flat.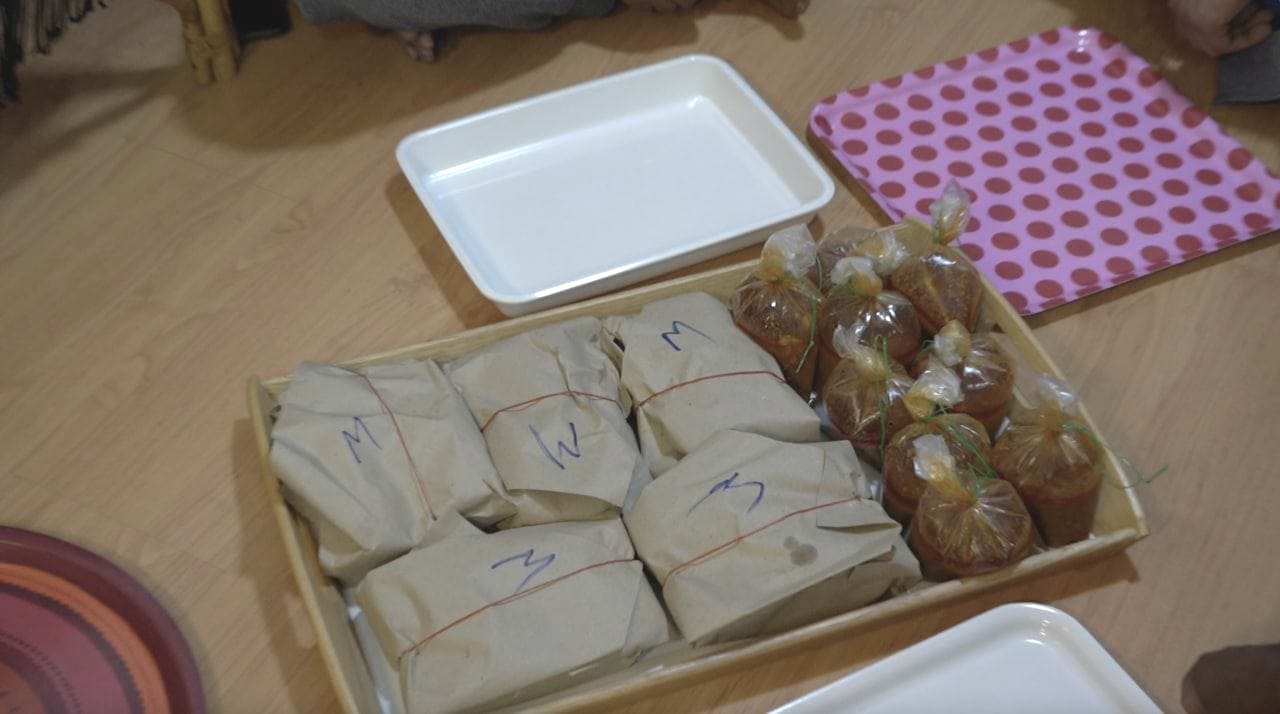 Sensing my confusion at how large the packets were, Wong chuckled and told me that the migrant workers can easily finish the large portions of biryani, given how mutton biryani is a rare treat for them.
Wong knows exactly how to make them feel at home
Shortly after the food was ready, we welcomed Manick and four of his colleagues into the flat.
Wong excitedly asked everyone to wear name tags: the kind you wear on the first day of school, so that your teacher would recognise you.
She explained that she always tries to remember everyone's names when they visit, so that she can recognise them as they go about doing their daily tasks around the estate, although she admits that it is a more difficult task these days, given that everyone is wearing masks.
The workers were dressed immaculately, with their hair neatly combed and the fresh smell of cologne apparent in the room.
Wong told me that the workers always ensure that they are dressed for the occasion, and would always take the time to make themselves presentable before entering her house.
After we did a quick round of introductions, we settled in, sat down on the floor, and began digging into our food.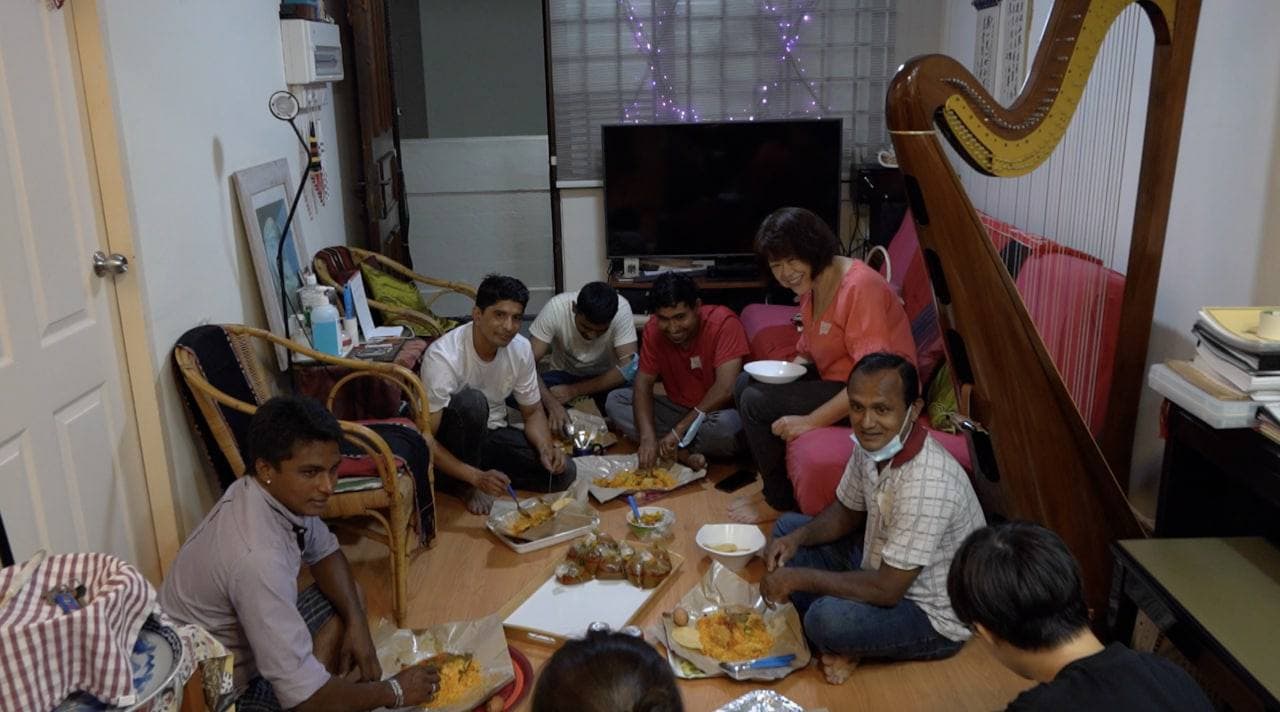 I was wondering how we were supposed to start the conversation, when Wong quickly kicked into gear, and began posing questions to the workers.
"How long have you been working in Singapore? How's your work? Do you have a family back home? Married already?"
It was clear that this was not her first rodeo, as her guests grew more and more comfortable, making the atmosphere a whole lot more light-hearted.
The workers were eager to share about their families back home, as well as their future plans, like when they intended to get married.
Soon, the group loosened up, and they began laughing and joking around amongst themselves, poking fun at each other.
For example, we realised that 40-year-old Manick... wasn't really 40 this year, when Wong outed him in front of his colleagues.
"Hey Manick, you sure you're 40 years old? Few years ago, you also say you 40 years old," she jibed, as the others roared with laughter.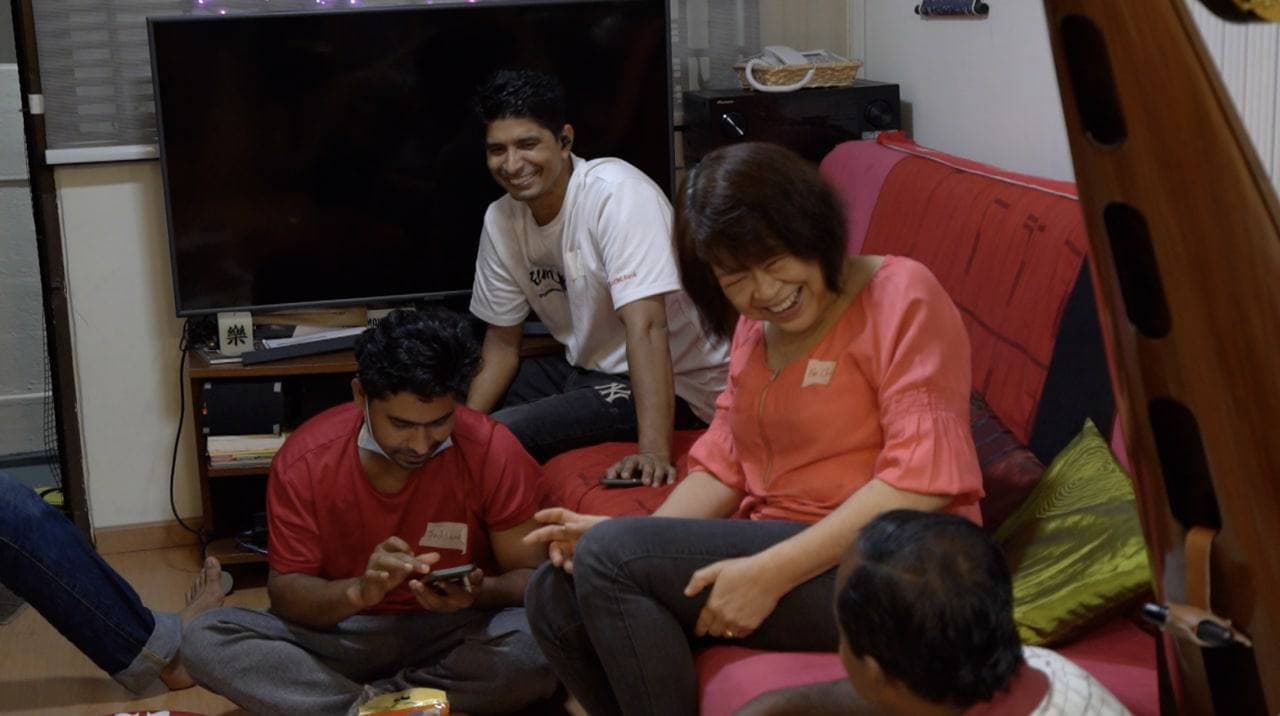 Wong acts like their mother
On a more serious note, Wong also displayed her concern for her block's cleaners, inquiring about their work conditions, and whether they had been vaccinated.
In a manner that resembled a child reassuring his mother, the group collectively told her that work has been going fine, and that they were about to get their vaccinations soon.
In fact, despite their long hours and hard work, they made it clear that they enjoyed working in Singapore, given the stability and safety of the country.
When Wong told them that perhaps Singaporeans should learn how to keep their estates clean on their own, they brushed off this notion, insisting that they were just doing their jobs.
And indeed, work is often on their minds, as it soon came time for them to head back to work, at around 9pm.
The workers were excessively polite, as they even asked Wong for permission to let them go back to work.
As Wong stood there, grumbling about how it wasn't right that they still had to work at this late hour, the group of them once again showed off their parent-children dynamic with Wong, assuring that they won't be working for much longer.
"Just...one quick sweep around block [sic]. Then we go back."
As they got ready to leave, Wong insisted on cleaning up after the meal, saying that it's the least she can do for them, given how they keep the estate clean on a daily basis.
"You have to go, just wash your hands, and go. You don't have to do anything," she reassured them, as they scrambled to help dispose of the trash.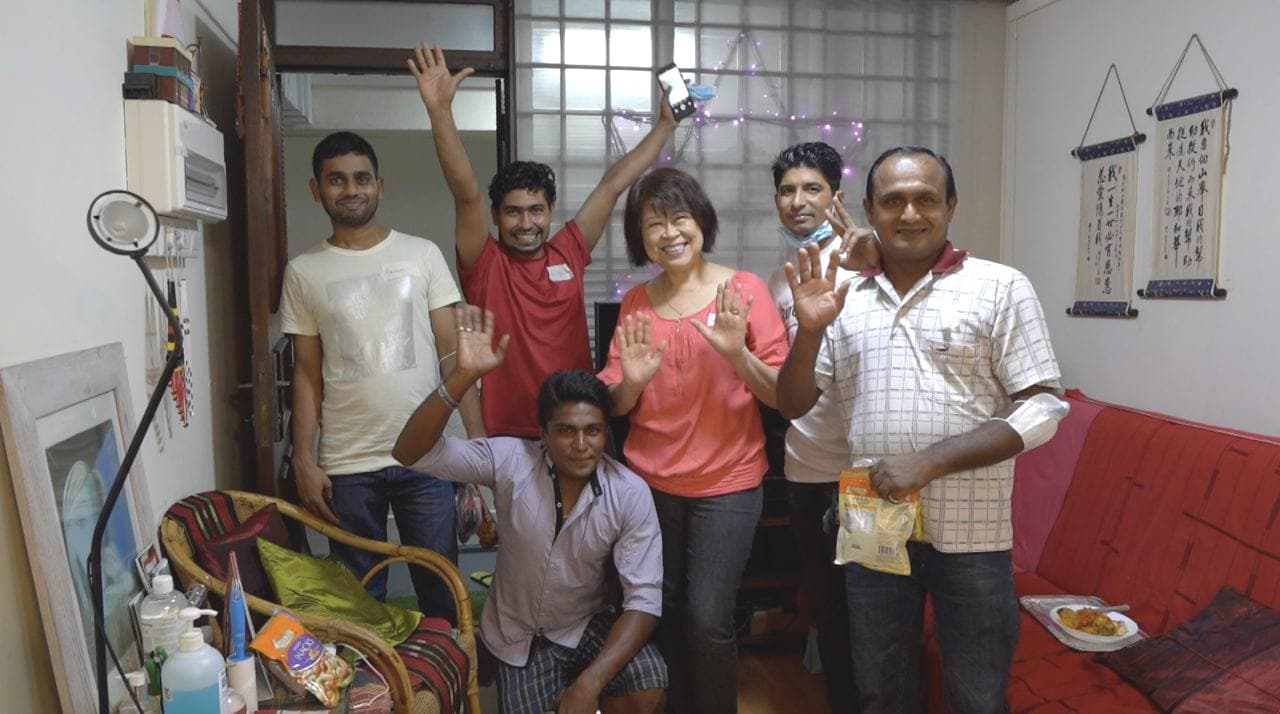 Hopes to have bigger gatherings in the future
I couldn't help but admire how easily she mingled with the workers, given that this was the first time she met most of them, apart from Manick.
In fact, a few of them even insisted on taking a selfie together with her, before they left.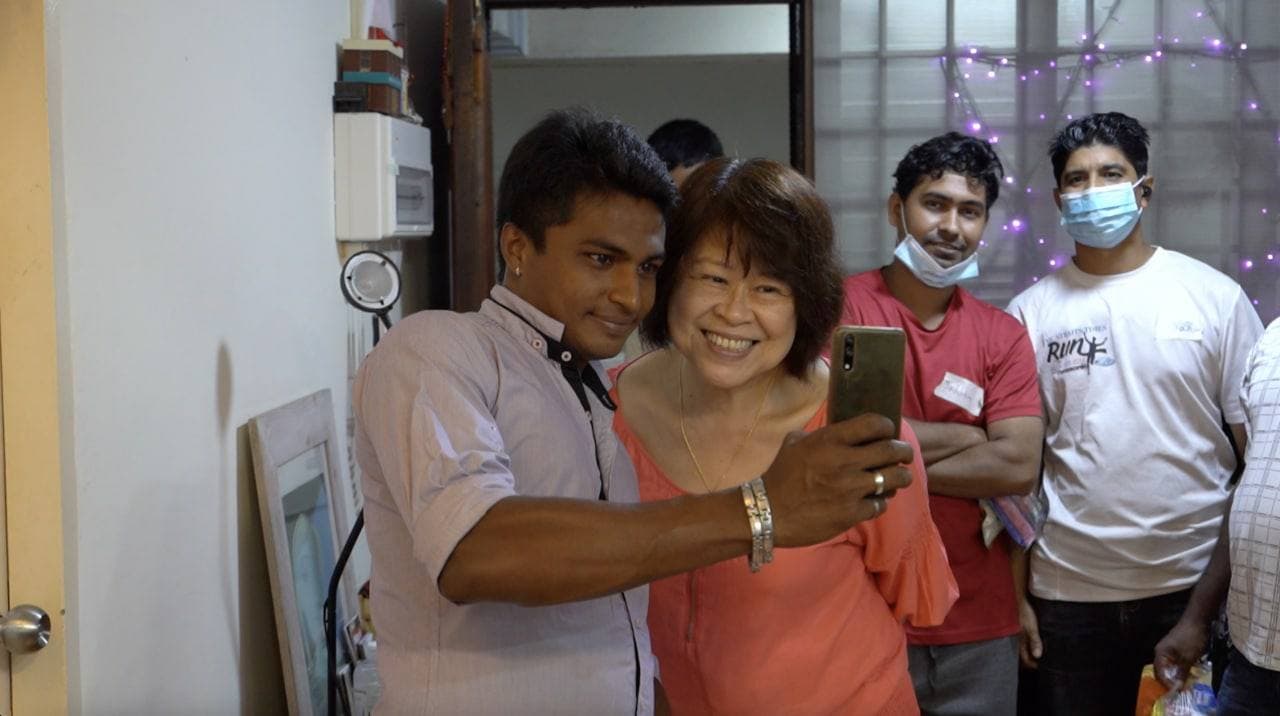 She effortlessly established herself as a motherly figure, and her genuine concern for them was apparent.
In fact, when I asked her whether she considered them friends, she had a simple reply: They are more than friends.
"I call them brothers. Actually, I'm old enough to be their mothers. Most of them are in their 20s, my own kids are all in their 40s. So I feel for them."
Wong, who has several children based overseas, said that it's natural for parents to worry when their children go overseas to work.
In the same vein, especially during a pandemic, many of these workers also worry about their families, given the spike in Covid-19 cases in their home countries.
Going back home now would almost certainly ensure that they would not be allowed back into Singapore to work in the short-term, given the stricter border regulations that have been put in place.
And so having to juggle between their desire to see their loved ones and the need to stay here to support their families is an uncomfortable choice, but Wong said that being friends with them is a really rewarding way of cheering them up, at least for a moment.
Wong's long-term aim is to be able to host all of the workers simultaneously at her house regularly, so that they can enjoy a simple dinner together, without having to rotate between different groups.
And Wong hopes that more Singaporeans will take the time to interact with the many migrant workers in Singapore, saying that it doesn't take a lot to make their day.
"Strangers are just friends you haven't met yet," she said simply.
---
Stories of Us is a series about ordinary people in Singapore and the unique ways they're living their lives. Be it breaking away from conventions, pursuing an atypical passion, or the struggles they are facing, these stories remind us both of our individual uniqueness and our collective humanity.
---
Top image courtesy of Wong Kae Chee.
If you like what you read, follow us on Facebook, Instagram, Twitter and Telegram to get the latest updates.