A long-tailed macaque was recently seen feasting on a chicken that still had most of its body intact.
Feasting
Photographer Kyaw Swar Tun shared with Stomp that he caught a glimpse of the unusual sighting while visiting Windsor Nature Park on May 2.
A video he shared showed the monkey chewing on what is presumably a part of the chicken clenched in its fist.
Here are some clearer pictures of the unsettling sight.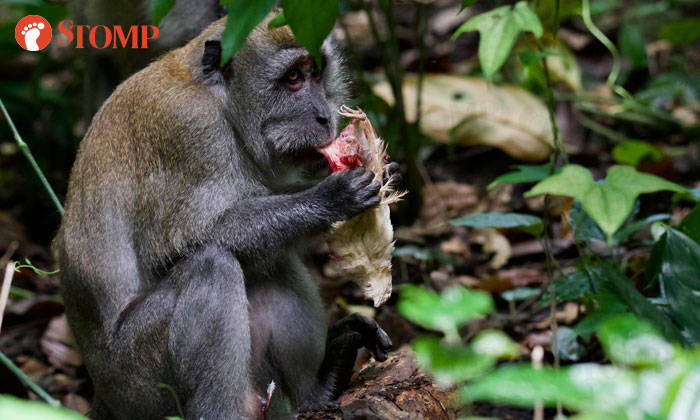 Kyaw told Stomp he was "shocked because this is the first time I've seen this".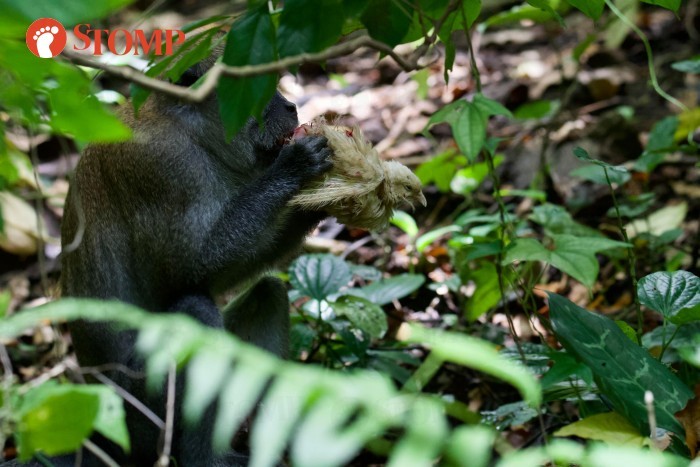 Macaques are omnivorous, meaning they feed on both plants and other animals such as chicks, lizards, frogs and fish.
It is uncertain if the chicken was previously injured, which would have facilitated its capture.
This appears to be the first local report of a macaque eating something as large as a whole chicken.
However, there have been cases in other countries of large troops of macaques feeding on chickens.
The Hindu reported in 2020 that Indian authorities had to take steps to manage the Rhesus macaque population as the creatures would raid hen coops to kill the chickens.
What to do around macaques
While long-tailed macaques are plentiful at Singapore's parks and nature reserves, visitors should still remain cautious around them, especially individuals with babies.
Here's the National Parks Board's (NParks) advice on what to do when a macaque approaches you.
Stop whatever you are doing immediately.

Remain calm and quiet. Do not make sudden movements and do not maintain direct eye contact with the monkeys.

Look away and back off slowly. Do not turn away from the monkeys and run.

If you are holding an object which is attracting the monkeys, conceal or discard it.

Do not try to hit the monkeys.

If you have a child with you, put him/her on your shoulders. This will increase your perceived size, which could deter the monkeys from approaching you and your child.

Keep away from the area until the monkeys have left.

Top photo by Kyaw Swar Tun via Stomp
If you like what you read, follow us on Facebook, Instagram, Twitter and Telegram to get the latest updates.