Follow us on Telegram for the latest updates: https://t.me/mothershipsg
Editor's note on Apr. 20, 10:15pm: The article has been updated with a statement from Tanglin CC.
A 24m tree landed on part of Tanglin Community Club (CC) around 5-6pm on Apr. 17.
It was likely uprooted due to the heavy downpour earlier in the day.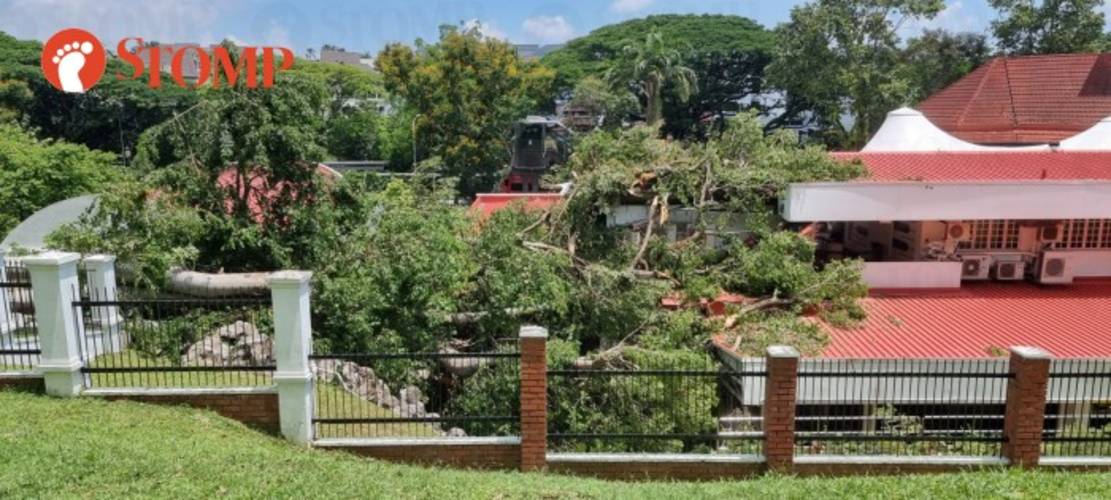 Two Stomp readers were on their way to martial arts training at Tanglin CC when they saw and shared photos of the aftermath.
One of them recounted that the participants of the pottery class "saw the incident first-hand" and narrowly escaped when the "tree missed their classroom by a bit".
The CC's staff was quick to react to the incident and made sure that everyone was safe.
Chua Lai Teck, the Chairman of Tanglin CC Management Committee told Mothership that no one was injured from the incident.
As part of safety measures, the affected parts of the CC, including the martial arts training corner, were seen to be cordoned off.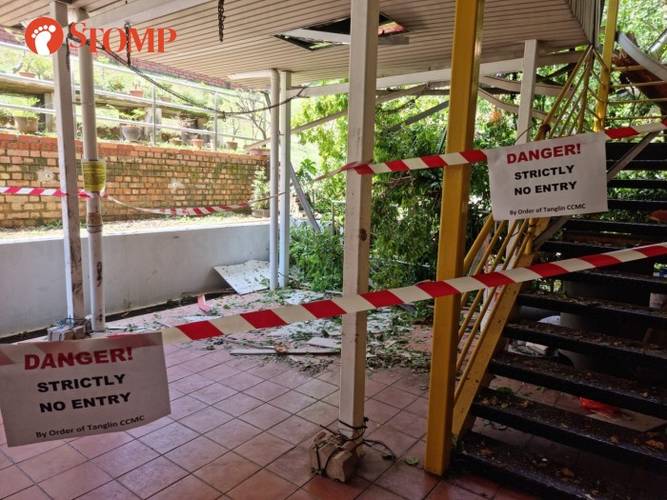 Chua said that the incident had damaged the roof belonging to Tanglin CC's ceramic room and all classes held near the incident site have been suspended.
According to the National Parks Board (NParks), they were alerted to the incident at around 8:30pm.
The huge tree was a West Indian Locust Tree (Hymenaea courbaril) measuring more than 24m tall and 4.6m wide.
It was removed by 5pm on Apr. 19.
NParks certified inspectors and arborists inspect trees once every six to twenty four months.
To limit the risk of tree failure incidents, they will step up their inspection efforts during periods of adverse weather conditions and for trees that are wider than four metres.
Top image from Google Maps and Azhar and Adrian/Stomp

Top image from Google Maps and Azhar and Adrian/Stomp
If you like what you read, follow us on Facebook, Instagram, Twitter and Telegram to get the latest updates.