Follow us on Telegram for the latest updates: https://t.me/mothershipsg
A Spiny Hill Terrapin found itself becoming the topic of some discussion after being spotted along a footpath in a nature area in Singapore.
The terrapin's chosen habitat — a hilly, forested area — aroused the curiosity of a hiker, who was surprised to see the four-legged creature away from a water body.
The hiker thus shared a series of short videos on Facebook page Singapore Wildlife Sightings, seeking answers.
In the videos, the brown-shelled terrapin was seen ambling along the side of the walking path.
The location of the encounter was later revealed to be Bukit Timah Nature Reserve, though the hiker was encouraged not to reveal the exact spot where the terrapin was seen, to prevent possible poaching.
Was it released illegally?
One commenter suggested that the animal may have been released there illegally.
However, others identified it as a Spiny Hill Terrapin, a species native to Singapore.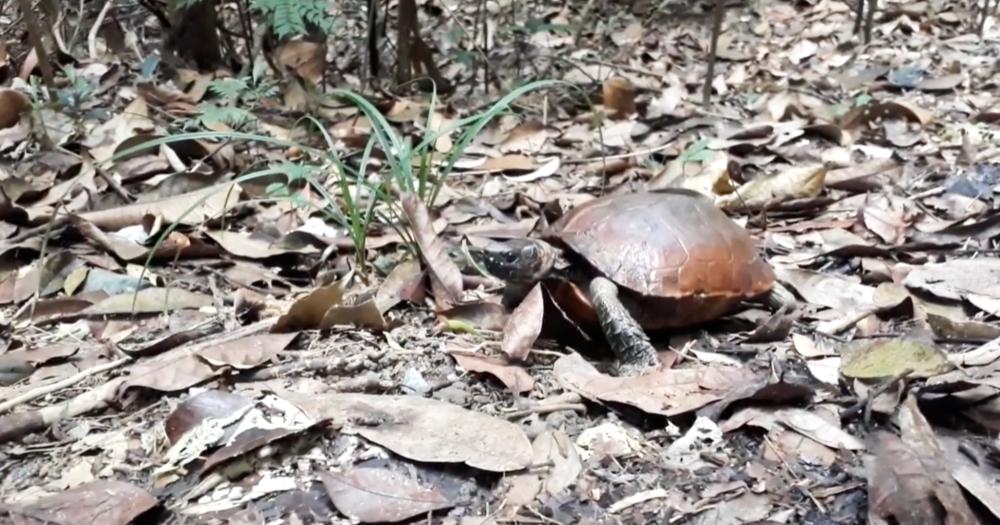 One commenter also pointed out that this species of terrapin cannot be found for sale in shops. Thus, it was unlikely to have been released.
The Spiny Hill Terrapin, according to NParks, lives in forests and terrestrial habitats. It does not need to be "guided back" to the water as some suggested.
Still, others noted that the sighting of the terrapin was still a rare occurrence.
NParks lists the Spiny Terrapin's Conservation Status in Singapore as "Rare", noting that the threats it faces include habitat degradation and illegal collecting for the pet trade.
Is it a turtle, a tortoise, or a terrapin?
There was some discussion over whether the creature was rightly called a "turtle", a "tortoise", or a "terrapin".
It turns out that this particular shelled creature has been given all three names.
It is commonly called the "Spiny Hill Tortoise" or "Spiny Terrapin", according to NParks.
However, as commenters on the Facebook post pointed out, terrapins are also a kind of turtle.
This gave rise to Singaporean jokes, such as calling the creature a literal "suaku" (or, "mountain tortoise" in Hokkien).
Related story

Top photo from video by LenLyn MP on Facebook
If you like what you read, follow us on Facebook, Instagram, Twitter and Telegram to get the latest updates.