Follow us on Telegram for the latest updates: https://t.me/mothershipsg
Shake Shack is opening its sixth outlet at Great World on Apr. 28.
In celebration of its latest store, the burger chain is launching a Jalapeño Ranch menu.
Available at all outlets island-wide, the items will be only available for a limited time from Apr. 28 - Jun. 15, 2021.
Two concretes — frozen custard desserts — exclusive to the Great World outlet will also be available from Apr. 28.
Limited time Jalapeño Ranch menu
The star of this menu is the combination of tangy ranch and house-pickled jalapeños.
The creamy ranch sauce is made from scratch with parmesan, black pepper, and fresh jalapeños.
The limited-time menu features three classic items — Shackburger, Chick'n Shack, and Crinkle Cut Fries.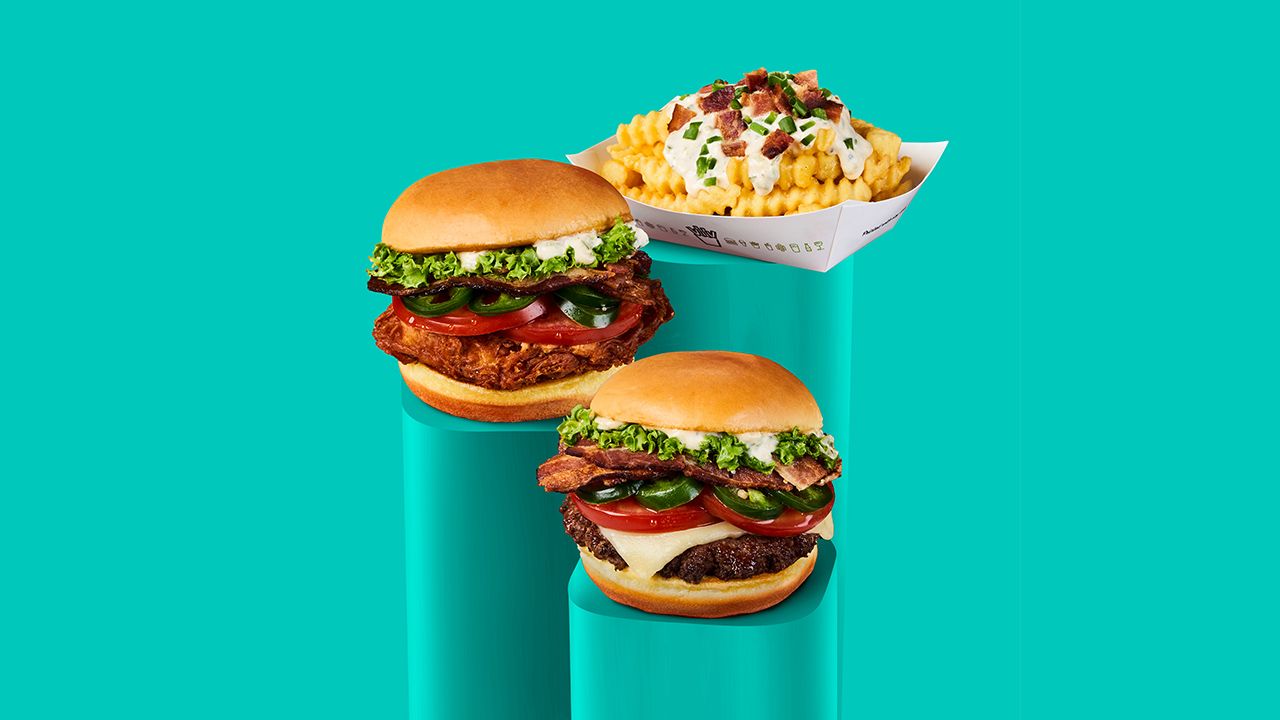 Topped with delicious ranch, house-pickled jalapeños, and bits of crispy bacon, the Jalapeño Ranch Fries (S$6.50) were surprisingly tame in terms of spice.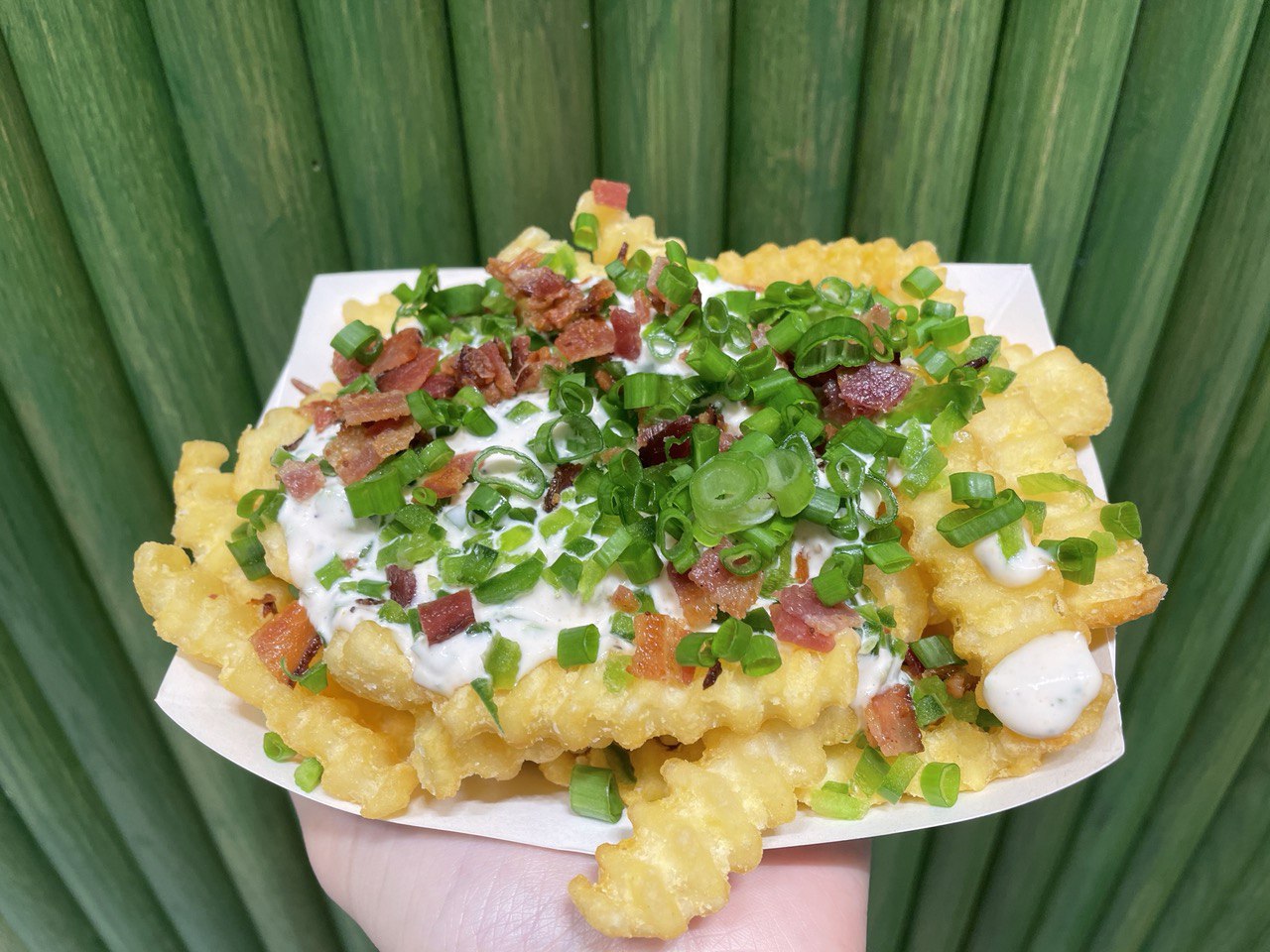 While there is a bit of a kick, we wouldn't consider the fries to be spicy and would be great to share even with those with a low spice tolerance.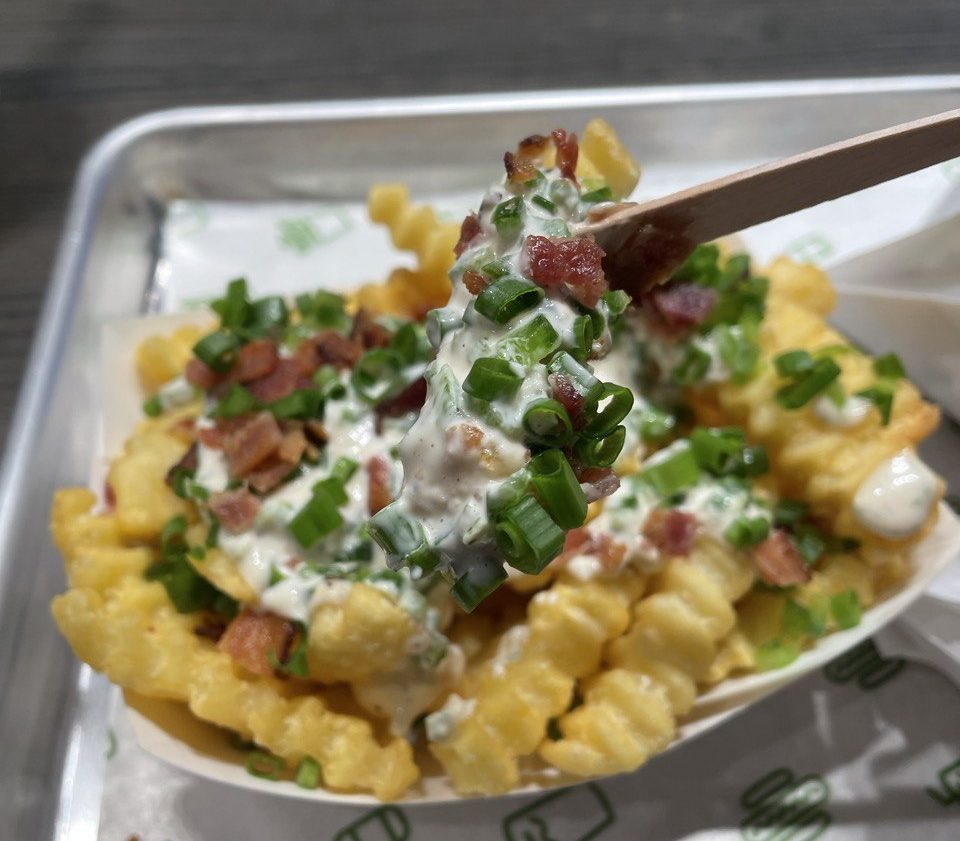 The toppings concentrate on the top layer of fries so there were some uncoated fries (that were still pretty good on their own or with ketchup).
It's the single Jalapeño Ranch Shackburger (S$11.90) next. You can also get it as a double (S$15.40).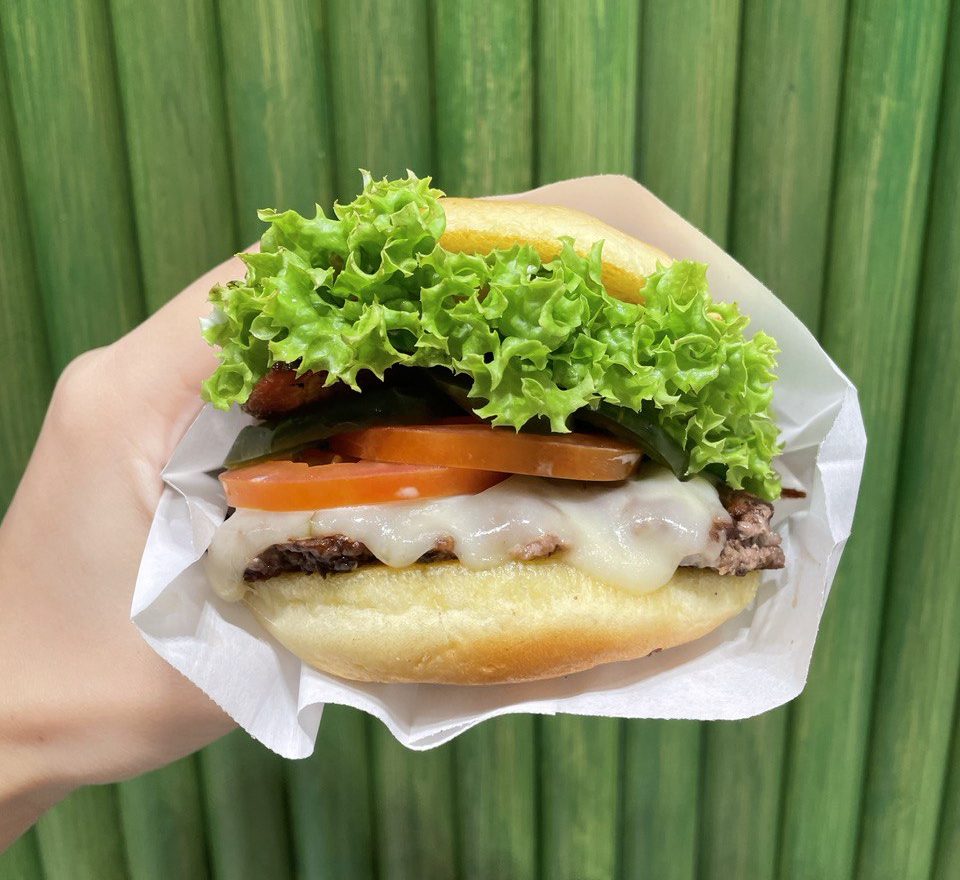 Made with 100 per cent Angus beef, pepper jack cheese, house-made ranch, house-pickled jalapeños, crispy bacon, tomato and lettuce, the Jalapeño Ranch Shackburger packed a much greater punch than the fries.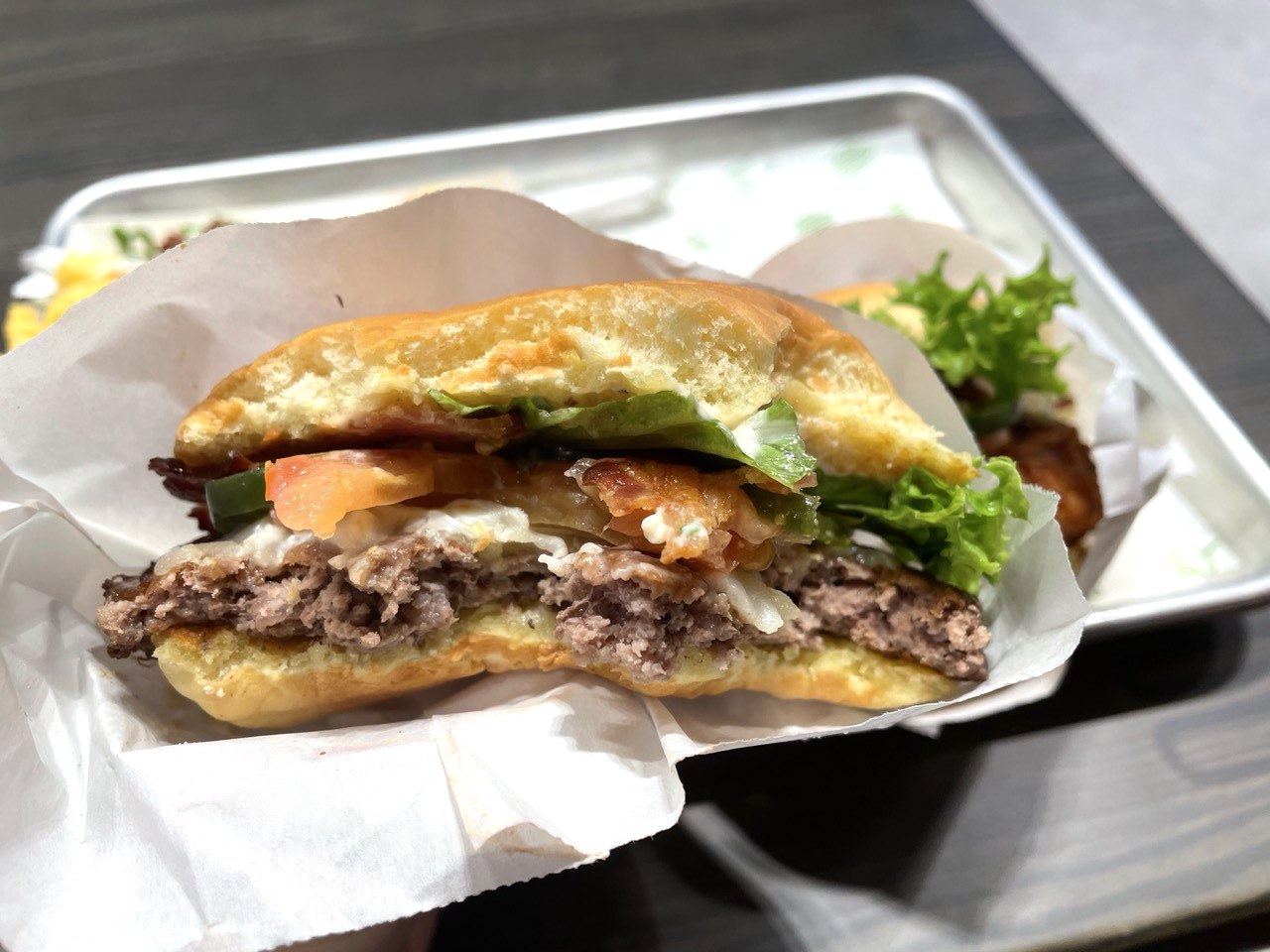 The sliced jalapeños were evenly distributed so you get that spicy kick with every bite.
The Jalapeño Ranch Chick'n Shack (S$11.90) elevates the classic crispy chicken burger with the addition of house-made ranch, house-pickled jalapeños, bacon, tomato and lettuce.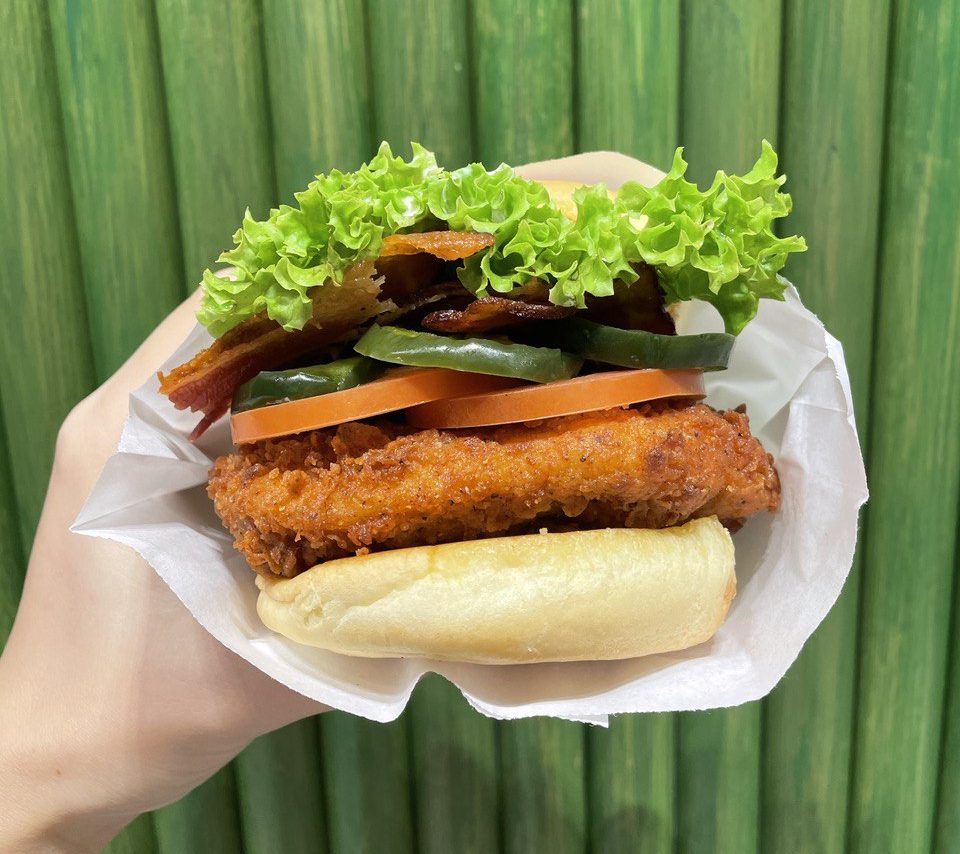 Despite being the same price as the single Jalapeño Ranch Shackburger, the Jalapeño Ranch Chick'n Shack looked a lot more substantial with its crisp and thick chicken patty.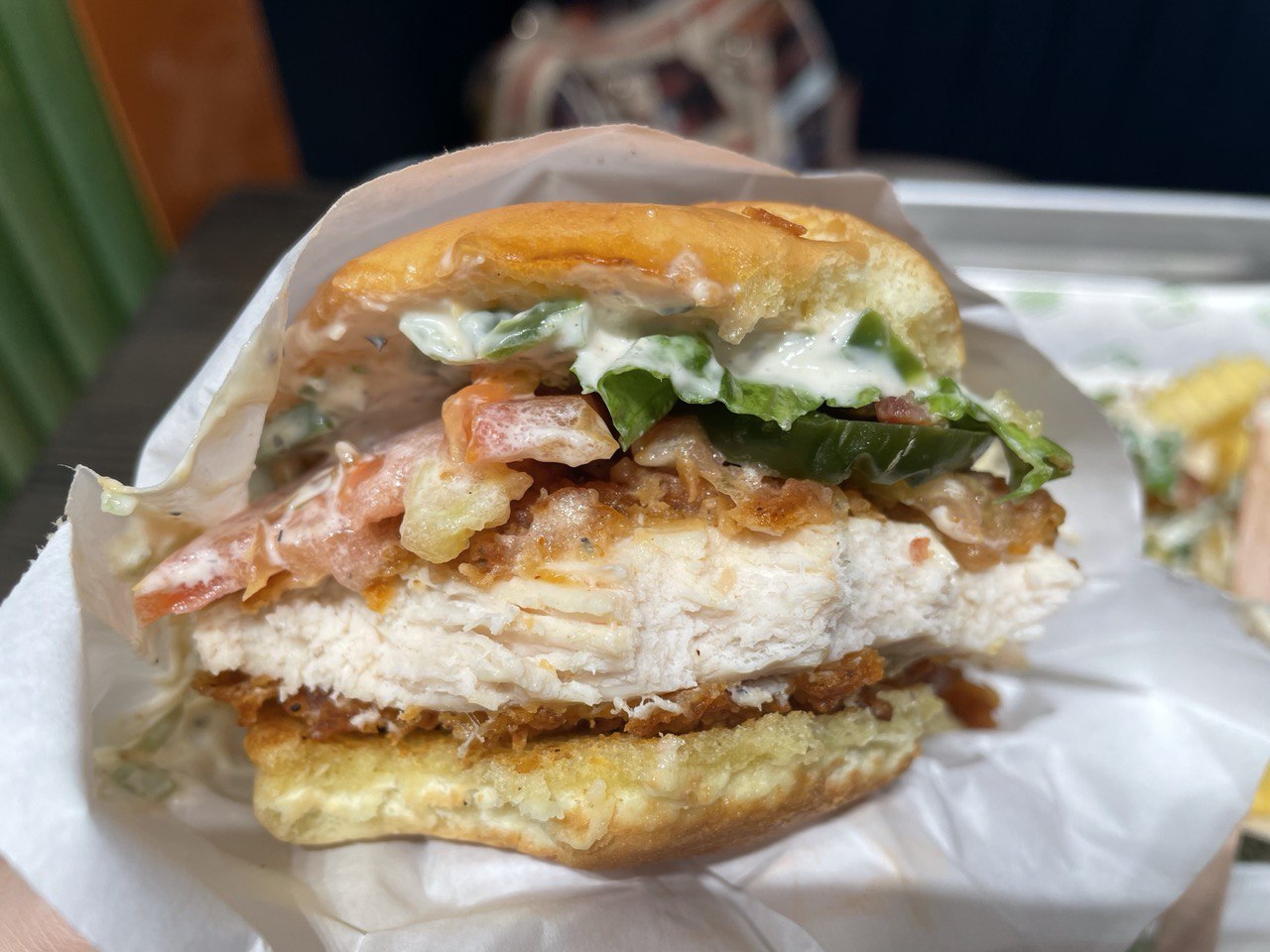 Flavourful with each bite, the Jalapeño Ranch Chick'n Shack also featured evenly-distributed jalapeños but did not taste as spicy as its beef counterpart. Perhaps we had gotten used to the spice without the element of surprise.
We found the spiciness to be tolerable but if you find yourself struggling with it, pick up a cup of Fresh Lemonade (S$4.30/S$5.30) to douse the heat.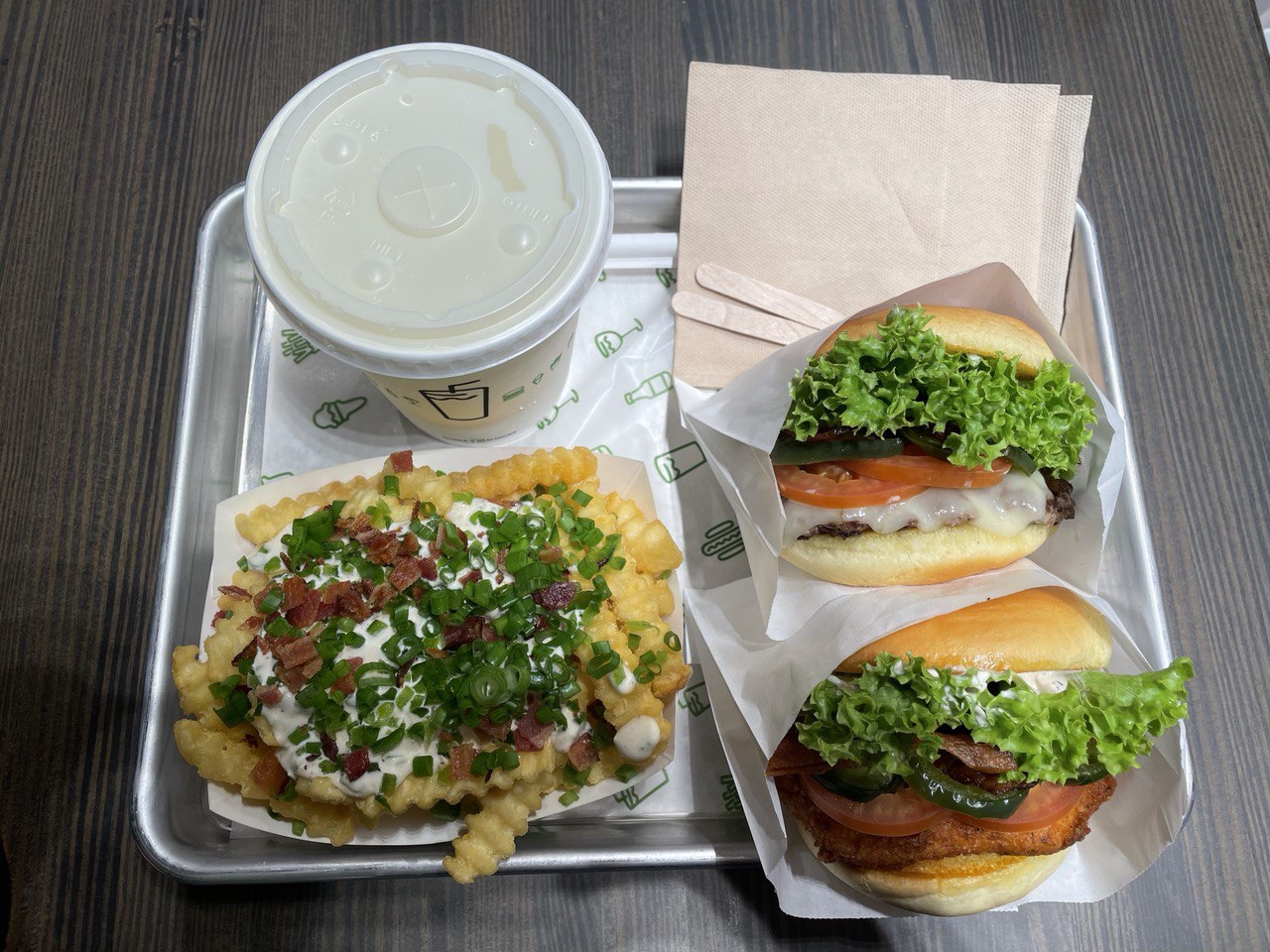 Concretes
For the uninitiated, concretes are custard/ soft serve desserts.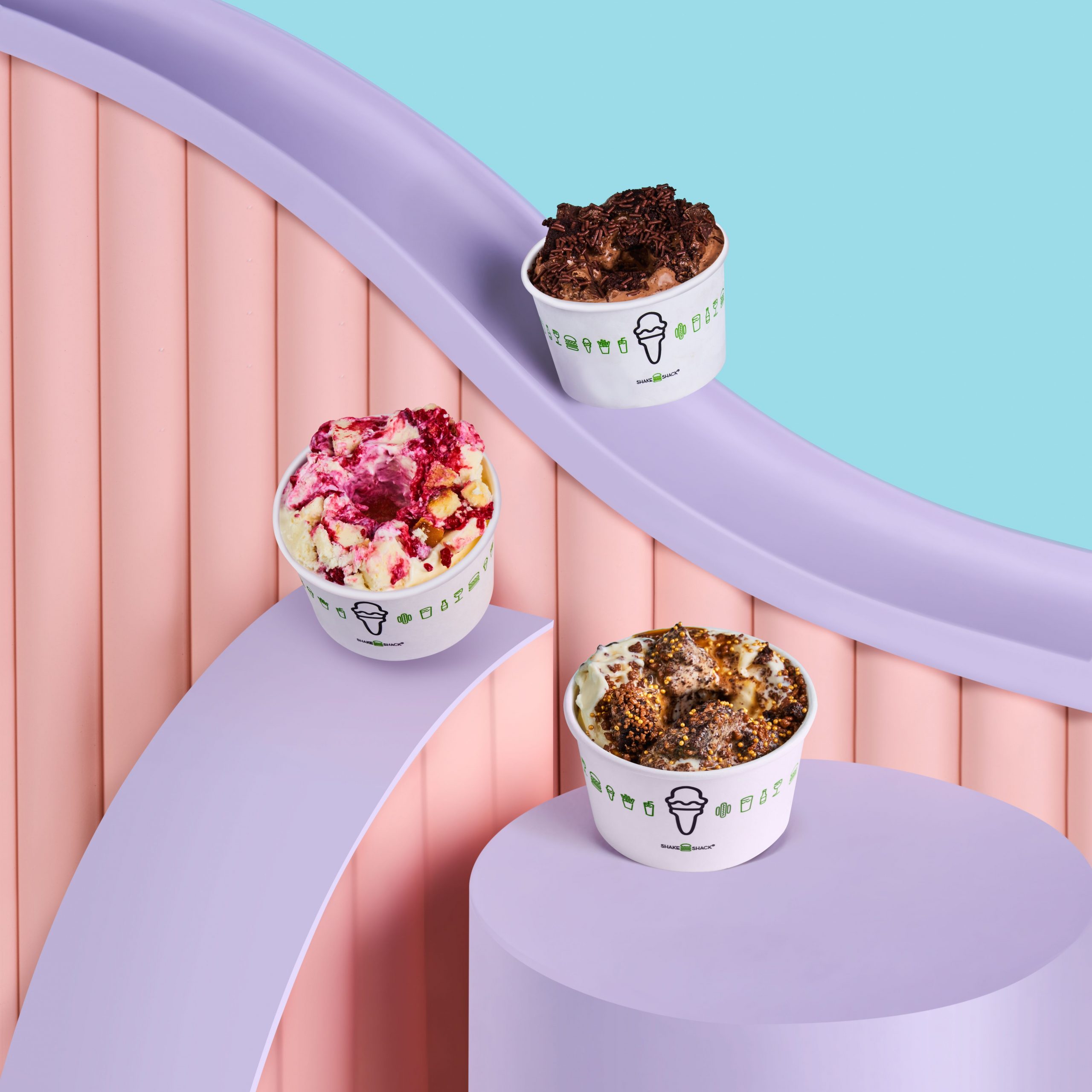 Inspired by the history of the old Great World Amusement Park, two new concretes featuring the same vanilla custard base make their debut as Great World exclusive menu items.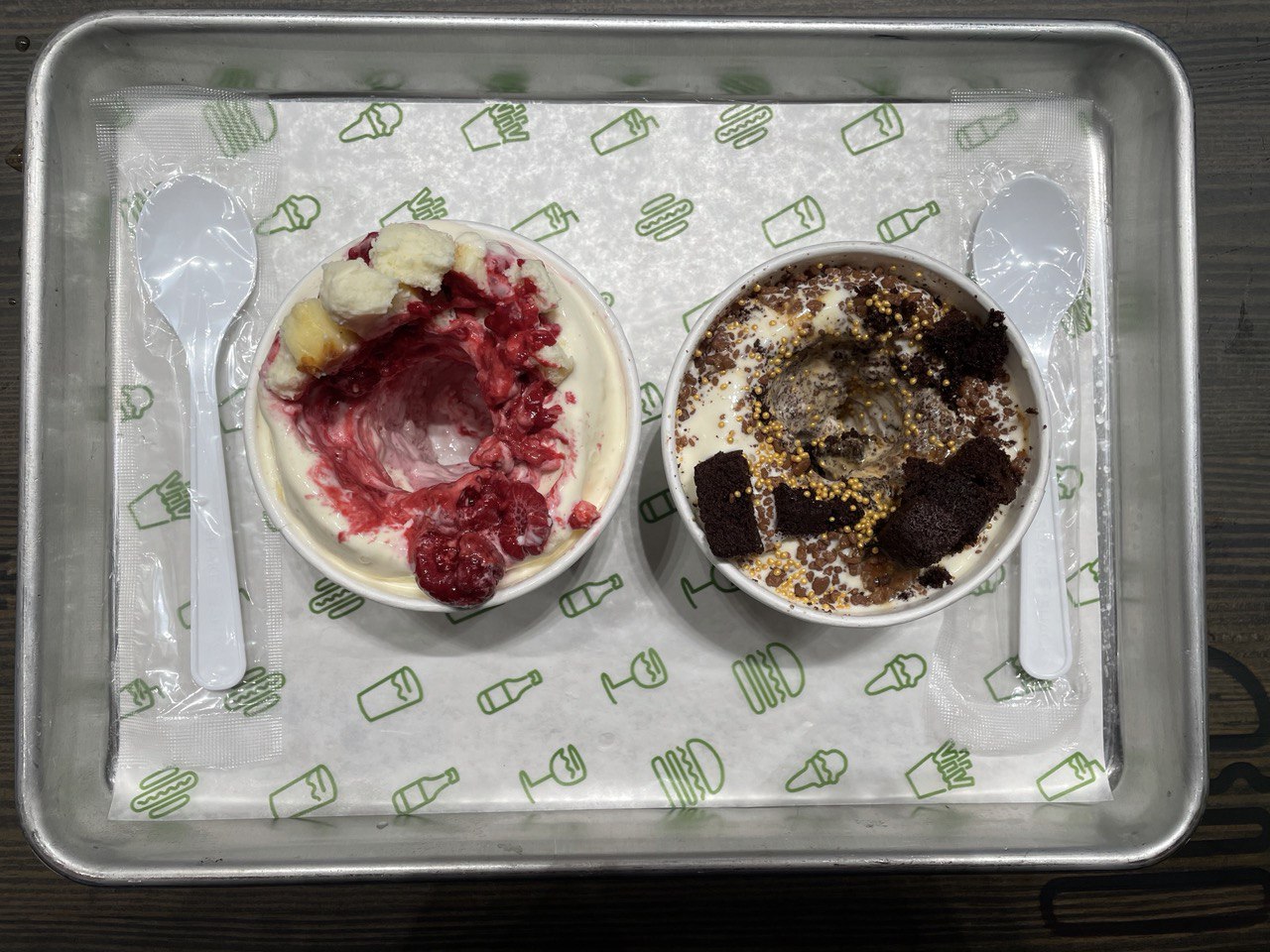 Blended with chocolate poprocks, fudgy brownie bits, salted caramel sauce, the Poppin' Good Time (S$7.50/S$9.50) is topped with gold sprinkles.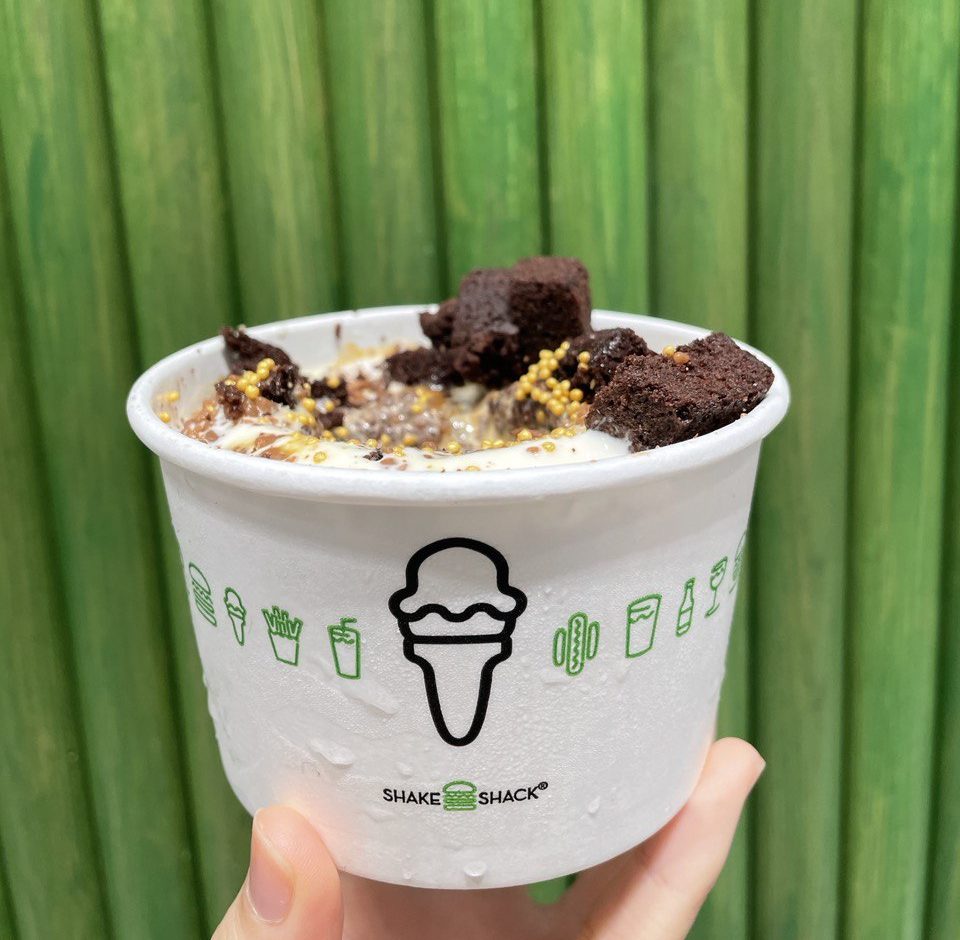 It was literally a party in our mouths (cliche, we know) as we could feel the pop rocks going off with each mouthful.
The brownie bits from homegrown bakery Plain Vanilla added texture and a chocolatey taste to the salted caramel flavour.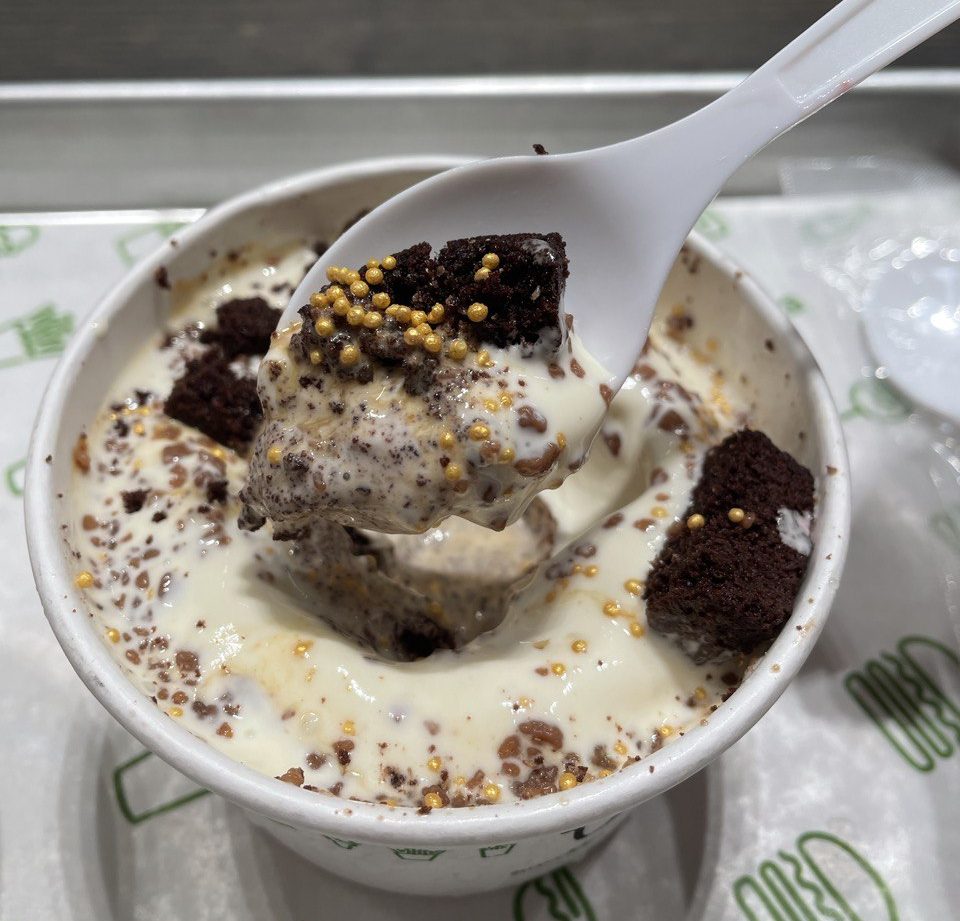 Featuring whole raspberries and cheesecake bits, the Berry Ferris Swell (S$7.50/S$9.50) is great for those who prefer a bit of fruity tanginess to cut through the richness of the creamy cheesecake and custard.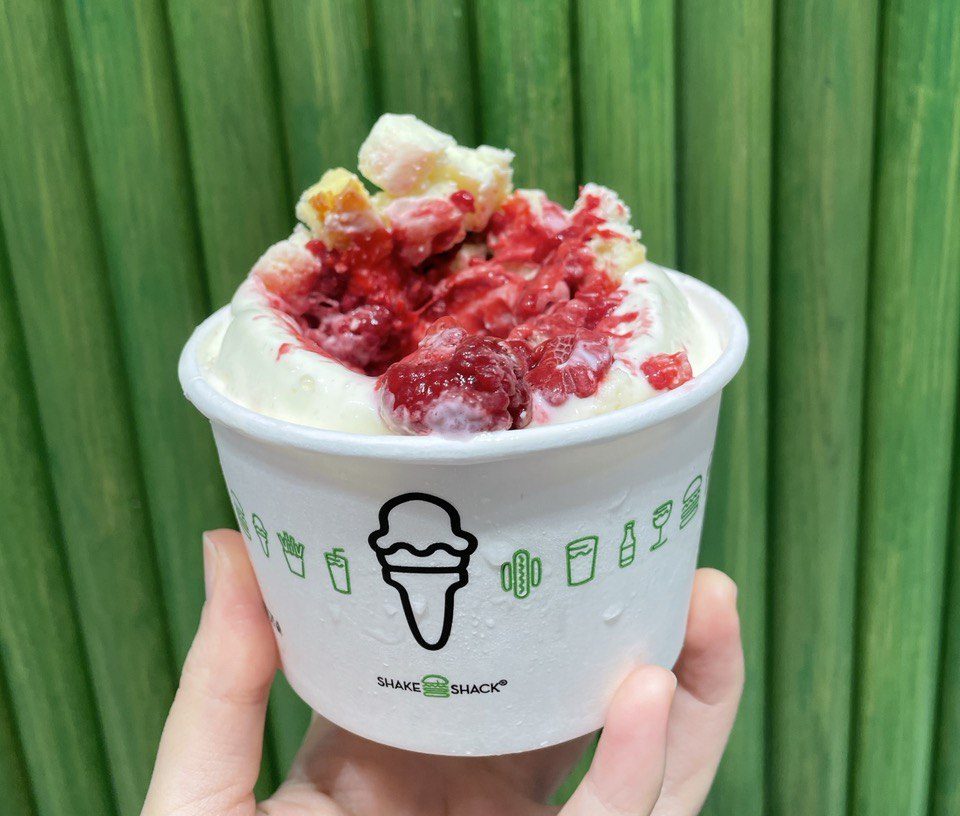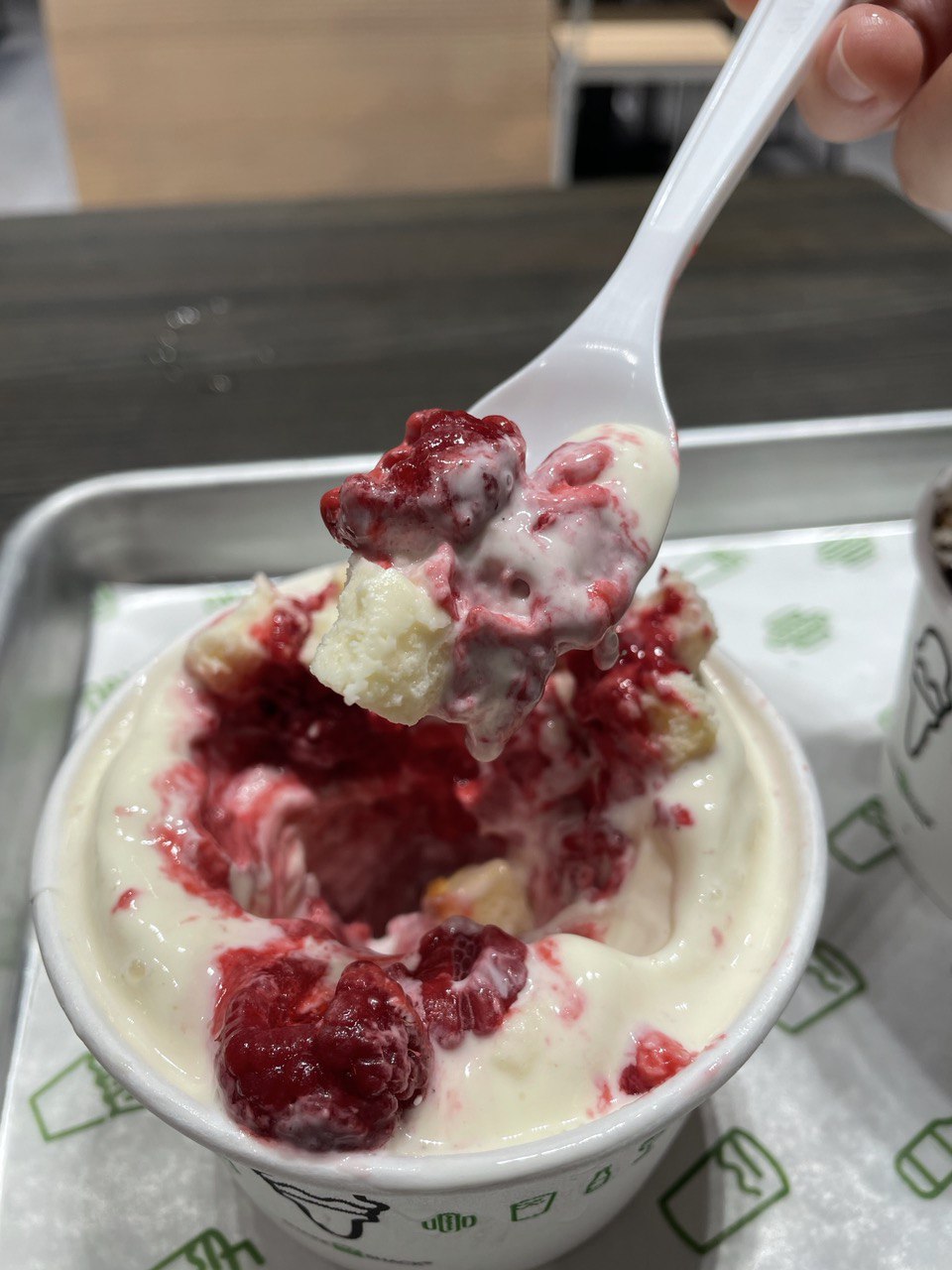 While both concretes are great choices to end your meal with, we found ourselves gravitating towards the Poppin' Good Time, perhaps due to the novel popping sensation.
In addition, five per cent of sales from the classic Shack Attack concrete at Great World outlet will go to non-profit charity partner, Promisedland Community Services.
Facade and interior
When you enter Great World via the Kim Seng entrance, there is no way you can miss Shake Shack.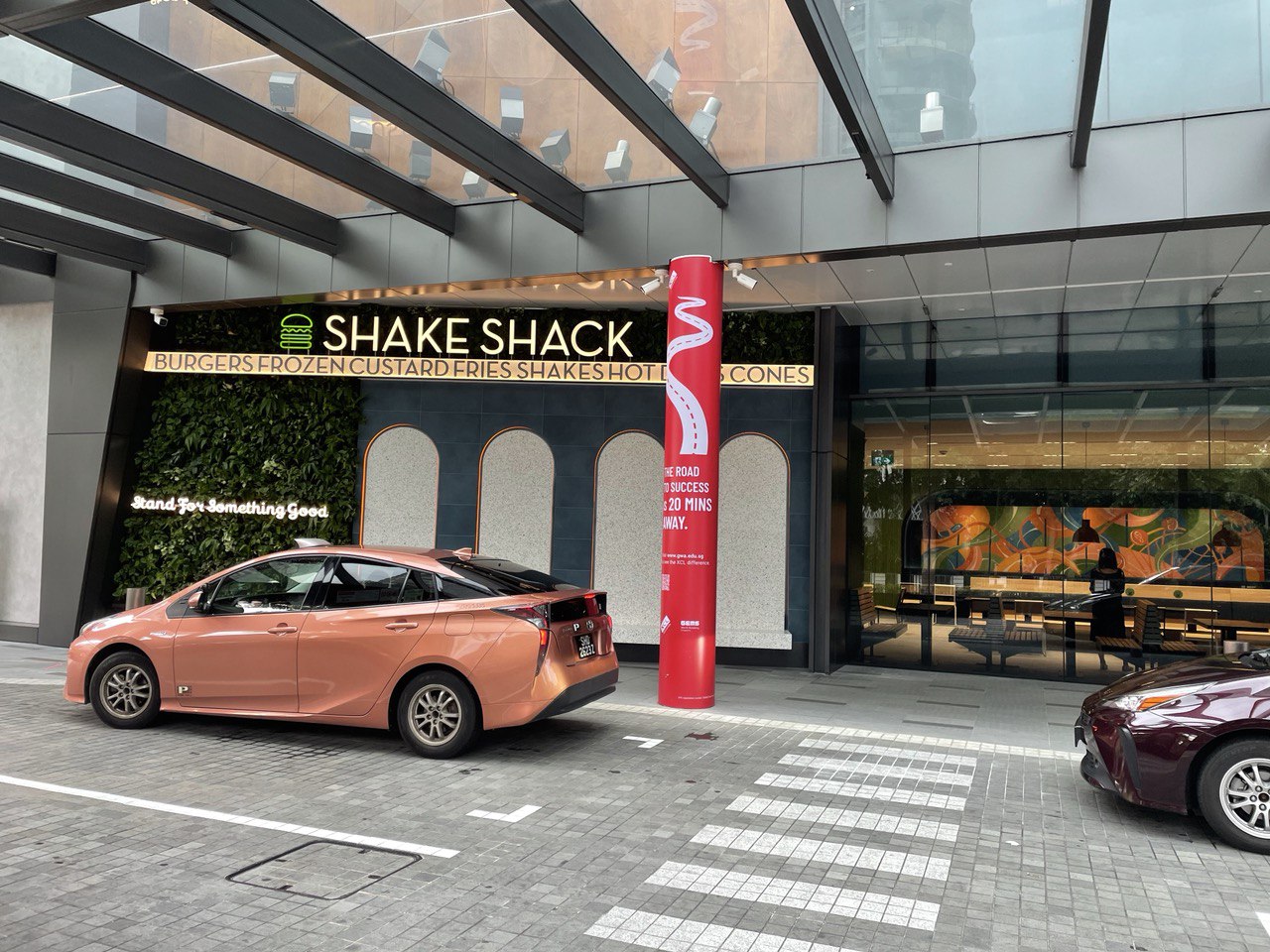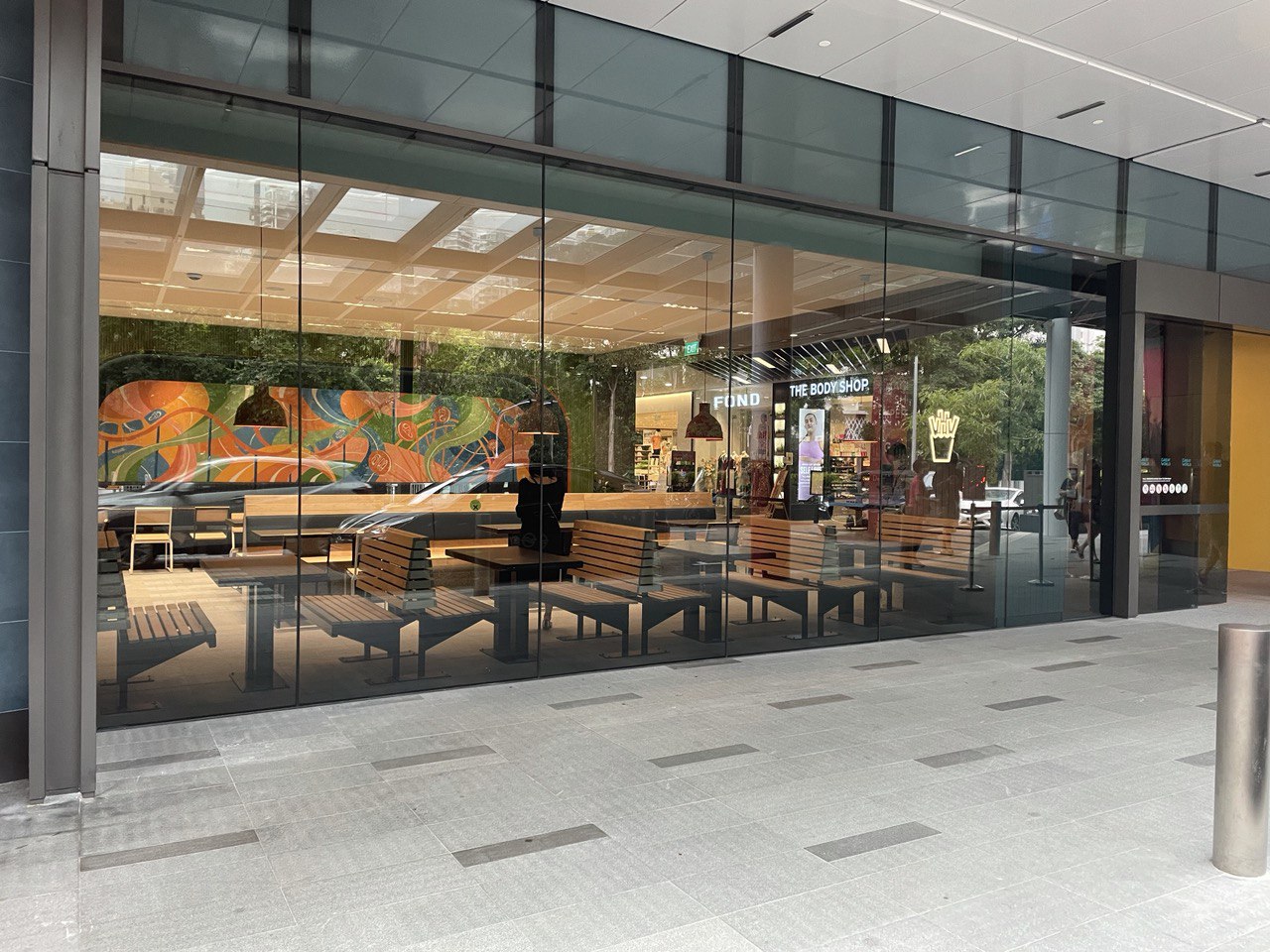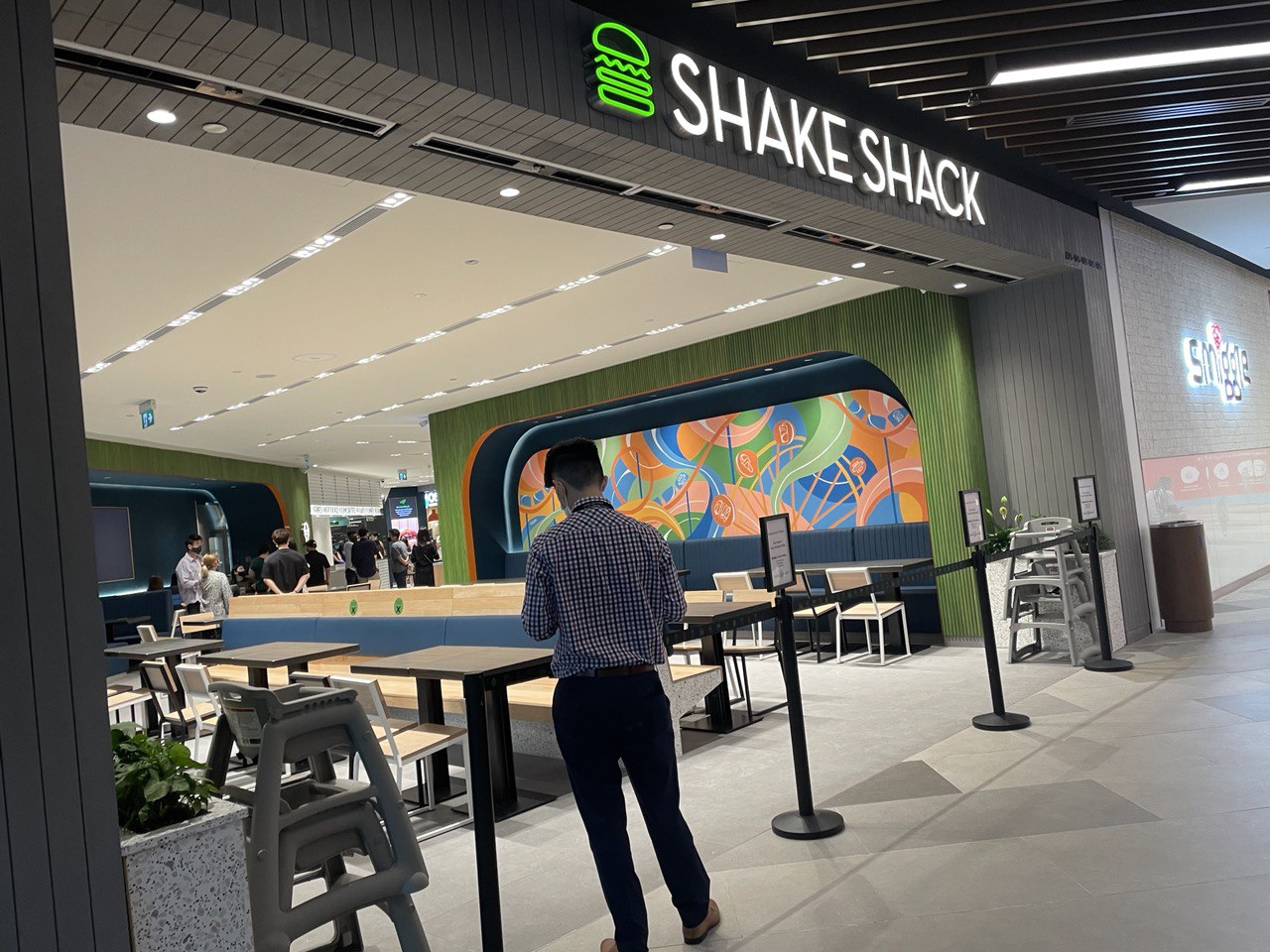 Instead of entering via the first entrance/ exit we saw (pictured above), we recommend walking around to the main entrance of the Shake Shack outlet opposite Gear Up/ Beachbody.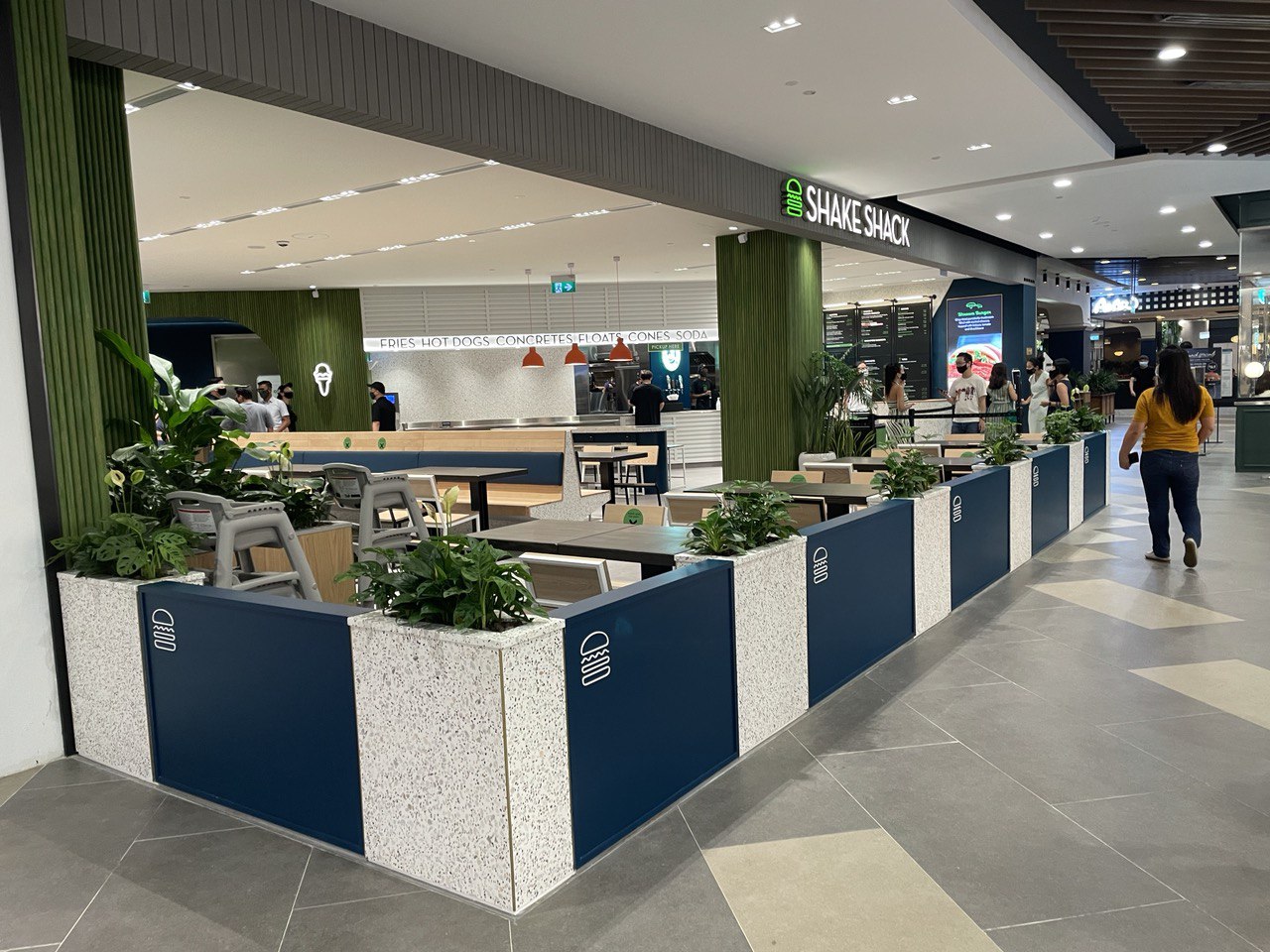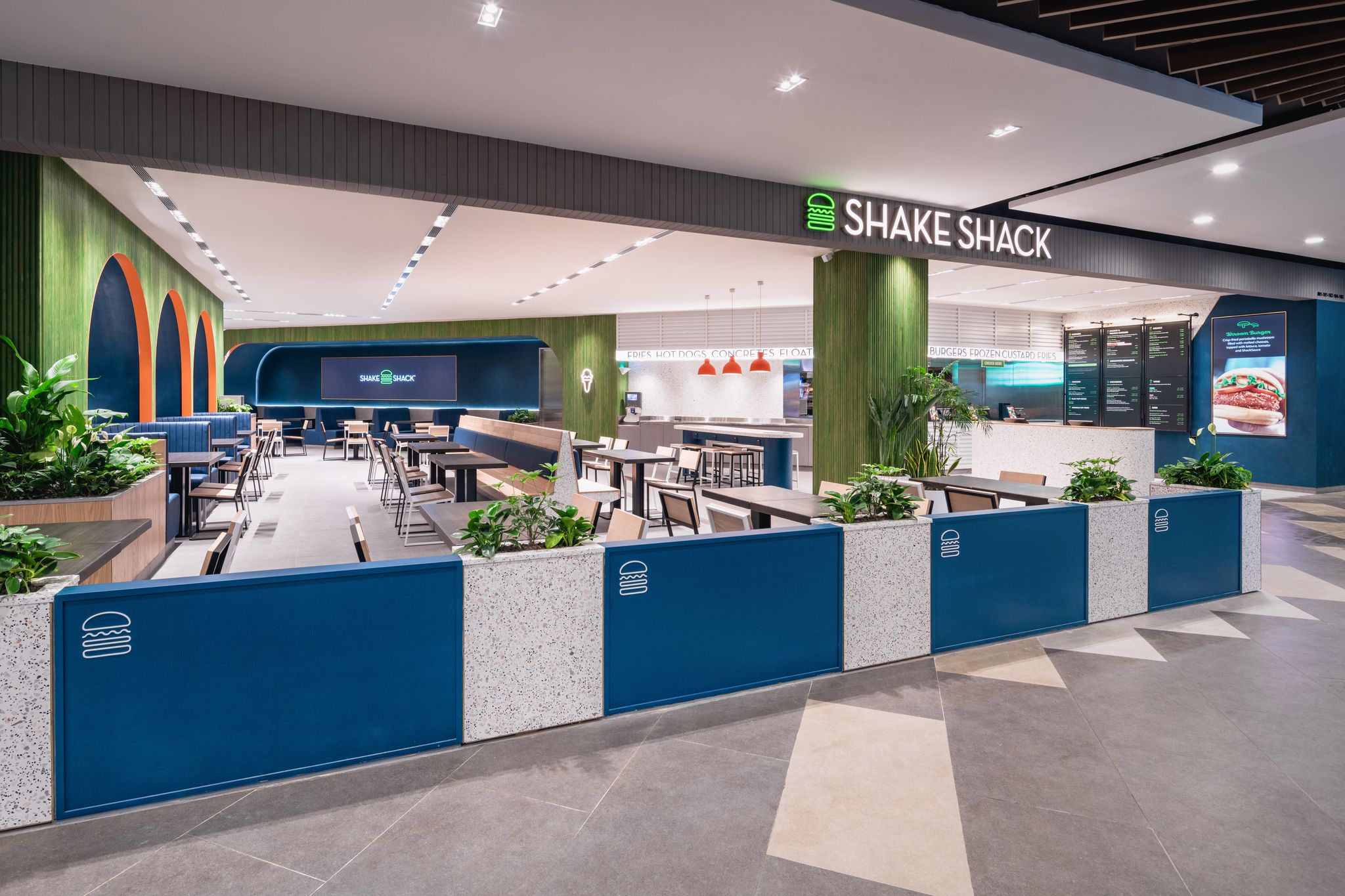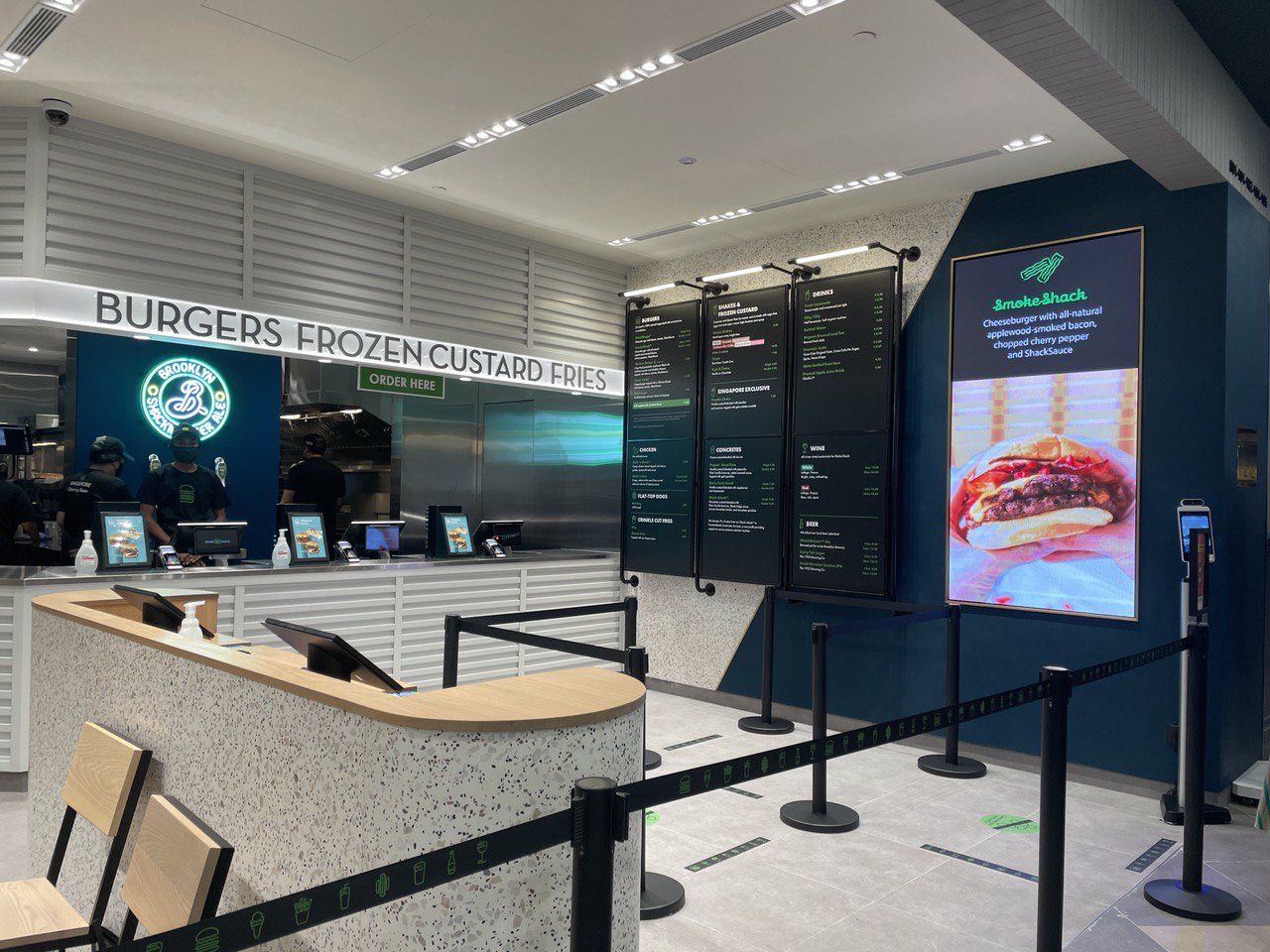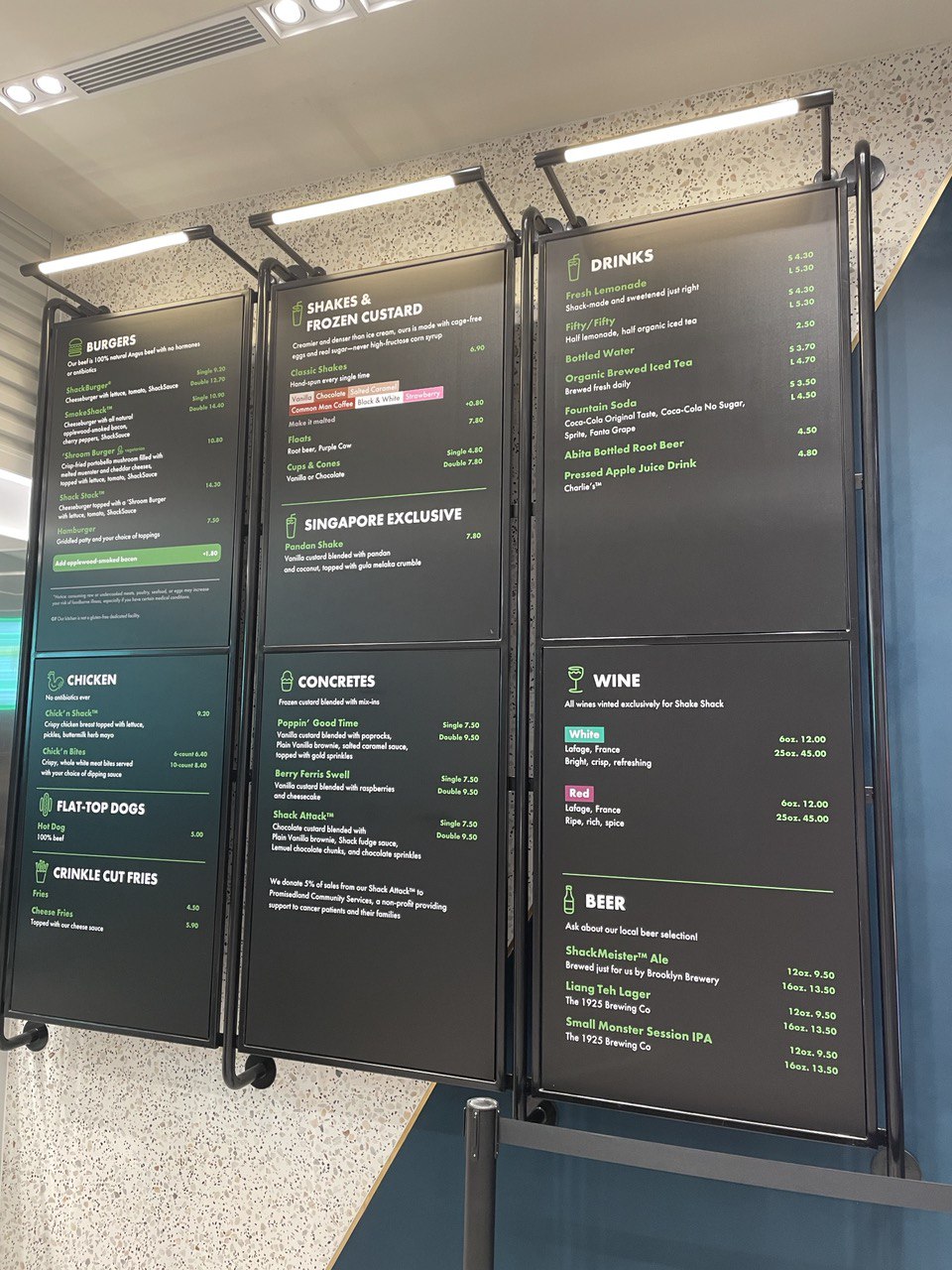 When you turn at the corner, you will find the pick-up/ collection point.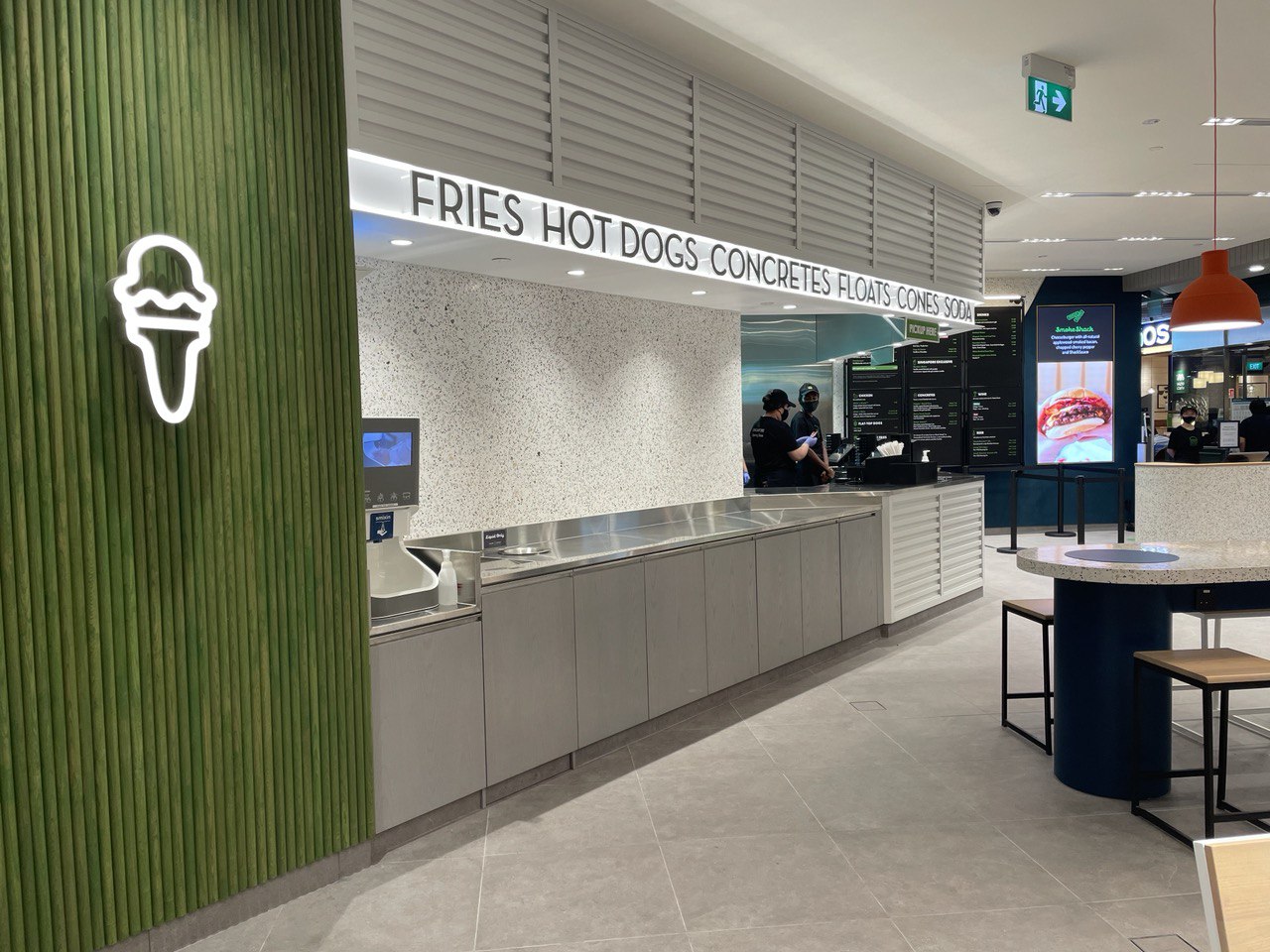 While there are no outdoor tables at this outlet, it boasts a variety of seating options, such as high tables and booth seating.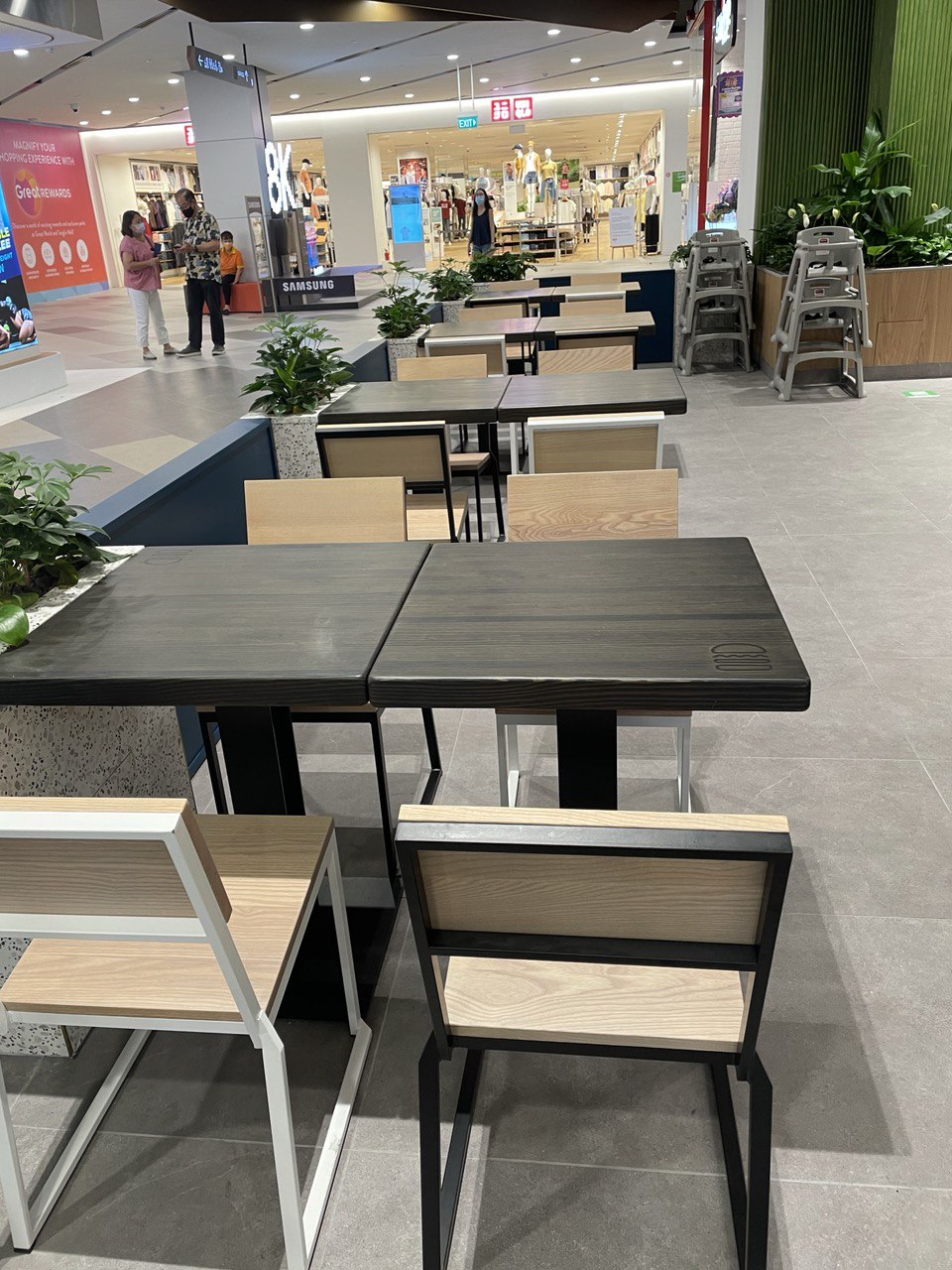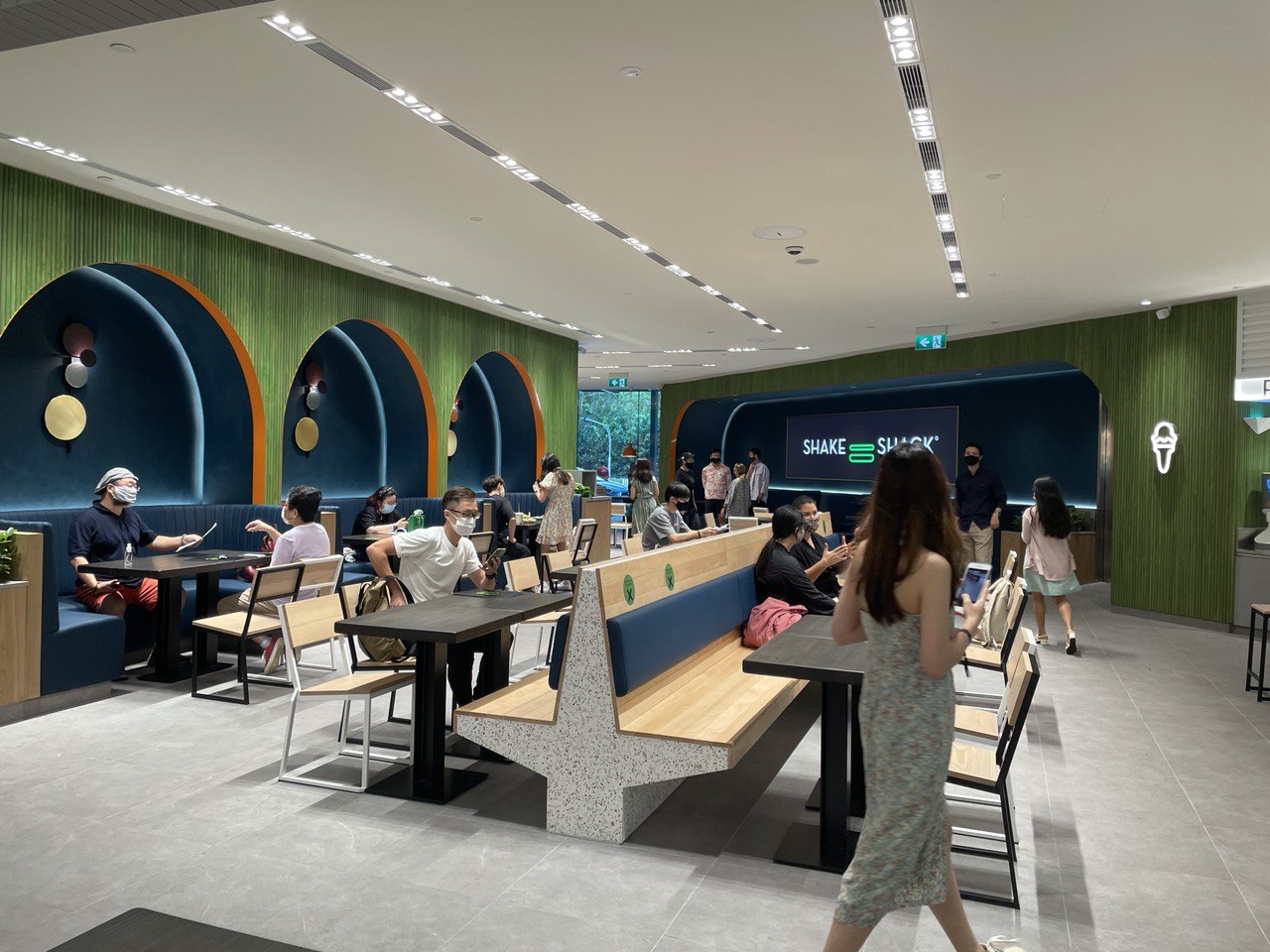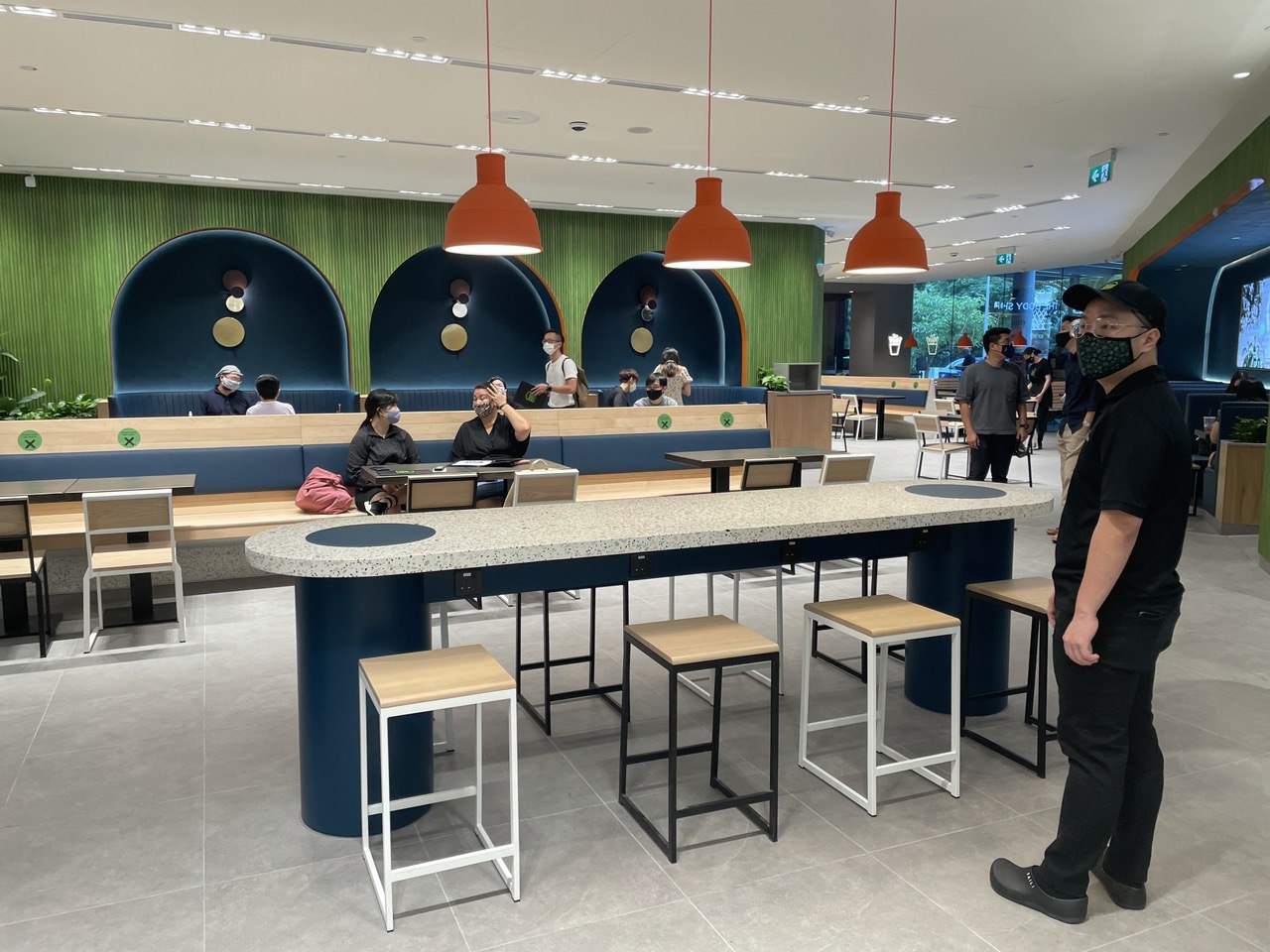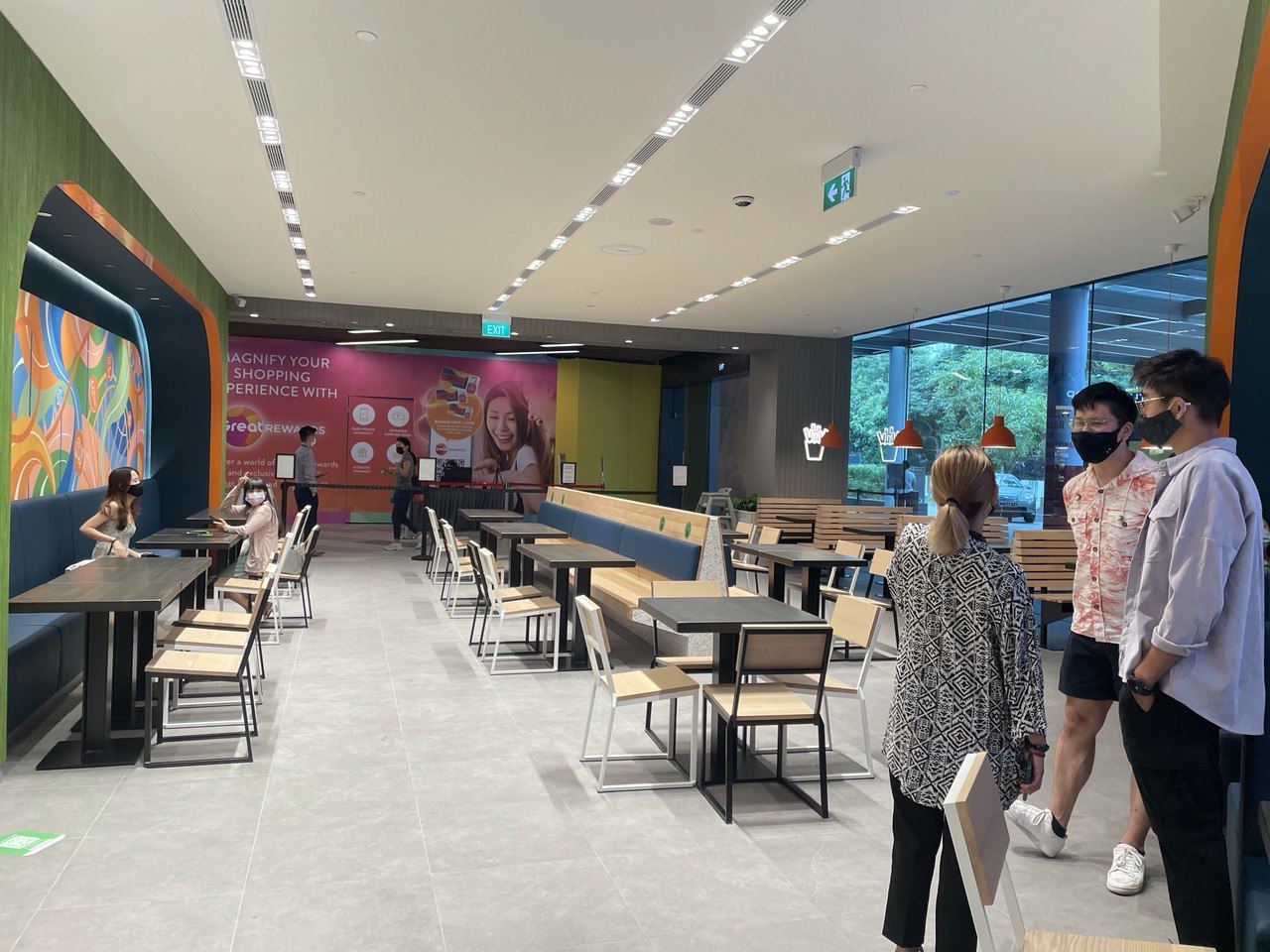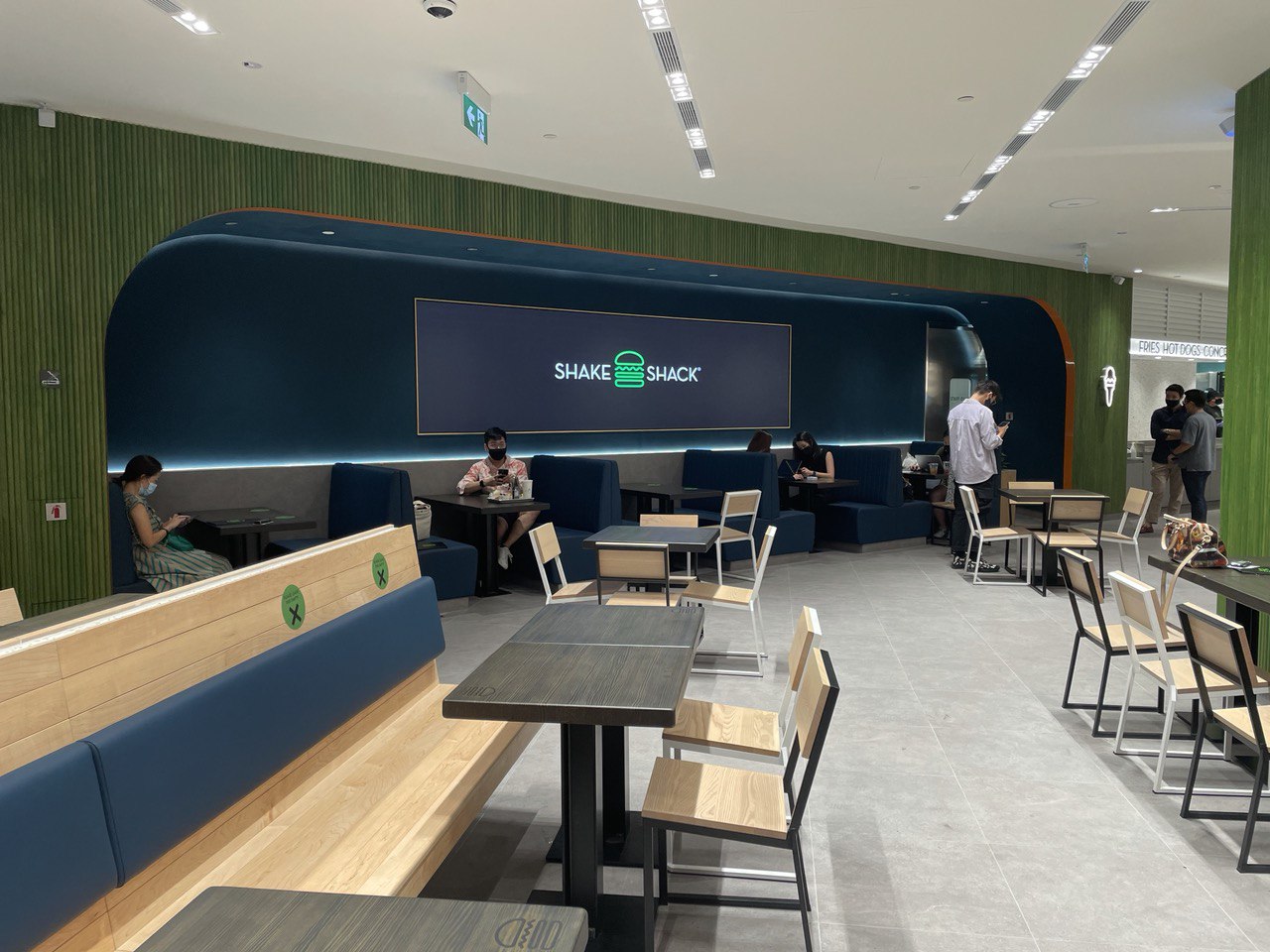 The venue is brightened by vibrant mural by local artist tobyato.
Like the Great World-exclusive concretes, the mural is also inspired by Great World Amusement Park, specifically the roller coaster and Ferris wheel.
Outlet-exclusive AR Instagram filter
Shake Shack will also launch an exclusive AR Instagram filter that is available from Apr. 28 to Jun. 15, 2021.
Each outlet will have its own location-specific Jalapeño Ranch-themed filter, which is accessible by scanning the QR code in-store.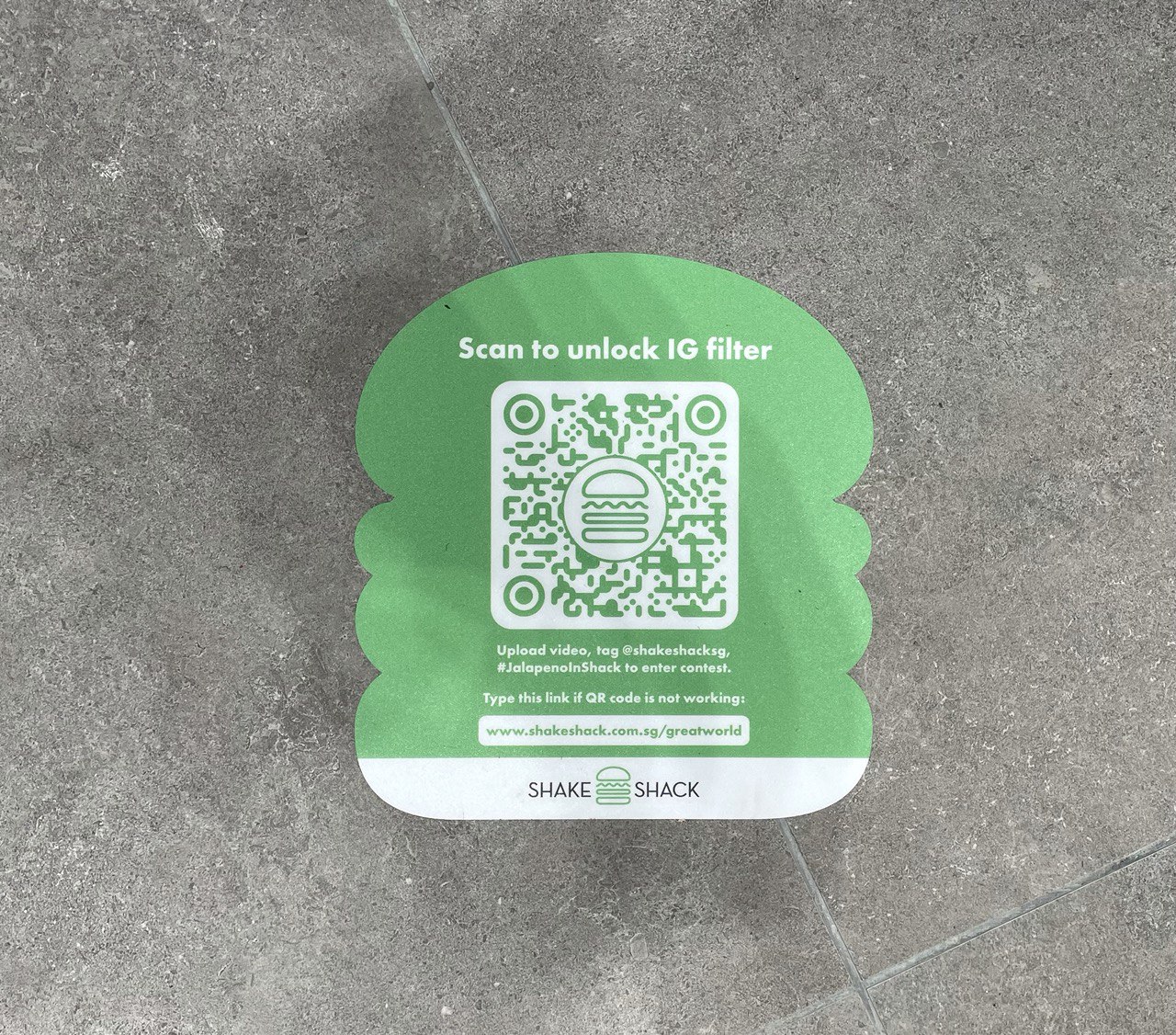 Shake Shack at Great World
Address: Great World, 1 Kim Seng Promenade, #01-101, Singapore 237994
Opening hours:
Apr. 28 (Opening day): 12pm to 9:30pm
Monday to Friday: 11am to 9:30pm
Saturday and Sunday: 10am to 9:30pm

Top images by Shake Shack and Karen Lui.
If you like what you read, follow us on Facebook, Instagram, Twitter and Telegram to get the latest updates.