"During this period, some of my work has slowed. I felt there must be something I could do with the spare time", says Stanley Fong.
Fong, 42, who runs a business that deals in personal and organisational development, saw a fall in demand for teaching and training programmes during the Circuit Breaker period and Phase One.
Therefore, like many of us, he found himself with spare time on his hands.
Like many Singaporeans, Fong gave blood, donated money, and raised funds to support frontline workers, but found himself "itching to do more".
Reflecting on the impact of Covid-19, Fong said, "something unprecedented has hit us, there is so much to be done, but you don't know how to help.
Then, in early May, he heard about an appeal for volunteers:
Fong saw that the call for volunteers, previously restricted to those with a healthcare background, was being opened up to those from "all walks of life".
He saw his chance, and signed up for a role in the Singapore Healthcare Corps as easily as someone might have signed up for Netflix.
A day in the life of a swabber
The job of a swabber involves him being deployed to sites such as dormitories, as well as other facilities such as hotels and Government Quarantine Facilities.
As a swabber, Fong has the closest contact with the "clients" – those who are part of the targeted groups identified as part of the national testing strategy for Covid-19.
Fong describes the job as "laborious and uncomfortable" at times. The necessary personal protective equipment (PPE) makes it inconvenient for him to have a snack or even take a sip of water in between his shift, as he would have to degown each time throughout the day, which starts at around 9am and can last till 4pm.
There is an hour-long break during the day, where lunch is provided. But Fong says that there are days where he only eats a bun for lunch, as he is too tired to have a full meal.
Fong works closely together with other colleagues, who perform various roles ranging from registration, ushering, and queue management, down to administrative work like ensuring test kits are labelled and packaged correctly on site.
Coordination between those who play these different roles helps to ensure that the entire experience is smooth, and that everything runs like clockwork.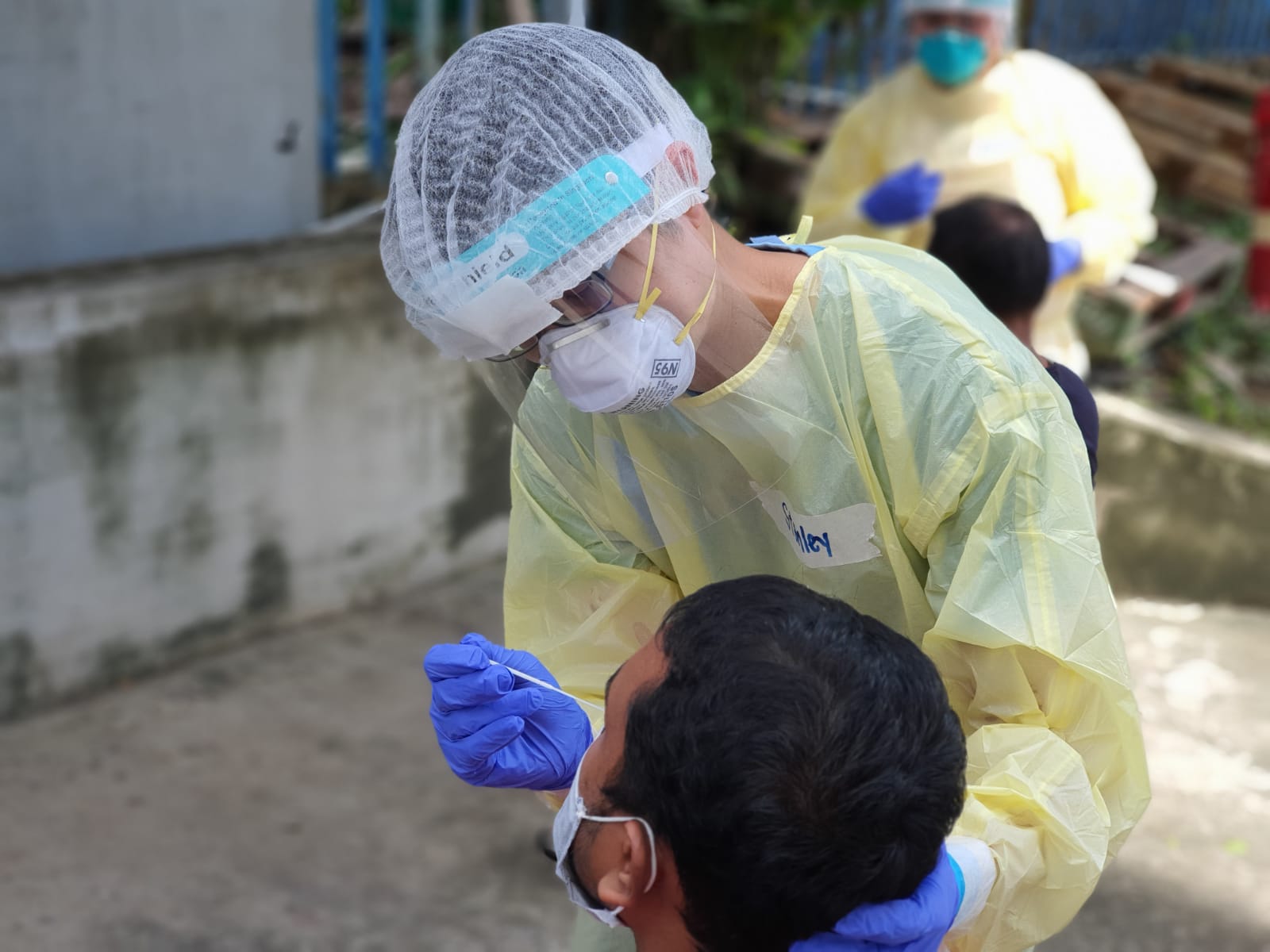 Fong explains, rather straightforwardly:
"As a swabber, I greet the client and check his (or her) name again. I settle him down and make him feel comfortable. I check if he has any present or past injuries to the nose, to see if I need to take any special precautions. Then, I brief him on what I will do, to prepare him mentally. And then I do the swabbing."
The actual swabbing, however, is often not quite so straightforward.
Each client has their own quirks, and "react differently to the uncomfortable experience of having a swab stick inserted into their nose".
Also, while some are "brave and stoic", many carry a great deal of "anxious energy" and fear, Fong says.
He recalls how some creative thinking was required to complete the swabbing job, in one particular case:
"One big strong man had an automatic response. When he felt discomfort, his arms would instinctively reach for my swabbing hand to stop it. Each time, he would apologise, but when we tried to resume, he would grab my arms again! Eventually, I got him to grab onto the chair he was sitting on. It was somewhat effective, and we got the job done."
In another episode, Fong describes how a young man "tensed up" when it was his turn to be swabbed.
"The poor guy was in such anxiety and pain, but he didn't realize that being so tensed up made it a lot harder for me to remove the swab stick from his nose", Fong says.
Fong had to resort to "a combination of calming him a little, tracking the anxious rhythm of his rapid breathing, and feeling the sensations in your hand for the right moment to pull out the swab stick" in order to complete the job.
"He was so relieved, [and] in spite of his pain, he thanked me. But deep down, it was I who thanked him, because it is only with such 'live' situations that you learn and become better at what you do."
Learning to be a swabber
Fong has had some experience with first aid as a Guards officer during national service, which he credits for conditioning him "to maintain a steady hand while wearing a ton of gear".
Besides that, he was able to pick up all the necessary knowledge and skill through the training he received.
The training, which Fong says was "well-organised and efficient", comprised three components: e-learning, hands-on training, and finally, on-the-job training where the swabbers-in-training would be paired up with a healthcare professional, culminating in an assessment.
"Yes, you need to learn a bit of human biology. You need to learn the technique. But with some experience, you get the hang of it. The task is not complicated."
Practical considerations
Fong can be called up for swab operations on Fridays, Saturdays, and Sundays, which allows him to balance things out with his day job, where he continues to do some consulting work.
Fong typically gets one day's notice before he is deployed. Once he is notified of the deployment details, he has to start preparing for the day ahead.
Fong packs a small bag with spare clothing, a towel, a drink, and a bun.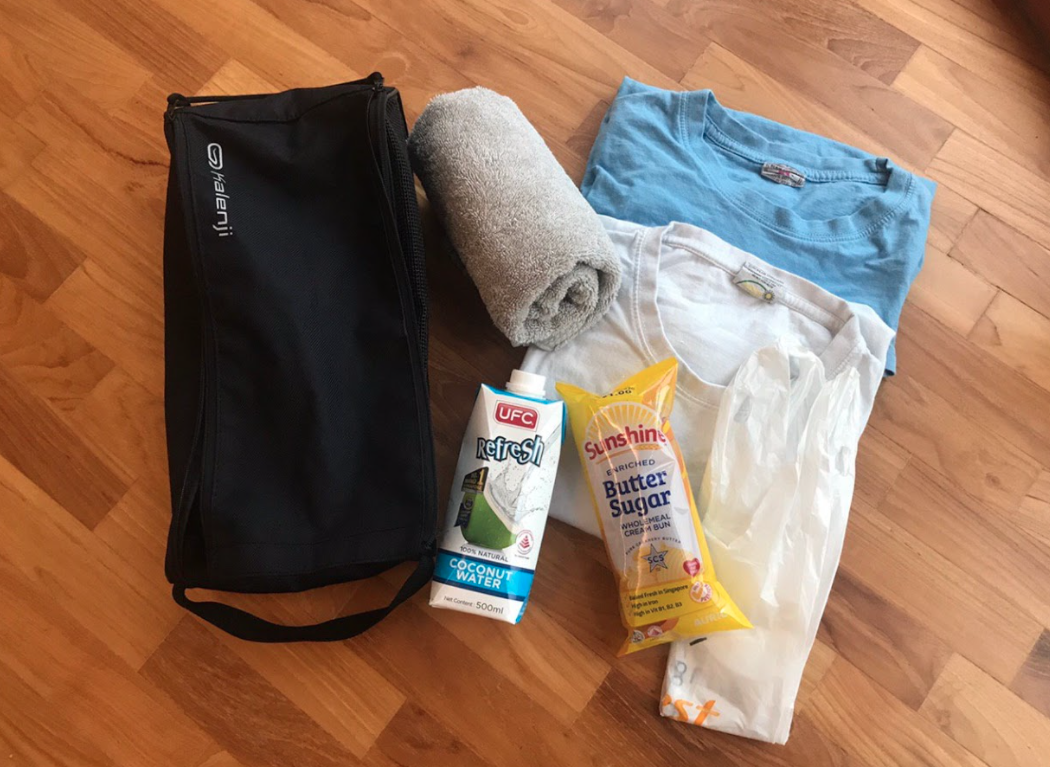 He then has an early night, and gets up early the next day.
It's important, Fong says, to cater time to drink enough water for the day's exertions, but also to allow the excess water to clear out of his system – a practical consequence of not being able to easily remove his PPE to go to the toilet, or even to have a drink of water.
Family support is, of course, very important in this process.
Fong's wife gets up early with him, so that they can keep to morning routines like walking the dog, and spending some time before Fong leaves for work.
"My wife has been very supportive of my decision to volunteer. She knows that being able to be a part of this national effort is important to me.

We are a little sad that our weekends are more unpredictable, but we know this is temporary only, and we can always find our own time to make up for the lost time."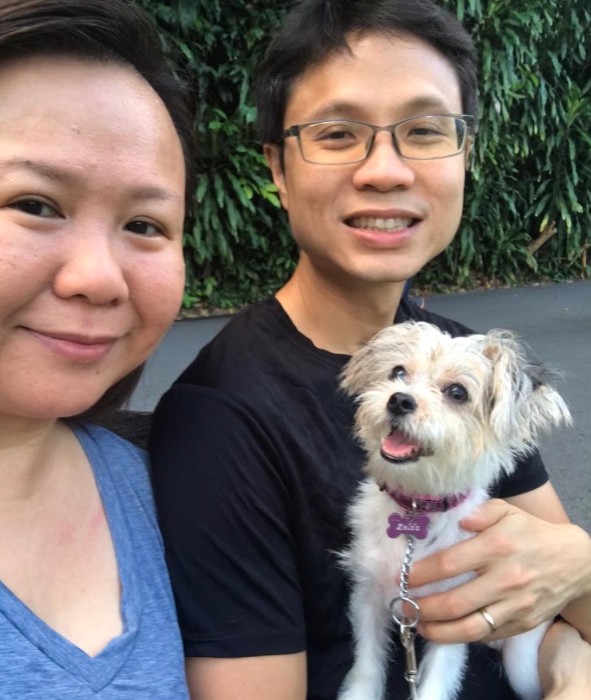 Staying safe at home
While Fong did not hesitate to step forward as a volunteer, he was not immune to concerns about the infection risk that comes with the job.
Fong describes "two dimensions" to these concerns, the rational and the psychological.
"Rationally, you know you have been put through solid training", he says, adding that infection control measures which have been put in place, and followed diligently, means that "you know the residual risk is very low" – logically speaking, at least.
"But I think psychologically, some of us may still have our own worries", he admits. "You also try to put your family at ease".
To be, and feel, extra safe, Fong takes some extra precautions such as spraying his car with disinfectant at the end of the work day. He also makes it a point, upon reaching home, to have a thorough shower, and puts his clothes into the washing machine before meeting his wife or dog.
"I text them before I arrive home, so they can hide in a room while I do all of that!"
Esprit De Healthcare Corps
Fong says that his job as a swabber sometimes "feels like in-camp training", in the way that it brings together Singaporeans from different backgrounds.
Some of Fong's fellow swabbers are from a healthcare background. Some are dentists, doctors, and nurses who closed their private clinics during the circuit breaker period and decided to step forward to the frontlines.
Others come from different walks of life, Fong says. He's met people whose work has been disrupted, such as those in the aviation and hospitality industries, and those in sales and marketing.
This could be because of their jobs being on hold, or even the fact that they quit their jobs overseas to return home to Singapore.
Just like at in-camp training, the motivations of the participants are not entirely uniform as well. "We all join for our own reasons", Fong shares candidly.
While he counts himself lucky to have other sources of income, he's aware that some of his fellow volunteers had their livelihoods disrupted. For them, the monetary compensation that they receive is "not insignificant" as it is helpful to support their family, Fong says.
Still, duty unites this otherwise-disparate bunch of volunteers:
"When you arrive on site and meet the people who are assembled there, the sense of duty and teamwork is always strong. Everyone understands why this work is important, and we all approach it with professionalism."
Singapore Together
Fong also reflects on how he and his fellow swabbers share "a sense of togetherness". While they come from different backgrounds, they have "respect and appreciation for each other's diversities", he says.
The experience of being a volunteer swabber has made Fong reflect on the importance of the Singapore Together movement, which supports passionate Singaporeans who are helping others in the community who have been affected by Covid-19.
"I think Singapore Together is really important, both for our life-stage as a country, and especially so in the time of Covid-19", Fong says.
Fong leaves us with some words of encouragement, which he hopes might convince some of those who are on the fence about stepping up to volunteer in some capacity.
"I think everyone will have to come to their own decision", he says, adding that it is helpful to talk to people who have done the work, to find out more.
Which is why Fong has been speaking to those who have reached out to him with questions about the role, including questions like whether swabbers can "book out" – yes, everyone goes home after each assignment, would be Fong's reply.
"I love their interest and curiosity, and I'm always happy to address them if I can", he says.
Ultimately, Fong sums up his volunteering work as such:
"I would say swabbing work can be laborious and uncomfortable, but it is also highly important and meaningful."
---
A series of "Singapore Together Emerging Stronger Conversations" are ongoing, giving Singaporeans an opportunity to reflect and reimagine our future, to share hopes for a resilient, post-COVID Singapore, and think about how we can work with one another to create a better Singapore.
Early registration for five of the sessions, happening in August, is now open to the public. Click here for more information.
Top photo courtesy of Stanley Fong
This sponsored article by MCCY made the writer appreciate his fellow Singaporeans more.
If you like what you read, follow us on Facebook, Instagram, Twitter and Telegram to get the latest updates.