On June 20, a woman by the name of Ashleigh Ng took to Facebook to share about her family's experience at Siam Square Mookata's outlet at Golden Mile Tower.
The stall specialises in Thai barbecue/steamboat.
According to Ng, she had been dining her family of five to celebrate Father's Day when the table they were eating on "toppled", injuring her parents.
The incident occurred on June 19, around 11:30pm.
Boiling water from the mookata landed on her mother's leg and scalded her father's hands, Ng said.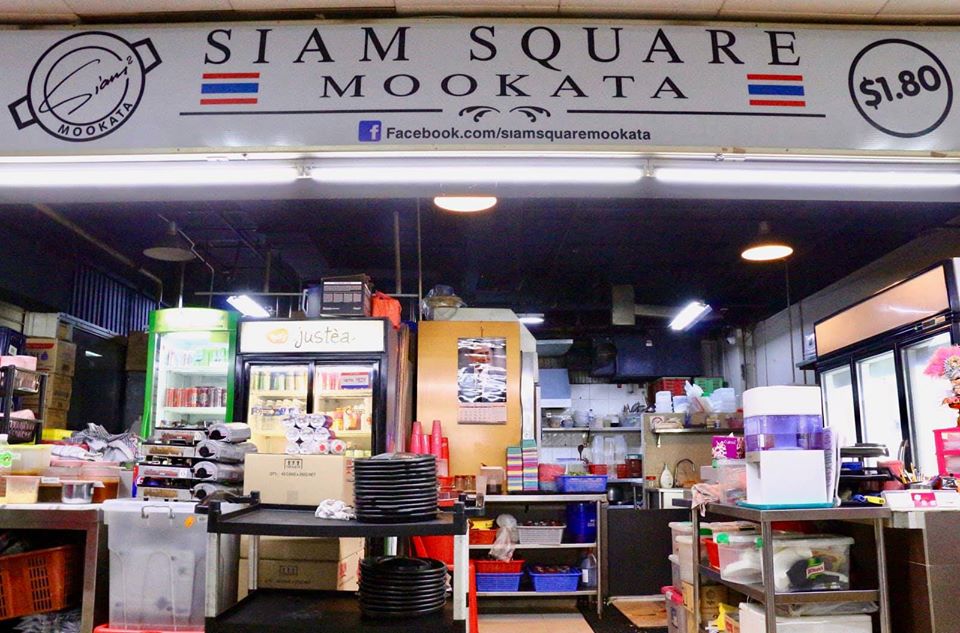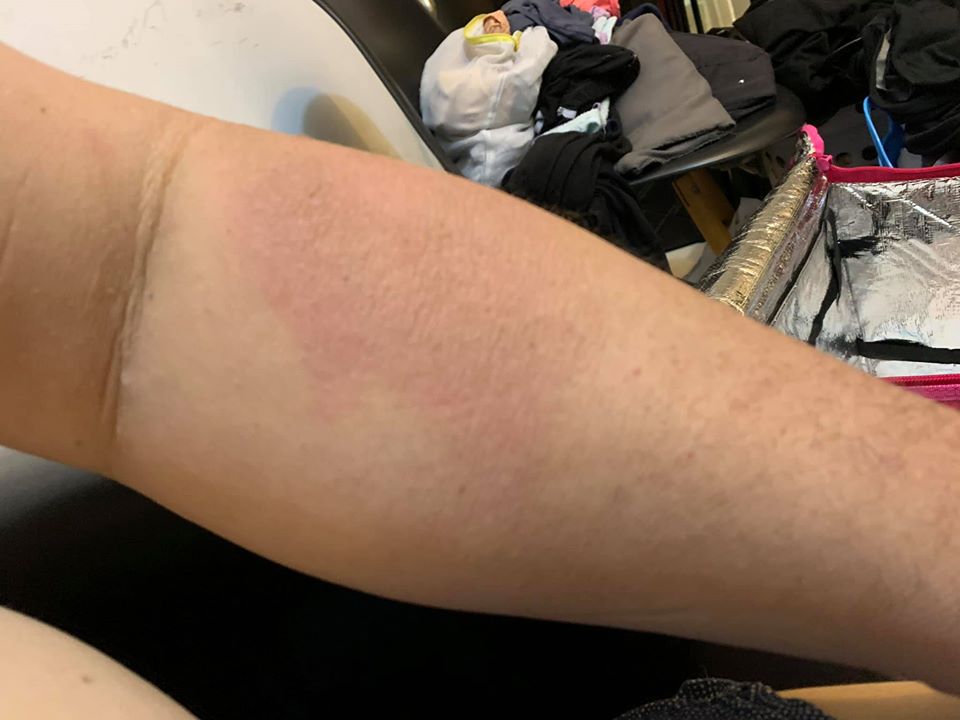 Their belongings, including a mobile phone that was on the table, was apparently damaged in the incident as well.
Ng then realised that the legs of the table were supported with some paper cups, and felt that it was "inappropriate" for an F&B store to continue using such furniture.
Customer complained about lack of help
According to Ng, the staff did not check on her father, and no first aid was rendered though the staff were aware of the incident:
"When the table toppled over I saw the supervisor coming over to apologize but what comes behind really makes my family upset is that he went back to the groups of friend and continue his drinking. They did not show any concerns of care or even ask my father how is his hand, no first aid or help is perform to ease his injury even they know he got burned by their boiling hot mookata!!"
When they approached the cashier, the staff allegedly offered 15 per cent off the bill, which was later increased to 50 per cent off after Ng reportedly spoke to the "boss" and demonstrated that the table was unsafe.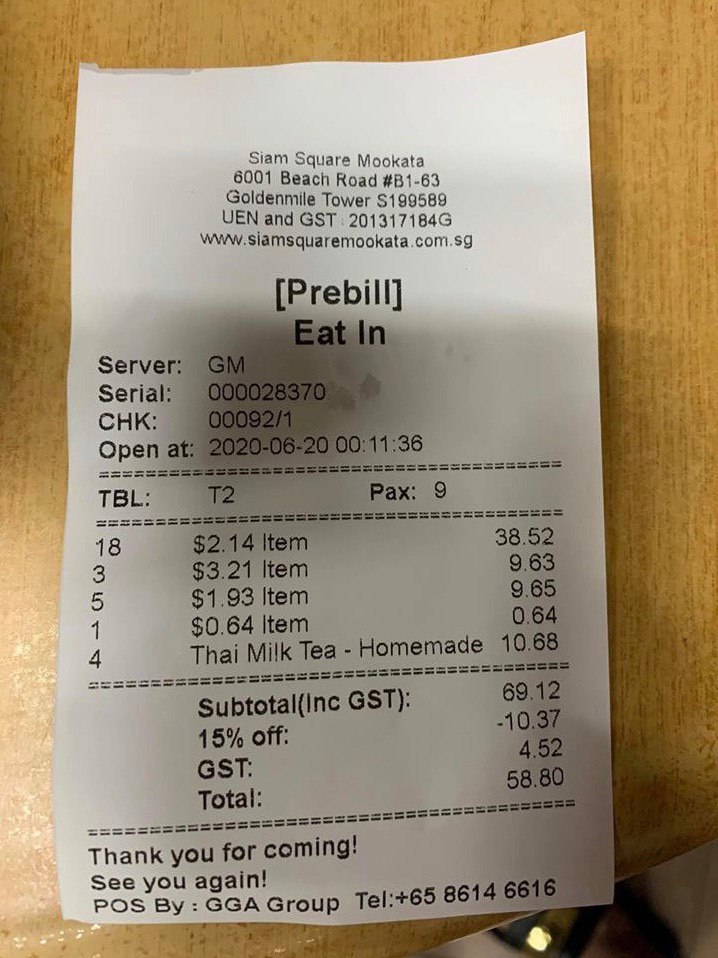 The staff had apparently told the family that they could contact Siam Square Mookata's via phone or Facebook, should they face any issues.
However, Ng said that the issue was not about how much they offered to deduct from the bill, but the fact that her father was in "great pain".
According to Ng, her father is a GrabFood personnel and had work the next day. Due to the incident, they were worried that her father would not be able to work.
Ng's father later went to a clinic to seek medical treatment for his injuries as "it was too painful to bear".  His medical bill reportedly amounted to S$131.
Tables reportedly belonged to Golden Mile Tower
Ng subsequently updated the post on June 21 to remind customers to be careful, so that they can avoid a similar incident.
She also hopes that vendors will take note of safety in the dining area.
In her update, Ng revealed a conversation that supposedly took place with the "boss" and the store's general manager.
They reportedly told her that the table belonged to Golden Mile Tower, and was passed down and used by previous tenants.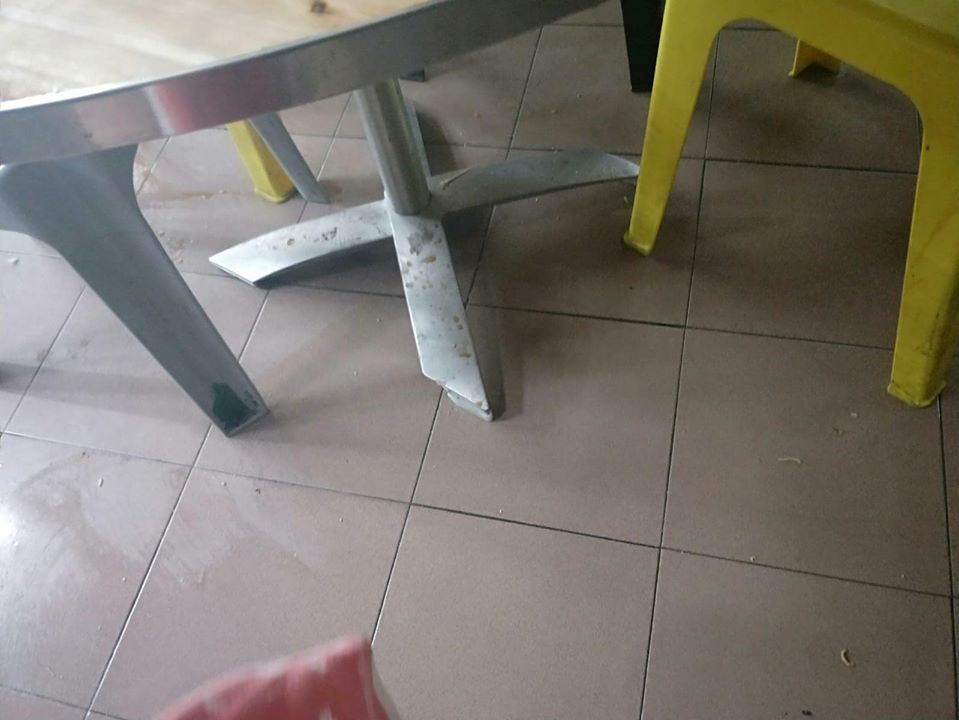 Ng alleged that the boss offered to compensate for the medical bill only if Ng agreed to "amend and lie on the post," and write that her father had fallen and injured himself by accident instead.
Ng then refused to do so.
When asked why the staff did not render assistance, the boss reportedly said that they were "already short of staff to serve".
Divided opinions
Users were divided on who was to blame for the incident:
A man claiming to be a "loyal supporter" of the mookata store shared a picture of what he claims to be Ng's voided bill.
It is unclear how he came into the piece of information, though.
According to a Mothership reader, Tan has also promoted Siam Square Mookata on his personal page.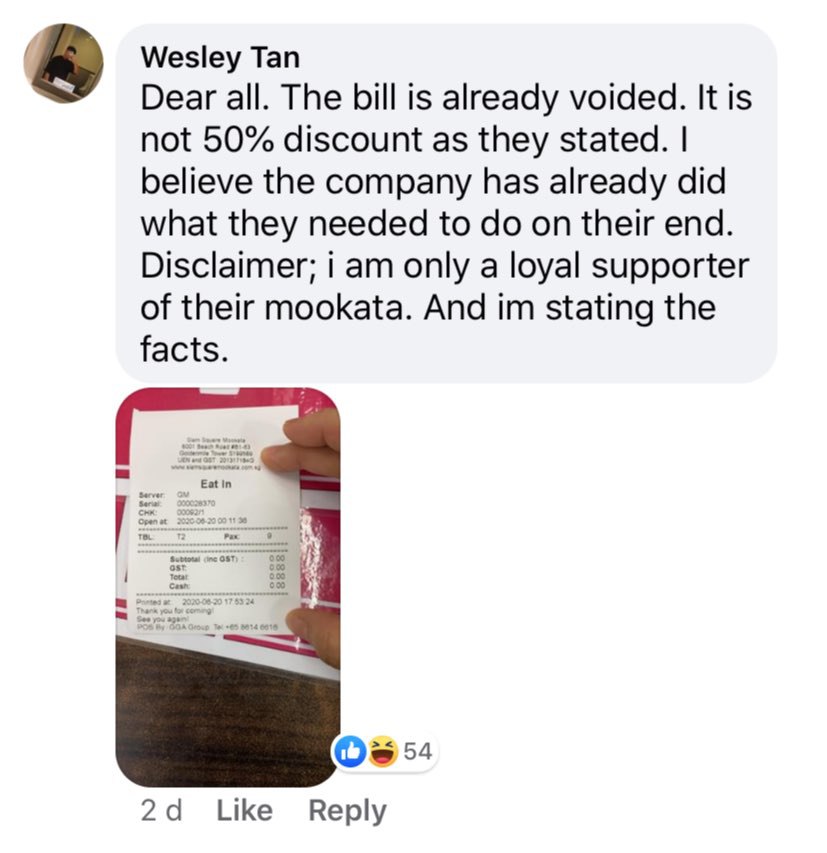 In response, Ng clarified that after the incident occurred, no one had told them that the bill was voided:
 "We waited over there but the staff did not come back to us afterwards, they did not verbalise or hand us any physical receipt that the bill is voided. We then walked off reluctantly."
Individuals who claim to have been present at the scene provided a different account of what actually transpired: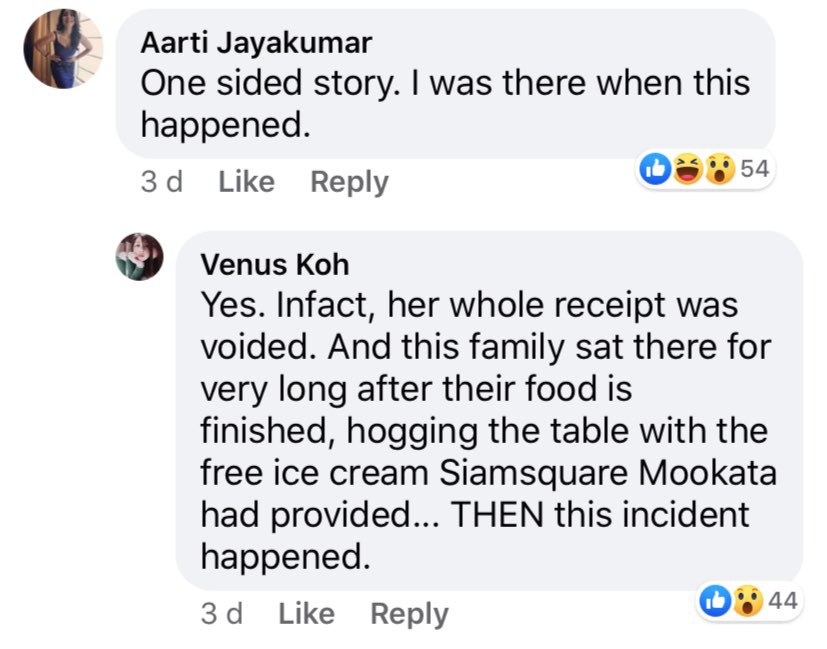 Ng appeared to address this in her update, as she said that her father was still having his dinner when the rest of the family started on dessert first.
Others felt that the post lacked sufficient information pertaining to how the table fell, and how it was even supported by a paper cup: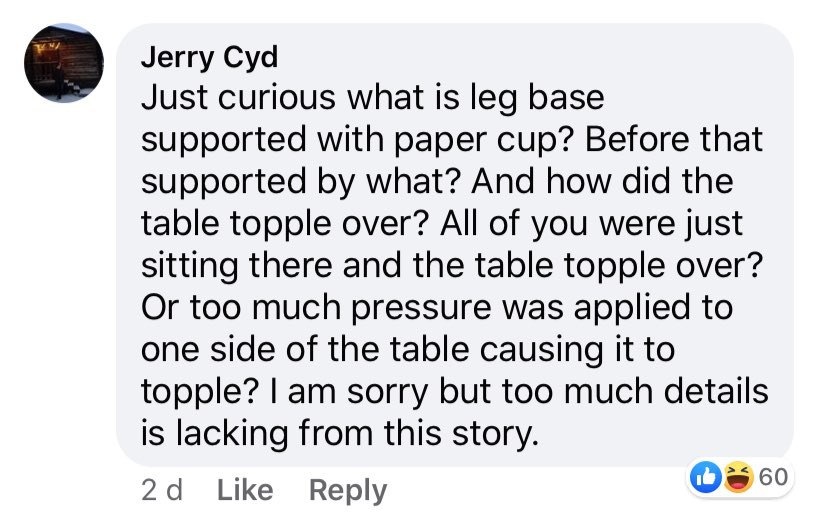 One person pointed out that it was a common occurrence at some coffee shops for staff to place "whatever they can find" underneath a table's legs.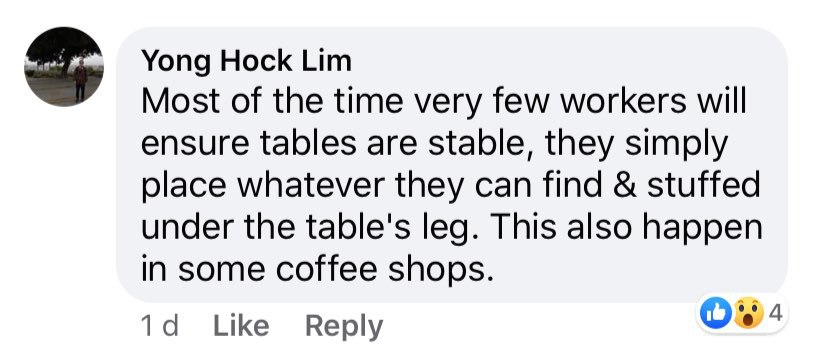 On the other hand, another suggested that Ng take legal action: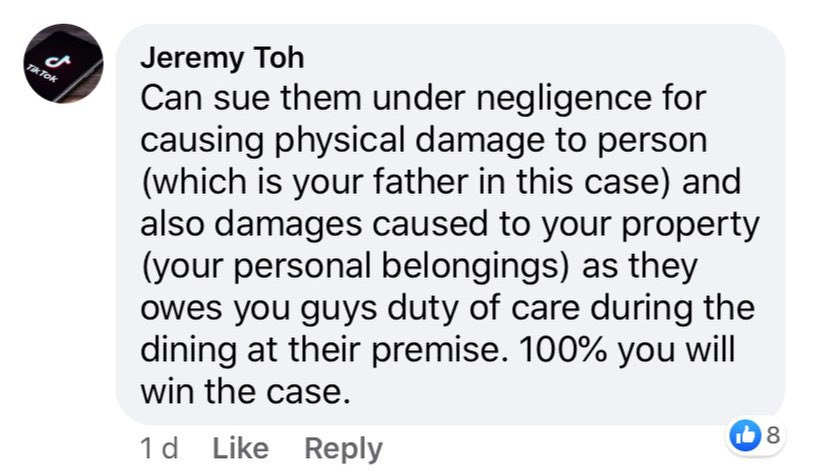 At least one person felt that Siam Square Mookata should have shown more concern and provided medical assistance.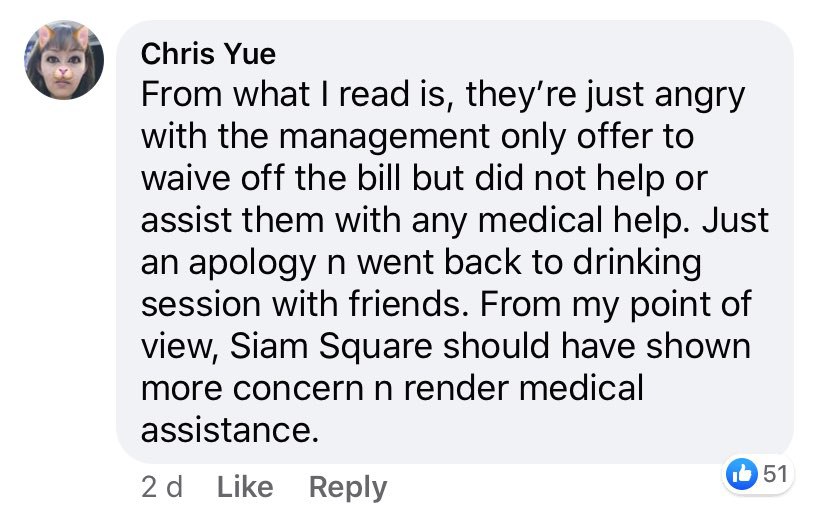 Photo via Ashleigh Ng on Facebook
Yet another said that both parties were at fault and that the incident could have been settled at the restaurant: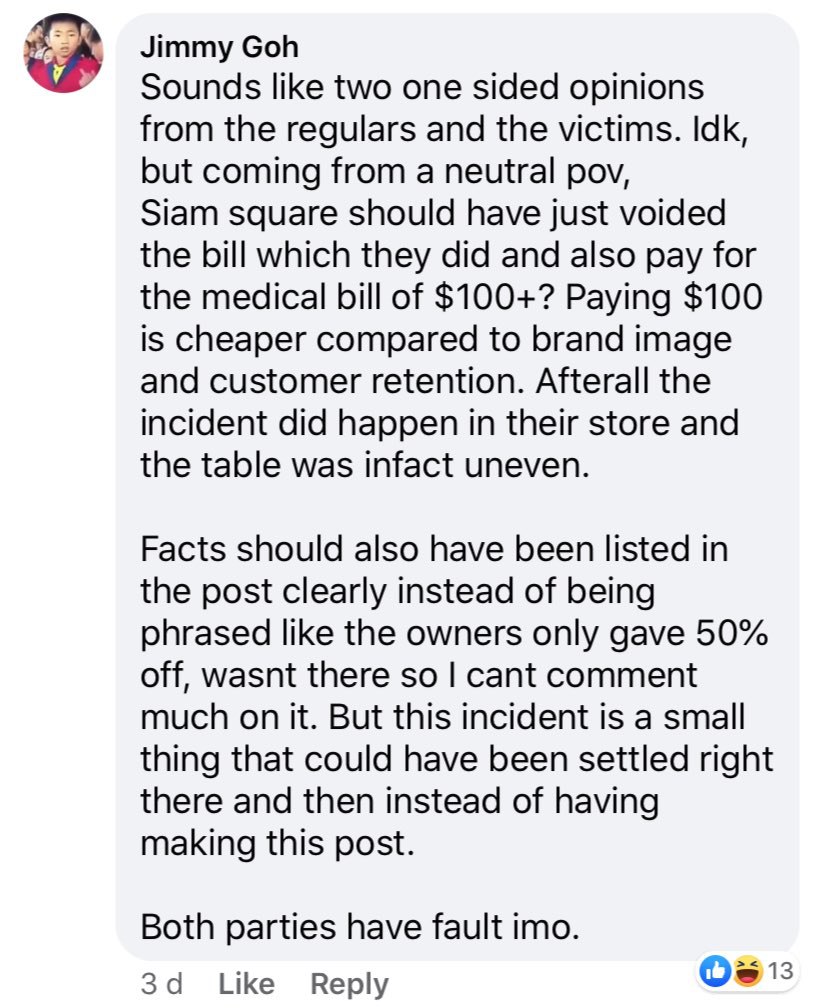 Siam Square Mookata responds
In response to Mothership's queries, Siam Square Mookata explained it was "purely an accident" and that using paper cups to balance the table was not their practice.
The company added said that accidents can happen at any time, and it may not always be within their control.
"[...] We cannot put all the blame to other people or to the restaurant you are dine-in with all by itself because we also as a diner must take care of our own self when dining out."
The store's spokesperson elaborated that customers are allowed to change their assigned table before they begin eating.
However, Ng's family had not raised any concerns regarding the table until after they had finished their food and were having dessert, the spokesperson said.
The company also denied Ng's accusation that no help was rendered.
Rather, the family might have felt that the assistant was not "according to their standard":
"Yes, we replied to them that we are short-handed but still we assisted them to the best that we can. It might not be enough the assistance was given due to only one staff attending to their needs could be they expecting 2-3 staff to assist them which is the reason for 'We are short-handed' applies. We make it a point to lend a hand for help and assistance to our customers whenever needed. Customers who are seated right next to their table can attest to that."
They also asserted that Ng and her family did not speak to the general manager, and that none of their staff had asked them to "lie about her post".
Furthermore, the company said, they were not given a chance to offer medical assistance:
"We never had the chance to offer medical assistance because the next thing we know the incident was already posted on FB. It's not true that the boss wanted her to make a lie about her post were in fact some parts of the posted have lied. Our customers can attest to that."
The company added that they will be "reviewing CCTV footage to make these things clear once and for all."
You can view Ng's full post here:
Top photo via Ashleigh Ng on Facebook
If you like what you read, follow us on Facebook, Instagram, Twitter and Telegram to get the latest updates.