The Ministry of Health (MOH) has confirmed 614 new cases of Covid-19 at 12pm on Friday, May 22.
This brings the total number of reported cases in Singapore to 30,426.
The majority of the reported infections continue to be work permit holders residing in foreign worker dormitories.
There are four Singaporean cases.

838 more cases of Covid-19 infection have been discharged from hospitals or community isolation facilities. In all, 12,955 have fully recovered from the infection and have been discharged from hospitals or community care facilities.
The number of unlinked cases in the community has remained stable at an average of two per day in the past two weeks.
There are currently 798 confirmed cases who are still in hospital. Of these, most are stable or improving, and eight are in critical condition in the intensive care unit.
16,650 are isolated and cared for at community facilities. These are those who have mild symptoms, or are clinically well but still test positive for Covid-19. 23 have passed away from complications due to Covid-19 infection.
Three earlier confirmed cases have now been linked to form a new cluster at 564 A-E Balestier Road.
Seven of the newly confirmed cases are linked to two previous cases to form a new cluster at 71 Kaki Bukit Industrial Terrace.
Here is a breakdown: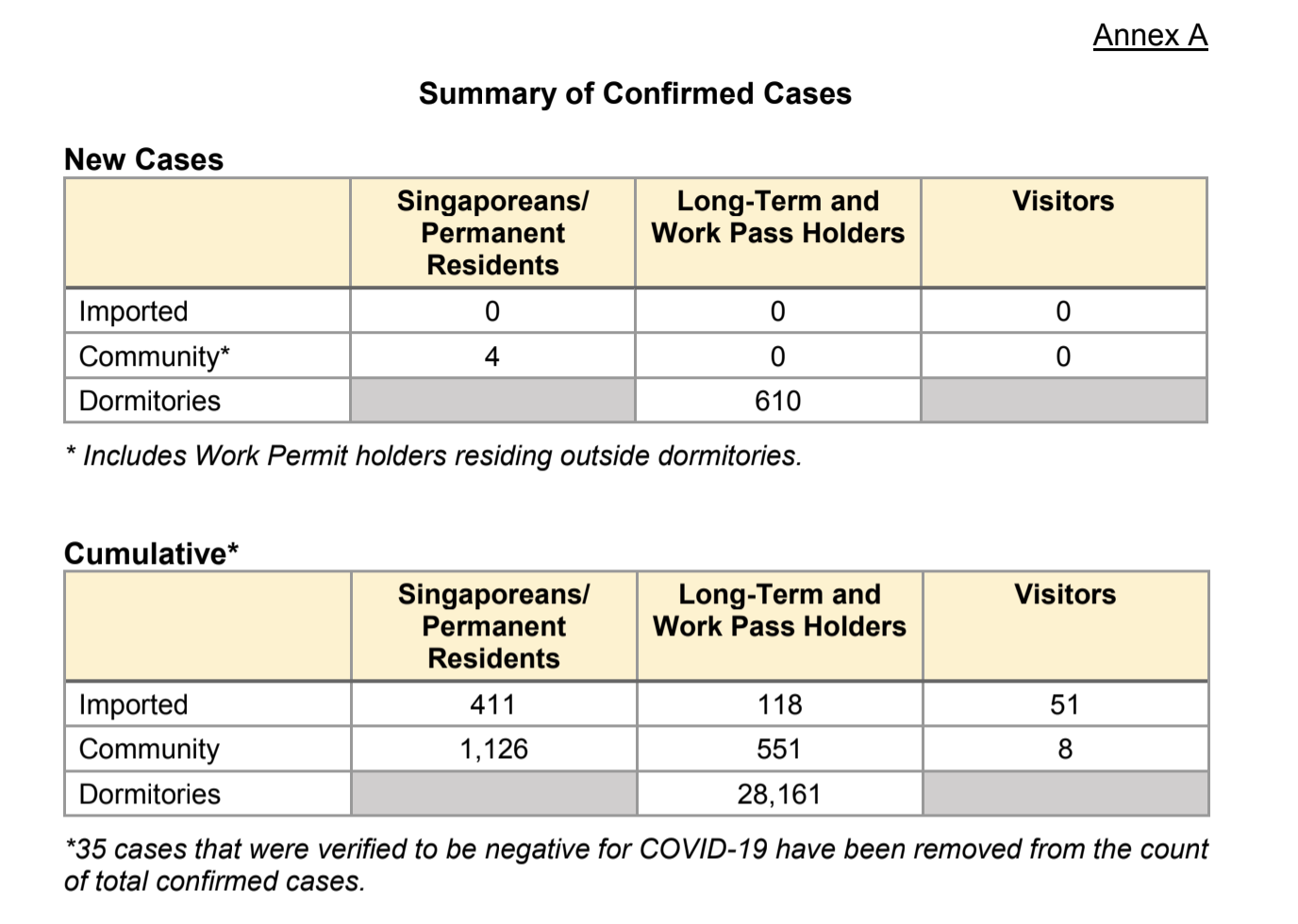 Previous cases
Here are the number of new cases reported per day so far in May:
May 1: 932
May 2: 447
May 3: 657
May 4: 573
May 5: 632
May 6: 788
May 7: 741
May 8: 768
May 9: 753
May 10: 876
May 11: 486
May 12: 884
May 13: 675
May 14: 752
May 15: 793
May 16: 465
May 17: 682
May 18: 305
May 19: 451
May 20: 570
May 21: 448
Image from Pioneer
If you like what you read, follow us on Facebook, Instagram, Twitter and Telegram to get the latest updates.