Some 65 per cent of Singaporeans think the government is doing enough for migrant workers amidst the Covid-19 situation, a survey by online research company YouGov has found.
Meanwhile, 21 per cent are undecided while 14 per cent feel that the government is not doing enough.
Older Singaporeans aged 55 and above were more likely to be satisfied with the government's measures at 69 per cent, compared to 53 per cent of Singaporeans aged 18 to 24.
In total, 1,055 Singaporeans were surveyed by YouGov Omnibus on the matter.
Singaporeans relatively satisfied with community initiative for migrant workers
In addition, the survey also found that Singaporeans were relatively satisfied with community initiatives to support migrant workers during the outbreak.
Some 58 per cent agreed that the community was doing enough, while 28 per cent were undecided, and 14 per cent thought that not enough was being done.
Similarly, older Singaporeans aged 55 and above were more likely to be satisfied with the community initiatives at 64 per cent, compared to 47 per cent for younger Singaporeans aged 18 to 24.
Singaporeans are less satisfied with employers
Singaporeans were found to be less satisfied with employers, with only 38 per cent agreeing that they had done enough for migrant workers.
In addition, 31 per cent thought that employers had not done enough for them, while another 31 per cent were undecided.
Some 87 per cent of the respondents also agreed that dormitories had to be more strictly regulated, with 60 per cent strongly agreeing and 27 per cent slightly agreeing.
In comparison, only 4 per cent disagreed, while 10 per cent were undecided.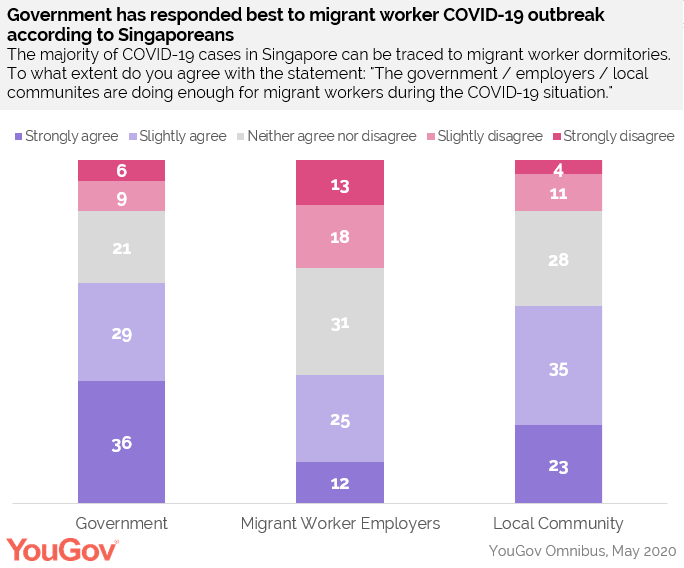 Almost three-quarters of Singaporeans are satisfied with government's handling of overall situation
YouGov also found that 74 per cent of Singaporeans believe that the government had handled the Covid-19 outbreak well in general.
In comparison, 17 per cent felt that they had handled it badly, while 6 per cent felt it handled the outbreak very badly.
Some 3 per cent were also undecided.
41 per cent of Singaporeans rate political leaders highly
Separately, another survey was also carried out by Blackbox Research among 300 Singaporeans.
This survey found that 41 per cent of the respondents rated Singapore's political leaders highly for their response to the Covid-19 pandemic.
In comparison, the top five countries were 86 per cent for China, 82 per cent for Vietnam, 67 per cent for New Zealand, 61 per cent for the United Arab Emirates, and 59 per cent for Malaysia.
The rating was done on a scale of 0-10, with 8-10 considered as the "rated highly" category.
Additionally, 35 per cent of Singaporeans from this survey thought that the local community had responded well to the outbreak using the same rating.
Some 34 per cent of respondents were surprised at how poorly prepared Singapore was for the virus, with regard to Covid-19 preparation.
This is the second lowest figure among all countries surveyed, with only Vietnam and Taiwan achieving a lower figure of 27 per cent.
Some 93 per cent of the respondents also felt that the Singapore government had kept the public informed with accurate information about the virus.
As for whether Singapore will emerge stronger from the crisis, 42 per cent of the respondents felt that Singapore would emerge stronger, while 26 per cent felt that Singapore would emerge weaker instead.
In giving an overview of Singapore's figures, David Black, the founder and CEO of Blackbox Research stated:
"Singapore's Covid-19 response has been driven by aggressive testing, meticulous contact tracing and strict isolation, which has instilled a great amount of confidence in majority of its citizens.

While a small percentage of Singaporeans feel that they could have been better prepared, this is partly due to a heightened expectation coming out from past epidemics such as SARS, where Singaporeans expect the government to have all its bases covered when it comes to responding to similarly serious respiratory pathogens."
Top image from JurongHealth Campus Facebook
If you like what you read, follow us on Facebook, Instagram, Twitter and Telegram to get the latest updates.