All Singaporeans aged 21 and above this year would have received a one-off Solidarity Payment of S$600 in cash in April 2020.
This amount constitutes one part of cash payouts that have been announced.
The other cash payouts that were earlier announced in the Resilience Budget under the enhanced Care and Support Package will be paid out in June 2020 -- brought forward from August and September 2020.
These include:
1. Remaining enhanced Care and Support – Cash of S$300 and S$600, for lower- and middle-income adult Singaporeans
2. Additional enhanced Care and Support – Cash of S$300 for Singaporean parents with at least one Singaporean child aged 20 and below this year
3. PAssion Card Top-up of S$100 for all Singaporeans aged 50 and above this year.
This will be paid out in cash instead of through physical redemption, in consideration of safe distancing.
Here's when and the total amount you can expect to receive: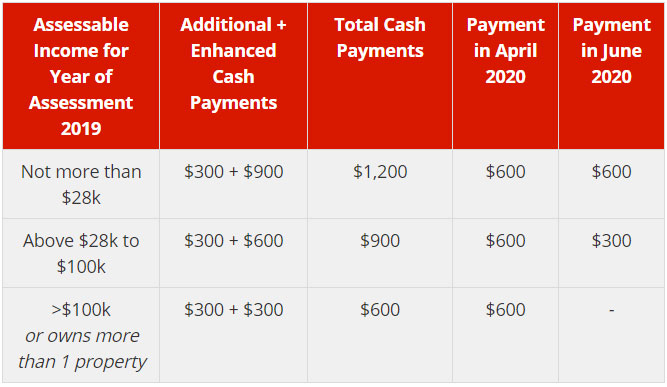 Background
The first payout in April 2020 served as an immediate assistance to tide Singaporeans through this period of heightened safe distancing measures.
This amount was made possible as it involved the bringing forward of S$300 from the enhanced Care and Support – Cash, with the government topping up an additional S$300.
In total, Singaporeans would have received between S$600 and S$1,200 each.
Singaporeans can also choose to donate to charities on the Giving.sg website, the Community Chest's Courage Fund or share it with others directly.
If you like what you read, follow us on Facebook, Instagram, Twitter and Telegram to get the latest updates.