Residents at Block 5 Marsiling Drive enjoyed free water on Sunday, April 26 thanks to a burst pipe.
The incident happened at around 3pm.
A resident, 47-year-old private hire car driver Miss Li, told Shin Min Daily News a huge amount of water came gushing out after an underground water pipe burst beneath Block 5.
The water flowed as far as Block 3 and 4.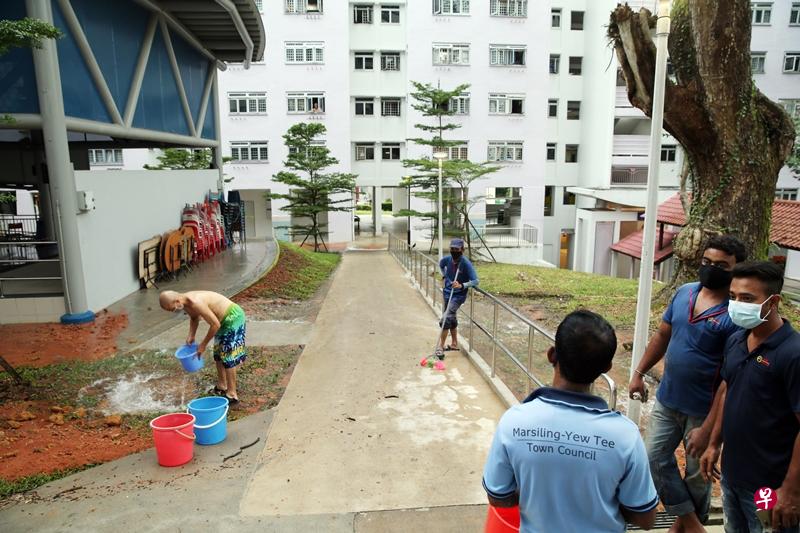 Li told the Chinese paper that it was the first time she saw anything like this in her 15 years of living there.
According to SMDN, the water flowed several hundred metres and covered a large area.
Residents who were returning back home had to wade through it.
Some residents took the opportunity to bring pails down to the ground floor and filled them up with free water.
The burst pipe caused a disruption in water supply for several second-floor residents living in Block 5.
One 64-year-old resident also told SMDN that he had to buy bottles of mineral water for his wife to cook.
He also went downstairs to get free water to wash clothes and dishes.
Others asked their neighbours for water.
The disruption lasted from around 3pm to 8pm, before the pipe was repaired, according to SMDN.
Water wagon deployed to provide temporary water supply
In a statement, PUB said that it received a report of a pipe leak at Block 3 Marsiling Road at 6.18pm on April 26.
A service crew was deployed to the site immediately.
"As the leak repair required the temporary shutdown of the water supply, we issued notices to inform the affected customers and deployed a water wagon to provide temporary water supply and water bags. The leak was repaired and water supply was restored on 27 Apr 2020 at 2.00am," said the agency.
PUB is currently investigating the cause of the leak.
Members of the public can call PUB's 24-hour call centre at 1800-CALL-PUB (1800-2255782) to report any pipe leaks.
H/T: Shin Min Daily News
Images courtesy of Shin Min Daily News.
If you like what you read, follow us on Facebook, Instagram, Twitter and Telegram to get the latest updates.