On March 1, UK comic Joe Lycett announced on Twitter that he had legally changed his name to Hugo Boss to spite the German fashion brand for sending cease-and-desist letters to small businesses that have 'Boss' in their company name.
According to BBC, Hugo Boss had been sending cease-and-desist letters to small businesses and charities.
Lycett (now Boss) explained in a tweet that Boss Brewing, a small brewery in Swansea, had to pay thousands in legal fees and rebranding after Hugo Boss sent them a cease-and-desist letter for their brand.
It's clear that @HUGOBOSS HATES people using their name. Unfortunately for them this week I legally changed my name by deed poll and I am now officially known as Hugo Boss. All future statements from me are not from Joe Lycett but from Hugo Boss. Enjoy. (2/2) pic.twitter.com/IlDoCrfmaO

— Joe Lycett (@joelycett) March 1, 2020
So, he decided to legally change his name to Hugo Boss. He also changed his signature.
His Wikipedia page has also been edited to reflect the name change.
By doing so, the UK comic would be able to legally say anything he wants under the name Hugo Boss, and the fashion house is unable to sue him for trademark infringement.
According to a BBC article, the comedian will be launching a brand new product named after himself, Hugo Boss, on his show.
The fashion company has yet to make a public statement, as of March 2.
Part of his TV show
The name change stunt is presumably part of the second season of his comedy show: Joe Lycett's Got Your Back on BBC's Channel 4.
In the series, the comedian goes toe to toe with big organisations, fighting for justice for wronged consumers with a comedic twist.
This isn't the first time he has used famous names to get the attention of big corporations.
In its first season, the comedian impersonated the ex-CEO of the Royal Bank of Scotland to get a £8,000 (SGD 14,278) refund for a scammed customer.
He created social media accounts under the CEO's name and posted embarrassing tweets to the public.
To drive home his point, the comedian brought a flash mob with him to do a song-and-dance routine at the RBS headquarters.
The stunt gathered 9.1 million views on Facebook, RBS also changed its policies and refunded the customer her scammed money.
"Got Your Back was my dream job because it let me do two of my favourite things - be an idiot and shove two fingers up to greedy corporations," the comic told Royal Television Society.
The new eight-episode season is expected to come out in the spring this year.
Cheers from his followers
So it's official!! @joelycett (we mean Hugo) has only gone and done it! Just the most brilliant show of support from Joe. Can't wait for you all to see the episode we filmed for his Channel 4 'Got Your Back' show on the whole Hugo Boss saga. #LikeABoss https://t.co/vHLIDBToCa

— Boss Brewing (@BossBrewingCo) March 1, 2020
Boss Brewing was quick to respond, calling the stunt "the most brilliant show of support".
Commentators on the comedian's Facebook and Twitter pages were equally tickled.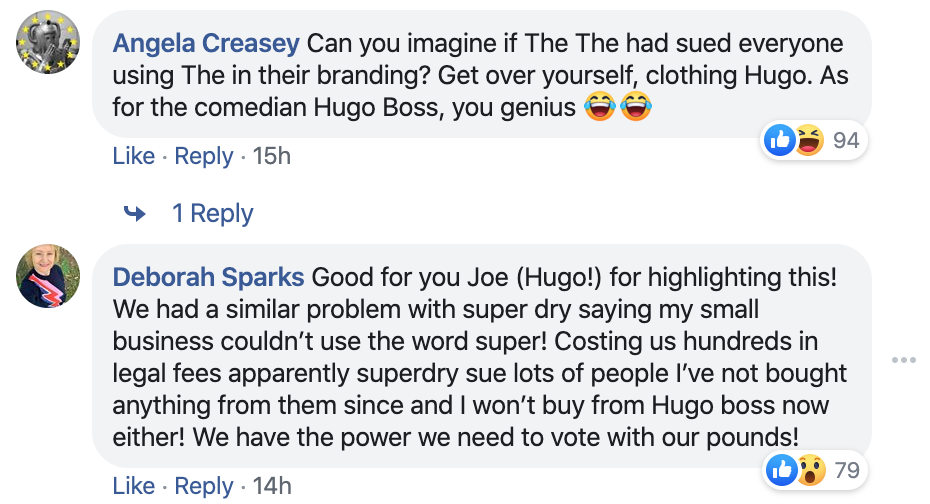 Props to the mad lad.
Top photo from Joe Lycett
If you like what you read, follow us on Facebook, Instagram, Twitter and Telegram to get the latest updates.