It's been a good 20-something years since I was in preschool.
It was nothing fancy - it was a rather small one that was a two-minute walk from my block, so it was convenient for my parents to leave their little gremlin of a child there while they were at work.
Things were pretty straightforward. I attended preschool, learnt some basic lessons and songs, play, eat, sleep, play, go home. I don't recall having a lot of fun, and I was annoyed by my teachers. I was only too happy to graduate.
Stepping into the NTUC First Campus' My First Skool at Kampung Admiralty, however, felt like a breath of fresh air.
There are many differences between the preschool I went to and My First Skool. For one, it's a modern preschool with bright and cheery classrooms.
In particular, their teachers are significantly different in how they teach, conduct lessons and receive training, which makes for a big difference in the way they influence young lives.
This includes Deputy Center Lead Teo Lisa, who has been with My First Skool for about five years. She started out as an English teacher after receiving a degree in early childhood education.
Currently, she mentors teachers, does daily walkabouts to observe the children and teachers and supports the professional development of the latter.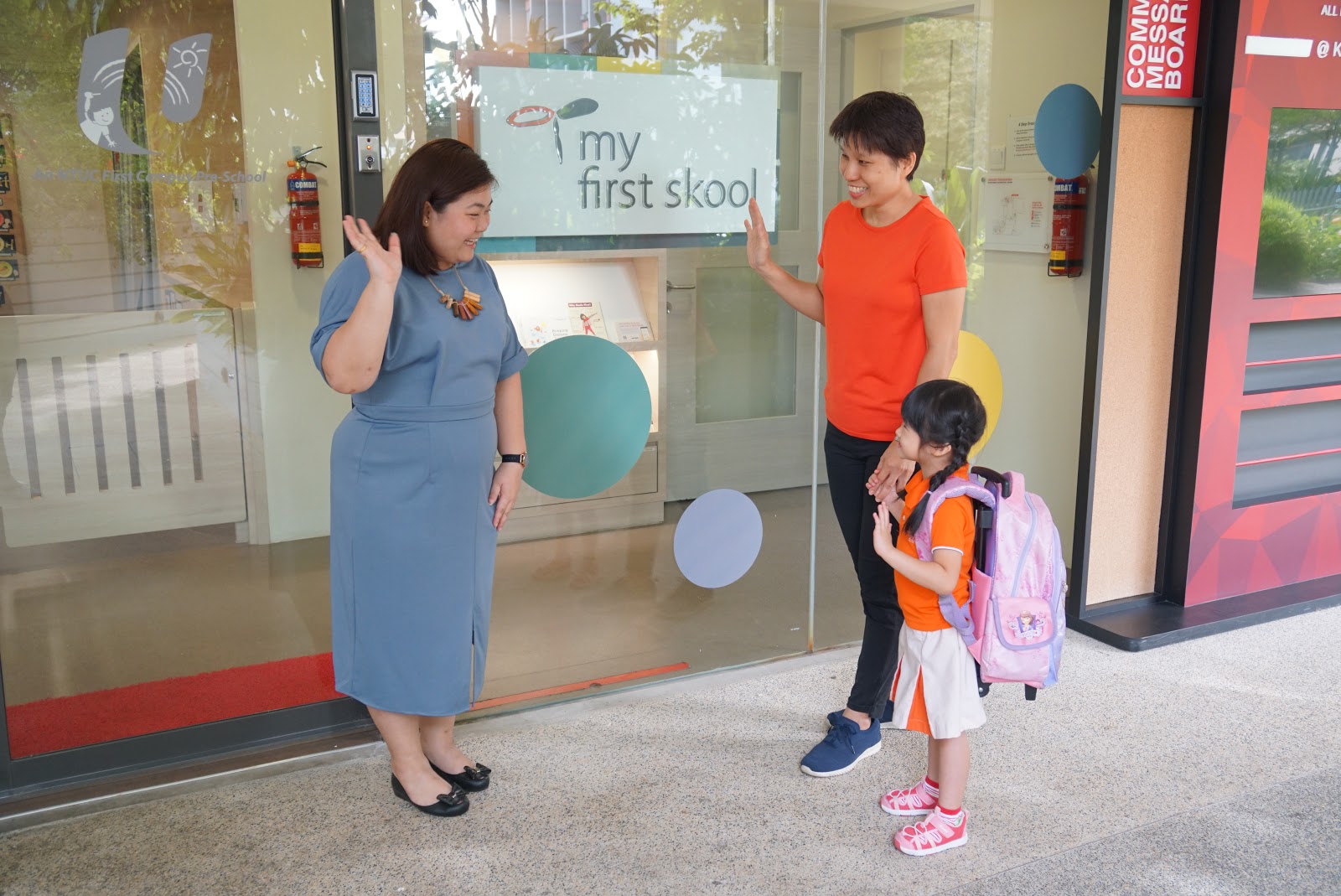 With the increased focus on the importance of early childhood education, being an early childhood educator is not "just a job", Teo tells us.
"Things are moving very fast now because we are focusing a lot on early education and how early education is very important.

Because to give children a good start in life, it's very crucial. It impacts them as an individual and because everything is moving so fast now, there's so much research talking about different ways we can teach children and all that."
Learning from industry experts
When in school, what I remember was the use of worksheets to conduct lessons. A set of worksheets seemed like the "go-to" for every lesson.
Methods of teaching were less child-focused and less hands-on.
Teachers were using the usual things that have been taught repeatedly to batches of kids before me, and during lessons, it was more of rote learning.
For example, we just memorize the calculation of numbers based on repetition by the teachers and there were little opportunities for experiment and exploration.
Now, teachers collaborate with key industry leaders via bite-size learning modules, exposing them to the latest in technology and the arts.
For example, Teo shared with us that teachers get to undergo really creative learning sessions such as ukulele lessons, which could be incorporated into music and movement lessons.
As such, Teo is able to introduce accessible and exciting ways for children to learn things like programming, stop motion animation, and creating their own digital storybook, allowing children to pick up vital skills much needed in their future.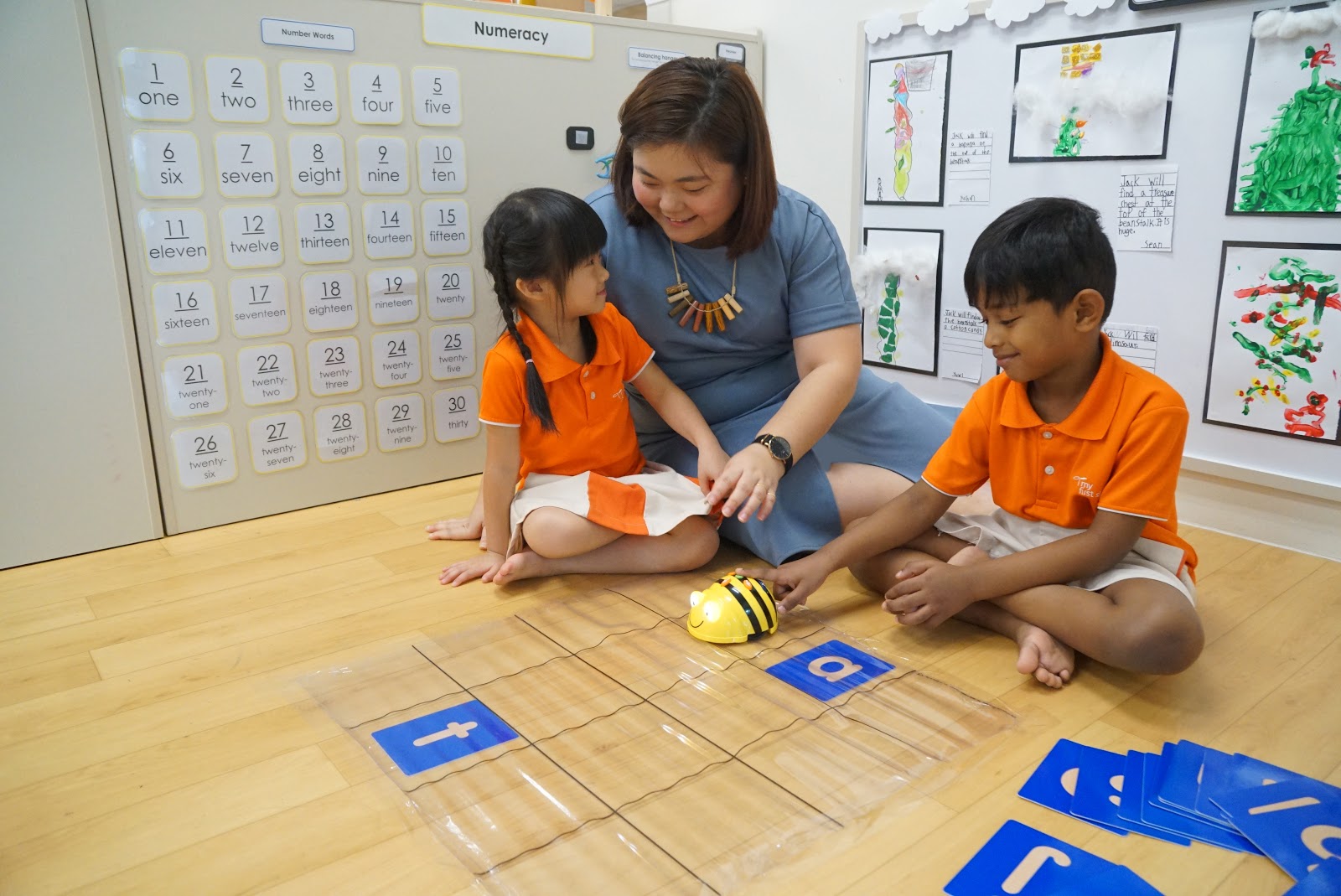 Inspired from enriching Overseas Learning Journeys
My time in preschool felt like any typical "by-the-book" centre, and there were times where I didn't feel inspired by anything my teachers taught.
This is different at My First Skool, with teachers taking the initiative to create and provide an engaging space for their children, using best practices to provide a comfortable, engaging learning environment.
"Teachers are more empowered to make their own decisions. [Teachers may consider things such as] the lesson plan, how I can innovate and cater to my children's needs." Teo said.
Teo tells us that selected teachers do have the opportunity to go on different overseas learning trips and exchanges, to observe best practices carried out at different preschools at different parts of the world.
In such a way, teachers are exposed to new and different teaching approaches that will inspire them to adopt new methods at their centres, and lesson plans.
Overseas learning exposure also broadens horizons for the teachers, and allows them to form friendships with other early childhood educators, through sharing their experiences and ideas.
Freedom to focus on what matters
At NTUC First Campus' My First Skool, the school provides teachers with a strong support network through technology and headquarter departments to help teachers sort out the administrative matters.
This is done by the use of technology. For example, instead of manually taking attendance, a visual paging system allows for a safe, authorised way to take the attendance of children who come and leave the centre.
When it comes to procuring resources, ordering stationery, fresh food or organising field trips, teachers simply need to key a few pieces of vital information into their procurement system.
A teacher would just simply list down all the approved vendors, items and resources that they need, without having to source for those themselves.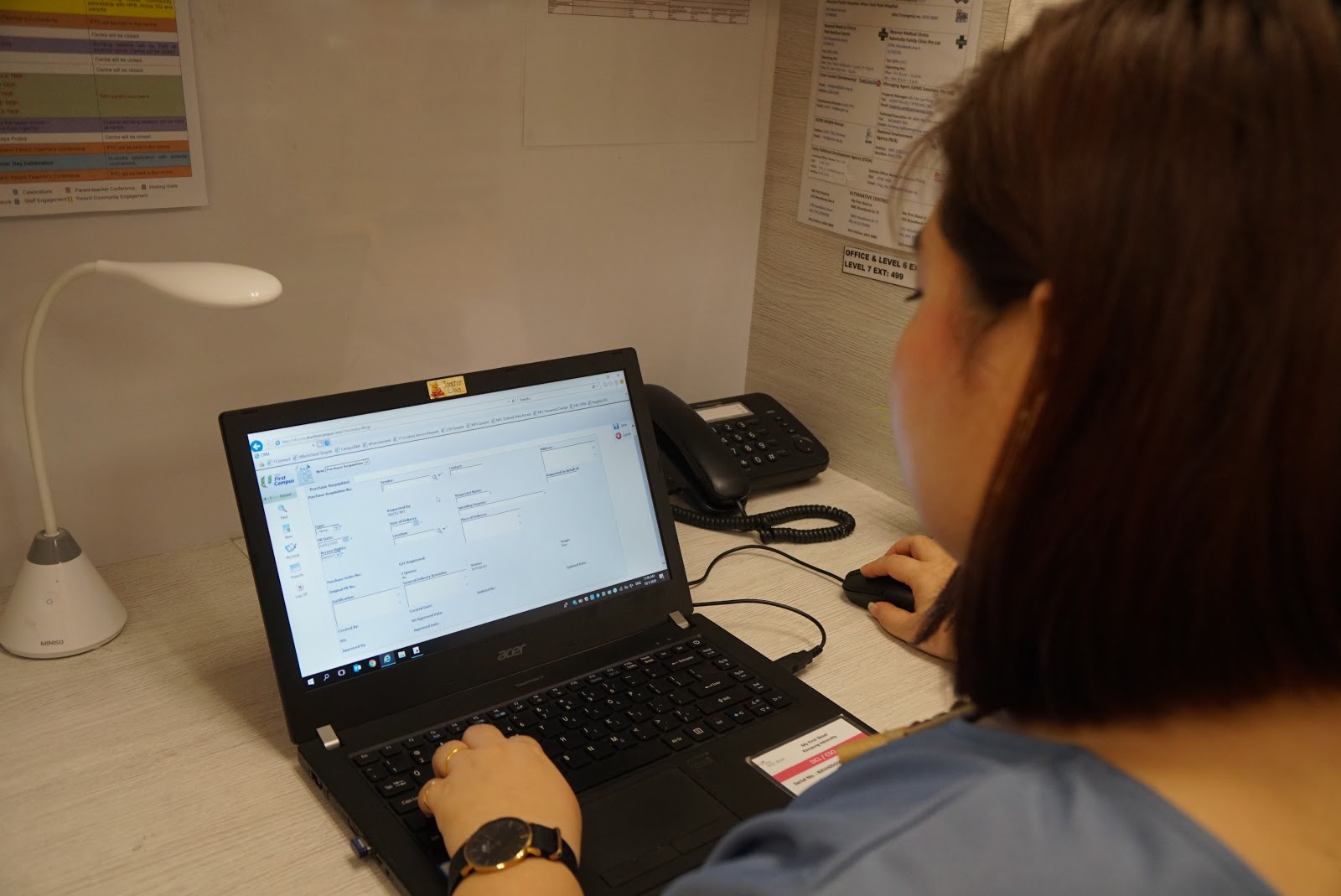 Energised to excel no matter what they do
Back then, teachers may not have had access to a vast array of courses and benefits, as compared to today.
To ensure that their teachers are fully able to focus on their work while being able to take time out for themselves, My First Skool believes in supporting their staff in focusing on their family and individual well-being, so they can excel at work.
Teachers get family care leave and even single's day leave for single teachers who can't utilise marriage leave.
Besides that, teachers are privy to other benefits, such as discounted tickets, staycations and spas, to allow them to return to work at the most optimal state they can be.
With teachers being able to spend time with their families adequately, they can teach with a peace of mind.
Well-adjusted teachers make for well-adjusted children, and I see this in every part of the school, which respects teachers just as much as they respect their students. Perhaps this is also why Teo speaks of her job with so much joy - because she is empowered to do what she loves everyday.
If you think a career in Early Childhood Education may bring you as much fulfilment as it does to Teo, click here to find out more.
This article is brought to you by NTUC First Campus.
If you like what you read, follow us on Facebook, Instagram, Twitter and Telegram to get the latest updates.