It's important to pick up the pieces after a broken relationship and salvage what you can.
A man has turned to Facebook to sell off his flight tickets from Singapore to Osaka, Japan after finding out that his girlfriend allegedly cheated on him.
S$388 direct return flight, includes 20kg baggage allowance
The Scoot tickets put up by Facebook user Marco Chia on The SGMall.com are going at S$388 for a direct return flight to Osaka with 20kg baggage allowance.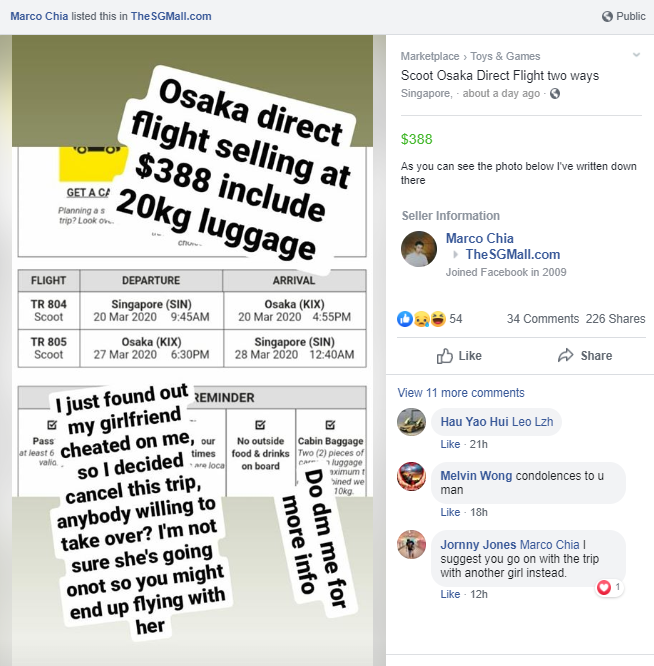 Which sounds like a pretty good deal.
In his post, Chia wrote that he was cancelling the trip as he just found out that his girlfriend cheated on him.
According to the post, the flight departs for Osaka on Mar. 20, 2020, at 9:45am, and is set to return on Mar. 27, 6:30pm.
The buyer may end up flying with his girlfriend as well, he adds as a disclaimer, as he isn't sure whether she still wants to go.
He asked for interested buyers to message him directly.
Facebook users pay respects in comments
Several Facebook users gave their condolences in the comments section.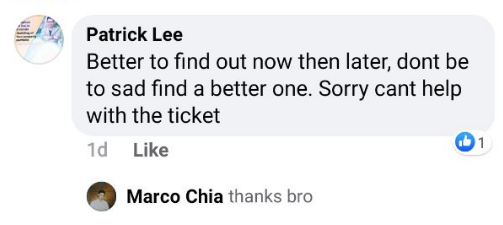 Some left well-meaning advice.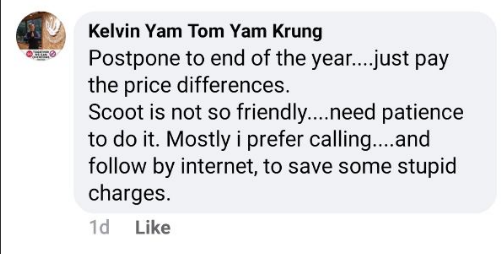 Shucks.
Top image via Marco Chia/The SGMall.com Facebook page
Content that keeps Mothership.sg going
---
??️
$15 all-you-can-exercise fitness pass?!?! Sign us up!
??
She graduated from poly with a 3.69 GPA but opted to study in a private university.
??
$5 flash sale for Monster Curry, and Chilli Soft-shell Crab Spaghetti!
If you like what you read, follow us on Facebook, Instagram, Twitter and Telegram to get the latest updates.