Follow us on Telegram for the latest updates on Covid-19: https://t.me/mothershipsg
For the past month, all eyes have been on the Diamond Princess cruise ship.
The cruise was a 14-day round trip itinerary that departed from Yokohama on Jan. 20 and was scheduled to return on Feb. 4.
However, passengers on the ship had to be quarantined after 10 people on the cruise had tested positive for the coronavirus.
And over the course of the next few weeks, the number of infections would surge to a staggering 621, accounting for over half the cases outside of China at that time.
It was only on Feb. 19 that large numbers of passengers were allowed to disembark the cruise after their quarantine ended, after nearly a month of being on the ship.
On Feb. 27, a Princess Cruises news release confirmed that the disembarkation of all guests is complete.
At the heart of the mayhem is the ship's captain, who has kept things under control to the best of his ability throughout the month.
Captain finally disembarks
This is Gennaro Arma, photographed finally leaving the ship after over a month.
He had apparently disembarked on March 2 after overseeing the final transfer of all passengers to either a hospital or quarantine facility.
The photo, uploaded to Facebook on Sunday (Mar. 2) has gone viral with over 4,700 shares:
The Facebook post stated that he was "the last to leave Diamond Princess", and they thank him and his senior officers for their leadership.
Praise for captain
In response to the Facebook post, some people have commented with words of praise thanking Arma for the way he handled the crisis: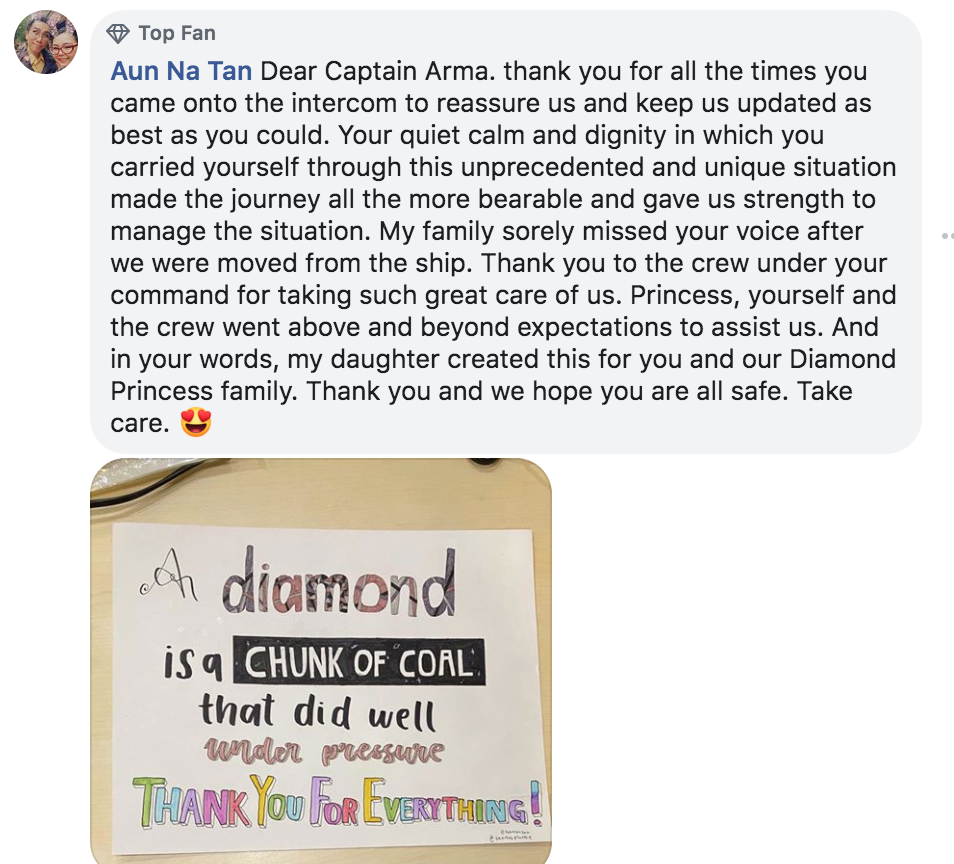 Arma had reportedly called his crew "(his) gladiators", and had also regularly left notes of encouragement for passengers on board.
A video of him thanking his crew in a video also went viral on Facebook:
Wife supportive of him
Born in Italy, Arma had been working with Princess Cruise Lines since 1998, and had become the Captain of Diamond Princess in 2018.
In an interview with CNN, Arma's wife said that she has been very supportive of her husband's job.
"After many years, I'm used by now to the fact that he can be away, and far away, for a long period of time."
She also said that they managed to keep in contact by phone or video call every day.
The captain tested negative for the virus and is currently under quarantine in Japan.
Top photo via FB/Princess Cruises
If you like what you read, follow us on Facebook, Instagram, Twitter and Telegram to get the latest updates.