A flower bouquet on Valentine's Day is a cliché.
So why not take it a step further?
With the ongoing 2019 novel coronavirus (Covid-19) outbreak, a Filipino man did the most logical, yet romantic thing one can do: An anti-Covid-19 bouquet.
Gave out anti-Covid-19 bouquets to five women
On Jan. 30, 22-year-old Rigel Thomas Morre, who works as a video creator in Cebu, Philippines, shared some photos of his unique bouquets on Facebook:
Each bouquet consists of face masks, three soap bars, three bottles of hand sanitiser, three bottles of alcohol and of course, some flowers.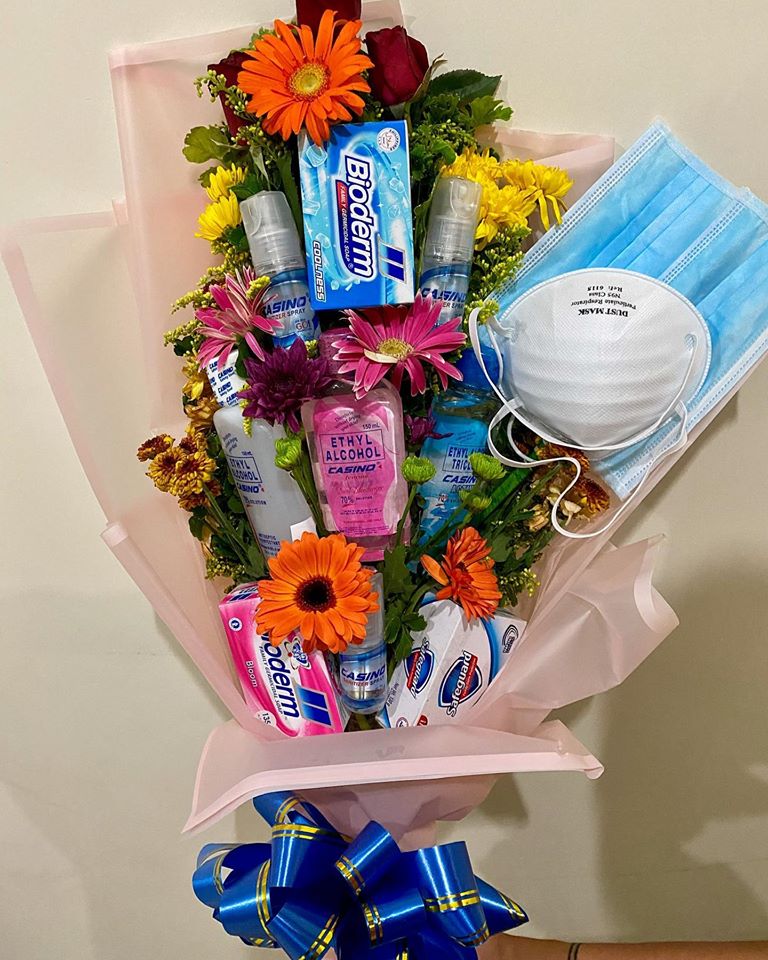 In his caption, Morre announced that he would be giving the bouquets to five lucky women. All they had to do was like his post.
On Feb. 4, he kept his promise and personally delivered the bouquets to the winners:
Speaking to
Cebu Daily News
, Morre said:
"I thought of the idea because I could not imagine what Valentine's Day would be like if we are have a virus outbreak here. This is the reason why I thought of the anti-corona bouquet that includes alcohol, face masks and soap bars.

This was just done for fun but if this leads to a new business trend, then why not? It cannot be denied that we really need alcohol, soap and masks nowadays."
Morre added that each bouquet only cost him about 600 pesos (S$16.50) to put together.
He is also planning on giving one of them to his girlfriend this Valentine's Day.
Covid-19 in the Philippines
The Philippines currently has three confirmed cases of Covid-19, after its third case was announced on Feb. 5.
There is still no evidence of local transmission in the country.
However, the Philippines was the first country to report a death outside of China.
On Feb. 6, a patient who was being investigated on suspicions of having Covid-19 also passed away in the country.
Top images from Rigel Thomas Morre/FB.
If you like what you read, follow us on Facebook, Instagram, Twitter and Telegram to get the latest updates.