The first Twilight: Flea and Feast of the year will be going on from Jan. 17 to 19, 2020.
The first of four events in 2020, the Twilight: Flea and Feast hosts entirely local F&B and retail vendors.
With a back-to-school theme, the upcoming event will have more than 50 food vendors and over 200 homegrown retail brands.
Local street food
Here's a look at some of them:
Katoshka
Katoshka is known for its double-fried russet potatoes served with a variety of sauces.
This russet fries with special cheese sauce, for example, is a classic choice.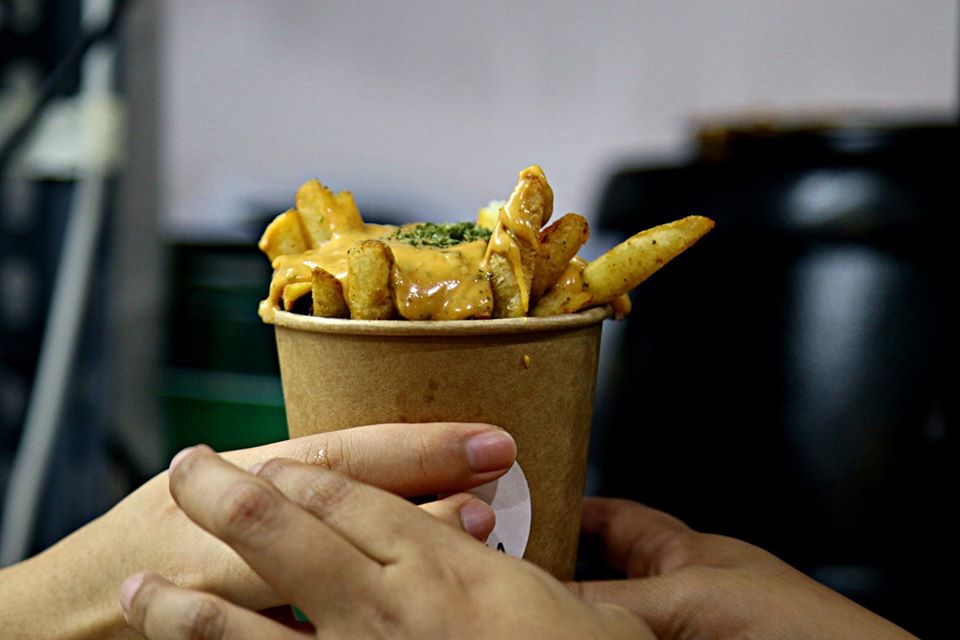 They also have other sauces like sour ranch and chilli beef.
Yummy Takoyaki
There is always a long queue for Yummy Takoyaki.
But that's a given since the Muslim-owned eatery serves takoyaki as authentic as one could get in Japan.
While octopus is the usual filling in takoyaki, Yummy Takoyaki also offers others like prawn, mushroom, chicken hotdog and crabstick.
A serving of five takoyaki typically goes for S$4.
O'Braim
O'Braim is known for their goreng pisang (banana fritters) with cheese.
A typical serving consists of banana fritters topped with grated cheese, chocolate rice and condensed milk.
A box of this savoury dessert goes from S$5.
Broti
Broti serves drinks in a variety of flavours including:
Charcoal Matcha

Earl Grey Milk Tea

Thai Milk Tea

Gula Melaka Milk Tea

Peach Soda
A litre of each beverage goes for S$4.
Homegrown retail
Other than food, one can also support small local businesses.
This includes Claypsoul, a brand that prides itself on selling accessories that won't break your bank.
https://www.instagram.com/p/B64madbBjab/
Earrings start from S$13 while hair clips cost upwards of S$8.90.
There's also Replique Tees which sells t-shirts printed with witty colloquial phrases.
A cotton t-shirt costs at least S$20.
Those with children can look forward to GENTLELOVE, a local business that specialises in baby essentials.
They have beansprout husk pillows (or chou chou), waterproof changing mats and soft sensory toys.
You can look out for more F&B vendors and retail outlets that will be at Twilight here.
Free movie screenings
There will also be free movie screenings at the event.
Sticking to the back-to-school theme, these are the movies that will be screened:
Jan. 17:
11am: Sky High

3pm: Camp Rock

7:30pm High School Musical
Jan. 18:
11am: Monsters University

3pm: Princess Diaries

7:30pm: High School Musical 2
Jan. 19:
11am: How to Train Your Dragon

3pm: X-Men: First Class

7:30pm: High School Musical 3
Interesting.
Where to go: Suntec City Convention Centre (Hall 401-402)
When to go: Jan. 17-19, 2020, 11am to 10pm
Top image from Twilight: Flea & Feast, @gentlelovesg, @calypsoul.co, @legaloutlaw and @hijabfoodie.
If you like what you read, follow us on Facebook, Instagram, Twitter and Telegram to get the latest updates.