A Gojek driver in Singapore has been accused of persistently pestering his passengers to provide him a S$3 tip because he claimed he didn't get paid enough by the app.
The incident was recounted by one Joseph Lam on Facebook.
Lam shares his experience
In a Facebook post shared in the early hours of Wednesday, Dec. 18, Lam detailed his unpleasant experience.
He shared that his flight had touched down at Changi Terminal 1 seemingly at around the same time as a number of other flights.
As a result, both Grab and Gojek were experiencing surge pricing.
After trying to book a private-hire car for more than 10 minutes, Lam said he was finally able to find a Gojek ride for S$14.
On board car
After the passengers boarded the car and exchanged only a few words with the driver, he allegedly asked for a tip.
Lam shared that the group laughed awkwardly and he suggested that he could give the driver a five-star rating instead.
However, the driver reportedly brushed it off, saying that five-star rating is only useful for Grab, not Gojek, and again suggested that they leave him a tip.
The driver then apparently argued that they should tip him because the price on Grab for a trip to Tampines at the time was S$21, and added that he normally encourages his passengers to leave him a tip of S$3.
Lam said in his post that the driver then asked them several times if they would mind leaving him a tip, after which Lam finally replied, "Yes, I do mind."
Ride cancelled due to not tipping
And that was when the situation escalated.
The driver then reportedly replied, "Well okay, if you do mind, I guess I will have to drop you at the nearest bus stop."
Lam shared that when he asked if the driver was being serious, the driver apparently said, "Yes, because I asked if you mind tipping me and you said you mind. So do you mind me dropping you off here at the middle of the road?"
The driver then apparently cancelled the ride and dropped off Lam and the two others with him at a bus stop along Airport Boulevard, saying that he didn't want to force them to tip him so he would just drop them off so that they could try using Grab.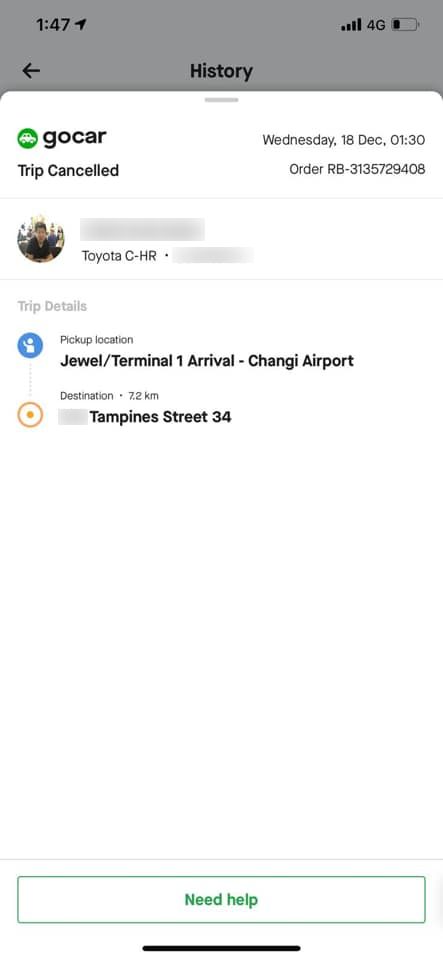 The driver also reportedly told the group that everything on the car was recorded, and left them, saying:
"I know who really needs a ride now. Good luck my friends!"
Lam added at the end of his post that he was not trying to portray himself as a saint, and acknowledged that the conversation had involved expletives and the middle finger.
You can read Lam's full post here:
Responses
Lam's post has since been shared more than 1,500 times, and has more than 300 comments on it.
Many people chimed in with support for Lam, shaming the driver's behaviour: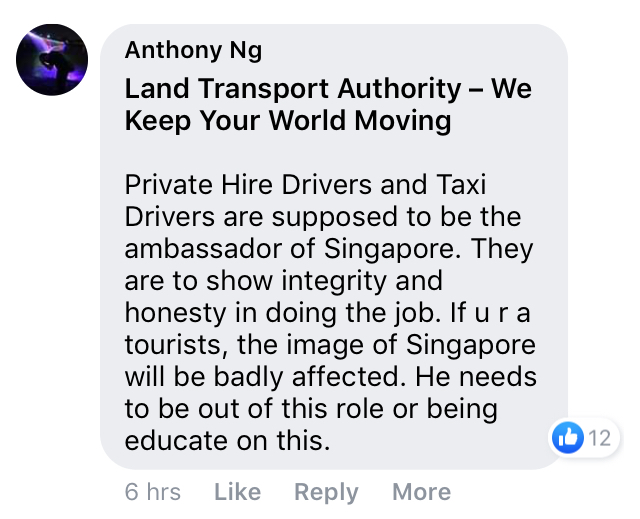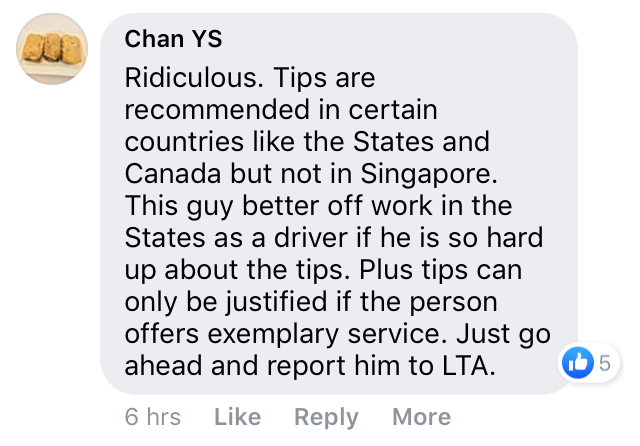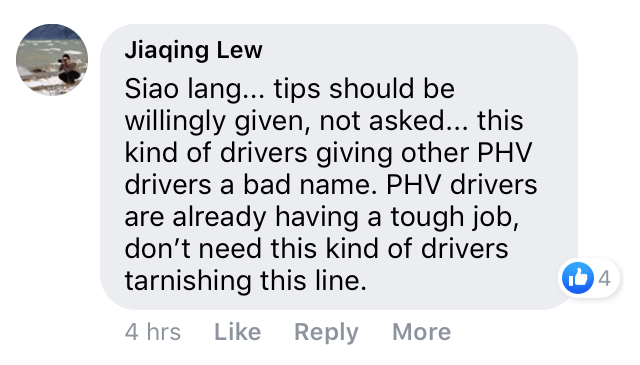 Some encouraged Lam and others to consider supporting the local taxi industry by opting for taxis rather than private-hire vehicles such as Gojek in the future: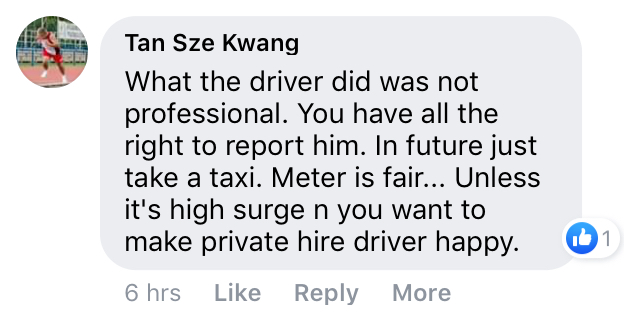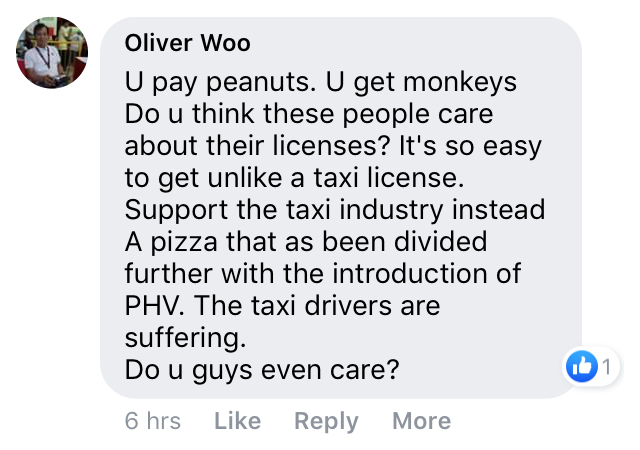 A number of netizens also lashed out at Lam, though, criticising his actions: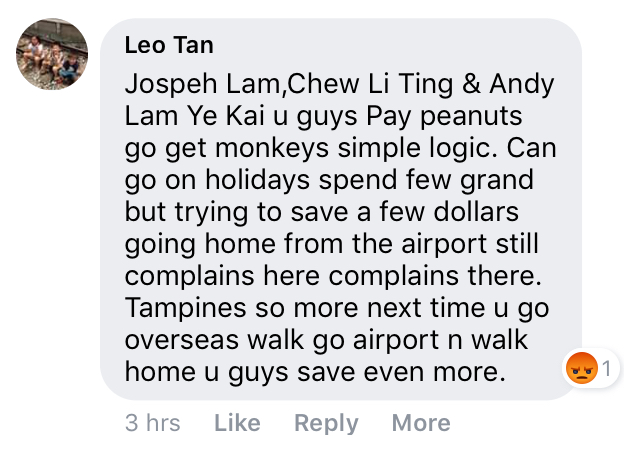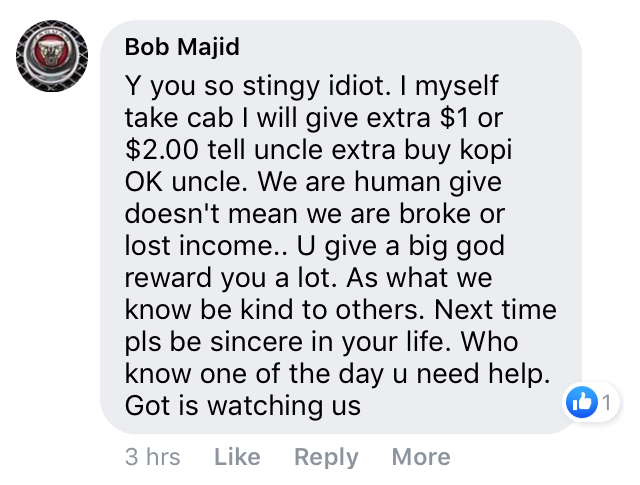 And some people also questioned whether Lam had told the full story of what happened: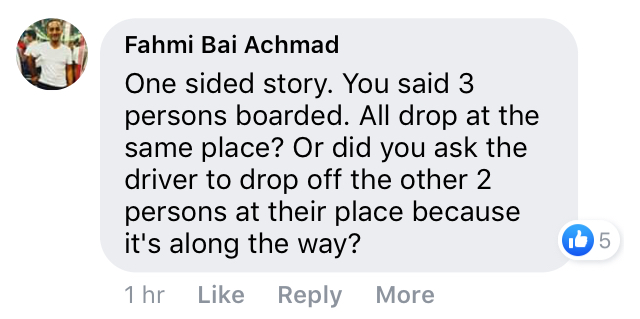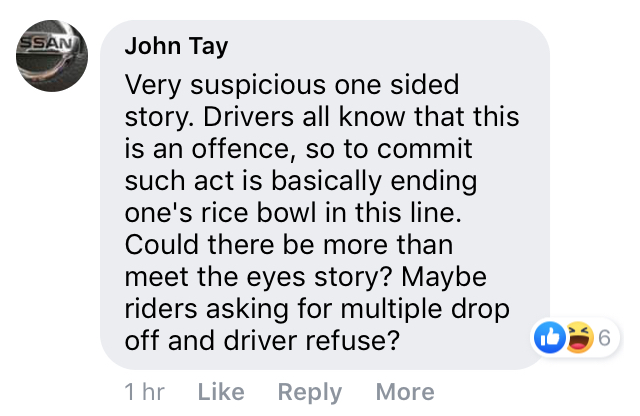 Gojek responds
In response to Mothership queries, a Gojek spokesperson said:
"We do not condone this kind of behaviour from our driver-partners. Our policies around conduct are clearly emphasised to them in our driver-partner handbook and during the on-boarding process. We looked into this case as soon as it was brought to our attention and are speaking with both parties to resolve the matter."
Top image via Facebook/Joseph Lam.
If you like what you read, follow us on Facebook, Instagram, Twitter and Telegram to get the latest updates.