China may be big, but it is not threatening, Beijing said at a recent press conference on Thursday, Dec. 12.
In a regular presser, the Chinese Foreign Ministry spokesperson Hua Chunying invoked the national animal in her analogy, saying "a giant panda is big, but is it more dangerous than a bald eagle?"
"Kung Fu Panda is adored by all as it is an amicable friend and justice defender."
Articles downplaying the "China threat" are "objective": China MFA
Hua was responding to a question asking for her comments on two recent articles written by renowned American author Fareed Zakaria and modern history professor at the University of Sydney James Curran.
She said Beijing appreciates the authors' "courage" in writing their "objective and rational remarks on China-related issues".
Both Zakaria and Curran argued that the hostility among policy circles towards China in the United States and Australia are bordering on paranoia, and warned against going down such a path as it would only bring more harm than good.
Zakaria went a step further to say that there is no fear that China is going to overtake the U.S. as it is plagued with its own internal problems, and it does not want to destroy the world it has prospered from thus far.
"China phobia" can be treated
Hua went on to say that "some politicians and media in western countries", having been plagued by "China phobia", are against everything related to China, and seek to "slander and smear China in every possible way".
Appreciate #JamesCurran & @FareedZakaria vision & objectiveness. Big doesn't mean threat. Giant panda more dangerous than bald eagle? KungFu Panda adored by all. ONLY THERAPY for dangerous #Chinaphobia: Openness & Inclusiveness.https://t.co/iJ41tLWSZShttps://t.co/CyhCC2a9Gn pic.twitter.com/esgShCrUmj

— Spokesperson发言人办公室 (@MFA_China) December 12, 2019
But while "China phobia" is a "dangerous illness", it can be cured by abandoning the "zero-sum cold war mentality", and by upholding equality and mutual respect, she added.
China is peaceful, like a panda
Hua has also defended China's foreign policy, saying the country "has not initiated wars, interfered in others' internal affairs, occupied a single inch of others countries' territory, or violated international rules and order".
In addition, she said China has "shown greater ability and confidence to safeguard [their] legitimate rights and interests" when its sovereignty and security are "threatened".
"When others throw dirt on us, we are now able to wipe it off more swiftly and effectively. We fight the necessary battles just to win the equality and dignity we deserve."
Proclamation met with widespread disapproval
The Chinese Foreign Ministry's tweet that compared itself to a panda was met with disapproval, with many Twitter users not buying the claim that China is indeed "non-threatening".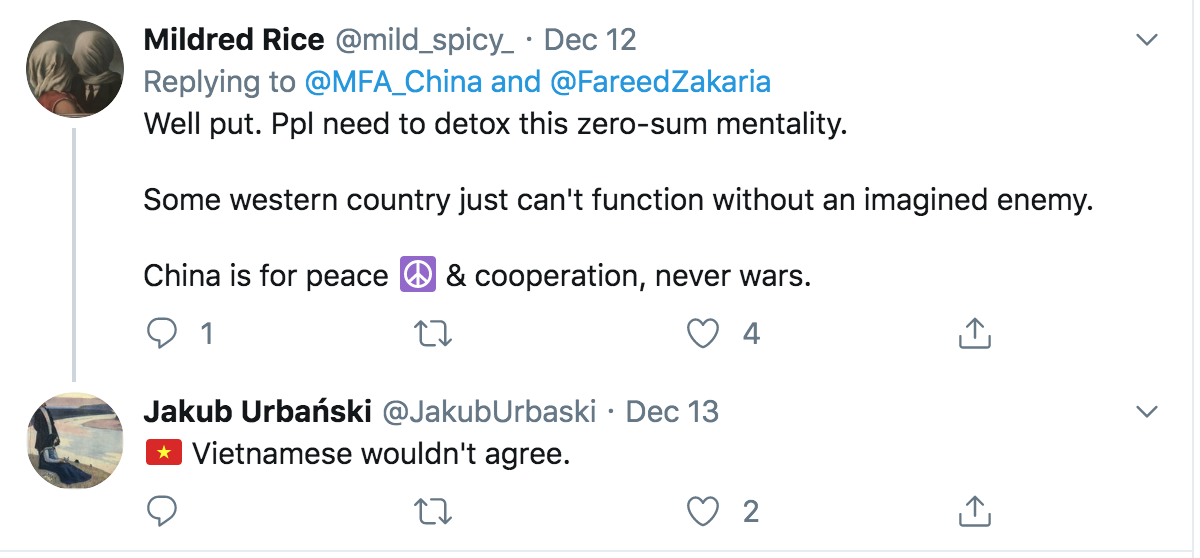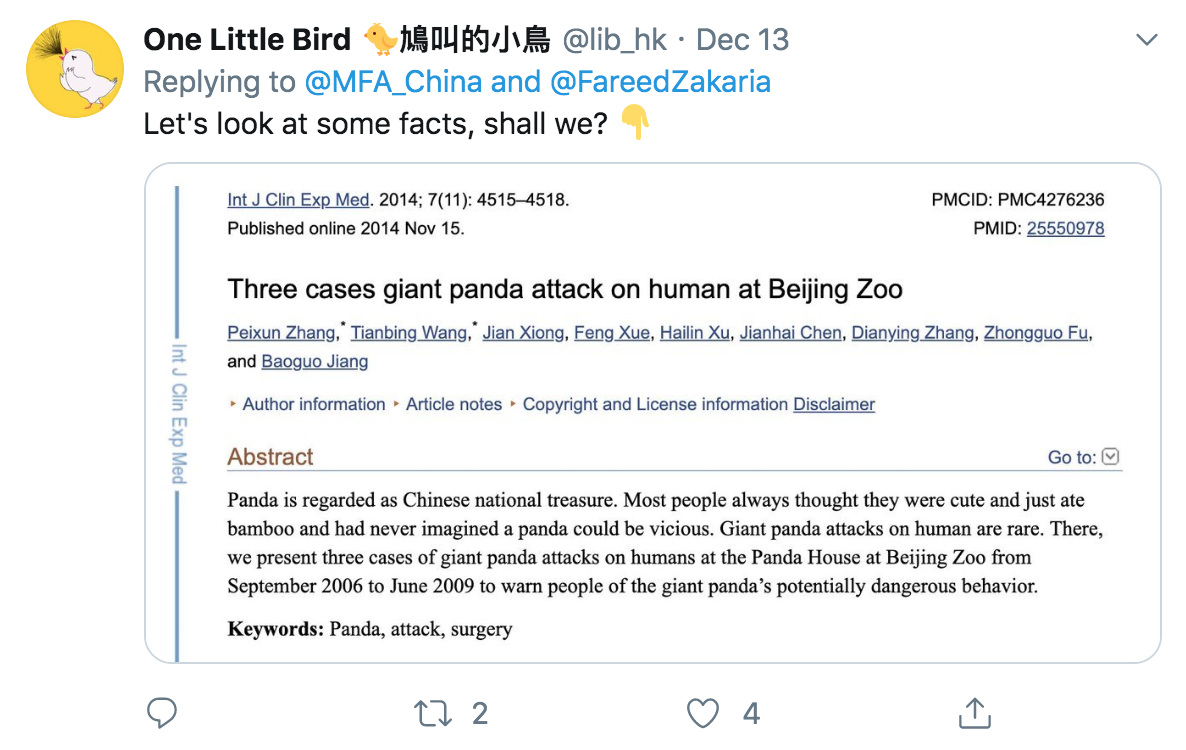 Top image via Xinhua & China's Foreign Ministry
If you like what you read, follow us on Facebook, Instagram, Twitter and Telegram to get the latest updates.