Teaching comes with its fair share of challenges and rewards.
And Siti Aisyah Binte Mohd Mohaiyuddin, 29, has been in the same job for eight years.
During the same period of time, a typical millennial would have made three to four career switches.
That's definitely not the case for Aisyah, an allied educator, who provides learning and behaviour support at Changkat Changi Secondary School in the east.
What's an allied educator?
Allied educators work with teachers closely.
While they are not teachers, they develop strategies to nurture the potential of students with special education needs (SEN). These students may have learning, communication or behavioural challenges while others may have sensory or physical impairments.
Aisyah provides in-class support, conducts a separate small-group peer support programme for students as well as one-on-one remediation sessions for students with SEN.
[caption id="" align="alignnone" width="941"]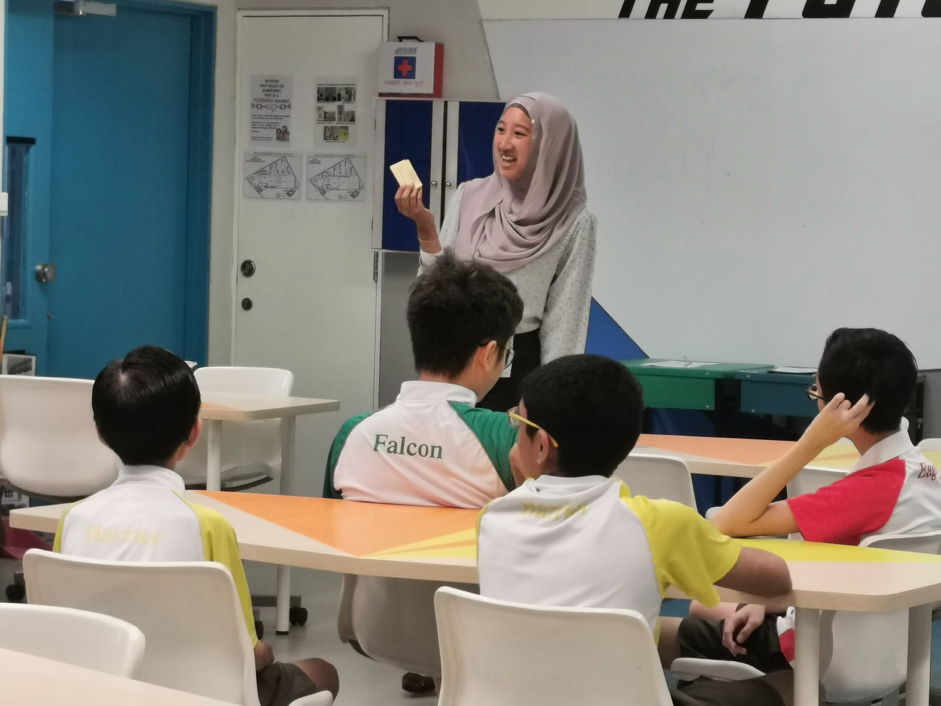 Photo taken by Zheng Zhangxin.[/caption]
During the peer support programme, together with a team, she will find ways to equip the students with better communication skills. An example is understanding the concept of what teamwork means.
Students are encouraged to share their views and engage in discussions about topics ranging from concerns about their studies to interacting with their peers.
One-on-one sessions are usually conducted for about 30 minutes to an hour each week, and are customised to the needs of individual students. Allied educators will try to strike a better rapport with the students.
These sessions can be dynamic, and it motivates Aisyah to self-improve constantly.
She said, "It could be spelling, reading, writing, critical thinking skills or could be some behavioural management strategies such as 'Stop. Think. Do.', this kind of thing. Again that's why we have to constantly, professionally develop ourselves and recognise that every child is different."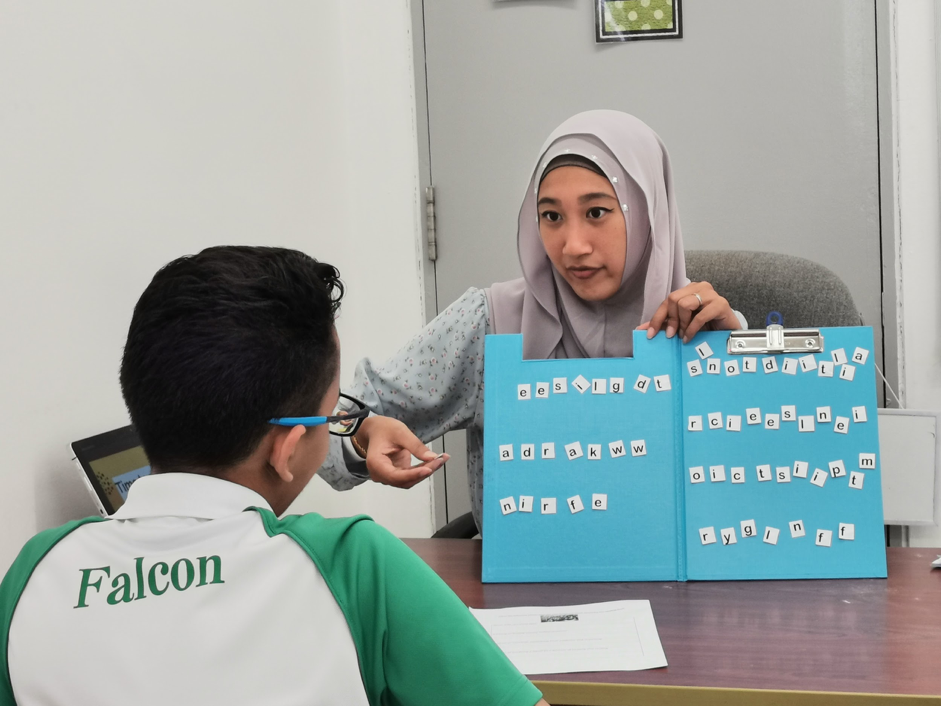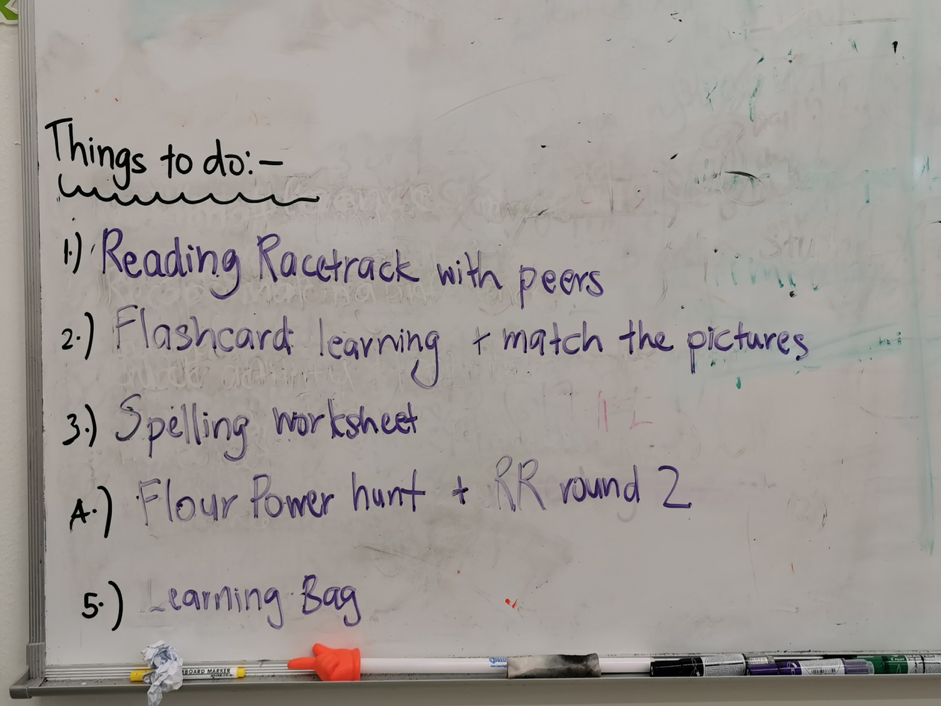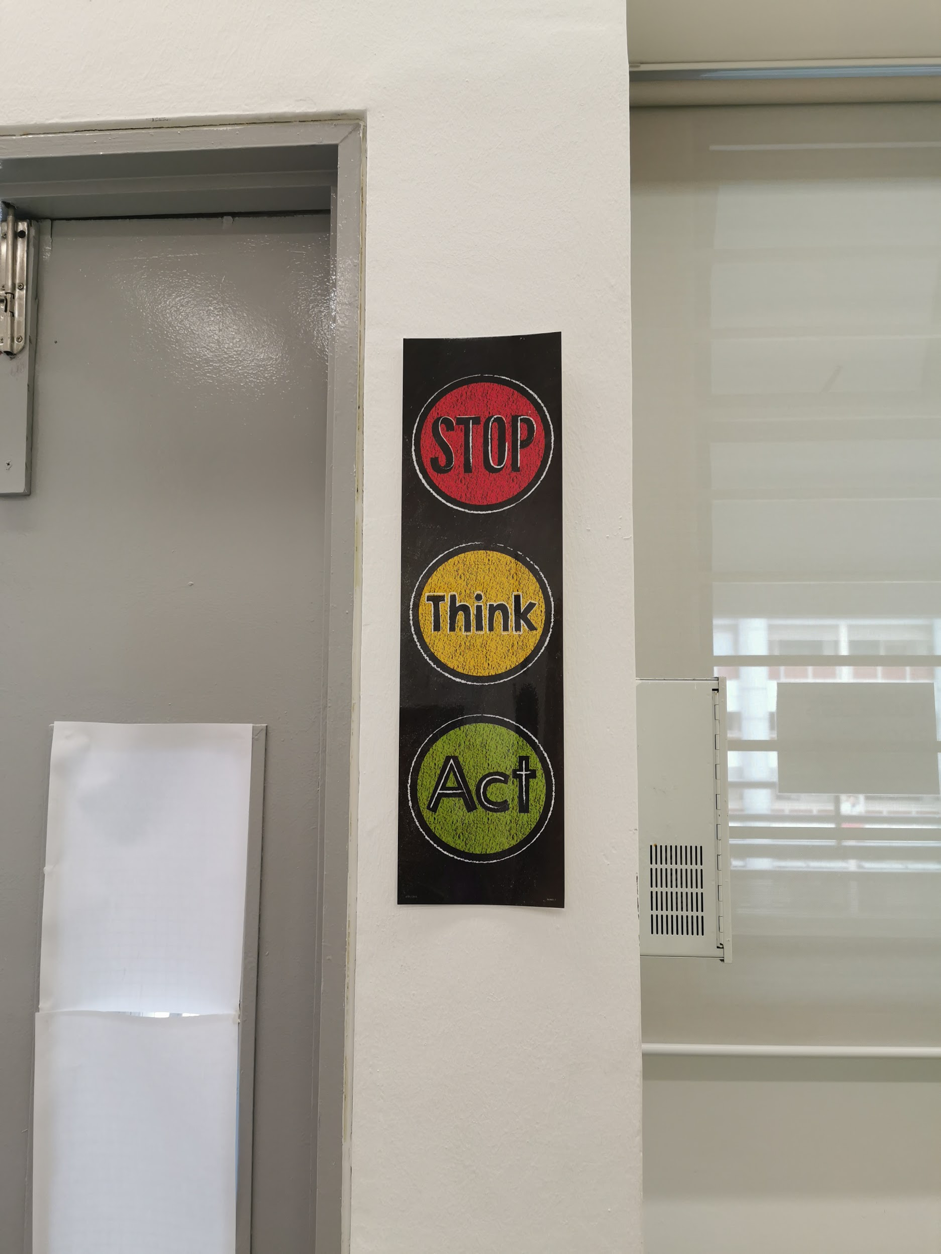 Each student with SEN faces a different set of challenges.
Hence, allied educators and teachers have to work together, bounce off a lot of ideas, and think of ways to help the students.
This includes helping students with SENs communicate their ideas clearly, either with a touch pad or eliciting a verbal response.
Aisyah said,
"Regardless of how long you've been in the line or what the range of experiences that you've been through, there are no-one-size-fits-all solutions so therefore we have to consistently and professionally develop ourselves and always learn.
Time is ever evolving, we also have to adapt ourselves accordingly. There is no textbook answer... We sometimes have to personalise our strategies according to the needs of different students."
Some ideas also include learning journeys to Escape Rooms and playing Laser Tag.
These activities help the students enjoy the out-of-classroom learning experiences and apply the skills that they have learnt through these activities.
"If one is at a loss of ideas, another can suggest and vice versa, and if both are at a loss then that's when we branch out to the case management team and external social service agencies", she added.
With that, one can imagine there is much logistical preparation and teamwork involved.
It's the people you work with that counts
Aisyah is very thankful that she has strong team support from her colleagues in school, calling the support network her version of what "kampong spirit" is.
She also mentioned "teamwork" a lot during the interview, because she appreciated the importance of how her teammates helped to bring out in these students.
"My colleagues kept me going and I've grown with them," she said.
"I have colleagues ranging from those who have been here for longer than I've been alive to fresh graduates with new ideas. All these people remind you why you are here every day."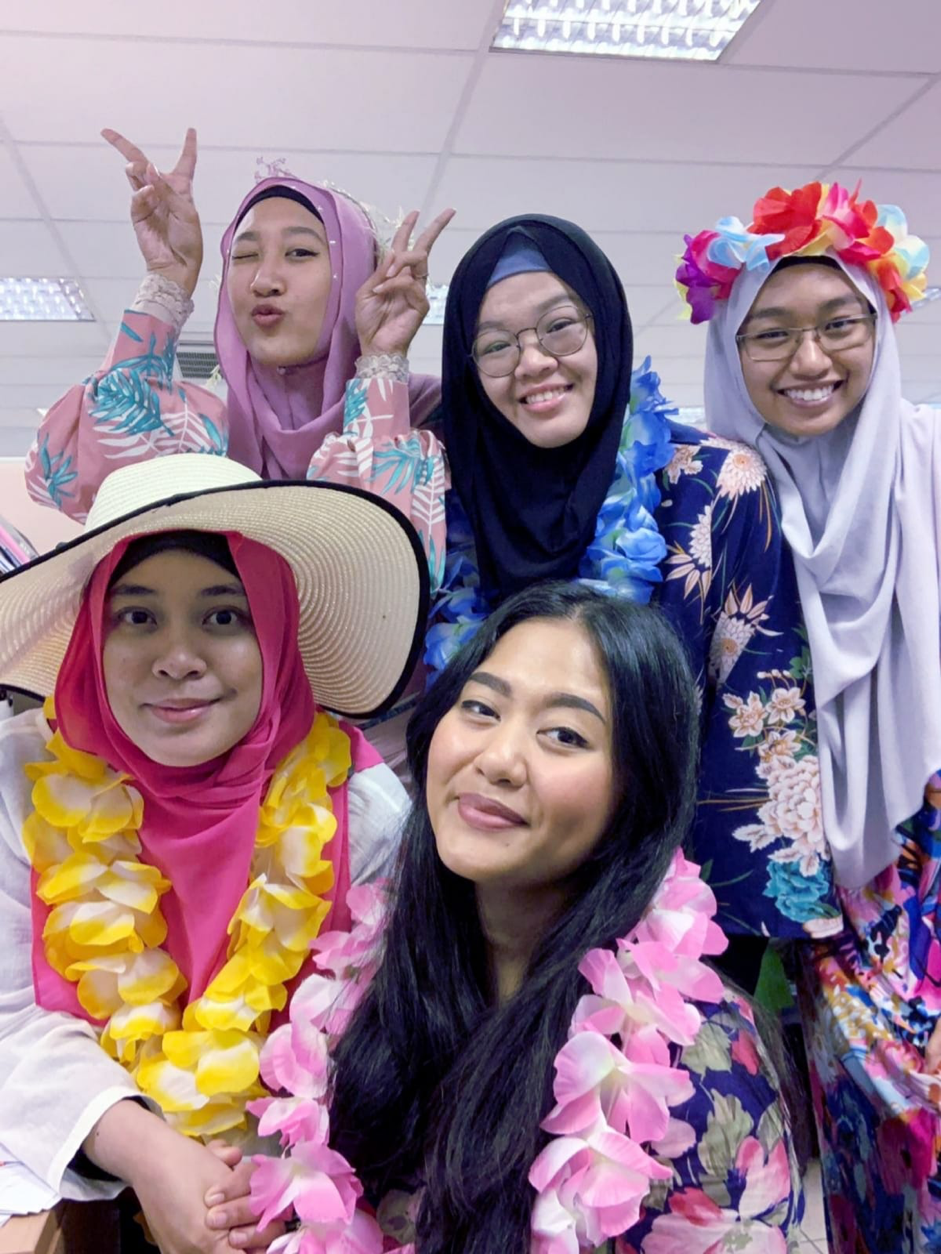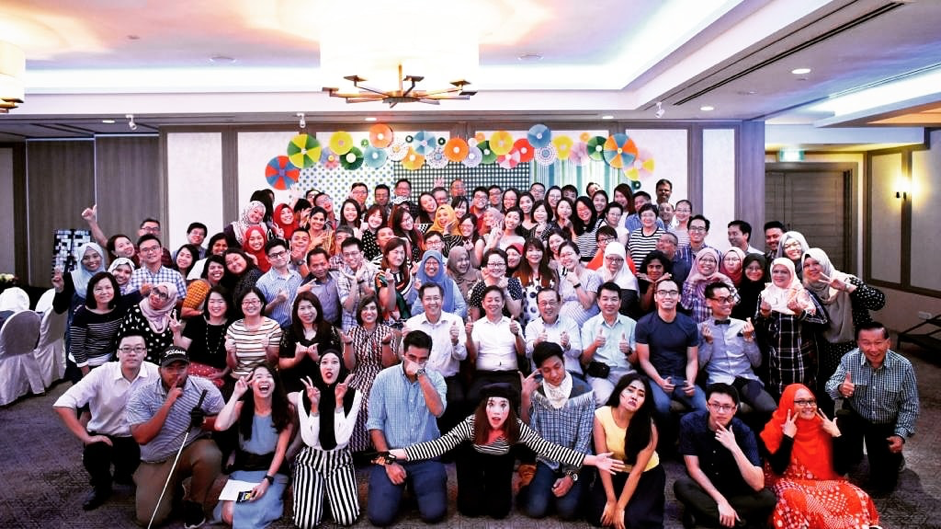 Learning from students with SEN
Besides a supportive "kampong", Aisyah is fuelled with positivity from her interactions with the students.
Guiding this profile of students is not easy, she admitted, but she has learnt over time to be determined, patient and positive.
She recalled moments when the students surprised her with their spontaneous class participation. Class participation for some of her students is rare as they are less likely to express their thoughts in class.
Aisyah recalled a secondary school student with speech difficulties whom she taught. After graduation, he later became an event usher at an ITE college, taking questions and talking to strangers confidently.
Aisyah said that it was a pleasant surprise to bump into him, knowing that his determination paid off in the end. This incident reinforced her belief that "if the determination is there, they can still excel in the future".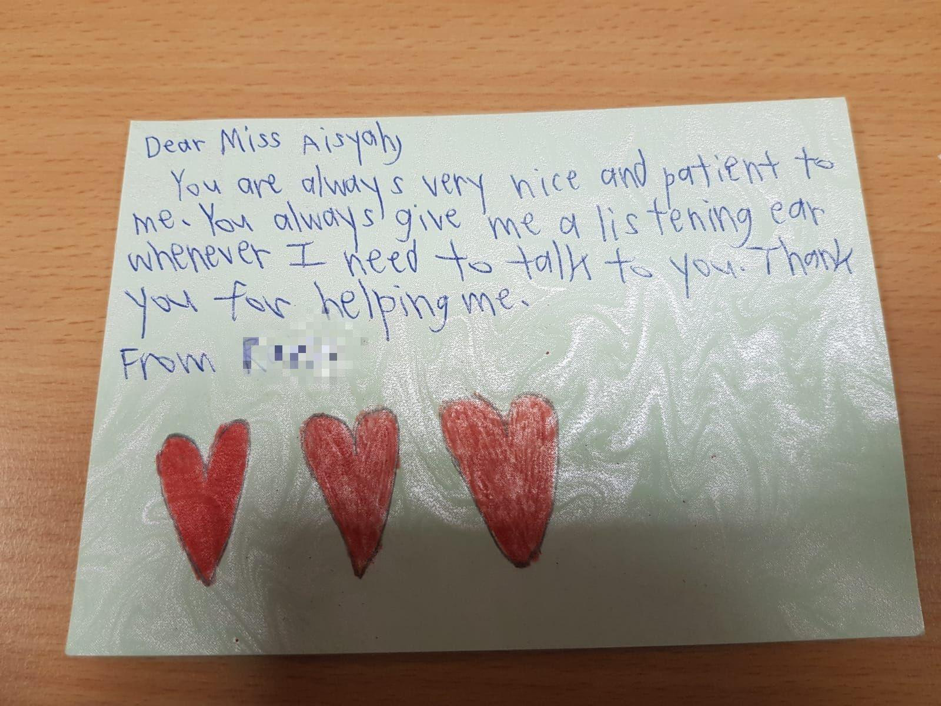 Becoming an allied educator has shaped Aisyah's perspective towards persons with disabilities. Aisyah prefers to look at how peers can tap on each other's strength to collaborate and work together.
"There is no disability but just a difference in abilities. I do not like to highlight that a student is in need of certain things more, or one is more wholesome than the other."
8 years and still going strong
Aisyah chanced upon her career by accident. She found out about the role of an allied educator through a relief-teaching stint.
Back in 2009, she befriended an allied educator.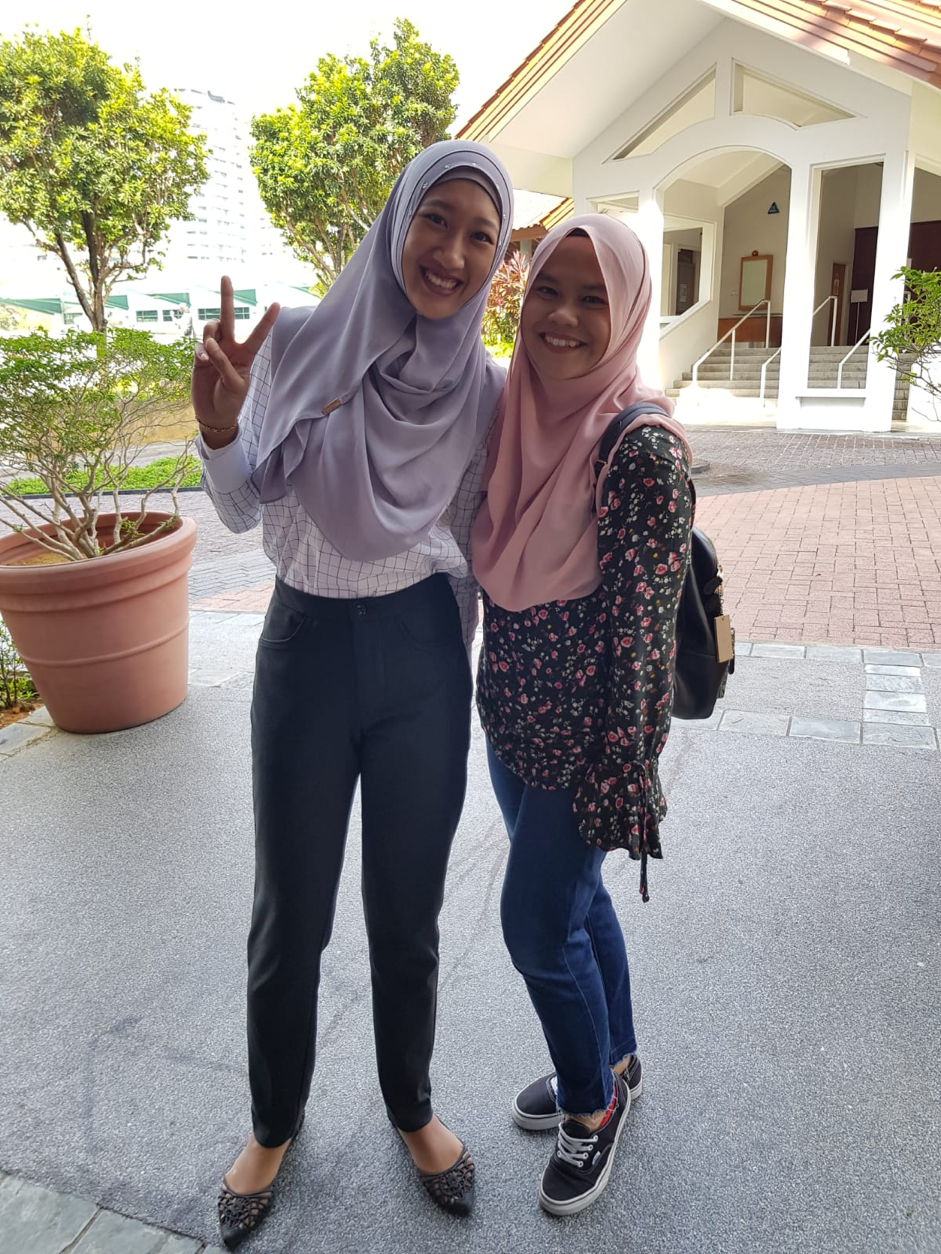 "When I was doing my relief teaching for about a whole year in a particular school, that was when I befriended an allied educator there. This role was quite new back then, that's when she brought my attention to it and I decided to give this a try."
She quoted the late South African President Nelson Mendela, who said that, "Education is the most powerful weapon that one can use to change the future".
The quote drives her to wake up every morning to school, as she takes pride in knowing that she's part of this meaningful work.
Aisyah also constantly challenges herself personally.
"Every year I'll give myself a challenge. For example, this year I need to work on a programme for teachers while another year I'll work on another programme for the parents.
With these challenges, you'll always have things to look forward to and upgrade yourself. And with good support from the team you can flourish."
Eight years on, what she is most proud of is conceptualising this peer support programme in her school.
Advice to young or jaded educators
Lastly, Aisyah has some words of advice for educators who are feeling the blues:
"Always remember the passion and intention that brought you here in the first place because ultimately, in your lowest moments, that's what really keeps you going and you're not alone. It really takes a village...so turn to your next partner, turn to your staff room partner, turn to your reporting officer for some help...just turn to somebody. Because sometimes you might be amazed by what people share and you can really learn and grow from there."
Top photo collage by Zheng Zhangxin
If you like what you read, follow us on Facebook, Instagram, Twitter and Telegram to get the latest updates.