On Tuesday, Nov. 12, Twitter user @boyasboyas shared two images in a tweet about differential requirements for travel clearance that has now gone viral. At writing, the tweet has over 20,100 retweets and over 17,000 likes.
The list of documents I need to survive traveling in the white's countries

Vs

The only document they need to survive traveling in my country pic.twitter.com/FAer8Qk4KF

— kurang tidur (@boyasboyas) November 12, 2019
@boyasboyas, who appears to be from Indonesia, juxtaposes a list of travel documents with a cropped image of what appears to be a Caucasian man holding a sign.
The list of travel documents, which is meant to represent the requirements for @boyasboyas to travel to "the white's countries" includes the following:
Passport

ID card

Family ID card

Birth certificate

3 months of payslip

3 months of financial evidence

Employment letter

Sponsor letter and sponsor ID

Return flight tickets

Hotel booking

Proof of vaccination

Complete itinerary

Most updated photo
In comparison, the photograph of the tourist holding a sign asking for money for his travels seems to be a comedic take on the much lower barriers of entry for Western tourists. The image is just one of many instances of "begpackers" in Southeast Asia.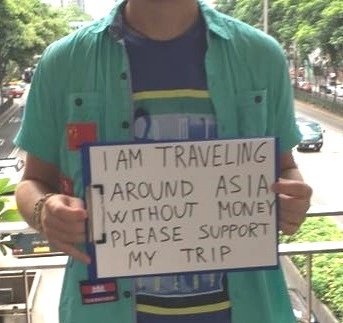 Other Twitter users jumped in to share their experiences and thoughts.
One user, Jakarta-based photographer Nyimas Laula, shared about the time her visa was rejected despite having a billion-dollar company sponsoring her:
I'm still bitter and forever will be remembering that I can't see my work was exhibited because my visa was rejected, even with a billion-dollar company as a sponsor.

— Nyimas Laula (@NyimasLaula) November 13, 2019
Another Twitter user @projectmacoy pointed out the importance of having more checks for white travellers:
https://twitter.com/projectmacoy/status/1194252257170198528
@projectmacoy may have been alluding to infamous Western tourists such as Singapore-based Australian Boris Kunsevitsky, who has been accused of exploiting at least 47 young boys throughout Southeast Asia.
Another user, @miqonaur, tried to be understanding of the rationale behind the policies but pointed out the hypocrisy of the different treatments:
I can see the reasons behind having strict rules for visas, but... it's damn annoying when it works only one way.

— ishi (@ishi_3008) November 12, 2019
@kuinginmarah summarised their thoughts with a succinct gif:
November 12, 2019
According to the U.S. Department of State website and gov.uk, American and UK citizens travelling to Indonesia for less than 30 days do not need a visa to enter.
On the other hand, Indonesian passport holders applying for a tourist visa to the U.S. must submit a form online, pay a non-refundable processing fee of US$160, and attend a consular interview. They are also asked to bring the following documents to their interview:
Current proof of income, tax payments, property or business ownership, or assets.

Your travel itinerary and/or other explanation about your planned trip.

A letter from you employer detailing your position, salary, how long you have been employed, any authorized vacation, and the business purpose, if any, of your U.S. trip.

Criminal/court records pertaining to any arrest or conviction anywhere, even if you completed your sentence or were later pardoned.
You can read about this begpacker from a Western country who was denied entry into Singapore:
Image via @boyasboyas Twitter
If you like what you read, follow us on Facebook, Instagram, Twitter and Telegram to get the latest updates.