You probably have heard enough of the narrative that Singapore is a resource-scarce country.
And yes, we basically import most of our food.
While this largely holds true, Singapore is aiming to produce more food on our own to ensure food security, especially in light of climate change.
Kühlbarra is one example of such an endeavour.
Singapore's ocean-farmed barramundi
Kühlbarra is a local barramundi fish farm that employs sustainable farming methods. The farm consists of deep sea-cages covering over 20 hectares of Singapore's southern waters. It will take you an hour to get to the farm by boat from the mainland, where waters are rich in oxygen.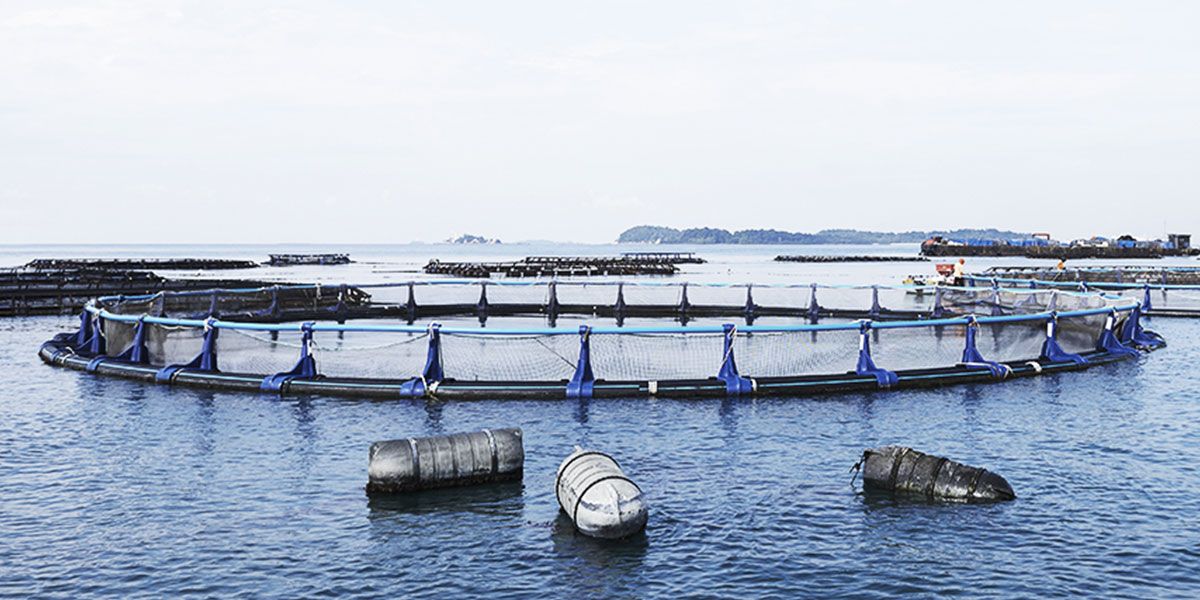 The barramundi at Kühlbarra have ample space to move about -- they only take up three per cent of the entire cage and are swimming in clear waters with strong currents. This provides an ideal environment for the barramundi to grow.
All of Kühlbarra's barramundi are sourced from the best Australian broodstock and farmed in pristine ocean waters.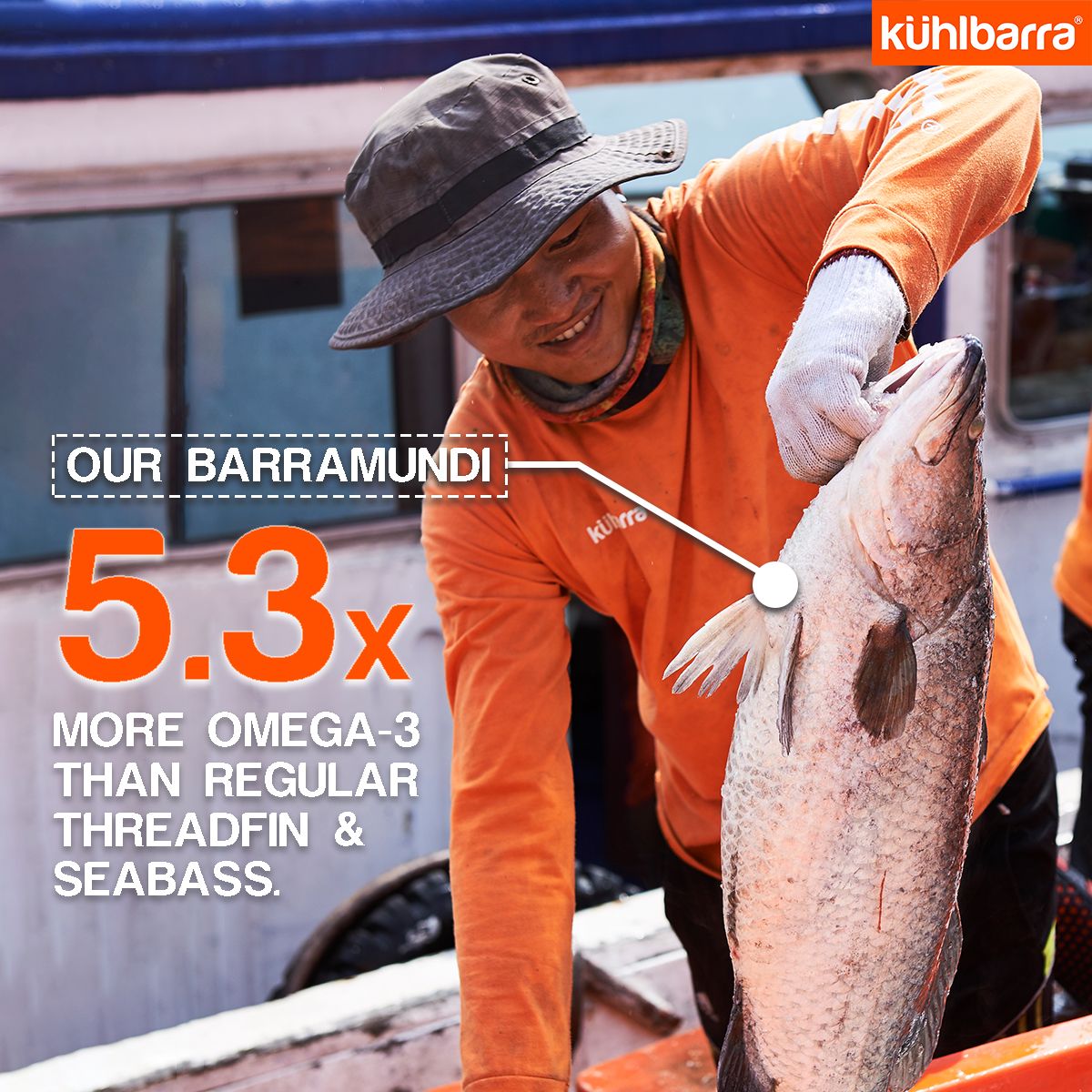 Kühlbarra claims that their barramundi has no muddy taste as the fish are farmed in the ocean.
The barramundi takes two years to grow before they are harvested, as no antibiotics and growth hormones are used.
The fish are harvested upon order, processed (deboned and descaled) and delivered to customers within hours.
According to Kühlbarra, it's the freshest fish you can get, farm to table, in Singapore.
And to bury any other doubt, Kühlbarra is recognised and used by many acclaimed chefs and restaurants in Singapore and beyond. Talk about some serious street-cred with a list like Gordon Ramsay's Bread Street Kitchen, Michelin-starred Malcolm Lee of Candlenut, Celeb chefs Curtis Stone and Shannon Bennet.
If your interest has been piqued, you can try the Kühlbarra barramundi yourself at their upcoming event on Nov. 4 and 5, 2019.
Kühlbarra will be having a pop-up stall at Ocean Financial Centre in Raffles Place.
You can identify the stall by its bright orange outfit.
Here's how it might look: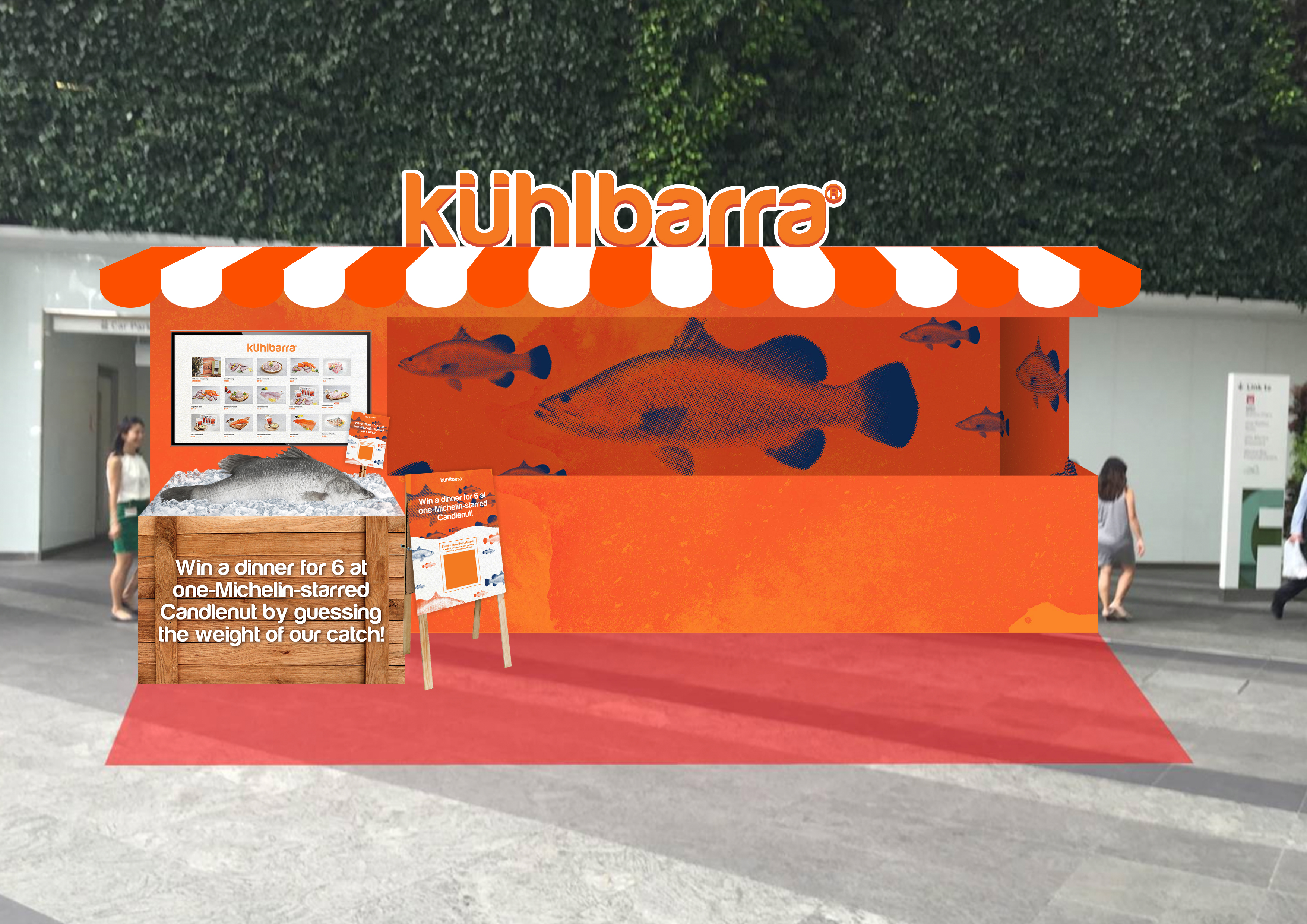 Guess the weight and win prizes
At the event, Kühlbarra will display some of their product offerings on a "seabed", with prizes to be won.
And it's simple really -- you just have to guess the weight of barramundi on display.
The first 200 participants per day will bring home S$5 Grab voucher each.
Get the weight right and you'll stand a chance to win one of two grand prizes - A six-person dinner treat at one Michelin-starred Peranakan restaurant, Candlenut.
And that's not all.
Taste Trial and Giveaways
Here's a chance for you to try Kühlbarra barramundi and fall in love with it.
Chef-owner of award-winning gourmet caterer Preparazzi, Jeremy Nguee, will be dishing out canapés with Kühlbarra barramundi for members of the public to try.
There will also be other giveaways which include:
1. Kühlbarra Barramundi Bundle (1kg of barramundi & BBQ Sauce worth $60)
2. S$50 Dining Voucher at Kuhlbarra's partner restaurant
3. S$20 Grab voucher
All you have to do is to post an image of the dish served on your Instagram and hashtag #freshtastybarra.
Here are the details of the event:
Date: Nov. 4 and 5
Time: 11:30am to 2:30pm
Venue: Ocean Financial Centre
See you there!
This article is brought to you by Kühlbarra.
If you like what you read, follow us on Facebook, Instagram, Twitter and Telegram to get the latest updates.