Nine-year-old Parker Williams received US$15 (around S$20) for his birthday, but decided against spending it on toys or snacks.
Instead, he gave all of it to his teacher at his elementary school in Florida, U.S., because "she's a really kind teacher...and spends time on everybody," according to CNN.
He thought teachers did not get paid enough for their effort
According to WFLA News, Williams wanted to do something nice for his teacher, whom he described as having "the most important job."
After thinking about it every night for a week, Williams gave his teacher, Mary Hall Chambers, the money along with a short note.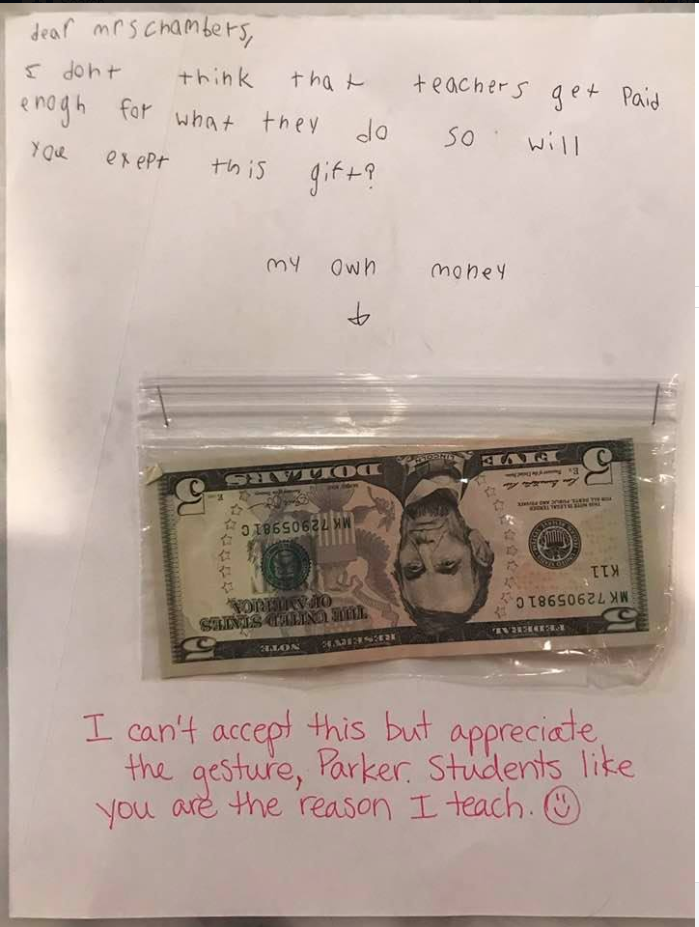 "Dear Mrs Chambers, I don't think that teachers get paid enough for what they do, so, will you accept this gift?"
CNN reports that William's parents were unaware of his plan, and they were extremely touched by his actions.
His teacher later responded with a note of her own:
"I can't accept this, but appreciate the gesture, Parker. Students like you are the reason I teach."
Paying it forward
Paying it forward is a motto that was instilled by William's parents, who told all three of their sons to always be nice to others, no matter what.
"We've said to them, when you plant seeds, you never know what will blossom," said the nine-year-old's mother, Jennifer Williams.
Although his teacher did not accept the gift in the end, Williams said that he still felt like he paid it forward, saying that "it made me feel really nice and good."
"I think more people should be nice because it's a nicer thing to do than being mean," said the nine-year-old.
Top image from Darrell R Williams' Facebook.
If you like what you read, follow us on Facebook, Instagram, Twitter and Telegram to get the latest updates.