FIFA fined the Hong Kong Football Federation 15,000 Swiss francs (S$20,824) on Wednesday, Oct. 9.
The formal sanction dished out by the international governing body of football was to punish local fans who booed and whistled the Chinese national anthem at a World Cup qualifier against Iran on Sep. 10.
China's national anthem, The March of the Volunteers, was jeered by fans, who had been in anti-Beijing mood.
FiFA reprimanded Hong Kong fans for "disturbance during national anthems", as well as the "use of objects to transmit a message that is not appropriate for a sports events".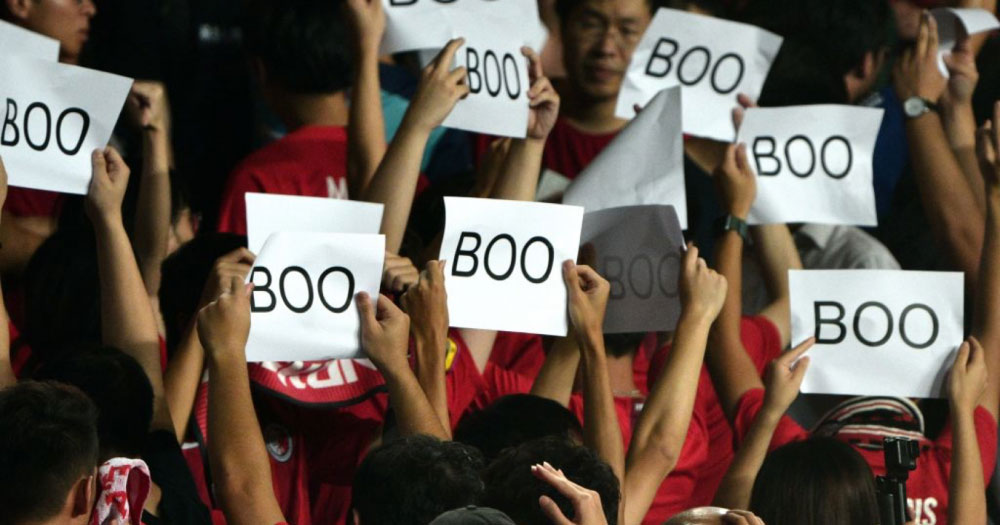 Match occurred in midst of protests
The game took place in the midst of pro-democracy protests against China's rule of Hong Kong, which was under British rule until 1997.
Hong Kong fields an independent team for football.
But the Chinese national anthem is played before matches as Hong Kong is an administrative region of China.
Hong Kong, which lost 2-0 to Iran, has its next home game on Nov. 14 against Bahrain.
All eyes will be on the Hong Kong fans' actions in the upcoming match.
Top photo via
If you like what you read, follow us on Facebook, Instagram, Twitter and Telegram to get the latest updates.