[Update on Oct. 31 at 3:10pm: Adding more details about the incident, statement from police]
On Oct. 27, a man was arrested in a case of theft at a coffeeshop in Ang Mo Kio Ave 1.
A seven-minute video of the man pleading for mercy from an uncle and making multiple attempts to escape was uploaded onto All Singapore Stuff's Facebook page on Wednesday (Oct. 30).
You can watch the full clip here:
[video width="220" height="400" mp4="https://static.mothership.sg/1/2019/10/Readers-Contribution-by-Yeo-50-year-old-uncle-no-give-chance-to-this-alle.mp4"][/video]
But if you don't have the time, we'll break it down for you in a bit.
According to a report from Lianhe Wanbao, the uncle in the video is a mobile vendor from whom the younger man allegedly stole a pair of headphones.
Breakdown of video
The video first starts with the alleged thief (wearing a blue shirt) getting down on one knee to plead with the uncle (wearing a striped shirt) for leniency.
The uncle appears unmoved. The young man then proceeds to kowtow to him with both hands on the floor.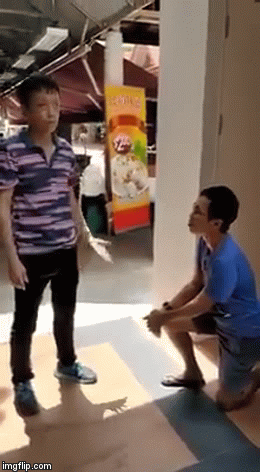 After the young man gets up, the uncle then pushes him before the young man makes his first attempt at an escape.
The uncle reacts swiftly, preventing the young man from running away and tackling him to the ground.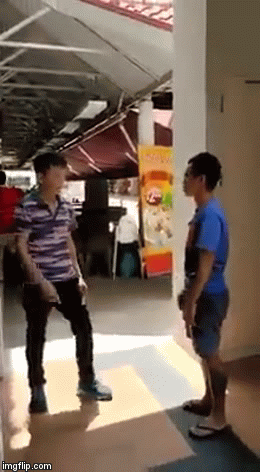 They stay on the ground for around two minutes before the young man attempts a second escape.
The uncle, of course, reacts in time and grabs him from behind.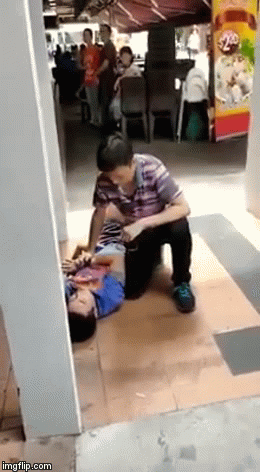 At this point, a second man appears to help the uncle in pinning the young man against the lift door.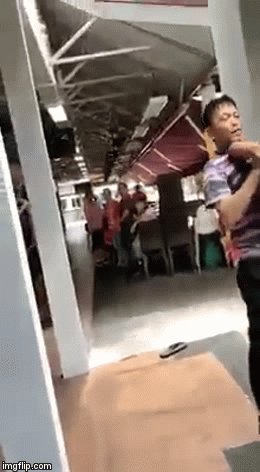 Despite this, the young man continues to make fervent attempts at an escape, as observed in the ensuing struggle.
The first uncle can also be heard scolding the young man in Hokkien.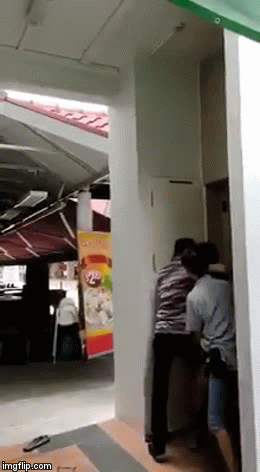 Finally, the two uncles successfully manage to pin the young man to the lift doors till a police officer arrives to handcuff him.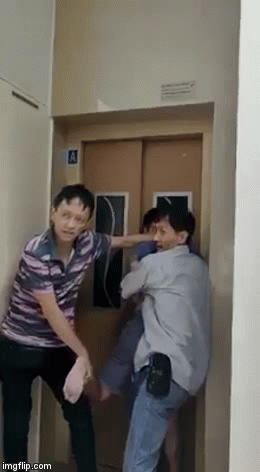 In a statement, the police told Mothership that they were alerted to the case at around 1:34pm, and the 39-year-old man was subsequently arrested.
Police investigations are ongoing.
Top photo collage via All Singapore Stuff Facebook video
Content that keeps Mothership.sg going
---
❌?
Are young Singaporeans really lazy and apathetic?
??️
Do you agree that FOMO really isn't a thing?
??
Do yourself a favour and have a quickie please.
?✈️
Hell is an actual place on earth, and it's only a flight away.
If you like what you read, follow us on Facebook, Instagram, Twitter and Telegram to get the latest updates.