Bukit Timah Hill is 182 m above sea level, the highest natural point in Singapore. It is also the site of the famous Battle of Bukit Timah Hill between Japanese and Allied forces in WW2.
The initial sharp ascent that greets climbers today serves as a small taste of the difficulty soldiers must have faced trying to reach the top.
But for Susan Tan, the climb is "chicken-feed".
Tan is an avid hiker, mountain-climber, cyclist, runner, sky-diver and white-water rafter, going on expeditions that would make Bear Grylls proud, in places like Malaysia, Nepal and Kashmir in India.
She will also be 63 this year, an age when most older ladies might prefer to stay at home, doing nothing more strenuous than going downstairs for a coffee with friends.
But that's not for her.
Perhaps with a bit too much over-confidence, I challenged Tan to see who can reach the top of Bukit Timah Hill first. Sure, she exercises more than me, but I'm half her age, so it should be a fair fight.
It was not a fair fight
Five minutes in, and I want to die.
My legs burn as I desperately try to remain conscious. I have made this climb before, but I have never came this close to passing out.
Instead of giving me a chance, Tan shows absolutely zero mercy. She disappears into the distance, and I now know what Usain Bolt's fellow racers feel like.
I reach the first gazebo and practically collapse. She is nowhere to be seen. Maybe she's already reached the top.
I take this time to catch my breath and reminisce.
Susan at home
My first meeting with Tan takes place a week before Bukit Timah in her comfortable home in Balam Road. The only clues to her athletic lifestyle are a couple of bicycles in a corner and a small cupboard full of sports awards.
Over green tea, Tan regales me with tales of her life.
She used to run her own flower shop for 32 years. By virtue of managing events, exhibitions, keeping 24-hour days and being glued to her phone, Tan managed to grow the company to dizzying heights.
Although proud of what she accomplished, Tan confided that the schedule could be punishing at times. A family tragedy gave her a new perspective on work and life, which gave her the push to sell off her successful business to pursue her passion for exploration.
Tan recalls the incident well:
"My sister passed away at the age of 58, seven years ago. Out of the blue she had high blood pressure, went for a cruise, went for work, forgot to take medicine, sudden death.

My sister worked so hard, suddenly passed away, did not leave anything behind to tell her children or my mother what to do."
Finding new friends
38 years ago, while living in Marine Parade, Tan signed up for the newly formed Marine Parade Adventurer's Club at the local community centre.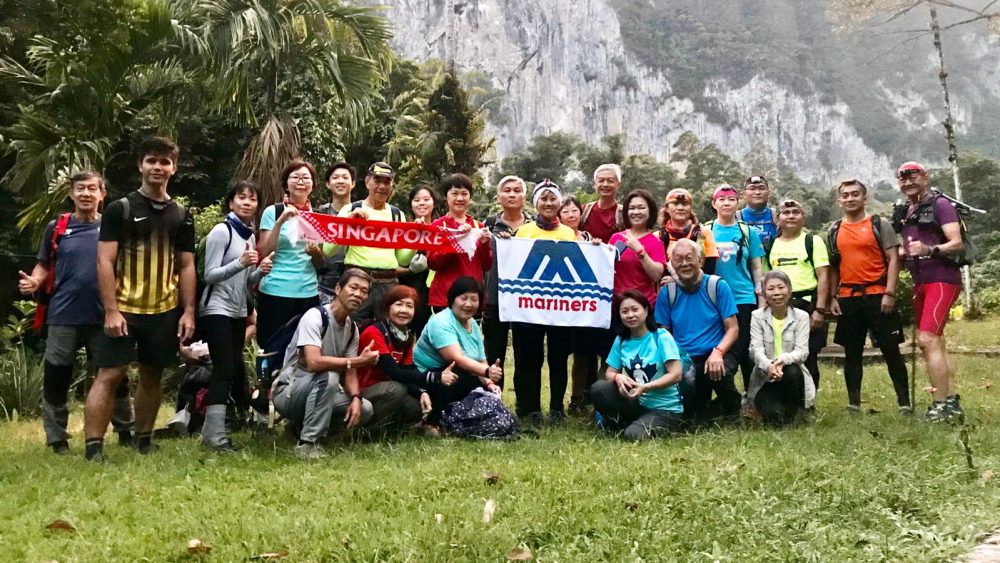 She became one of the club's pioneer members and has witnessed its growth over the years. Together with a group of like-minded sports enthusiasts, Tan found camaraderie and the opportunity to pursue her passion for the great outdoors.
Tan's group has expanded over the years, and traveled the world in partnership with the People's Association (PA).
Not only did they provide resources like jackets and torchlights, the PA also provides the platform for such seniors to connect, find like-minded individuals, and forge lasting bonds.
Tan in particular is such a well-known figure that she was the subject of a recent PA video showcasing seniors who pursued their passions to defy stereotypes of older people.
Either do it or you don't
Tan recalls one such exhilarating experience, sky-diving from 15,000 feet in the air in Queenstown, New Zealand.
She asks if I have ever gone sky-diving. I confess that I have not.
"Young people these days say they have no time," she said. "I told myself, you do it or you don't."
It's the climb
For someone who has her sights set on Mount Everest, Bukit Timah Hill is a piece of cake.
After about half an hour, something miraculous happens. The climb grew less steep, and I found myself actually enjoying the time spent outdoors.
Tan is waiting at the top, and I suspect that she might have been there for some time. Nonetheless, she gives me a big smile and congratulates me for making it. And surviving.
Bukit Timah is just a minor note in her schedule. Tan is leaving for the Gunung Mulu caves in Borneo in a few days, with some of her friends.
On the way back down, I ask if she ever feels like taking a break.
"No point resting what, time is catching up," she said. She also has a simple message for anyone thinking of following in her footsteps and taking the plunge.
If you ask her, it's better late than never, so keep going and don't stop.
For Susan Tan, age is truly just a number.
Top image by Sulaiman Daud.
This sponsored article by the People's Association made the writer feel like he needs to work out more.
If you like what you read, follow us on Facebook, Instagram, Twitter and Telegram to get the latest updates.