Apart from teachers, there are also other unsung heroes in the school who take care of students.
For one Primary Three student in Kuching, Sarawak, she noticed the hard work of the school cleaner and decided to show her appreciation.
School cleaner receives card from student
On Aug. 29, Twitter user Khairunnisa Afifah shared two photos of the card that her mother received at work.
Khairunnisa's mother, 51-year-old Rosiah Kassim, is a school cleaner in Kuching, Sarawak.
According to the tweet, Rosiah received a lovely thank you note and drawing from student Abigail Tan.
Here's the card and drawing, which shows her greeting Rosiah in the bathroom.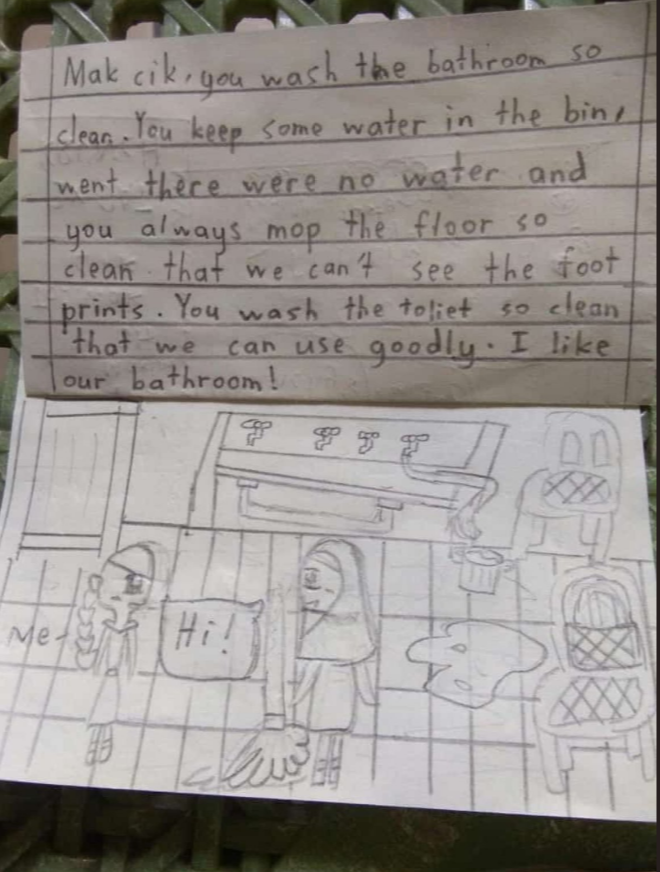 Tan wrote in the card:
"Mak cik, you wash the bathroom so clean. You keep some water in the bin when there (is) no water and you always mop the floor so clean that we can't see the footprints. You wash the toilet so clean that we can use goodly. I like our bathroom!"
The drawing also included a chocolate flavoured oat biscuit: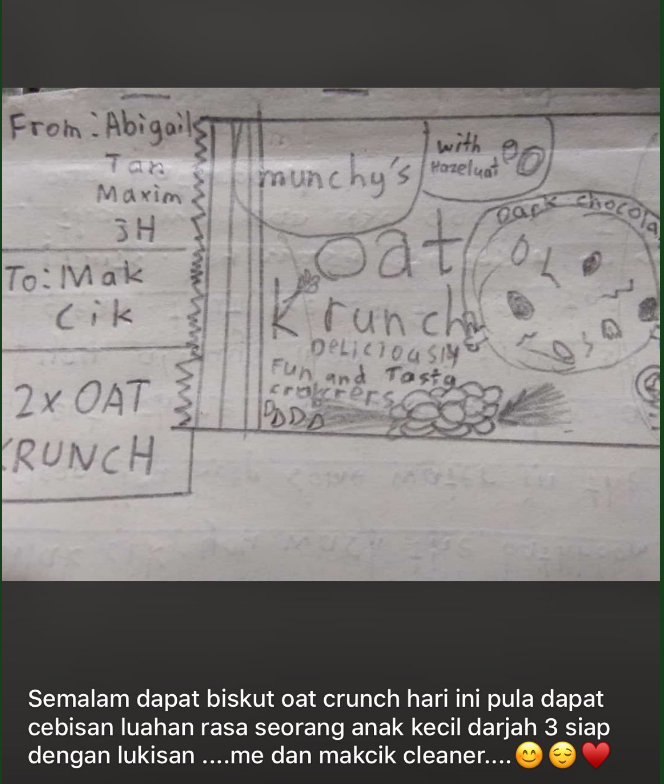 Both Khairunnisa and her mother were very touched by the sweet gesture.
Here's the original tweet, which has since garnered about 39,000 retweets:
Mak aku kerja as cleaner sklh kt sklh sjkc. Tapi rini aku pulak rasa sgt terharu ada murid ni buat mak aku mcm ni😭😭 kerja dan usaha mak aku dihargai😭😭 im crying! pic.twitter.com/XD5uRCSXiN

— Khairunnisa Afifah (@khai_afifah) August 29, 2019
Awww.
Top photo collage from @khai_afifah 
If you like what you read, follow us on Facebook, Instagram, Twitter and Telegram to get the latest updates.