The recent outbreak of midges here have been troubling some Singaporeans, as you can see from this video:
Some residents lamented that midges have gone into their food when they consume meals at the hawker centre.
Midges have also ended up in public buses that ply the roads along the Pandan reservoir area, such as bus services 78 and 79.
In response to queries in Parliament, Minister for the Environment and Water Resources, Masagos Zulkifli, shared that the emergence of midges occasionally occur, especially in places with water bodies.
Some of the affected areas include Pandan, Bedok, Punggol, Serangoon, Poyan, Tengah and Marina reservoirs.
What are midges?
Midges are a non-biting type of flying insects.
Unlike mosquitoes, midges thrive in water bodies like ponds, rivers and reservoirs.
They are part of the ecosystem in nature, supposedly eaten by fishes and birds.
Midges can multiply very rapidly.
A female adult midge can lay up to 500 eggs.
However, their existence are short-lived, as they usually live for one to two days.
They do not spread diseases, but only irritate people who happen to walk into their flight paths as they usually fly in a large swarm.
Climate change can lead to more midge emergences
While midges exist naturally in the environment, extreme weather can contribute to a rise in midges emerging.
Midge emergence are known to occur at Pandan Reservoir ever since the late 1970s.
However, things have worsened in recent years.
For example, the recent hot spell in July has quickened the midges' growth process and led to a serious outbreak at Pandan Reservoir, which residents described as the "worst nightmare" of 2019.
The dominant midge species this time is a rare one that has not been well studied.
Unlike other species, this species hide in drains and culverts during day time and fly above the drains in the evening.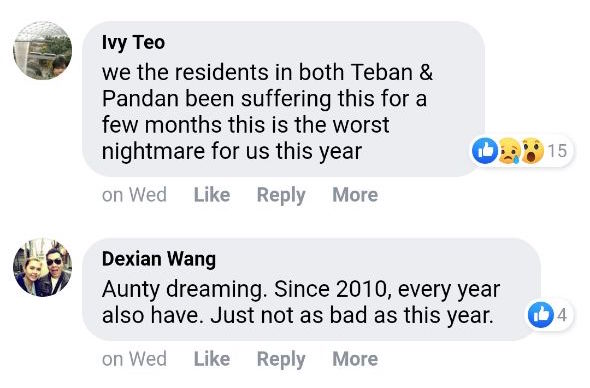 With climate change, Singapore will experience more extreme weather, which will have a corresponding response from nature, said Masagos.
Measures taken to curb midge infestation
PUB, the national water agency, has been monitoring the midge emergence closely.
At Pandan Reservoir, PUB observed an increase in midge larvae since mid-June 2019.
The agency activated mitigation measures by mid-July 2019.
In summary, here are some of the measures that the national water agency have taken:
Increase the frequency and dosage of the application of biological liquid larvicide within the reservoir to kill midge larvae.

Increase fogging and misting at reservoir area to kill adult midges.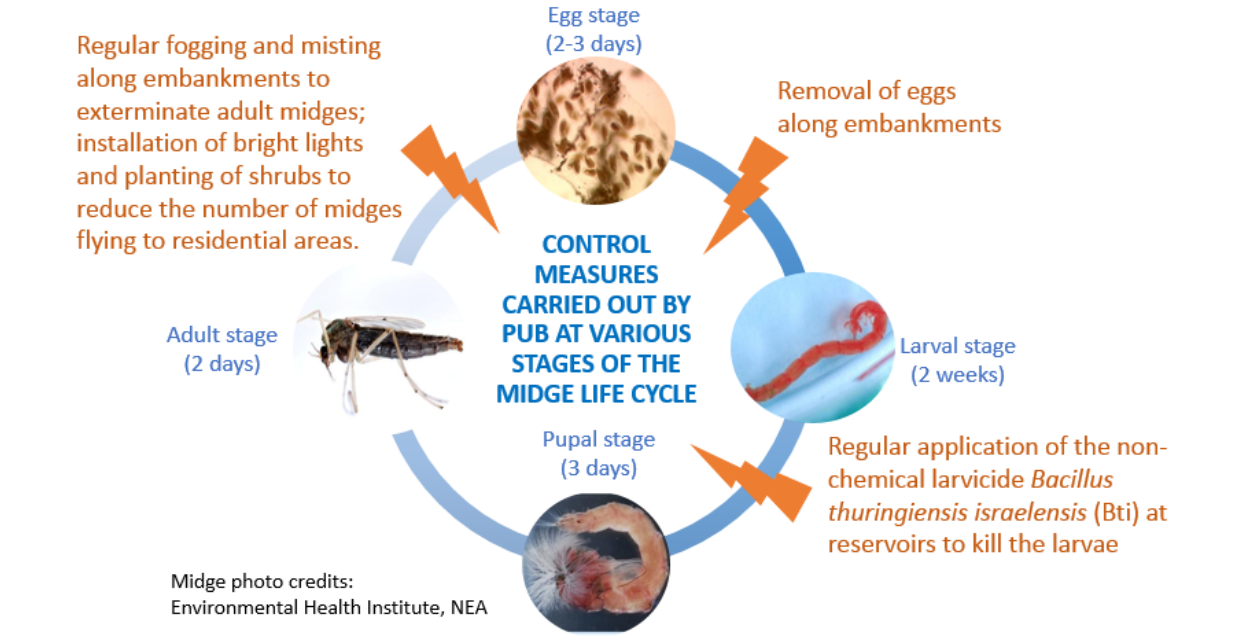 Install bright spotlights at the Pandan Reservoir and turn them on to attract the midges from the water so as to keep them within the reservoir area for effective fogging.

Grease the drain walls and place free-moving oily paper in the drains to capture midges.

Extend netting on the reservoir dyke to 1km to trap midges.
PUB is also engaging the residents through dialogues and visits to advise members of the public on ways to reduce midges at home, such as switching lights off when they are unused and installing window screens or drawing up curtains.
Top photo from Hans via Pixabay
If you like what you read, follow us on Facebook, Instagram, Twitter and Telegram to get the latest updates.