Chinese singer Faye Wong's second daughter Li Yan is back in the limelight.
This time, it's because the 13-year-old has been spotted attending Swiss boarding school Collège Alpin Beau Soleil:
Li is the second girl from the left.
Exorbitant school fees
Founded in 1910, the school claims to be one of the most prestigious private boarding schools in Switzerland with an overall intake of only 250 students.
It provides a full boarding education for students aged between 11-18 years old.
The super exclusive school is also one of the most expensive schools in the world, charging 107,640 Swiss Francs (S$150,000) in boarding and tuition fees alone.
That's a lot of money.
This does not take into account other expenses such as application fees (S$4,174), uniform packages (S$8,278) and annual trip charges (S$8348), to name a few: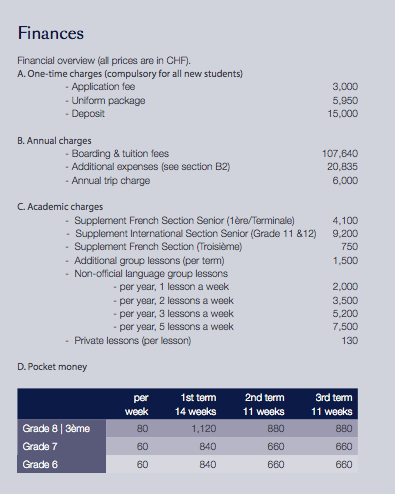 School facilities
If you like what you read, follow us on Facebook, Instagram, Twitter and Telegram to get the latest updates.