On Aug. 3, 2019, one Twitter user in Malaysia posted a photo of an elderly man selling packets of salted fish.
This is the tweet by Aina Wardina (@WardinaAina):
Demi Allah aku nak tolong pak Cik ni, orang rumah dia sakit. Hari2 dia dekat dataran pahlawan melaka. Support pak Cik ni gang😌 rt pls🙏🏻 pic.twitter.com/QP6QM1EVWy

— Aina.wardina (@WardinaAina) August 3, 2019
For Allah I want to help this uncle, his wife is sick. Everyday, he is at the Dataran Pahlawan Melaka Megamall. Support this uncle. Retweet please.
Sells salted fish to support elderly wife
According to Berita Harian, 64-year-old Md Zin Ahmad would travel 100km from Bukit Pasir in Muar to Melaka every day just so that he can earn an income to support his elderly wife.
Md Zin would leave home at 8am and catch a bus to Melaka central, where he would move from place to place to sell his salted fish.
He reportedly sells four packets of salted fish for RM10 and earns around 50 cents (S$0.16) per packet. 
He sells around 100 packets each time.
Md Zin, who suffers from diabetes and hypertension, has to take medication to keep his illnesses under control.
However, he said he does not mind working hard as he does not want to burden his four grown children who have families of their own.
Outpouring of support for Md Zin
Since Wardina's tweet went viral, other Twitter users have come forth to express sympathy and to share their encounters with him: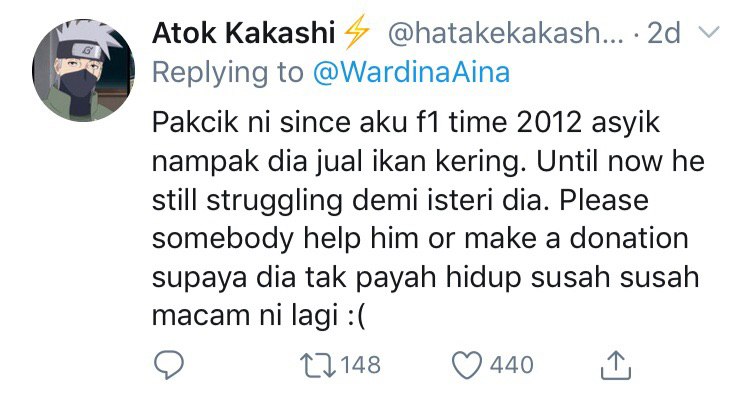 I have seen this uncle selling dried fish since 2012. Till now, he is still struggling for his wife. Somebody please help him or make a donation so that he doesn't have to live this hard life anymore. :(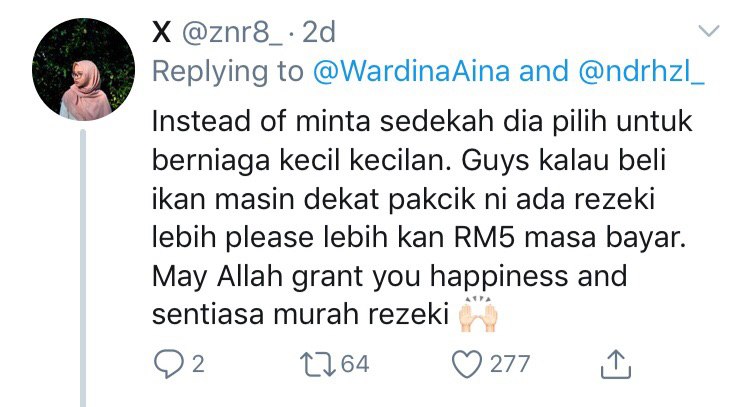 Instead of seeking donations, he chose to make a living through business. Guys, if you buy salted fish from him next time, please pay RM5 extra. May Allah grant you happiness and sustenance always.

The salted fish is fresh and tasty guys! Please buy.
Previously, in 2017 and 2018, random strangers have also shared his account number for those interested in making a donation.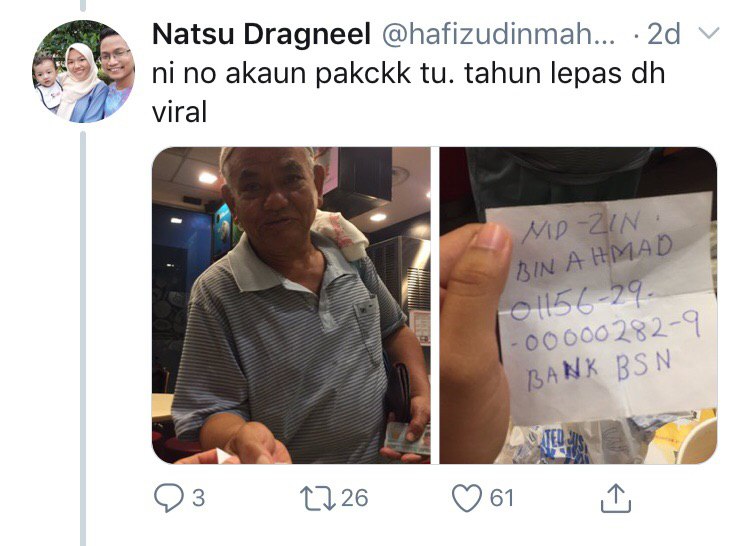 Pakcik ni hari2 dtg Stesen Melaka Sentral dari Muar. Jual ikan gelama masam utk support isteri sakit. Bantuan dah dapat tapi tak mencukupi. Dia seronok nak ambilkan gambaq tadi. Dia minta viralkan.

Ayuh warga twitter yang budiman lagi berakhlak mulia pic.twitter.com/MYnAAf9qPY

— ا (@yusmaleef) December 28, 2017
Sweet.
Top image via WardinaAina and yusmaleef on Twitter
If you like what you read, follow us on Facebook, Instagram, Twitter and Telegram to get the latest updates.