Huawei is honouring its S$54 deal with customers in Singapore.
Sending out S$100 vouchers
The Chinese phone maker and tech company has begun to give out S$100 discount vouchers in batches via SMS to 5,000 customers here who queued but went home empty-handed.
This was following its S$54 smartphone promotion that made elderly people angry and tired on July 26.
Some 2,000 have received the vouchers as of Monday, Aug. 19.
The rest can expect to do so by the end of August.
Huawei began contacting customers from Aug. 2.
The vouchers are valid for a week from the day they are sent.
They can be redeemed at any of 10 selected outlets.
So far, some 1,000 customers have redeemed the vouchers.
What can customers buy with S$100 voucher?
The voucher allows customers to buy the Y6 Pro for S$48.
Its current retail price is S$148.
The voucher can also be used for the P30 Pro, P30 and P30 Lite.
The number of vouchers sent out per day is moderated by Huawei to avoid a repeat of the stampede on July 26.
Customers have to present the SMS, their NRIC, and a QR code generated from a link in the SMS.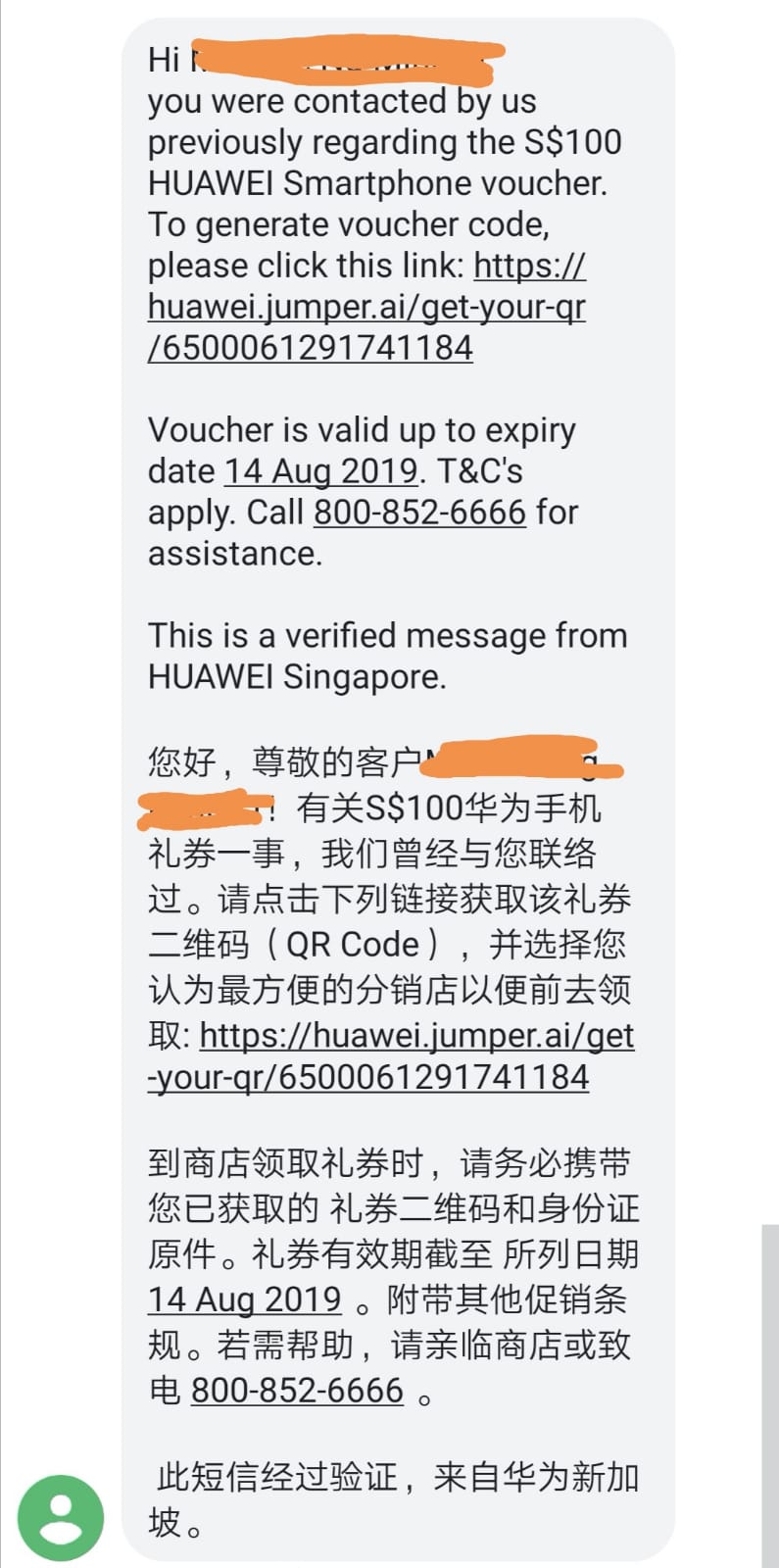 Courts also sent out vouchers
Earlier in August, hundreds of customers who queued at Courts outlets for the same promotion also received S$100 vouchers to purchase Huawei devices.
This is a similar but separate deal from Courts.
The Courts' offer is valid until Aug. 31.
But it can only be redeemed at its flagship store in Tampines.
Background
Thousands queued for hours at stores for the Y6 Pro National Day promotion.
The phone was selling for S$54 to the elderly aged 50 and above.
But the demand outstripped supply by many times as only a few hundred phones were available for sale.
One 53-year-old woman was even arrested in Jem shopping mall for causing a commotion inside a Huawei store when she was unable to purchase a phone.
Huawei subsequently announced on July 30 that around 5,000 people who had registered with the stores after failing to buy the phone would get S$100 vouchers.
But Huawei's promotion had by then been slammed by the president of the Consumers Association of Singapore (Case).
Lim Biow Chuan urged regulators to take the tech giant to task.
Top photo via Huawei
Content that keeps Mothership.sg going
---
??
I scream, you scream, we scream for rojak, onde onde, and peach black tea ice cream.
??
Play games, win vouchers - when your boss isn't looking, that is.
??
Catch up on some feel-good stories that'll make you smile.
??
E-books aren't replacing printed books (yet), good news for these bankbook users.
??
What colour comes to mind when you hear "polka-dotted pinafore"?
If you said green, you're probably Singaporean.
If you like what you read, follow us on Facebook, Instagram, Twitter and Telegram to get the latest updates.