redONE, a new MVNO (Mobile Virtual Network Operator) officially launched in Singapore on July 1.
Created in Malaysia in 2012, the telco claims to have hit 1 million postpaid subscribers in Malaysia on September 2018.
[related_story]
Postpaid plans with more data
After carrying out a trial launch in Singapore in May, the virtual telco has confirmed three postpaid plans available here.
The three plans are:
Amazing 8, which includes 3GB of mobile data, 100 minutes of voice call and 10 SMS at S$8 per month

Amazing 18, which includes 6GB of mobile data, 200 minutes of voice call, 20 SMS at S$18 per month

Amazing 28, which includes 10GB of mobile data, 300 minutes of voice call and 30 SMS at S$28 per month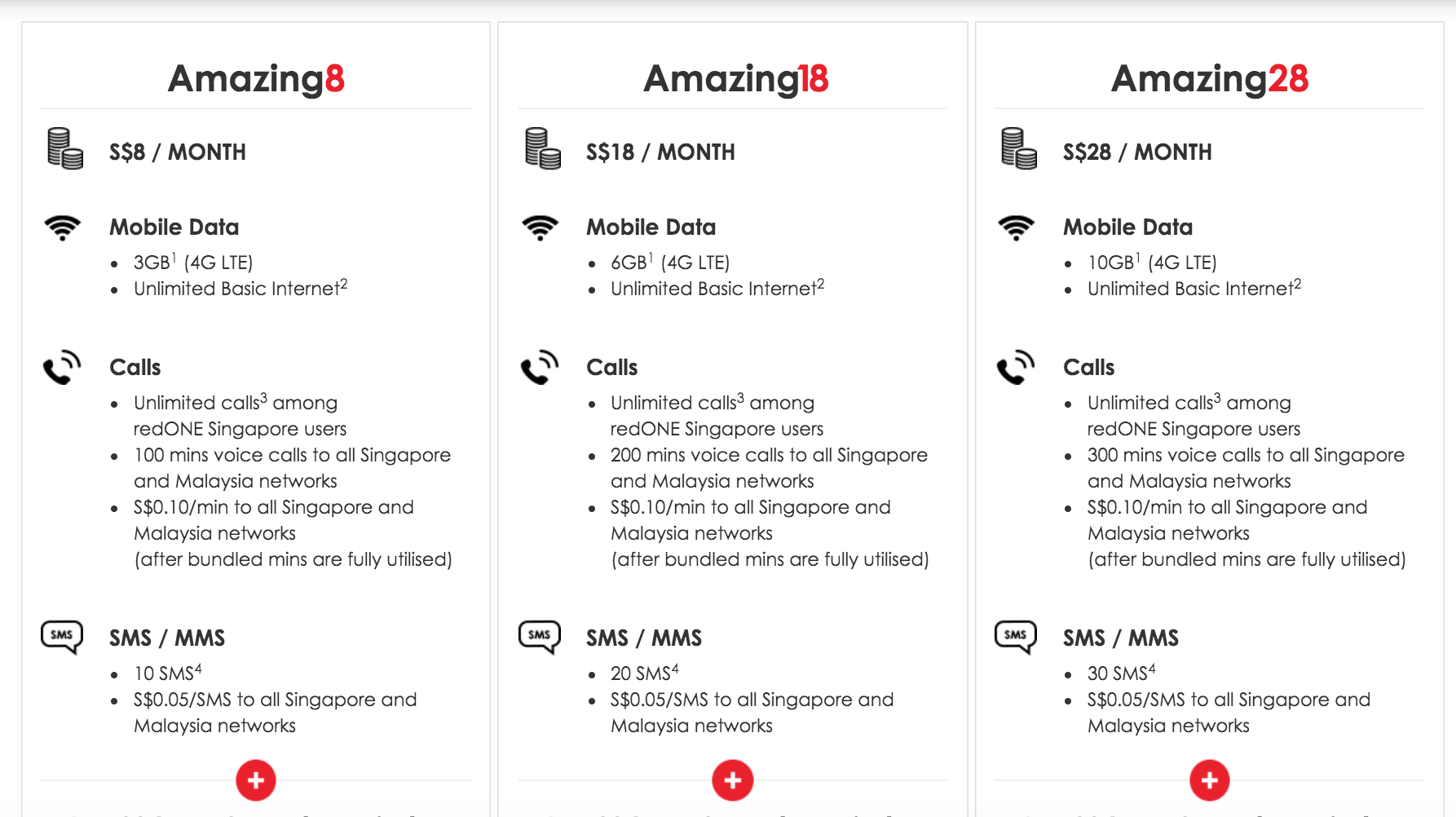 redONE uses Starhub's mobile network infrastructure to carry out its services to customers.
All plans come with unlimited on-net calls to other redONE users in Singapore, provided that the call also originates from Singapore.
Of course, this is subject to the fair-use policy, which states that customers whose on-net calls exceed 1,000 minutes a month and/or have incoming call volumes exceeding 10,000 minutes per month may have their rights to free calls suspended.
They may also find subsequent calls charged accordingly to prevailing off-net call rates.
Data add-ons
Users can also get extra data -- 1GB at S$5 a month, 5GB at S$15GB a month, and 10GB at S$25 a month.
Alternatively, you can pick the redSOCIAL lite or redSOCIAL add-on, which allows you to buy extra data for Facebook, Skype, WhatsApp and YouTube. 
redSOCIAL lite will retail at S$10 per month for 10GB, while redSOCIAL will retail at S$18 per month for 20GB.
One can also buy extra SMS, with 50 SMSes for S$2 and 100 SMSes for S$3, and caller ID display for S$2 a month.
Bundled mobile data can be used in both Singapore and Malaysia, without incurring roaming fees.
Each plan also has unlimited basic internet should you run out of data, which allows you to connect to the internet at a throttled speed of 128kb per second.
Interested users can sign up for a plan through their website, or sign up via an agent located in different phone and IT shops around Singapore.
Top image via redONE's website
If you like what you read, follow us on Facebook, Instagram, Twitter and Telegram to get the latest updates.