Begpackers are an unwelcome group of tourists who travel the world begging for money to fund their travels.
They have been spotted in many parts of Southeast Asia, including Singapore, with one in particular banned from returning here.
Singing on the MRT
Outrage hasn't stopped them from coming it seems, with this particular foreign couple spotted singing and performing on the MRT on at least two separate occasions.
On both occasions, they were on trains travelling along the East-West Line (EWL).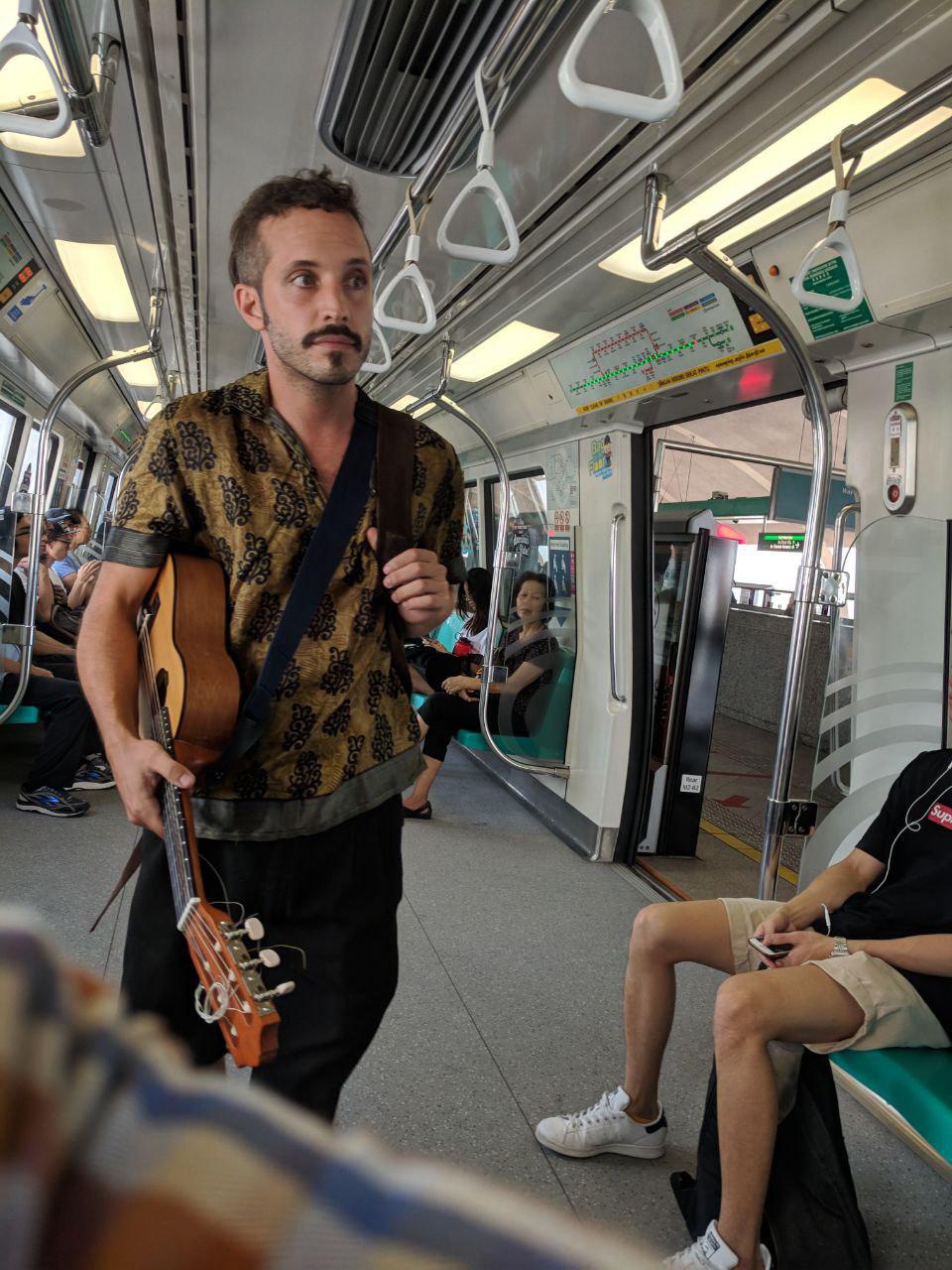 Here's a video of the couple performing on the train on May 23.
[video width="720" height="1280" mp4="https://static.mothership.sg/1/2019/05/video_2019-05-23_14-52-47.mp4"][/video]
Sought donations
Even more recently, they were spotted performing on May 28, on a train headed towards Pasir Ris.
The couple was decked out in the same outfit, seen in this video shot by commuter Andrew Wong:
[video width="464" height="848" mp4="https://static.mothership.sg/1/2019/05/Busker.mp4"][/video]
It is understood that the couple said that they travel the world to perform, and the money donated to them is how they are able to do so.
After they had finished performing, the couple split up and sought donations, before getting off the train at Tampines MRT station.
Permit required
Buskers here require a permit in the form of a Busking Card, which contains the cardholder's information, validity period and designated busking sites allocated.
For foreigners, only foreigners on Employment Passes residing in Singapore may apply for the Busking Scheme.
Besides undergoing an audition, foreigners require a Letter of Endorsement from the Ministry of Manpower prior to the collection of their Busking Card.
Buskers or begpackers performing without a license could be fined up to S$10,000, under the Public Entertainments act.
They are also not allowed to actively solicit donations.
Top image adapted via a Mothership.sg reader and Andrew Wong
Content that keeps Mothership.sg going
---
??
This is Subtle Asian Traits - Singapore Edition
??
Maybe can steam fish with this and make gr8 ginger recipes.
?
What do you do when you're told that your days are numbered. And you are only in your twenties.
??
How to teach your mother to be the tech genius that she really is (so she doesn't keep pestering you with her 101 questions)
❤️?❤️
Hit (on) your friends at a human whack-a-mole here.
If you like what you read, follow us on Facebook, Instagram, Twitter and Telegram to get the latest updates.