Imagine shelling out hundreds or even thousands of dollars for an apartment to stay for your next holiday -- only to find out that the place of accomodation doesn't even exist.
That was what happened to one Malaysian man after he booked a holiday through the travel website Booking.com, and got burned.
Paid more than S$1,576 in advance
The man, who goes by Xavier Aranggoi Maurice on Facebook, listed that he lives in Sabah, East Malaysia.
On Oct. 14, he put up a Facebook post about allegedly being scammed.
He wanted to visit the shopping district of Myeong-dong in Seoul, so he went on Booking.com and reserved two rooms for eight nights at an apartment called the Cynosure Stido.
For this stay, the fee was set at RM4,760 (S$1,576).
The host, called Eric, contacted him to ask for payment.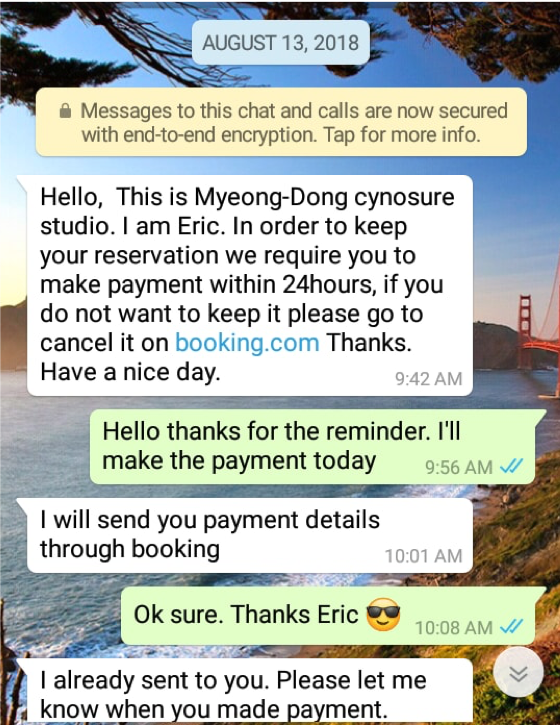 Booking.com's own terms and conditions does not require a guest to transfer the entire fee up front in advance for every single trip.
Although the trip was still some months away, Maurice went ahead and transferred the money.
He received the confirmation of payment by email.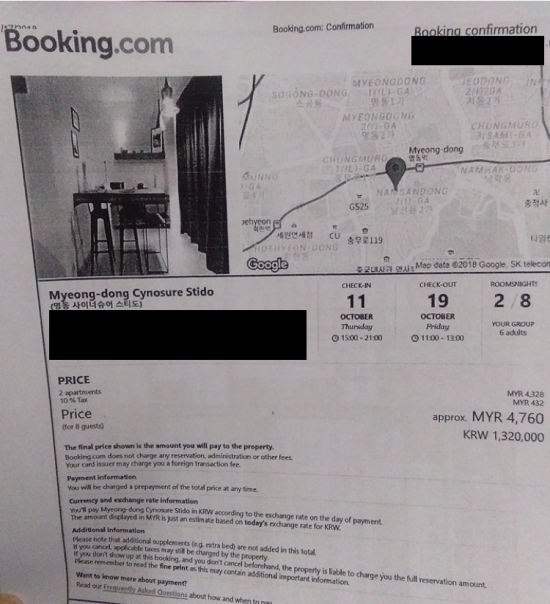 No reservation confirmed
But he realised something was up when Eric did not confirm the reservation.
And to make matters worse, Booking.com cancelled the reservation outright.
After trying to get in touch with Eric, Maurice received quite possibly the lamest excuse ever: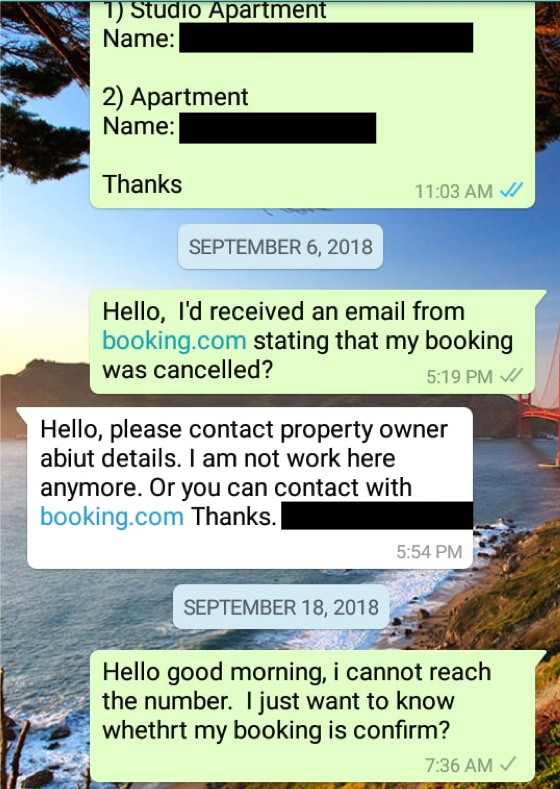 Other victims have been scammed
However, it seems that Maurice wasn't the only one who was ripped off.
A peek at TripAdvisor shows that this particular apartment has received 18 "Terrible" rated-reviews, the lowest score one can give, as of Oct. 15.
Here are a couple of examples of some frank words from would-be guests:


It appears that the same property is also listed on other websites, such as Agoda.
But it's too late for Maurice, who wrote on his Facebook post:
"Please be extra careful when you make bookings from booking.com because some hotels are not even exist!

Sebelum ini sy buat booking di sini ok ja tp ini kali sy masuk dlm jerat! (Before this I've made bookings here which were ok, but this time I've been caught in a fix!)

I've lost RM4, 878.50 !! MYEONG-DONG CYNOSURE STIDO HOTEL KOREA.

Scam!!!!"
Response by Booking.com
Mothership SG contacted Booking.com for comment. A Booking.com spokesperson replied on Oct. 16, and said:
"As a leading e-commerce company, at Booking.com we are constantly optimising the robust security measures we have in place to protect our customers and partners. We employ stringent security protocols to help ensure the properties available on our site are real and operate in compliance with local laws and requirements, something every accommodation provider must agree to when they sign up to list on our platform.

In line with the highest technical standards, our dedicated security and fraud teams monitor activity 24/7, utilising bespoke, state-of-the-art tooling to quickly detect and resolve any potentially suspicious activity."
The spokesperson added that in this rare and specific instance, the property in question has been removed from Booking.com.
The company has also worked with the guest to relocate to a suitable alternative, and to organise a full refund.
(Editor's note: This story was updated at 9:45 pm on Oct. 16 to reflect the response from Booking.com)
[related_story]
Top image adapted from Pixabay and Xavier Maurice's Facebook page.
If you like what you read, follow us on Facebook, Instagram, Twitter and Telegram to get the latest updates.