Stories of abuse and mistreatment of foreign workers in Singapore are regrettably too numerous to count.
Plenty has been said about the uninhabitable state of foreign worker dormitories:
The inedible food packed for them:
And also the unreasonable and inhumane treatment some domestic helpers receive from their employers:
But in particular, with regard to domestic helpers, perhaps not enough light has been shone on the transition they make from the time they arrive in Singapore to the day they move into their employers' homes to start work.
In a recent post on the Facebook group "FDW (Foreign domestic worker) in Singapore (Working conditions forum)", one Catherine Plagne-Ismail alleged a laundry list of poor living conditions in the accommodation provided by one unnamed domestic worker agency here.
The evidence she provides comes from a combination of images and accounts of what were allegedly the experiences of FDWs who arrived here before they found jobs.
Front gate of accommodation locked
Upon arriving in Singapore, FDWs live in boarding houses while waiting for employment.
Not all the helpers living there are newcomers to Singapore though — some are there for a place to stay in between employers, or have employers who are away on holiday.
In these latter scenarios, the employer pays for their helpers' accommodation with the agencies they are hired from.
According to Plagne-Ismail, the front gate of this particular agency accommodation is locked, and helpers cannot leave the premises unaccompanied.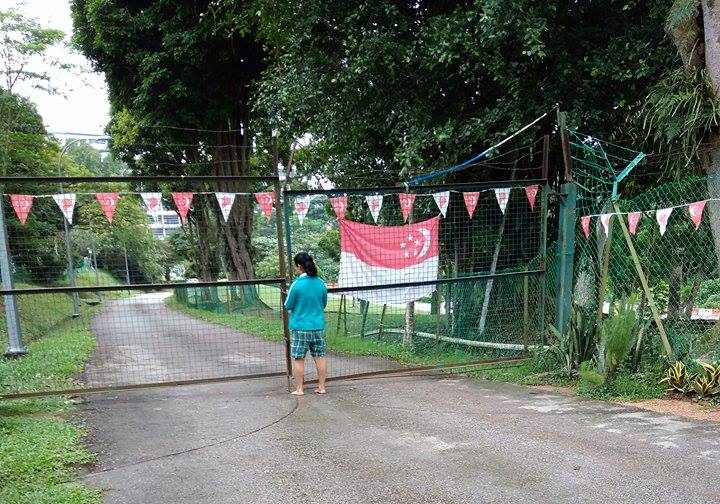 Chores begin at 5am, allegedly required to clean floors on all fours
In addition, the helpers have to perform daily duties at the accommodation while living there — work that she claims can be "more stressful and more tiring than the daily chores with the employer".
Plagne-Ismail wrote that the helpers typically wake up at 5am, and are sent to the agency, where they will stay all day. Others might be asked to stay at the dormitory to "clean the buildings."
According to her, the task of "cleaning the building" can include brushing the floors outside by hand, on all fours — because they aren't given a mop.
She also claimed that the FDWs are also sometimes required to work at the agency owner's personal house.
Food "scarce", "watered-down" soup served, meals allegedly served late
Meals are also served late, she claims. Lunch is served between 2pm to 3pm, while dinner is served between 8pm to 9pm.
They are served mostly rice with eggs, soup or vegetables.
"Rice is served mostly with loads of soup and eggs. There is usually rice, omelette and vegetables three times a day, for morning, lunch and dinner."
However, according to her, the food is "scarce".
For instance, she writes, "the cooks are told to add flour and MSG into the omelette to bulk it up". The helpers may also be served watered-down vegetable soup, "similar to what you would give to the pigs in (the) Philippines".
Sometimes, they might be given "a very small portion of chicken".
Here's a photo that allegedly shows a standard meal at the accommodation: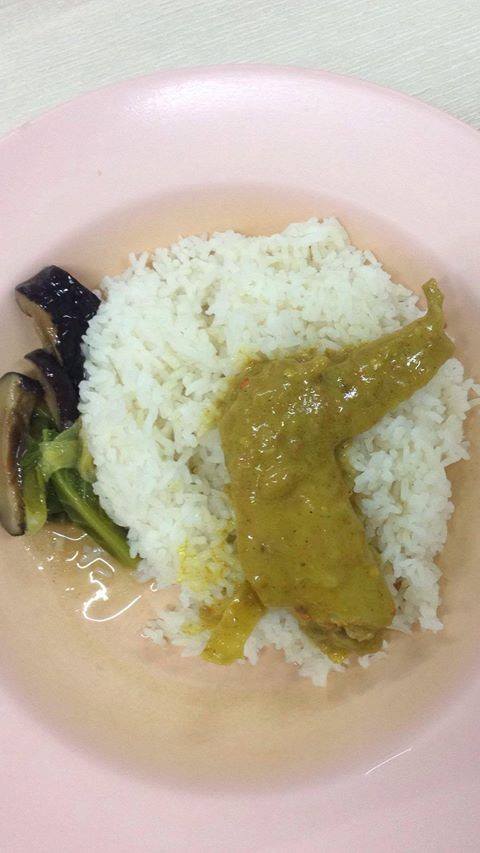 Bed sharing, made to pay fee just to plug phones in to socket to charge
Regarding the living conditions of the helpers, Plagne-Ismail alleged that they are made to "share beds" and "sleep without any pillow or blanket":
"They usually go to bed around 11 pm. Some of them may sleep without any pillow or blanket. Some have to share beds. There is no locker, (so) theft is frequent (money, valuable items)."
According to her, some agencies do not permit their transitioning helpers to use their phones at all, while others allegedly claim fees from them just so they can charge their phones at the boarding houses: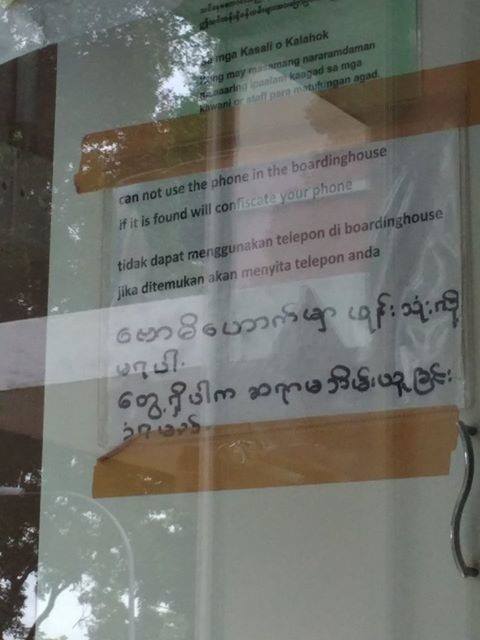 Allegedly mistreated by management
On top of the troubling living conditions the helpers have to contend with at the agencies' boarding houses, Plagne-Ismail also wrote that the "agency staff... can be quite harsh and intimidating", alleging that they scold and dole out cruel punishments to the helpers.
Punishments, she claims, can include tasks such as "[mopping] the room 50 times or [scrubbing] the toilets".
Plagne-Ismail adds that many of them "return to their employer exhausted and emotionally drained".
The living conditions can also be "a real challenge" for the newcomers, especially for those who are "homesick".
Other FDWs chime in
In response to Plagne-Ismail's post, some others (whom we believe are FDWs here) have chimed in with their own experiences and stories.
Some commented about the food that they were served when they lived in the dormitories. This includes "rice with ajinomoto", "rice with dark sauce" and "one piece of hotdog and rice".
One wrote about sleeping on old newspapers as a makeshift mattress, while another claimed that the management screamed at them.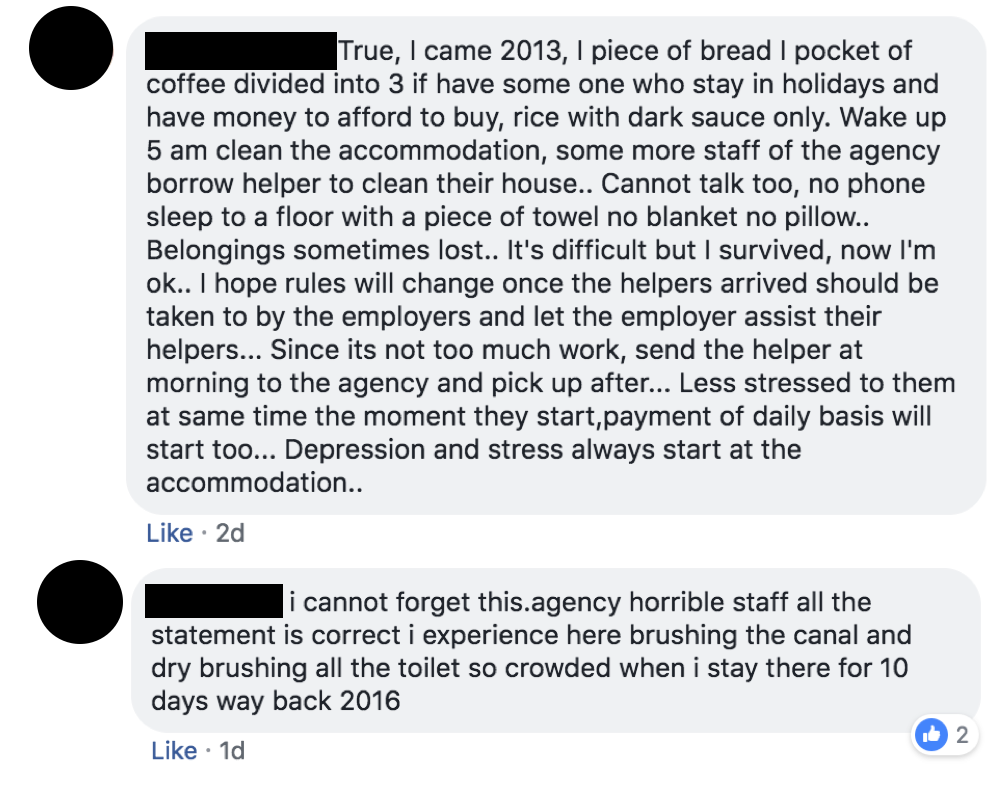 [related_story]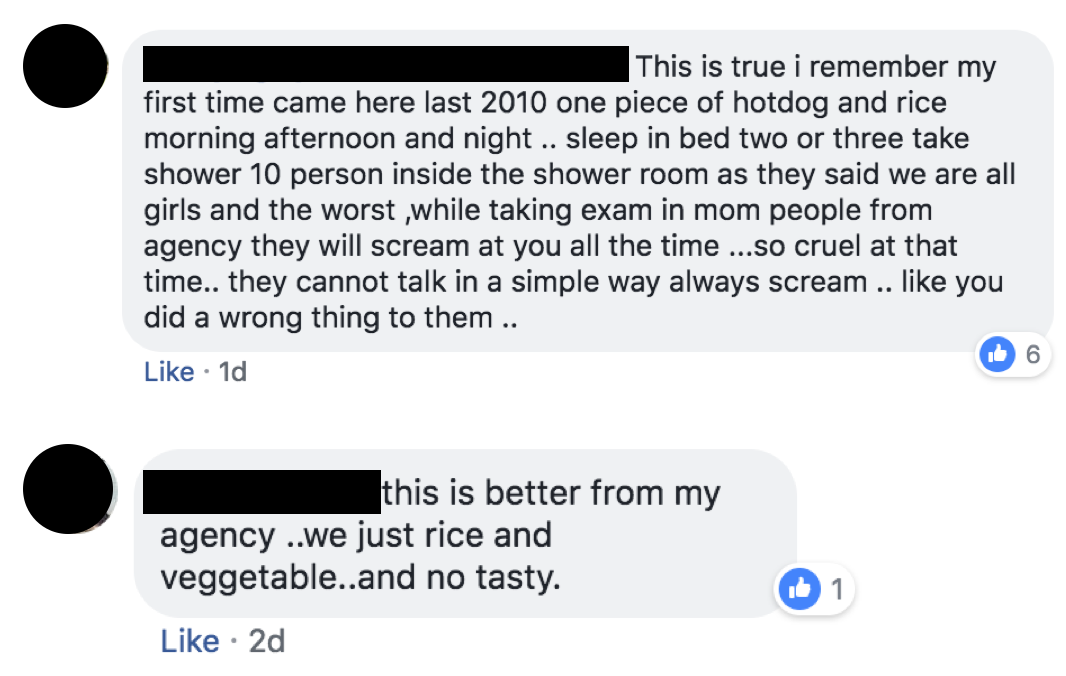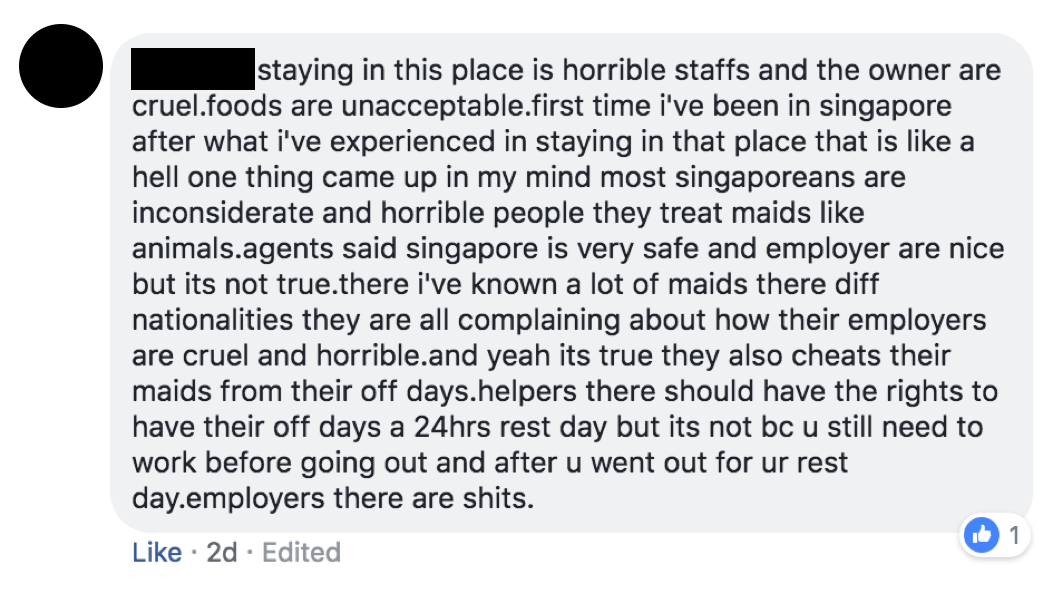 However, many of the commenters' alleged experiences happened several years back.
Even if found to be true at that time, it is unclear whether the dormitory conditions have improved since then.
Agencies responsible for "upkeep and maintenance" of domestic helpers
Responding to queries from Mothership, the Ministry of Manpower (MOM) referred us to its existing guidelines set out for employment agencies.
In particular, a MOM spokesperson pointed us to the following clause:
"Employment agencies are responsible for the upkeep and maintenance of FDWs prior to the issuance of work permit, including the provision of acceptable accommodation and food."
Accommodation requirements and guidelines are also spelled out in circulars disseminated to agencies.
These include the provision of basic amenities, and looking after the general safety and well-being of FDWs. Here are three:
- Toiletries must be provided. Each FDW must minimally be provided with one mattress, a covered pillow, and a blanket; these must be clean.

- Space and privacy. Sufficient space and privacy should be provided for the FDW.

- Basic Housekeeping. There must be proper management and housekeeping of the premises, including maintenance of sanitary facilities.
Agencies that fail to provide (or ensure that the third-party accommodation operators provide) proper accommodation may be fined up to S$5,000 or jailed up to six months.
They may also be given demerit points, or have their licence revoked and security deposit forfeited.
MOM wants whistleblowers to come forward
In 2017, MOM stated that they "proactively inspected over 120 interim housing premises", adding that they do not "give prior notice to an EA of an inspection that [they] will be conducting on its premises".
They added that they take all complaints by whistleblowers seriously:
"FDWs or those who know of FDWs housed in improper accommodation, or have information on possible contraventions of the Employment Agencies Licence Conditions, should report the matter to MOM at [email protected] or call 6438 5122 as soon as possible."
Here is Plagne-Ismail's full post: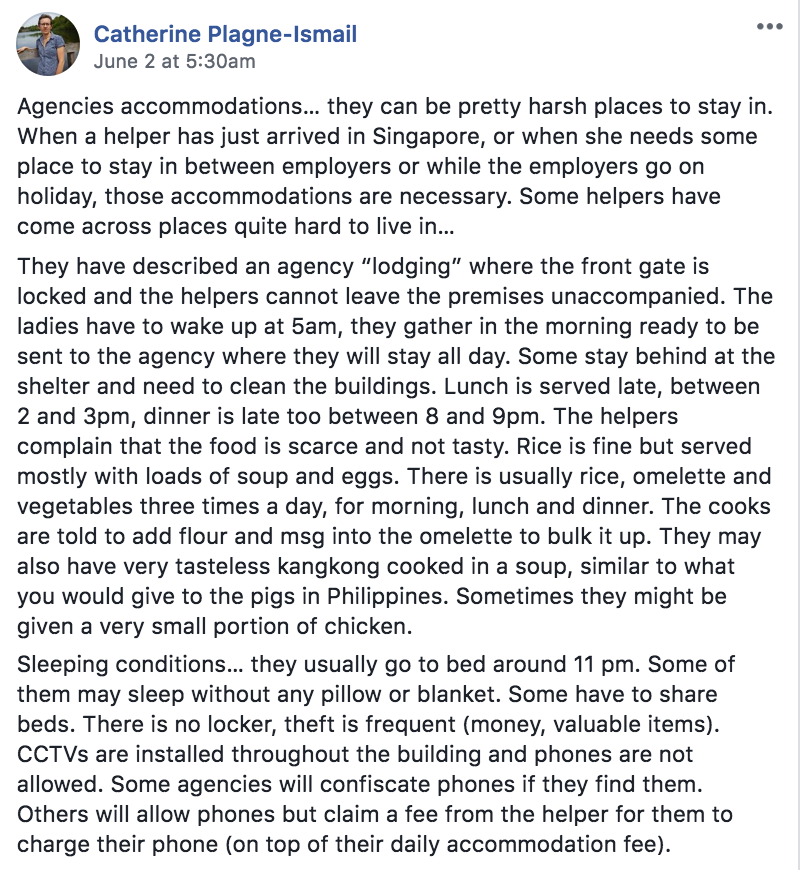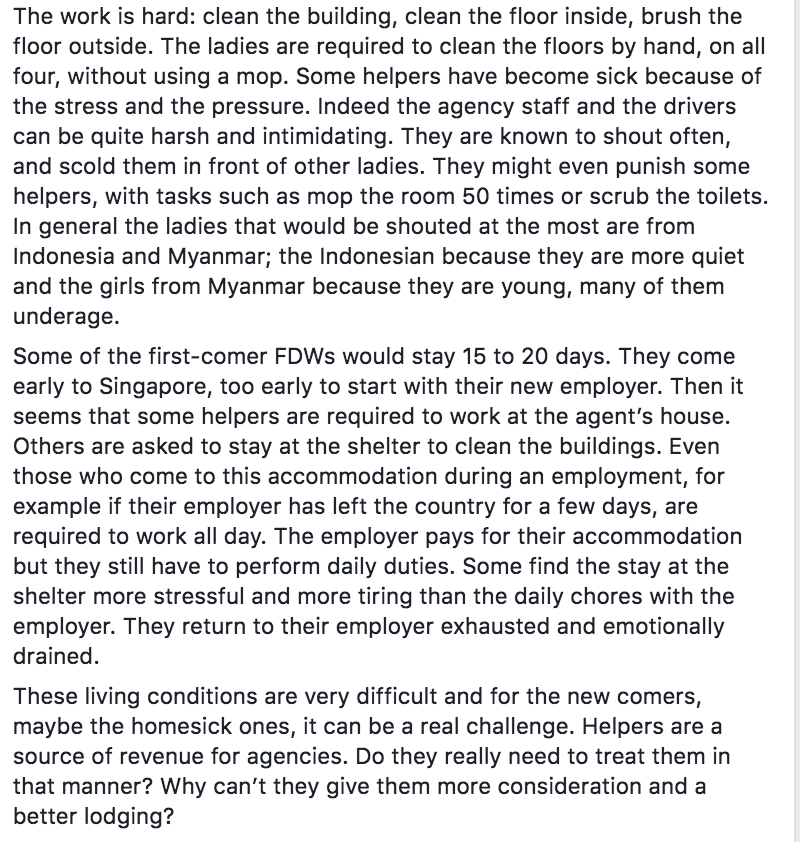 Buy a Trump-Kim t-shirt: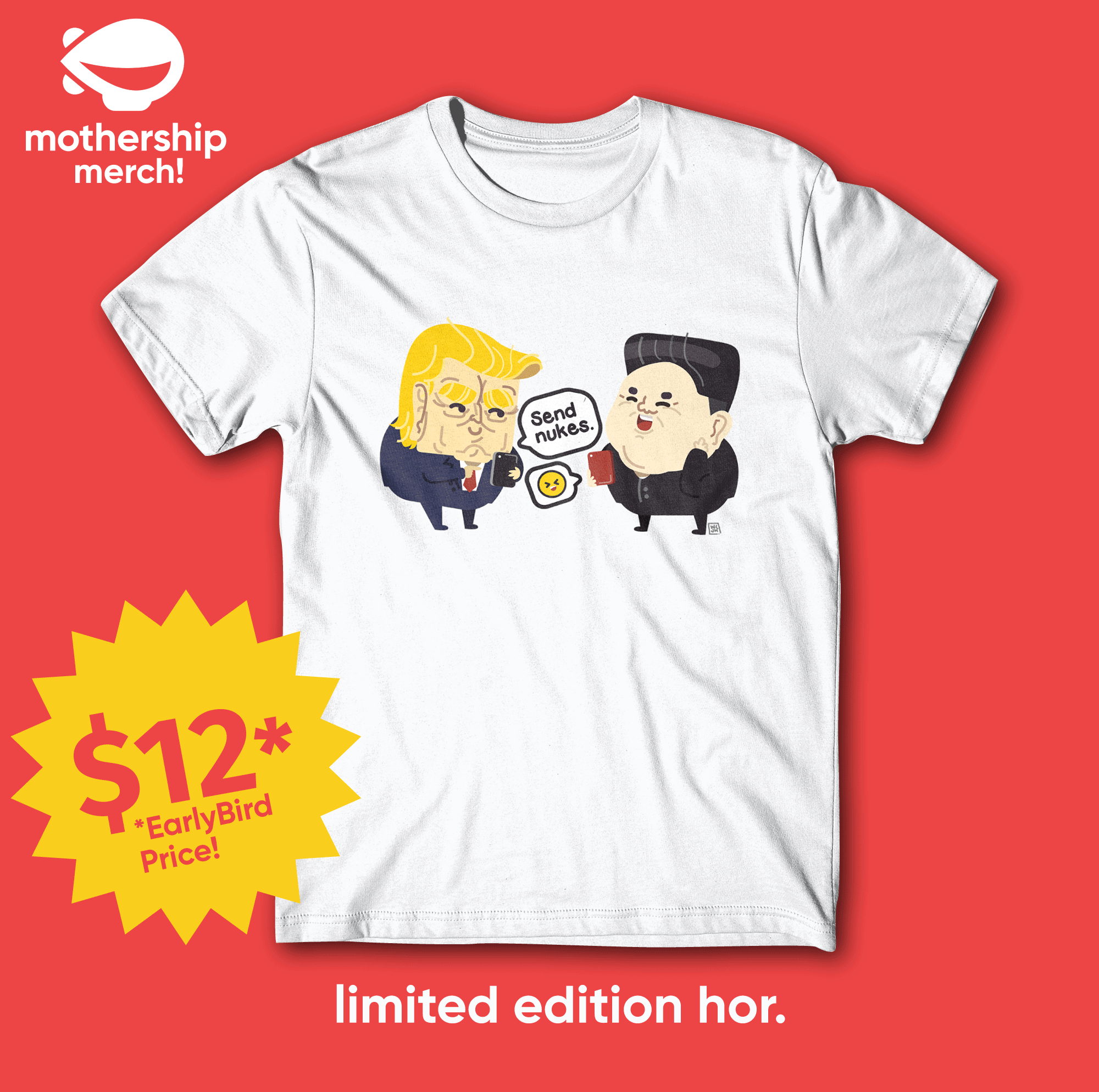 Psst... promo code is "NUDESNOTNUKES". Expires June 9, 2018, 2359.
Top photo from Catherine Plagne-Ismail's post.
If you like what you read, follow us on Facebook, Instagram, Twitter and Telegram to get the latest updates.