Fact: A taxi driver was fined S$100 for parking on a double yellow line on May 24, 12.25pm, at a service road next to Block 196A Punggol Field.
What's disputed: The length of time the offence was committed, and the alternatives to the service road used for emergency.
Driver claims to be helping passenger in wheelchair
While the fine might be a common occurrence, the same driver claimed to have been helping his passenger on wheelchair, and was only gone for two minutes.
This is his Facebook post, which has since been removed: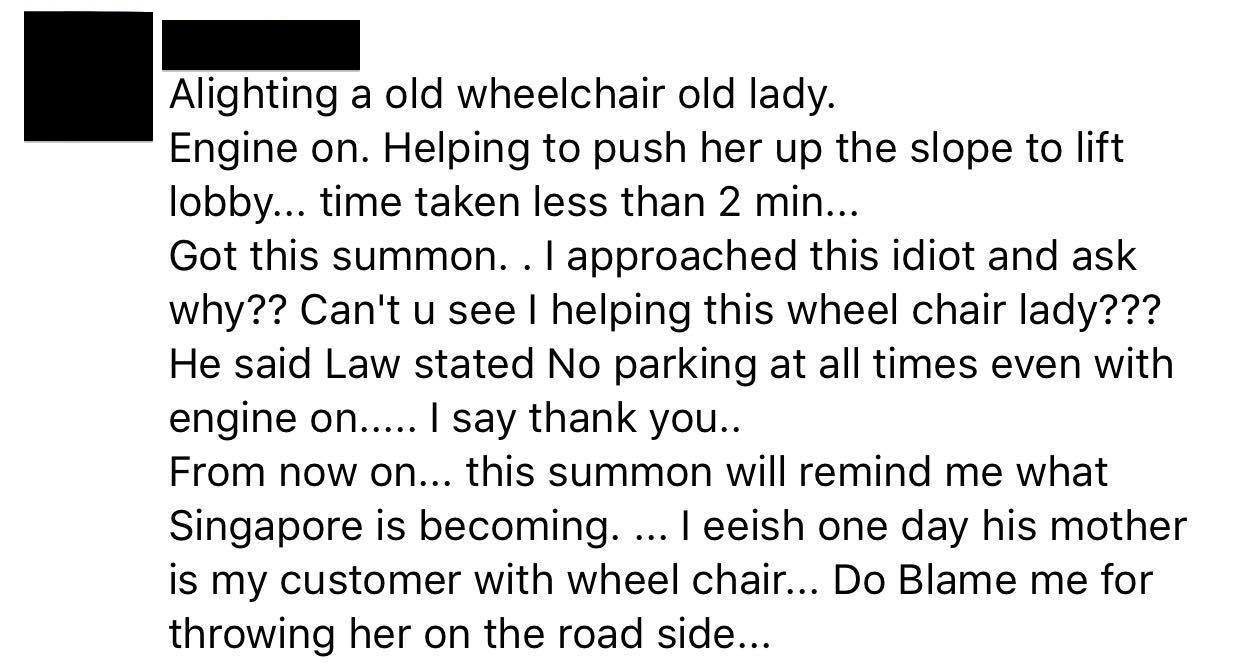 The driver also wrote that when he asked the summoning officer about it, the latter allegedly replied by quoting the law.
The post was accompanied with a photo of the summon slip: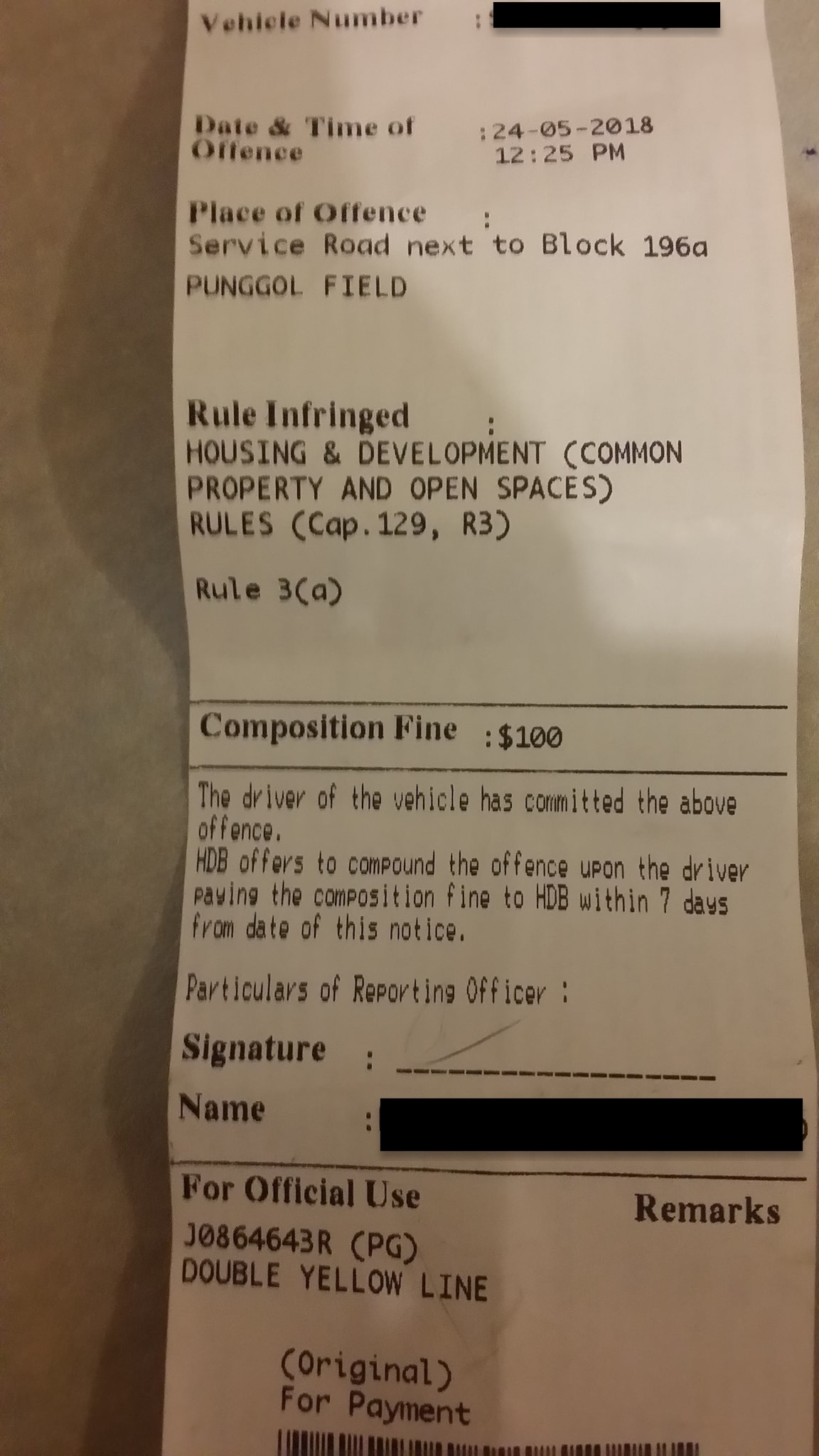 According to Singapore Statutes Online, rule 3(a) states that "no person shall park any vehicle on any common property or in any open space within a housing estate except in a parking place".
[related_story]
HDB responds
In response to queries by Mothership, a spokesperson from the Housing Development Board (HDB) clarified that the vehicle had been parked for at least 10 minutes.
HDB also explained that there were also two loading/unloading bays nearby for passengers with restricted mobility to alight, which were vacant at the time according to records.
This was the map provided by HDB: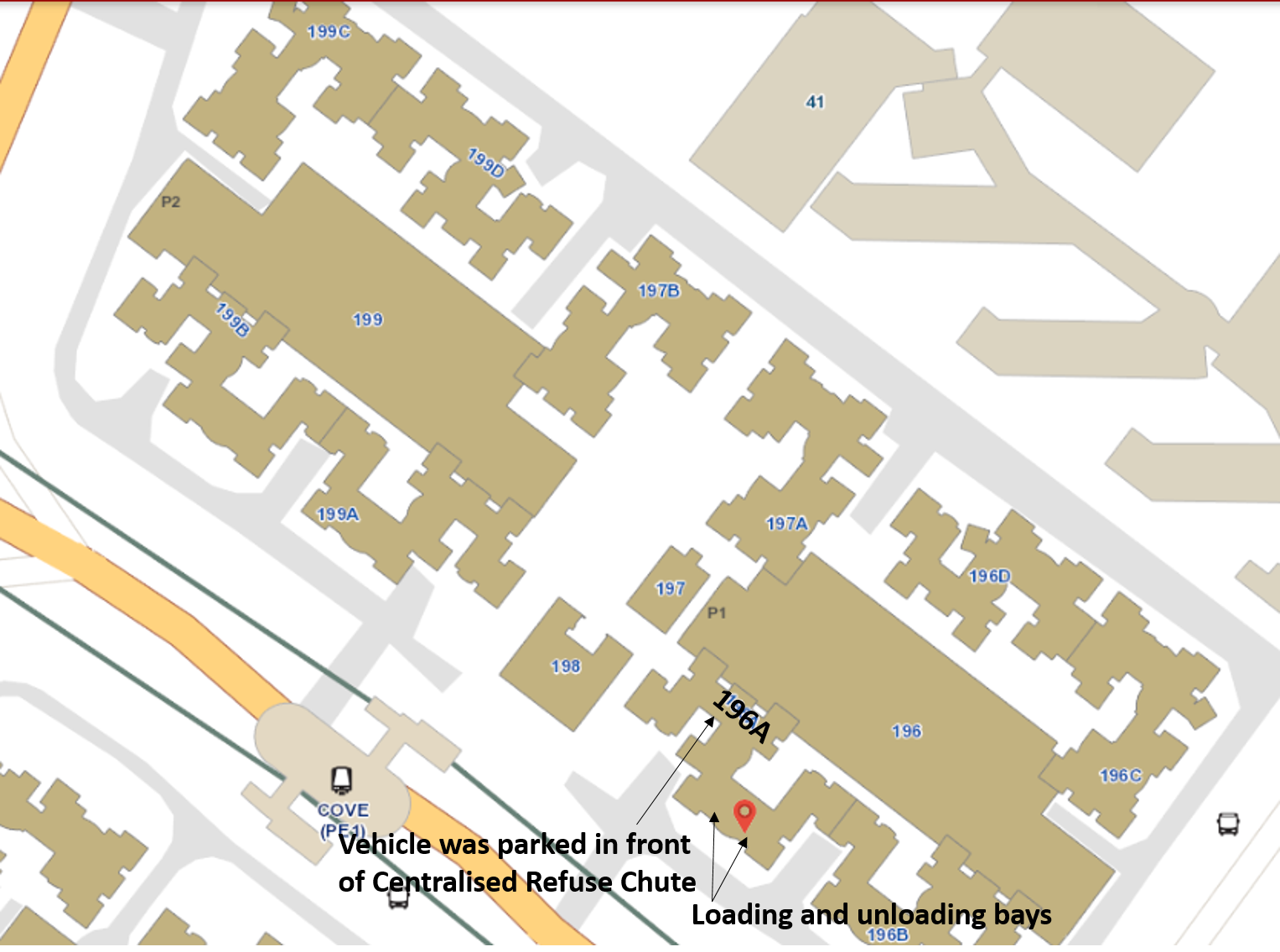 The spokesperson stressed that service roads must be kept clear at all times to allow emergency and essential vehicles (e.g. ambulance, fire engine, refuse truck) access to the housing blocks.
This is their reply in full:
We refer to your query regarding the Facebook post by (identity redacted by us) about a parking summons which he received.

2       Based on our findings, the summons was issued on 24 May, 12.25pm for illegal parking at a service road next to Block 196A Punggol Field. At the time of the incident, the vehicle had been parked on the service road in front of the central refuse chute chamber for at least 10 minutes. As the vehicle was left unattended with the engine switched off, our parking enforcement service provider had proceeded to issue a summons for the parking offence.

3       Service roads must be kept clear at all times to allow access for emergency and essential vehicles, such as ambulance, fire engine and refuse truck, to the housing blocks. Illegal parking on such roads will impede the movement of these vehicles. Hence, enforcement actions are necessary to ensure that the service roads are free from obstruction.

4       Motorists who need to alight passengers with restricted mobility can make use of the 2 loading/ unloading bays nearby (as indicated in the attached location map). These bays come with ramps that facilitate barrier-free access and movement to the block. Our records show that the 2 loading/ unloading bays were vacant at the time the offence notice was issued.

5       (Identity redacted by us) has not contacted us regarding the parking summons. Should he require assistance, he may send in his request via our HDB InfoWEB.

6       For the safety of all car park users, we urge motorists to be considerate and abide by the parking rules. We also wish to take the opportunity to clarify that parking enforcement officers are not remunerated by the number of summonses they issue, contrary to some speculations online.
Lesson learnt: Doing a good deed doesn't mean you can break a law and treat an emergency lane as your grandfather's road.
Top image from Facebook post
Some unrelated but equally interesting stories:
How to train to be a ninja warrior, in your office
Watch a concert with your ears only at this Esplanade concert in the dark
Long-term care is one awkward conversation you must have with your parents
If you like what you read, follow us on Facebook, Instagram, Twitter and Telegram to get the latest updates.