So there's been a bit of disquiet over a recent traffic accident case, which would otherwise be quite run-of-the-mill.
It became a big deal, however, because politics. We'll explain.
Here's a rundown of that case first:
A 45-year-old woman named Tang Ling Lee was on the evening of September 16, 2016, driving toward a traffic junction between Ang Mo Kio Avenue 8 and Ang Mo Kio Avenue 5. She had her two young children in the car at the time.
She was turning right, but didn't check whether there was any oncoming traffic before going even though the green turning arrow at the junction was not lit.
Unfortunately for her, a 27-year-old motorcyclist happened to be coming down along the extreme left lane of Avenue 8, with the light still in his favour. So she crashed into him, he went flying, and ended up in hospital with multiple surgeries over more than two months (69 days, to be exact).
Here's a diagram of what happened: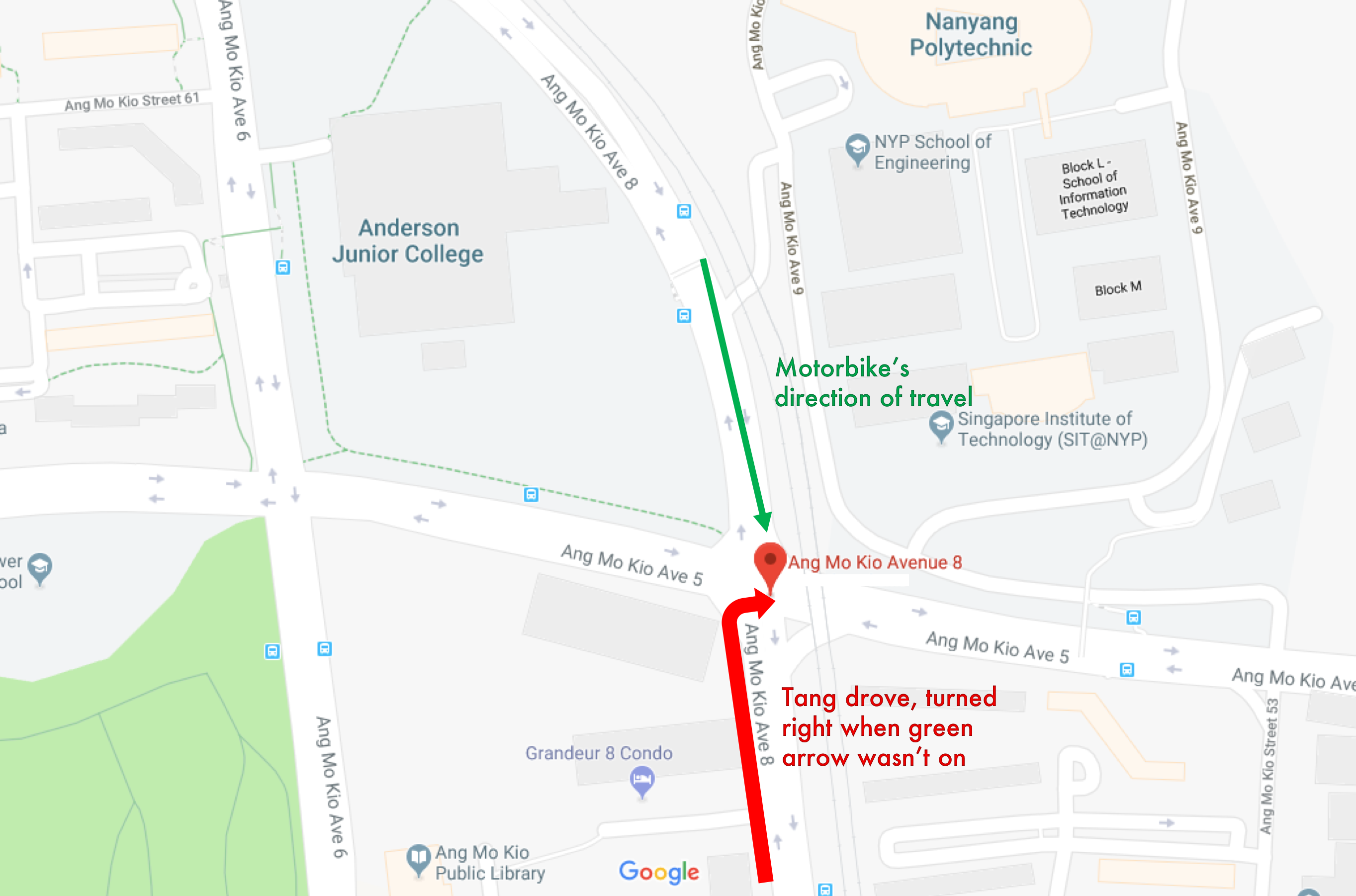 So in court in July last year, Tang was sentenced to a week's jail and a two-year driving ban for her really reckless behaviour that landed a fella in hospital and put him through multiple surgeries (because of subsequent complications) and out of action for 180 days on top of the 69 days he spent in hospital.
Despite getting off pretty lightly, all things considered (for causing grievous hurt by doing a negligent act to endanger a life, she could've been jailed up to two years, and/or fined), Tang decided to appeal against her jail sentence, arguing that she had mistaken the motorcyclist's headlight for a street lamp.
Now to set things out fairly, it's worth highlighting the following:
She had a 20-year clean record of safe and incident-free driving,

She got out right away to help the motorcyclist,

She was remorseful and pleaded guilty right away, and

She wasn't speeding.
So here's where it gets interesting:
Seasoned MP wrote letter to court to appeal for lighter sentence
Her case was heard in the High Court by High Court Justice See Kee Oon, who not only dismissed her appeal in late January 2018, but also highlighted something fascinating in his written judgement: an appeal letter from Senior Minister of State for Health and Transport Lam Pin Min, her Member of Parliament for Sengkang West SMC.
(He was only identified in a Sunday, Feb. 4 report by ST, by the way — not by Justice See.)
Here's what he wrote about it:
"It was also somewhat troubling that the appellant appeared to have sought to strenuously downplay her culpability in her appeal through her Member of Parliament ("MP"). The MP's appeal letter dated 18 April 2017 was sent on her behalf to the State Courts, and it records that she had only "accidentally brushed a motorcyclist resulting in the motorcyclist sustaining some injuries".

These statements are regrettably misleading if they correctly reflect what she had conveyed to the MP. They are also not consistent with the SOF (Statement of Facts — essentially a rundown of what happened in the case, agreed upon by all parties involved) that she had admitted to. It would appear that they sought to unfairly trivialise the accident and diminish the true extent of the victim's substantial injuries."
2 people write to ST expressing concerns
Coverage of this story in ST on Feb. 1, following Justice See's judgement dated January 25, triggered two forum letters from members of the public, which were also published in print on Saturday, Feb. 3.
Both raised the issues of separation of powers between executive, judiciary and legislative, and how the ability of MPs to send appeal letters directly to court is to them questionable in light of the legal system here.
Here's the first one:
Unusual for MP to intervene in court case

It is not uncommon for MPs to write appeals, on behalf of their residents, for the reduction or waiver of traffic fines, where the letters are sent directly to the Traffic Police.

But I think it is rare for MPs to write appeal letters directly to the judiciary on behalf of their residents.

I ask this as a matter of public interest: Do MPs have the right to write to a judge or a court regarding a case, criminal or otherwise? Can they write to the Attorney-General to plead for leniency on behalf of their constituents?

As far as I know, during Meet-the-People Sessions, requests concerning court cases are not accepted and the standard procedure is to ask the appellant to seek help from legal clinics or legal aid bureaus.

The courts should not be, or seen to be, subject to influence from MPs, as judicial independence is vital and important to the separation of constitutional powers.

Wouldn't such a letter be a breach of protocol? And all the more so, as it is based on only the appellant's side of the story, which could be factually incorrect?

Cheng Choon Fei (emphasis ours)
And here's the second, which also calls for a complete ban on this practice — even that of writing on behalf of residents to get penalties waived or reduced:
Make clear the boundaries on MP petition letters

The submission by an appellant of an MP's letter to downplay her culpability in a court case is indeed troubling, as Justice See Kee Oon stated in his judgment (Drivers who cause harm: Sentencing framework set out; Feb 1).

I believe that for years, residents have been going to Meet-the-People Sessions with traffic violation penalties, in the hope that their respective MPs' letters to the authorities can get their penalties waived or reduced.

This is tantamount to blurring the separation of powers entrenched in the Singapore Constitution to ensure that the state government is divided into three distinct branches: the legislative, the executive and the judiciary.

The branches have separate and independent powers and areas of responsibility, so that the powers of one branch are not in conflict with the powers associated with the other branches.

Meet-The-People Sessions are intended for MPs to meet their constituents to understand the problems on the ground and render assistance in areas of need, such as financial assistance, job search, Housing Board-related problems, immigration issues, and appeals for school admissions.

However, when residents seek an MP's help after violating a law, it crosses the line of the MP's role in the legislative branch (making laws) into the executive (where the laws are executed) or, worse, the judiciary (where the law is interpreted and applied).

It is understandable that an MP would wish to plead the cause of his resident, to be seen as caring and able to resolve the problem.

It is, therefore, time that Parliament steps in to make a clear decision that all MP cannot send petition letters to the authorities or the judiciary if the cases involve a violation of any law or regulation, and that the relevant authorities cannot entertain any such petition letters.

Otherwise, it makes a mockery of our laws and the legal system. 

Agnes Sng Hwee Lee (emphasis ours)
So if I get into trouble with the law, I can ask my MP to write to court to help me get off more easily?
It seems, yes — if the People's Action Party's internal protocol regarding this is anything to go by.
The Straits Times pursued this and got in touch with the PAP's whip Chan Chun Sing, who shared the following "longstanding internal protocol" with them:
• It is the MP's duty to help his residents whenever possible. This includes cases when residents approach MPs at Meet-the-People Sessions to make representations on their behalf when the resident feels that he is unable to do so himself.

• For policy matters, the MP may write to the relevant ministries or agencies.

• If a resident has run into some problem with the law, the MP will listen carefully and sympathetically to the resident to understand his problem.

• If the resident requests the MP to do so, he will write a letter to present the resident's case. The letter will be based on the resident's assertions, as the MP will usually not be in a position to verify the facts stated by the resident.

• Who the MP's letter is addressed to will depend on what stage the case is at, and the nature of the request.

• The MP may write to the Attorney-General's Chambers (AGC) under these two conditions — if charges have not yet been brought against a person, and if the MP is appealing for the AGC to not pursue charges.

• Where the case is already before the courts, and the appeal concerns a matter that is for the court to decide, such as an appeal for leniency in sentencing, MPs are generally advised to write to the Ministry of Law (MinLaw). MinLaw will then forward the letters to the courts for consideration.

• In urgent cases, such as if the court hearing is in the next few days, MPs may sometimes use their discretion to give letters by hand to residents to be used in court.

- via The Straits Times, Feb. 4 2018 (emphases ours)
In other words, it is a PAP MP practice to write on behalf of residents to appeal their cases before the AGC, the Ministry of Law and even the courts.
[related_story]
AND, "the MP will usually not be in a position to verify the facts stated by the resident".
Not all of them do this, though — when The Straits Times asked several MPs, they named folks like Zainal Sapari, Heng Chee How, Louis Ng and Tin Pei Ling as some of 10 MPs who would refuse to send letters on behalf of residents to court directly.
Now all this is made even more interesting considering the fact that Lam, who wrote the letter in this case, has been an MP since 2006 — it's been more than a decade, so he's counted as a reasonably seasoned MP by now.
It also emerged from reporting by ST that Lam had written his letter and had it sent to court even though Tang's hearing was happening in two weeks' time, as opposed to the "next few days" defined as "urgent" by Minister Chan.
All points worth thinking about.
Top photos via Lam Pin Min & Chan Chun Sing's Facebook pages
If you like what you read, follow us on Facebook, Instagram, Twitter and Telegram to get the latest updates.