2018 will be a milestone year. Not only will Marvel's Avengers: Infinity War finally be released, there are also other equally exciting stuff in store for Singaporeans.
[caption id="" align="aligncenter" width="480"]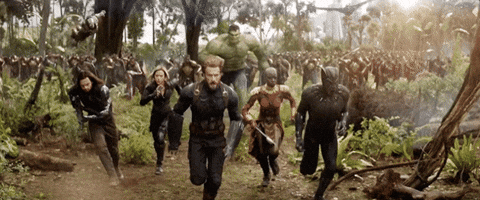 Gif from Giphy.[/caption]
And those are new laws passed by Parliament, along with other initiatives, which come into effect on the stroke of midnight on New Year's Day.
Ok so maybe that's not quite as exciting as you'd hoped, but these new laws and regulations will affect your life. Maybe. So you might want to pay attention.
1. More no smoking areas - $200 fine for errant smokers
On Sept. 26, the National Environment Agency (NEA) announced that smoking in the following places and vehicles would be banned with effect from Oct. 1:
Autonomous Universities' compounds 

Private Education Institutions 

Private-hire cars, when used to provide paid chauffeured service 

Trishaws 

Excursion buses
While the ban was in force since October, the NEA gave chance for 3 months. But it will start fining errant smokers up to $200 from Jan. 1, 2018.
How this changes your life
For smokers, there will be fewer and fewer places to have a quick smoke break. They might want to start taking note of the smoking shelters in public places where you can have a puff without being fined.
For non-smokers, no second-hand smoke in even more public places. Yay!
[related_story]
2. Car Emissions - Environmentally-friendly cars to get cheaper
During the Budget Debate in March 2017, the Ministry of Environment and Water Resources revealed a new Vehicular Emissions Scheme for 2018.
This will replace the old Carbon Emissions Scheme, which only tracked how much carbon dioxide a vehicle emitted. The VES will now track other pollutants, like nitrogen oxides and particulate matter.
How this changes your life
This means that there will be new rebates and surcharges aimed at encouraging you to buy cars that are more environmentally-friendly.
For example, electric cars might qualify for a $20,000 rebate. But other cars might get more expensive. So you might want to buy green.
3. Changes to Employment Pass - Extra hurdle for foreign talent
On Oct. 1, MOM announced in an update that it finished reviewing the qualifying salary criteria for work pass holders to claim dependant privileges.
This is to ensure that pass holders will be able to support their family in Singapore.
When the New Year begins, work pass holders need to earn a monthly salary of at least $6,000 to bring in their spouse or children on a Dependant's Pass. This is up from $5,000.
If they want to bring their parents in, pass holders need to earn at least $12,000 monthly, up from $10,000 previously.
How this changes your life
You could say that with this new rule, foreign workers might be less enthused about working in Singapore, because it will be tougher for them to bring their families over.
So maybe companies will have more incentive to hire locals instead. Maybe.
4. 6-year-visa for Singaporeans visiting Australia
On Aug. 21, Minister for Foreign Affairs Vivian Balakrishnan co-chaired the 10th Singapore-Australia Joint Ministerial Committee (JMC), along with Australia's Foreign Minister Julie Bishop.
Ministers Lim Hng Kiang and Ng Eng Hen were also present.
JMCs are useful high-level, bilateral platforms for discussing a whole range of issues, including trade and defence as evidenced by the Ministers present.
But one development of interest might be Australia's decision to offer Singaporeans a 6-year-visa with effect from Jan. 1, 2018.
How this changes your life
Good news for those thinking of spending more time Down Under, as you don't have to keep re-applying for a new visa every 3 months.
This should make it easier for Singaporean businessmen and women looking to expand their operations in Australia. Or filthy rich teens who really need that year-long beach break.
5. IC re-registration exercise for senior citizens
On Nov. 23, the Immigrations and Checkpoints Authority (ICA) announced that citizens and permanent residents born before 1962 (that's older than the country) will be able to register for a new NRIC from Jan 1, 2018 onwards.
Also, you must not have been issued with a replacement IC within the last 10 years to be eligible. This is optional, and will be provided at a reduced fee. It allows our seniors to have ICs with updated photos.
This means there won't be any confusion if for some reason people have to check their ICs against their photos.
Everyone eligible will receive a letter from ICA containing further details and instructions. So sit tight.
How this changes your life
If you're a senior citizen, or if your parents are, there's no need to worry about looking different from the old IC photo. If you/they still look the same, then congrats for looking so youthful.
Here are some unrelated articles you should check out next:
My Mom went on a day out with a film camera. Here's how she views the world
Why you should reignite that kampong spirit with your neighbours
Top image by by Suhaimi Abdullah/Getty Images.
If you like what you read, follow us on Facebook, Instagram, Twitter and Telegram to get the latest updates.