Singaporean men marry foreign brides from China, Malaysia, Indonesia, Thailand and Vietnam through agencies that make such arrangements.
Singaporean women, on the other hand, have put themselves up as foreign brides as recent as 1989.
They were looking for prospective partners from Australia, United States and Europe.
Singaporean mail order brides
Back in 1989, The New Paper reported on this phenomenon that some Singaporean women had put themselves up as mail order brides.
These women had hoped to move abroad to be married, in particular, to Caucasian men.
According to the report, there were as many as 250 Singaporean women subscribed to a service on an Australian matchmaking agency known as Video Match.
It served to pair Caucasian men from Australia, America, and Europe, with Asian women.
Singaporean women comprised 40 percent of the prospective brides from all walks of life.
Ranging from their 20s to 60s, the women were from various professions, such as managers, doctors, teachers, supervisors, and secretaries.
The matchmaking service would link both parties up, and if a woman was interested, she would be flown to the man's country to meet him. Airfares for the trip were borne by the men.
Matches had a 23 percent success rate.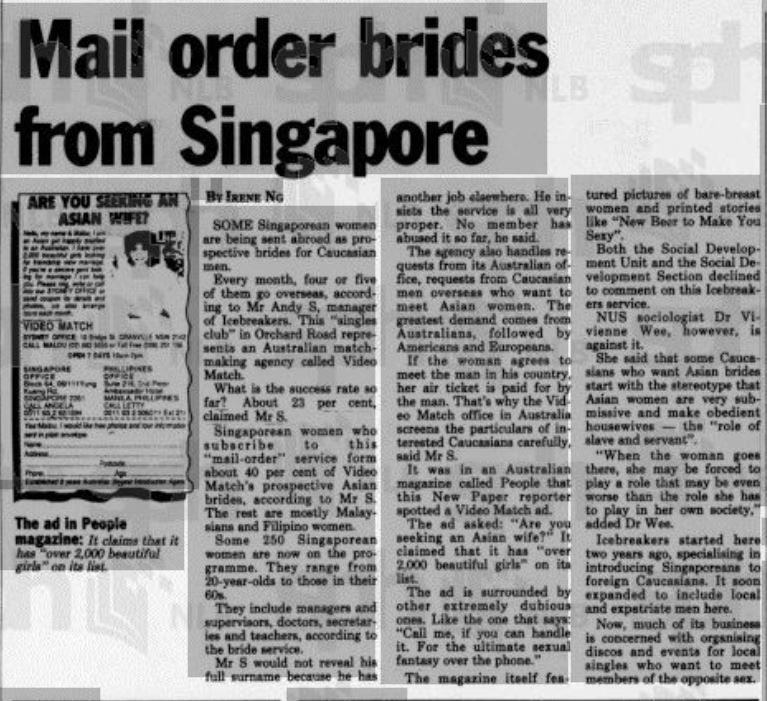 Case studies on the issue
The TNP report also included several case studies on the issue that reflected the views from a Singaporean woman and a couple of Caucasian men.
The Singaporean woman, a 40-year-old, was looking for a Caucasian man. She said she felt that Caucasians possessed desirable qualities that were lacking in locals:
"Basically, Caucasians have more liberal views. They are more mature, more cultured and know how to treat a woman right. Local men tend to be more narrow-minded and chauvinistic and tend to lean too much on their parents."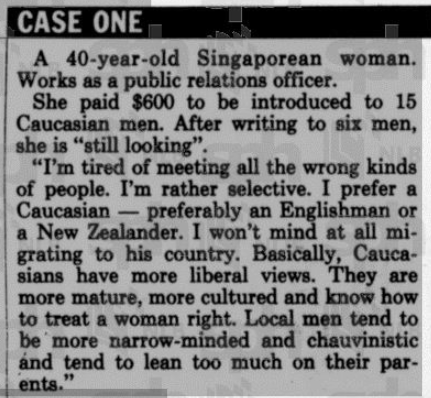 Meanwhile, one Australian divorcee was quoted as saying that his Australian ex-wife was "too demanding", which was why he was looking for an Asian bride instead.
He thought that Asian women were "very caring, understanding and family oriented" -- a stereotypical view of Asian women as submissive and obedient.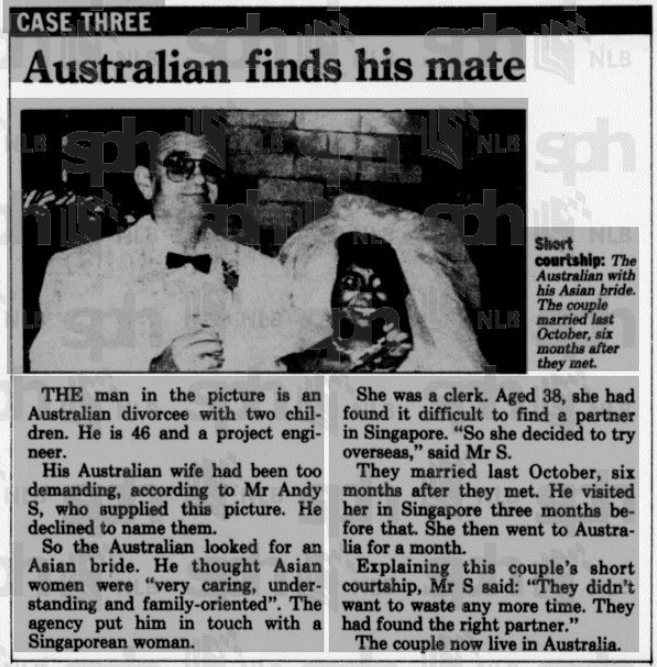 [related_story]
Mail order brides today
These days, with mobile apps offering matches on the go, fewer individuals have turned to matchmaking sites. However, a small proportion still exists.
A quick search on Rose Brides, an international mail order brides website, shows that there are 28 Singaporean women on the site ranging from 19 to 46 years old.
Unchanging perspectives
In recent times, local men have sought out foreign wives because of the perception that these brides are likely to demand very little of them.
However, the stereotype of Asian wives as obedient and family-oriented actually apply to Singaporean mail order brides as well.
According to the description of Singaporean women on the site, it includes qualities like being "excellent housewives" who are "soft spoken" and "tolerant":
"When it comes to traditional family values, the women of Singapore are considered to be excellent housewives and are keen to preserve traditions. In the Singapore culture, it is important to meet a woman's family because family is so vital and important to her. The Singaporean wife is often soft spoken, generally quiet, tolerant to a fault, and always will highly value her spouse."
Here are some totally unrelated but equally interesting stories:
Apparently, there's a headless ghost that will deliver booze to you this Halloween
HDB things we are so used to now but will probably not miss in 10 years' time
I let a 20-year-old Tarot card reader inside my mind and it was nothing like I expected
Top photo adapted from Newspaper SG, Fanpop, and FreePngImage
If you like what you read, follow us on Facebook, Instagram, Twitter and Telegram to get the latest updates.