Xiaxue is well-known for being an outspoken personality on social media, and for creating a stir on certain issues online. And she is at it again.
This time round, she has collaborated with YouTuber Dee Kosh in a video that reviews social media influencers' Instagram accounts for the likelihood of whether they had bought followers for their accounts.
Buying followers is generally viewed as an unethical practice for social media influencers, as it inflates an account's numbers to attract advertisers.
Using an app called Social Blade, Xiaxue and Dee Kosh were able to track an Instagram account's day-by-day growth and view a line chart of its monthly progress.
In the video, both gave their personal opinions on an influencer's Instagram account based on Social Blade's data, but also acknowledged that the data could not definitively prove that an influencer had actually bought followers.
Authentic accounts
According to the video, these are the characteristics of the generated data that suggest an Instagram account has genuine followers:
1) There is a consistent and reasonable amount of followers gained per day (usually up to 100+):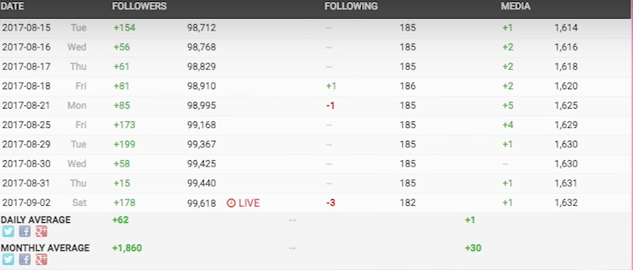 These are Dee Kosh's own numbers, and the increments are said to be considered reasonable.
2) Sometimes the numbers might even drop, as Instagram clears out inactive accounts or removes bots from time to time (or more tragically, when your followers lose interest in your life):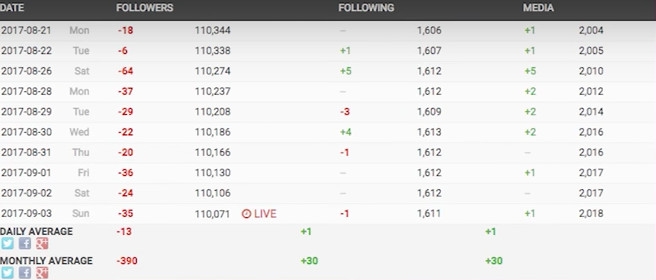 Rachel Tan's account, which experiences a steady drop.
3) A gradual incline and/or a plateau on the graph as your following base more or less stabilises:

Naomi Neo's chart, with a natural increment of followers and a plateau at the end.

PM Lee's chart, with a gentle slope and little incline between Jul. and Oct. 16.
[related_story]
Bought followers
In the video, Xiaxue and Dee Kosh pointed out that influencers who are suspected to have purchased followers are likely to have sudden spikes in their graph, or an extremely jagged line as they experience sudden spurts of "growth".
There may also be a particular day where the follower count increases drastically (e.g. a 3,000+ increment, compared to an average day of 100+).
So, who did they say were likely to have bought followers (we use "likely" because we don't want to get sued)? Here are a few according to Xiaxue and Dee Kosh:
1) Saffron Sharpe, who has a sudden, almost 90-degree spike in her graph:

It was labelled "Slightly Suspicious" by Xiaxue and Dee Kosh.
2) Jamie Chua, who suddenly gained 3000+ followers on a particular day: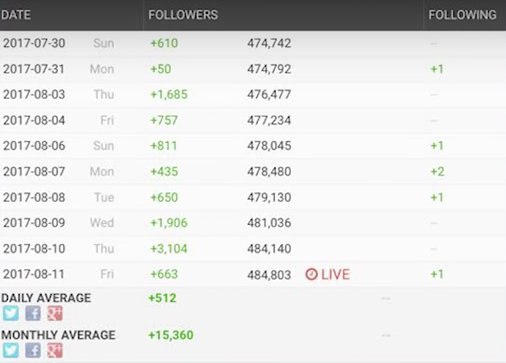 According to Xiaxue, her numbers for the rest of the days were also higher than what should be normal. Also observe the day where she only gained 50 followers. This could be a likely glitch in delivery, according to Xiaxue.
They labelled this account "Very Suspicious".
3) Yutakis, who seems to have a chart with more ups and downs than Taylor Swift's love life:

"This f*cking looks like a f*cking heartbeat" - Xiaxue.
Fun fact: Xiaxue and Yutakis used to be in the same clique. #kaypoh
It was labelled "Likely Fake" in the video.
We're not going to spoil all the fun for you, so watch the video for yourself to find out who else likely bought their followers:
&feature=youtu.be
Here are some totally unrelated but equally interesting stories:
Deadly office-related sins everyone would have encountered at least once
One of Us: This guy has been couch surfing in the U.S. for over 2 years to get his app started
If you like what you read, follow us on Facebook, Instagram, Twitter and Telegram to get the latest updates.