[Update: MOM has issued a clarification regarding the allegations made by HOME. We've included it in a section below.]
Another day, another story about unscrupulous bosses — and agencies, too — taking advantage of foreign domestic workers.
Migrant worker welfare organisation Humanitarian Organisation for Migrant Economics (HOME), in a September 10 Facebook post, alleged that an employment agency has been ill-treating its not-yet-deployed foreign domestic workers.
In case you can't read their post above, we reproduced it below:
This employment agency charges $15 a day while the domestic workers wait to be deployed to their employers. According to the worker who sent it, they had to sleep in the kitchen and were only given rice to eat. They were also barred from using mobile phones. She had to take this photograph secretly and hide her phone.

Such poor treatment is not uncommon since Singapore's Ministry of Manpower employment agency licencing conditions do not set clear and detailed standards on how domestic workers should be treated. It only says that agencies are responsible for their "upkeep and maintenance" "provision of food" and "acceptable accommodation". Inconsistent and patchy enforcement is a likely outcome of such vagueness. Therefore, whether the agency will be penalised or not is uncertain.

There are also no policies to protect whistle blowers. If complaints are filed, the women might lose their jobs. Under reporting is a huge problem due to a lack of incentives to name perpetrators. This results in unethical agencies getting away scot free.

During audit operations, the Ministry is also known to inform agencies in advance that checks will be done on their premises, giving them ample time to cover up their misdeeds. Such poor enforcement practices is one of the reasons migrant workers continue to suffer under these conditions.
Social activist Jolovan Wham also reproduced a similar post on Sept. 10.
[related_story]
TL;DR, the alleged poor treatment by the unnamed employment agency included:
Giving the foreign domestic workers just plain rice to eat.

Making them sleep on kitchen floor.

Barring them from using mobile phones.

All these, while forcing them to pay $15 per day while waiting to be sent to their employers' homes.
According to HOME, the maid who secretly took the photo of the sleeping area had requested that they do not disclose the name of the agency.
Allegations against Ministry of Manpower
But the more severe allegations by HOME were made against the Ministry of Manpower (MOM).
According to Stephanie Chok, a case manager for HOME who spoke to Mothership, MOM has vague standards on what constitutes "acceptable accommodation" and "provision of food", allowing companies to exploit such loopholes.
Sure, sleeping on the floor and subsisting on rice might be deemed "acceptable", but whether this constitutes proper treatment of workers might possibly be up for debate.
Additionally, Chok said MOM has been known to inform agencies beforehand of upcoming audits, which give them time to cover up any misdeeds they might be up to.
Below is a copy of an advance audit notice MOM supposedly sends out to employment agencies, provided to us by HOME.
Audit notices can be sent out at least two weeks in advance, giving employment agencies plenty of time to tidy up: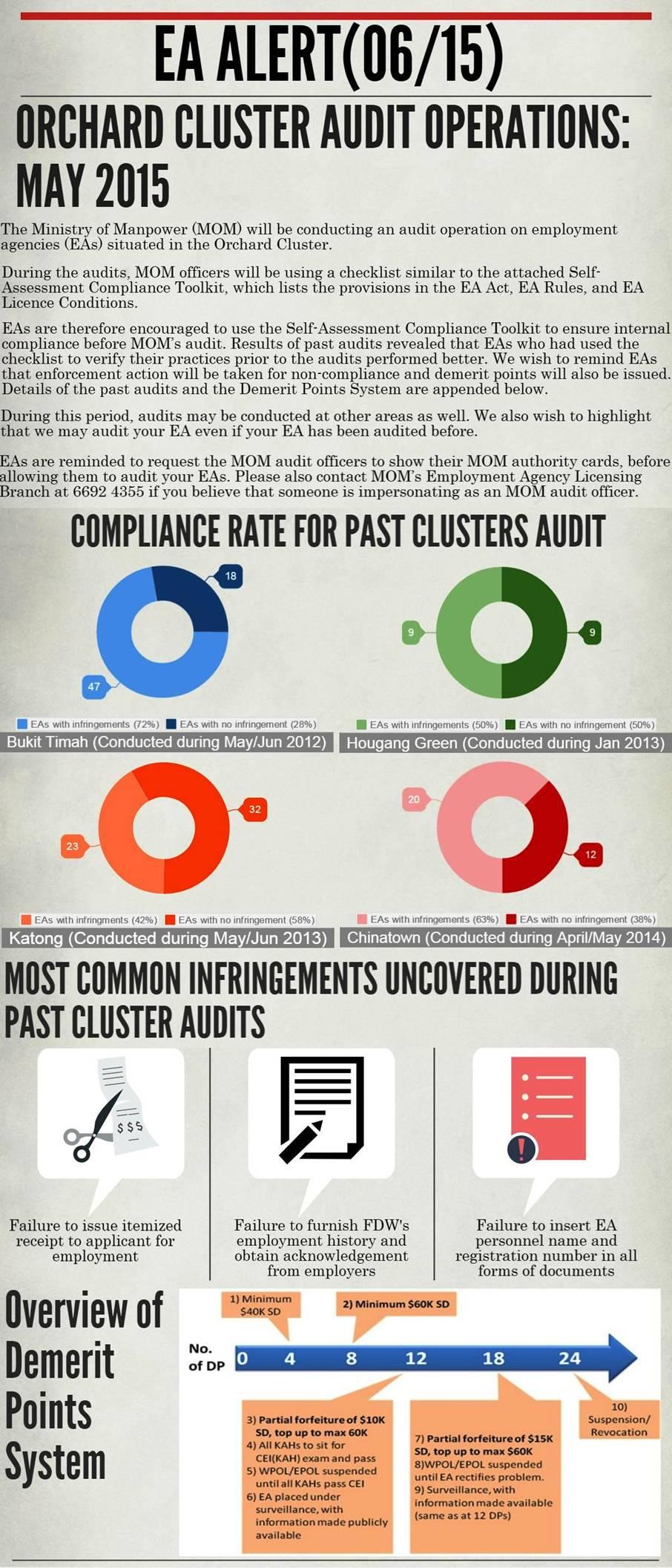 Errant agencies also end up not being penalised because there are no policies in place to protect whistle-blowers. A foreign domestic worker might lose her job if she files a complaint about a particular agency.
According to HOME, all employers have the right to cancel a worker's permit and repatriate them back to their home country unless the worker is required to stay as a prosecution witness for investigation.
HOME's story comes on the heels of an errant foreign worker dormitory brought into the spotlight in August for feeding its workers rancid food and housing them in deplorable living conditions.
Read: Foreign workers in Geylang still made to consume rancid food in 2017
HOME also revealed that at least one worker who faces poor living standards comes to them to seek help every week.
Response by MOM
According to a spokesperson for MOM, the agency in question was not registered as a boarding house and is currently being investigated for breach of law, after being alerted to it on Aug. 29.
Further, in response to HOME's allegations, the above advance notice of audit does not pertain to inspection of facilities. Inspections of agency premises do not have advance notices.
Accommodation requirements are also spelt out in circulars disseminated to agencies. For example, this circular via the MOM website spells out that there should be basic sanitation, hygiene, and privacy accorded to foreign domestic workers in agencies.
MOM also clarified that all information by informants are kept strictly confidential. If anyone knows of possible contraventions of an agency's licensing condition, they can report the matter via two ways:
Email [email protected]

Call 6438 5122
You can read MOM's full clarification below:
Jolovan Wham had made a Facebook post on 10 Sept 2017 about the mistreatment of foreign domestic workers (FDWs). That post contains various inaccuracies.

It is untrue that the Employment Agencies (EAs) are not given clear standards on accommodation and food for FDWs. In fact, MOM has issued specific guidelines to the EAs via online circulars. EAs and employers are required by law to bear the costs of such provisions. MOM will take action against any EAs charging FDWs a fee for lodging and food. MOM sends reminders such as this circular (www.goo.gl/monLv8) to the EAs, and have also made the information available on MOM's website (www.goo.gl/ERbJAc).

On the case highlighted in Jolovan Wham's Facebook post, MOM was alerted to it on 29th August 2017 and conducted an unannounced inspection at the premises the very next day. We found that the address was not registered as a boarding house and is in breach of the law. We are currently investigating the EA concerned, Foster Resources, for other potential breaches and will take stern action should contraventions be established.

Unlike what Wham claimed, MOM does not give prior notice to an EA of an inspection that we will be conducting on its premises. In 2017, we have proactively inspected over 120 interim housing premises to date. Arising from these inspections, we are currently investigating five EAs for failing to provide proper accommodation. In 2016, 60 EAs were either fined or warned, with demerit points for failure to provide proper accommodation. An FDW dormitory operator was also prosecuted and fined $20,000 in the same year.

On protecting whistle-blowers, our policy has always been to keep all information provided, including the identity of the informant, strictly confidential. We take all complaints by whistle-blowers seriously. Once we are alerted, we will take prompt action as in the case highlighted by Jolovan Wham. FDWs or those who know of FDWs housed in improper accommodation, or have information on possible contraventions of the Employment Agencies Licence Conditions, should report the matter to MOM at [email protected] or call 6438 5122 as soon as possible. This will allow us to take action quickly.
Top image via HOME's Facebook page. 
If you like what you read, follow us on Facebook, Instagram, Twitter and Telegram to get the latest updates.