Changi Airport is already renowned as the best airport in the world.
It's been recognised in multiple accolades, year after year, no one disputes its greatness, and Singaporeans are all super-proud of it.
We also know that our transit areas have plenty of things to do, see and buy already, so even if you've got a long layover that's too short to exit and re-enter the airport, you're covered.
Travellers transiting through one of our terminals on Tuesday morning were treated to this delightful scene, though:
This video, posted by one Smraji Subbiah, shows a choral group singing a Tamil song called "Balleilakka", by A.R. Rahman, an Indian Oscar-winning composer.
The group appears to be the American Portland State University Chamber Choir, which looks like they might be rehearsing the song in preparation for a competition in Bali, while on layover here in Singapore.
And they look like they were enjoying themselves tremendously:
#balitour2017 has officially begun! We're enjoying the sunflower garden here during our layover in the Singapore airport 🌻#baliluia pic.twitter.com/AYwBqMOlRK

— PSU Chamber Choir (@PSUChamberChoir) July 10, 2017
Here's another video of them, with the same female soloist, performing the song in 2016:
" frameborder="0" allowfullscreen="allowfullscreen">
The song was performed by legendary Indian singer-actor-director-film producer S. P. Balasubrahmanyam, and is notoriously difficult to master — one section had him singing non-stop for two minutes.
"Balleilakka" is also a track on the soundtrack album for the Tamil film "Sivaji", which enjoyed local and international box office success.
You can watch the original song and music video here:
" frameborder="0" allowfullscreen="allowfullscreen">
[related_story]
Interestingly, this is a popular song choice for many Western choirs, perhaps because of its challenging vocal arrangement and fast-paced rhythm.
Check out the number of hits (17,400) you get on this YouTube search, for instance: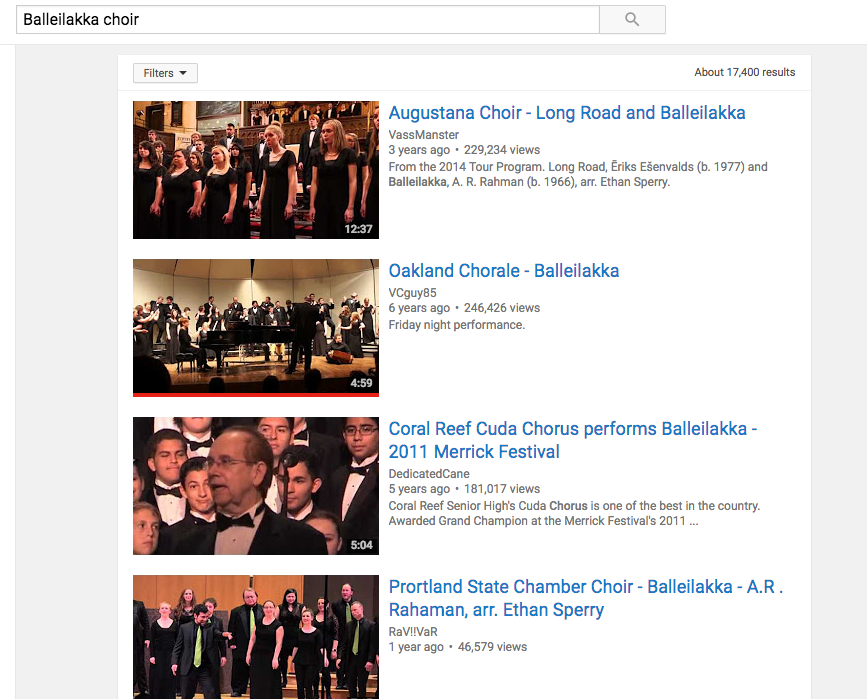 We watched a few; they're pretty impressive.
There's even a story about this phenomenon of many Western choirs picking up this song to perform — here's what the legendary composer, who is responsible for hits like "Jai Ho" and the soundtrack on "Slumdog Millionaire" has to say about it:
"Choirs, I think, have a typical type of score and they are always looking to experiment and try music from a different culture. But, it needs to be challenging, like Balleilakka is... Even SP [Balasubrahmanyam], who is an amazing singer, found it difficult to breathe; so we had to punch in the vocals at a lot of places. It also is phonetically sound and very catchy.

It's great to see [the coming together of audiences] because these are kids who are going to rule the world next. The fact that they are being understanding [of another culture] could only be a good thing."
Awesome. And this choral group's Facebook audience undoubtedly agrees:



Top photo: Screenshot from video by Smraji Subbiah
If you like what you read, follow us on Facebook, Instagram, Twitter and Telegram to get the latest updates.