Nothing spells "polarising" like a giant glow-in-the-dark Pink Dot, even within the lesbian, gay, bisexual, and transgender (LGBT) community.
In an article published on Medium recently, Janelle Faye, who claims to be a transgender woman in Singapore, explained why she doesn't support the annual gathering.
Her chief argument was that in the absence of an actively enforced Section 377A (of the Penal Code), there is no institutionalised discrimination against LGBT people in Singapore, making Pink Dot an empty clarion call.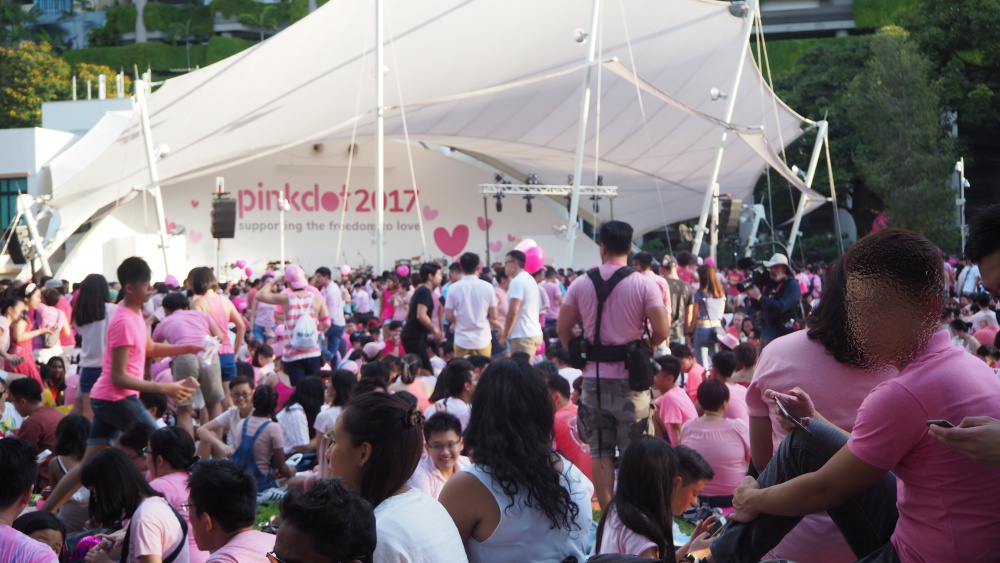 Divided
Amidst the growing fanfare that Pink Dot has amassed over the years (this year's event was supported by a Paralympian, an international singer, and received a ringing endorsement from a member of Singapore's most famous political familee family, Faye's view sticks out like a sore thumb, although she is not alone.
We spoke to six gay men in Singapore ranging from 27 to 30 to hear their thoughts on what it's like being gay in Singapore.
Life is still pretty good what
"Homophobia still exists among the older generations. Other than that, it's pretty good. The fact that we can't (apply for HDB grants) with our partners is to be expected, as it would not be in the society's interest to encourage non child-bearing families," says Darren, 28.
Nicholas, 29, holds similar views. "I think we are pretty lucky to be born in Singapore where we can find a decent job and fulfil some of our wanderlust tendencies," he says.
"As the government has stated they would not pursue 377A actively, I don't feel it is that important to abolish it, although some might feel that having it undermines our rights," added Alan, 29, referencing 377A of the Penal Code which criminalises oral and anal sex between consenting males.
One of the more recent cases of 377A  being used to charge a person was a case in 2010, when a man was caught having oral sex with another man in a public toilet. The government has tried to assure LGBT folks that 377A would not be proactively enforced within the private confines of one's bedroom.
It's not enough
However, it seems that not all LGBT people in Singapore are merely satisfied with "decent jobs" and the relative lack of persecution, as compared to the corporal punishments meted out on LGBT people in neighbouring Malaysia and Indonesia.
Gay relationships are not recognised by the State, which means that gay men (and women) are not allowed to make legal or medical decisions on behalf of their partners.
"Our relationships with our partners are deemed as illegitimate or even illegal," argues Jerome, 30. "We are not allowed to make important decisions for our significant other halves on medico-legal issues. Isn't this as an infringement of basic human rights to love another human being?"
Gay couples are also not eligible for housing grants. The only avenue for them to get public housing is via joint/ singles scheme when they're 35, or purchase from the resale/ private market.
One of 28-year-old Phil's main gripe is the lack of accommodation options for gay couples. "Condominiums are very expensive," he lamented, "and renting an apartment gives you no sense of ownership."
Where does Pink Dot come in?
All six men Mothership.sg spoke to agreed that sentiments towards LGBT people in Singapore have changed over time, mostly for the better. In particular, many remarked that attitudes of the younger generation seem to be more accepting.
Perhaps it is the direct benefits of Pink Dot and other community initiatives and support groups, such as the G Spot, the Yale-NUS Gender and Sexuality Alliance, in pushing for greater normalcy for the LGBT community in society, in hopes of turning the tide of public opinion.
"Supporting Pink Dot sends a signal to people in power that there are many people in our community who may not be shouting our views in the debates but are nonetheless supporters of LGBT rights," explains Louis, 27.
He adds: "Every additional person who attends Pink Dot gives them additional confidence that they can do the right thing without losing public support."
On the other hand, the growing support for Pink Dot has triggered a backlash from conservatives, such as the Wear White movement and We Are Against Pinkdot Facebook group.
Pitting each other in a Pink vs White dichotomy has led to some rather inconsequential, and frankly, embarrassing keyboard warrior wars.
As Darren puts it, "I don't deny Pink Dot has something to contribute (to the change in public sentiments), but I don't agree this is the way to push the gay agenda."
After all, it has been nine years of lighting up Hong Lim Park.
So, moving forward, what else can the LGBT community not supportive of the Pink Dot movement do?
As Faye wrote in Medium, by not making the personal political, and just getting on with life.
Here are totally unrelated but equally interesting articles:
Top 8 moments from short local films that will make you proud of our film industry
These are the most difficult things a Singaporean employee has to learn
Related articles:
Full capacity: 20,000 S'poreans & PR show up for Pink Dot 2017
Pink Dot 2017 attendees include incredibly young & very woke S'poreans
Lee Hsien Yang's 2nd son, Li Huanwu, urges LGBT S'poreans to support Pink Dot
Top photo by Pink Dot 
If you like what you read, follow us on Facebook, Instagram, Twitter and Telegram to get the latest updates.