If you think about it, chances are you might not be able to remember the last time you saw a clown performing in public.
If at all, perhaps it wasn't a performance — it's likely you read about or watched videos of "killer clown" pranksters, for instance, or even heard about crimes committed by people dressed up as clowns or wearing clown makeup.
And worse, all those might have gradually made you afraid of clowns.
A sad situation, indeed, but as we grew older, we seem to have forgotten the image of the happy, fun clown who does silly things and makes us laugh. With a wide smile, a big red nose, balloon pants, suspenders and super-brightly-coloured, oversized shoes, the classical clowns we used to know have all but faded from our memories.
But that's where Edmund Khong comes in, a passionate young man of 36 on a lifelong mission to buck that trend.
This year, at the annual World Clown Association Convention held in Bangkok, Khong beat out more than 200 professional clowns from all over the globe to clinch the Best All-Around Clown title, as well as two other gold medals:
- Best Character Wardrobe and Makeup;
- Best Parade Performance.
He achieved that feat as this jungle-safari-inspired character, called Professor Bananas:
This, he shared, is a ventriloquist safari explorer with a monkey puppet — a tribute to his days in National Service, he adds with a laugh.
It is funny how Khong started out doing this. As an eight-year-old boy, Khong began performing magic tricks out of your standard top hat toy set to his relatives, who kindly applauded despite it being the umpteenth time they were seeing him perform the same tricks.
But it was only while serving NS that Khong actually became convinced that this might be a real possibility as a viable career option. He had helped out as a magician's assistant during those two years, and by his mentor's prompting and encouragement, started his own business.
He ran the business throughout his three years as a history undergraduate and member of the juggling club (incidentally also where he met his wife) at the National University of Singapore, by the time he graduated from school in 2005.
"Actually what's kind of interesting about magic is that... I'm not particularly interested in the 'magic' magic. It's the heart. My real interest is actually to entertain people."
Today, Khong performs more than 350 shows a year, and teaches juggling and magic in both local and international schools here. He appears at birthday parties, corporate events and malls, and can command a hefty $450 per hour at a birthday party, or a half-hour mall show.
A jack of all trades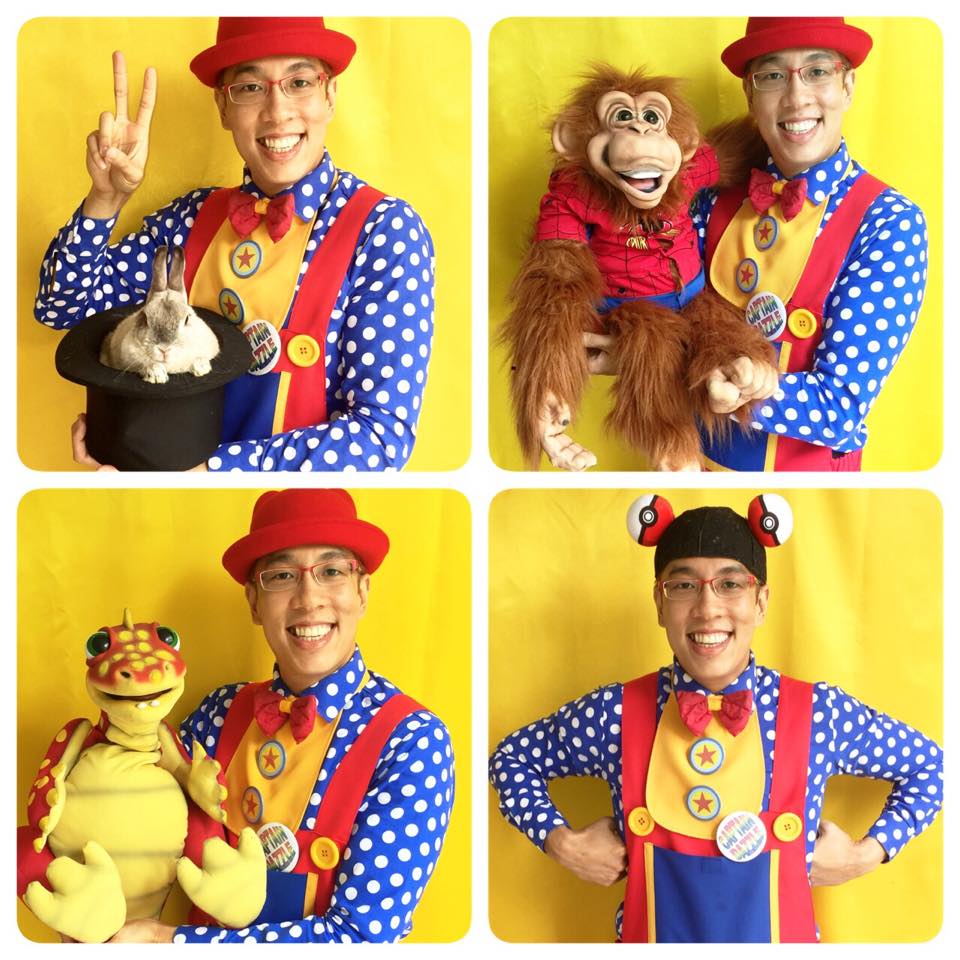 There are many different facets to the profession of clowning, explains Khong — a good clown can perform physical comedy, juggle, sculpt balloons, display fire stunts, pull off magic tricks, and even ventriloquy.
As a consequence, Khong acknowledges it's not possible to be a master of all these things. He can still juggle just three items, for instance, and the level of magic tricks he pulls off is nowhere near what, for example, Ning, Magic Mind Mistress does, or used to do.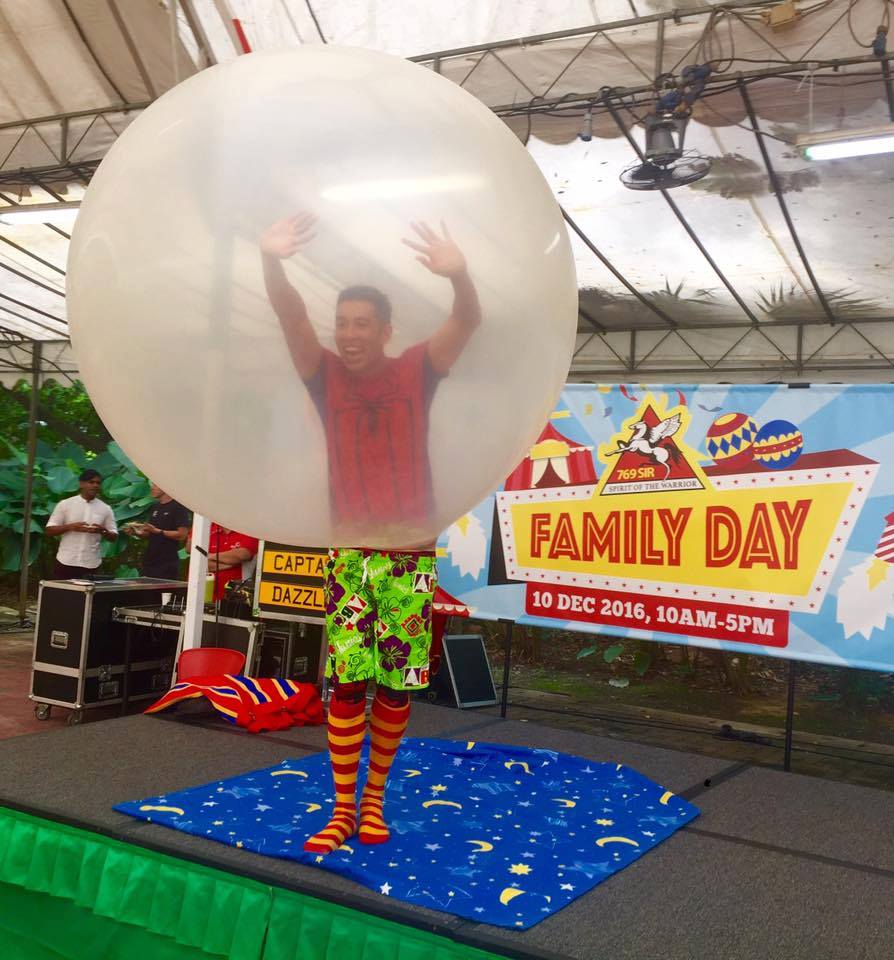 Nonetheless, Khong has a good set of skills, including a really impressive giant balloon act he performs occasionally. Depending on his audience, and how they respond, every single show is different as well — even shows done for different groups of children of the same age.
Actual performance aspects aside, one thing crucial to the art lies in a clown's costumes and makeup — the former (good quality versions of them, anyway) being tremendously expensive, and the latter being impossibly tedious.
At his home office, tucked into a super-densely packed corner of the living room of his parents-in-laws' HDB flat in Bishan, Khong and his wife, who manages Star Dazzle Concepts (his company), welcomed us, and it was there he talked us through his entire makeup process.
"Once (aspiring clowns) have had their first experience of doing makeup, that virtually puts a full stop to their considerations because the (process of) learning to put on makeup correctly, being willing to put makeup and to be portrayed as a clown, can be too much for certain people."
And indeed, we can attest to how complicated it is, and the years of practice Khong has had in clown makeup — even now, with all his experience, the entire process takes a full hour. Chatting with us while doing it doubled the time.
But all this simply reinforces the sheer passion Khong puts into everything in his life — a theme we quickly realised runs true in all of his life experiences.
From 94 to 69kg in one year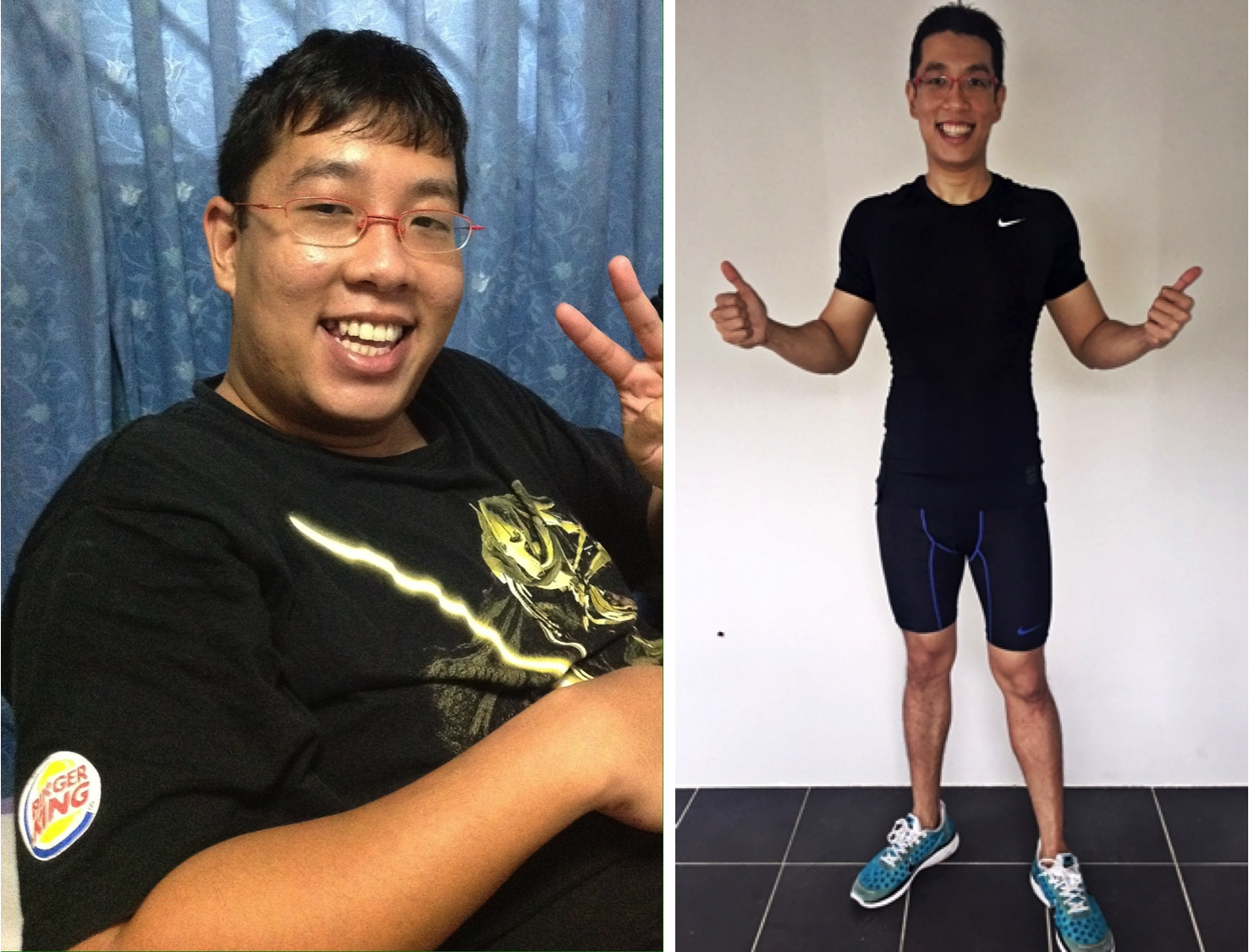 Growing up, Khong says he was almost always on the plus side, except during his army days, when he had enforced exercise regimes.
"So by the time I was 32, 33, I had a lot of health problems. I had high blood pressure, I had high cholesterol, I was mildly diabetic, which means high blood sugar. And then I had problems with my left knee."
One round of MRI and X-ray scans later, nothing was found and the conclusion was drawn by the doctors he saw: lose the weight, and your problems will go away.
He sat on this, though, until finally, over Chinese New Year in 2015, it took something his wife said to be the final kick he needed in the backside to start working on losing weight:
"I was watching TV with my wife; it was one of those Chinese movies. And there was this really pretty actress on-screen. I don't remember who now, I only remember she was very pretty. And then I just remarked... I just told my wife, 'Oh that's a really pretty girl'. And then my wife just said, 'she's never going to like a fatty like you!', and then I was like, 'What?!'

So… But of course keeping in mind that all this time, I realised that my health wasn't in a good state. But that was the last straw that broke the camel's back."
Normal people would simply go on a diet. But Khong is not a normal person, and so embarked on a personal trainer course.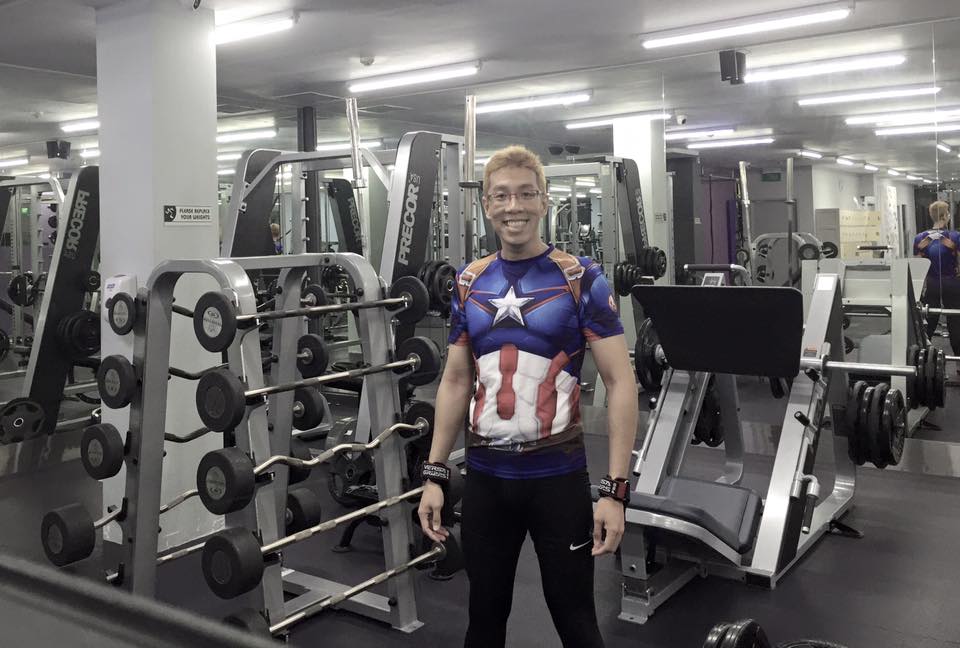 "The recommended period of time to study (for the personal trainer course) was I think eight months. I actually took much longer. I took about a year to study... because the passing rate is not very high, about 55 per cent, so that got me really worried. So I made sure I spent enough time studying and taking all the sample exams. It was actually much harder than what I thought."
In that time, Khong learned plenty — and it is worth noting that he took on the course after he lost 20 of his eventual 25kg of weight, having tried everything from crash diets to slimming pills (spoiler: these don't work) — and now, as a certified personal trainer, doesn't himself take any clients but shares what he knows freely on a separate Facebook page and fitness and nutrition blog.
"So it's just me sharing my knowledge. Because I think losing the weight and having a healthy lifestyle totally changed my outlook on life. And, like I always tell my friends, it's such a good and fortunate thing that happened to me... and if you discover something this good right, wouldn't you want to share it with everybody? That was totally my approach."
Giving back, and clowning for life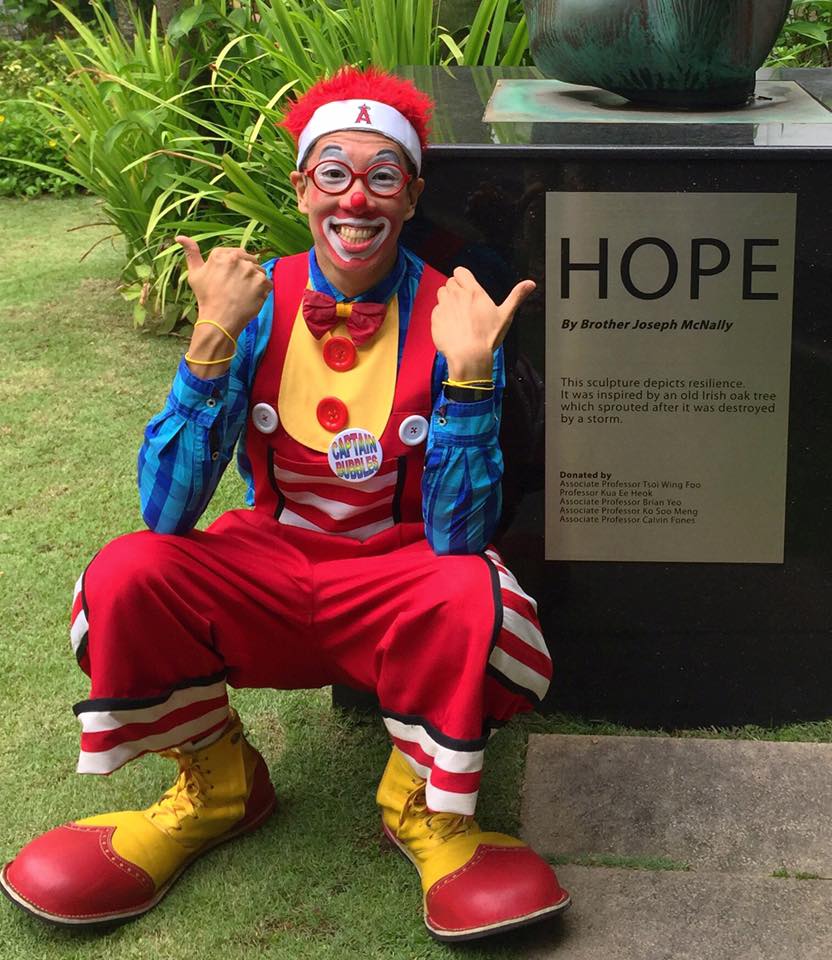 Khong's passion for clowning and making people happy goes to the extremes — when he first decided he would go into clowning, he travelled to the U.S. for a two-week programme at a clown training institute.
There, he learned the fundamentals of professional, classical clown makeup and various clowning techniques, which he continues to renew by attending annual clown camps and conventions overseas.
He spends thousands of dollars a year on new costumes, props, those beautiful oversized clown shoes and puppets for his ventriloquy, and is a proud member of:
- The World Clown Association (WCA),
- Clowns of America International,
- The International Jugglers' Association, and
- the International Ventriloquists Association.
Not many in Singapore who perform as clowns take the craft as seriously — and perhaps as obsessively — as Khong; in fact, the rest of the 10 Singaporean members of the WCA are part-timers who participate in what is known as "caring clowning" on weekends.
Khong, despite not wanting to have any children of his own, is also passionate about bringing joy to children and to people in general, and so says he is working on starting a group that includes professional jugglers and magicians who can join Khong in community work on weekdays.
Ultimately, accolades aside, Khong tells us that the bringing joy to people is his greatest fulfilment from clowning, and he can't imagine himself doing anything else with his life:
"So they have fun with me, I have fun with them. They laugh, I laugh. They're happy, I'm happy."
Top photo by Chiew Teng
If you like what you read, follow us on Facebook and Twitter to get the latest updates.
If you like what you read, follow us on Facebook, Instagram, Twitter and Telegram to get the latest updates.